50 happy new month messages, wishes, prayers and quotes
As a new month dawn upon us, there is so much to be grateful for, the most paramount of all being the chance to start over, to do things differently, and to improve on our shortcomings. These are the reasons why happy new month messages, wishes, prayers, and even quotes are quite popular. They not only give us hope for better days to come, but they also show our loved ones how much we care about them.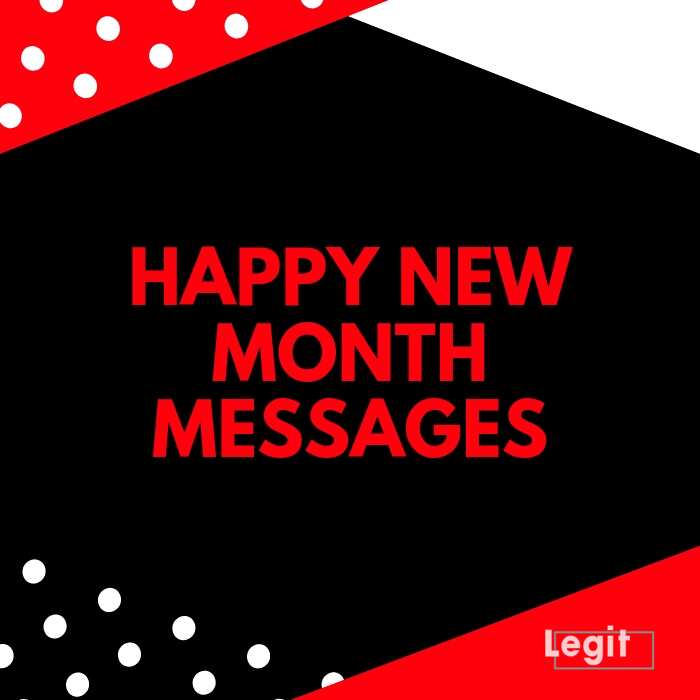 Sending someone a carefully crafted happy new month message is an act of kindness that will definitely touch their hearts. The recipients of such fresh, heart-warming words feel loved and thought of, which is a beautiful feeling. One may have the will to come up with such a text, but sometimes, we lack the words to express our innermost feelings. This is where ingeniously crafted happy new month messages come in handy.
Happy new month messages, quotes, wishes and prayers
As the new month begins, delight any of your family members, friends, or even colleagues by sending them one of these messages or prayers that will definitely set their month on the right track.
One month is not just a period in your calendar – it is a period of your life. So do not neglect it and make the most of it. Best places to visit, best people to meet, best books to read, best feelings to experience – I wish you it all.
Hey you, it is a new month again, may your new month be filled with laughter and happiness extending to all the months to come.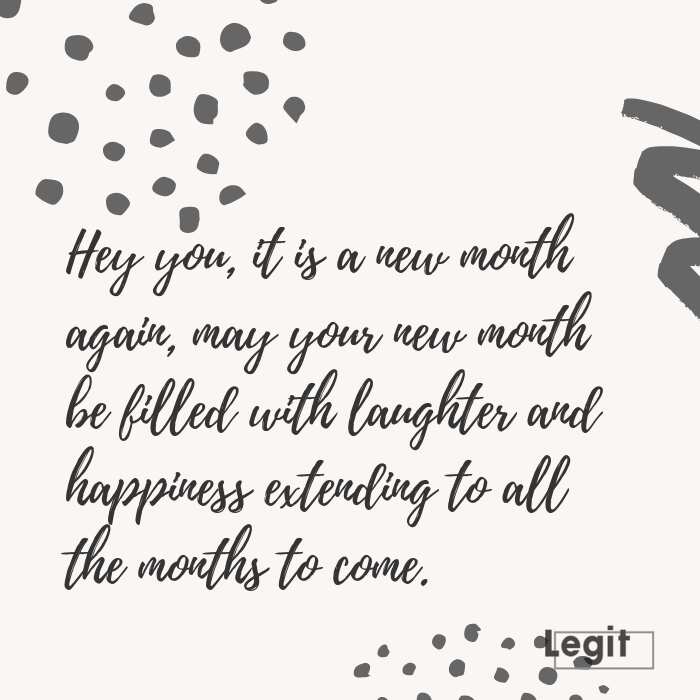 Hurray! It is a new month. A month to be great. Embrace the month with enthusiasm. Be alert for new opportunities. Utilise them passionately. You will succeed.
If something you have been waiting for a long time still has not happened, may this month fix it and delight you with something special and unique.
It is a cliché, but it is true: let us start over, let us make new goals and stick to them, let us stop making excuses and do what we truly want. What do you say, partner? Let us celebrate the new month together.
A new month brings new opportunities, new ideas, new expectations. I wish that you make the most of them, have a great month!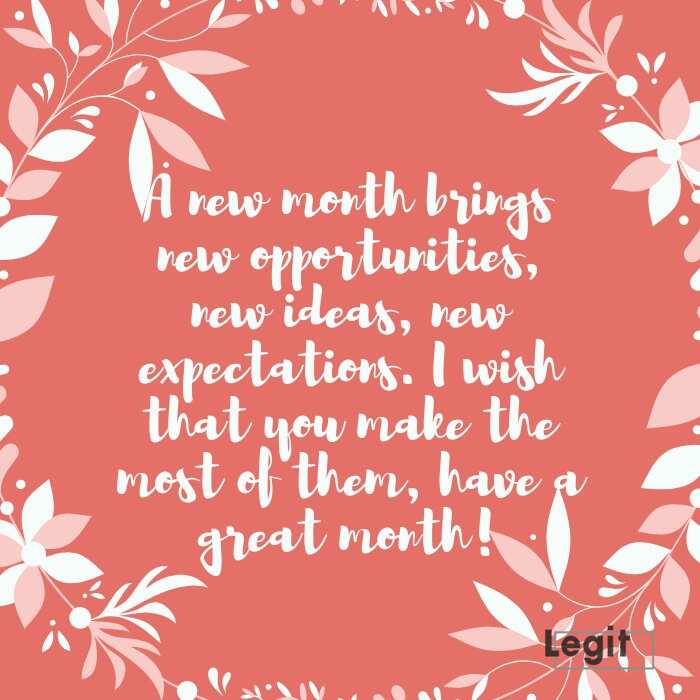 At the beginning of the new month, I want to remind you: no matter how hard it gets, keep going. Everyone can give up, but only the greatest have the strength to overpower the weakness. May this month bring you a lot of happiness.
May your path be lined with beauty, may your days be filled with favour. May every one of your efforts yield a positive result.
I pray this month opens your eyes to everything you have missed and that you believe in everything you thought impossible to be possible.
From my heart of hearts, I wish you the best this month, but more than anything, I pray if you face any challenges you pull through them stronger than before.
Opportunities hide in unexpected places. As they say, opportunities come dressed in work. Be alert for opportunities. Be ready to get down to work.
Whether it's a rainy November or hot July, may this month be special and memorable. May every minute of it be filled with pleasant expectations of wonder and joy.
May the works of your hands make you proud this month. May your labour yield bountiful harvest. May your mouth be filled with laughter.
Forget about the failures and discouragements of the past. This month is an opportunity to be better. Look ahead! Look to greatness! Be great!
You are an inspiration to me, and I thank you for the kind of heart you have. You are indeed a blessing to all those around you, and I wish you a month full of even more blessing than you can handle because you deserve it.
In this new month, may you download joy, laughter and blessings unlimited. May you find reasons to rejoice every day of the new month.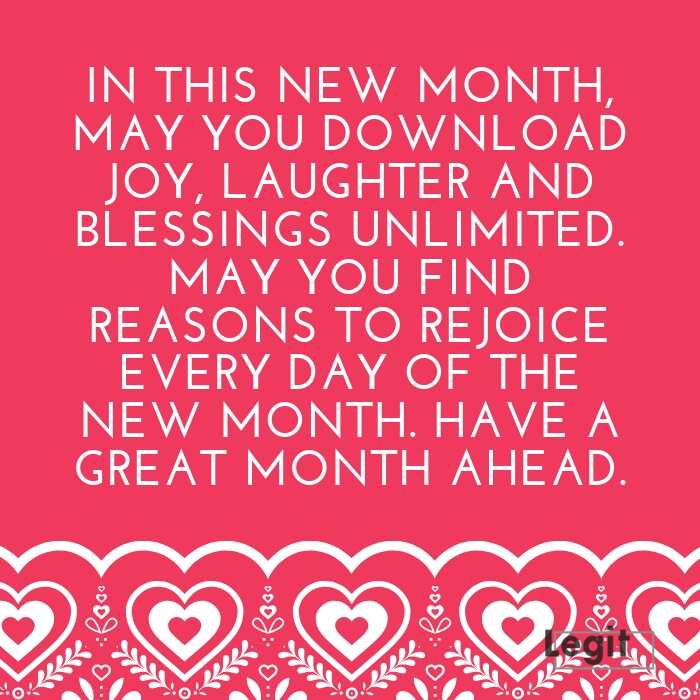 Your mornings will be lined with favour. Your afternoons with rich harvests. Your evenings with sweet rest. Happy new month.
May you overcome every challenge this month brings. May you find the courage to smile in the midst of any storm. May grace line your path.
Time is the most precious thing in our life. Appreciate it, spend it wisely and never waste it on nonsense. Have an incredible month full of unforgettable moments that won't make you regret eventually! Good luck!
In a perfect world, I would never see you in pain or difficulty, never lacking a smile or ever in tears. I pray this new month would only mirror what I genuinely wish for you- happiness.
Today is the day to start something new, and you have to feel fresh, just because it's a new month, help yourself to be happy, and let go of everything bad!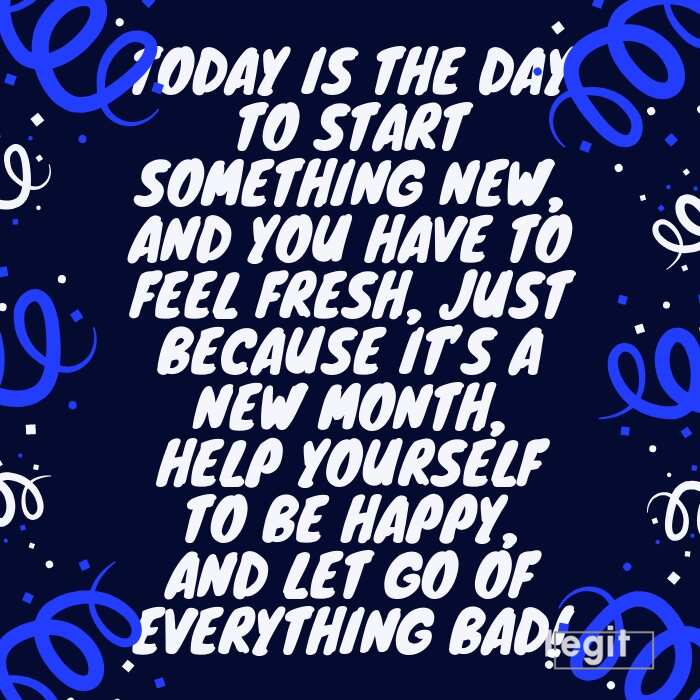 A new month means refreshment and reboot. Wish you to leave old troubles alone and enter into a new month with fresh ideas and enthusiasm. Who is to make your life better, if not you?
As the new month presents you with opportunities and choices to decide on, may God grant you discernment to make the right decisions.
It is never too late to start running in the morning, to find a new job, to fall in love – in other words, to change something in your life and open for new opportunities. This beautiful month is also an excellent chance for any endeavour.
May you rise and shine above every shame and disappointment in this new month. May you have cause to rejoice and celebrate.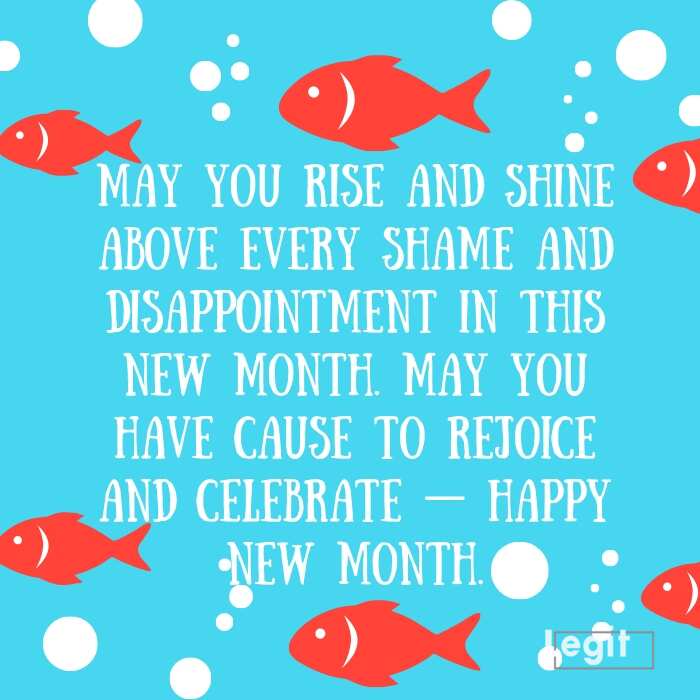 A wisdom filled head, a discerning heart, legs marked with direction, success all around. Those and more are all I wish you. Have a great month ahead.
Finally, a new month. Another opportunity to achieve your goals, make an essential decision and change your hair colour. Don't waste it. Use every day of this month to make a difference. I believe in you, mate!
Life is beautiful. May you enjoy all the beauty of life this month and forever. May you flourish like a palm tree. May your life be a reference point of goodness.
You are an embodiment of virtue. A creature per excellence let the world taste of your awesomeness this month.
READ ALSO: 50 I miss you quotes and messages (with images)
May the Lord who sees the end from the beginning make every crooked way smooth for you. Make He grant you the courage to take on every challenge. May He fight your battles for you — happy new month.
Sometimes I wish I have the power to stop time because that is how much I long to stay with you. This new month may remind us of time passing, but also it reminds me of how much I love being with you. My darling, my love may this month for you the filled with beautiful moments.
May you never go back to the way you used to be. May your head never be buried in shame. May the Almighty arise for your help and give you the grace to match forward.
Sometimes it's good to become someone else for some time and discover a new look. Don't be afraid to change and develop. I wish you to spend this month being a man you always wanted to be. And then you'll develop a taste for it. An excellent and inspirational month to you!
Life is too short. Enjoy and have fun. Forgive your friends. Love by heart. Laugh out loud. Do everything that makes you smile. Wishing you a splendid new month and remain calm.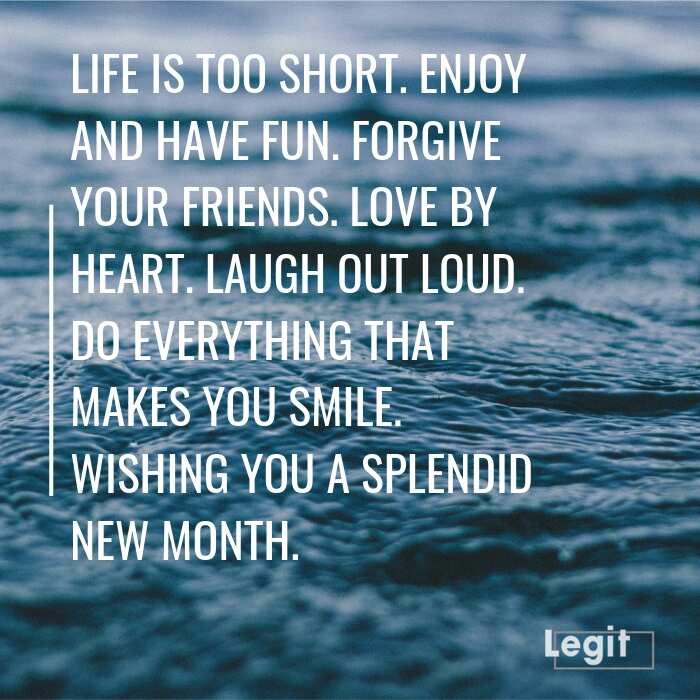 May this month include the whole year: may it be warm and shining like the summer sun, may it be colourful like autumn landscape, may it be charming like winter's evening and may it be inspiring like awaking of nature in spring!
May your life twinkle like many beautiful stars. May you radiate the glory of the sun. May your joy be full always.
Today is the day to start something new, and you have to feel fresh, just because it's a new month, help yourself to be happy, and let go of everything bad!
Hey friends, This is the first day of the new month, and it can be a fresh start of your life also. Take a long breath and start going ahead towards your destination, wishing you best of luck.
We will face this new month as we face every other thing, together. No matter what comes to threaten our togetherness, it will not stand, for we are bonded to share life's joy and sorrow together. I love you so much, dear. Here's wishing you a month full of pleasantness.
READ ALSO: 50 romantic messages and love quotes for wife
The coming of a new month has given me another reason to let you know just how much you mean to me. You make me happy in a thousand ways. I love you to the moon and back, and I have no idea what I would do, if I lost you, because I feel like I will lose my entire world.
I will hold your hand through anything good or bad, but I hope this new month brings with it only the good because I can't bear to see you sad. A lovely new month to you my love.
Take a positive look at mistakes of the previous month, because they can teach you and make you wiser and stronger this month.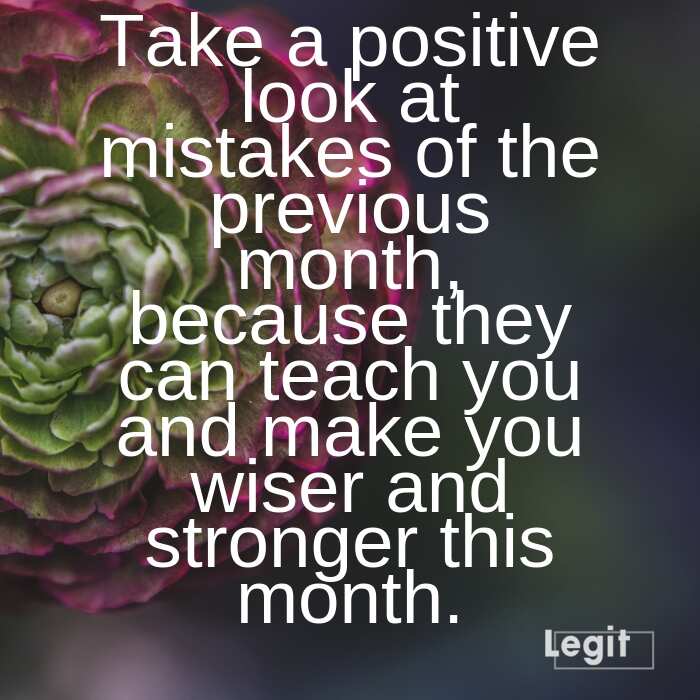 You are a diamond on your own and just as diamond reflects its glory from every side of view, so shall God's glory shine on every side of your life and make you unique. Have a lovely new month!
When the tide goes in your favour, when it goes against you, I'll be here with you, swimming the ocean of life gallantly. It's a new month my darling, cheers to a month of possibilities.
Pretty sure that the past month was amazing. But I'm even more confident that the next one will be even more awesome. You have everything to make it unique, and I know you will. I wish you a lot of strength and inspiration.
Are you ready to show much how hard you can grind? I think you are! And I say you should! I wish you an unforgettable month of awesomeness.
My darling wife, you are not just one woman to me. Slight as a blade of grass, you sit on my knee, so you are like my daughter. At the same time, you look after me, like you are my mother. You are beautiful, and I admire you, so you are my star. You are my faithful ally in life's struggle. You are everything I crave for — happy New month to the bone of my bone.
The glory of the sun can never be hidden. It shines for all to see. May your life shine beautifully. May men come to the light of your shinning — happy new month.
I wish that this upcoming month brings you much joy, love and inspirational moments in your life!
The coming of a new month has given me another reason to let you know just how much you mean to me. You make me happy in a thousand ways. I love you to the moon and back, and I have no idea what I would do, if I lost you, because I feel like I will lose my entire world. Happy new month my world!
Honestly speaking, happy new month messages may even give hope to the most resigned souls. You never know the power that such a heart-warming text holds. Why not cheer up someone today by sending them one of these quotes?
READ ALSO:
Top 50 funny animal puns and jokes
75 romantic good morning my love quotes and messages
Top 50 cute quotes and love messages for husband
75 good night my love messages, wishes and quotes
Top 50 funny cow puns, jokes, one liners and pick up lines
Source: Legit.ng