50 scorpion tattoo design ideas for men
Getting a scorpion tattoo is quite common today. Beautiful in itsown way, this representative of the animal world attracts many ink fans.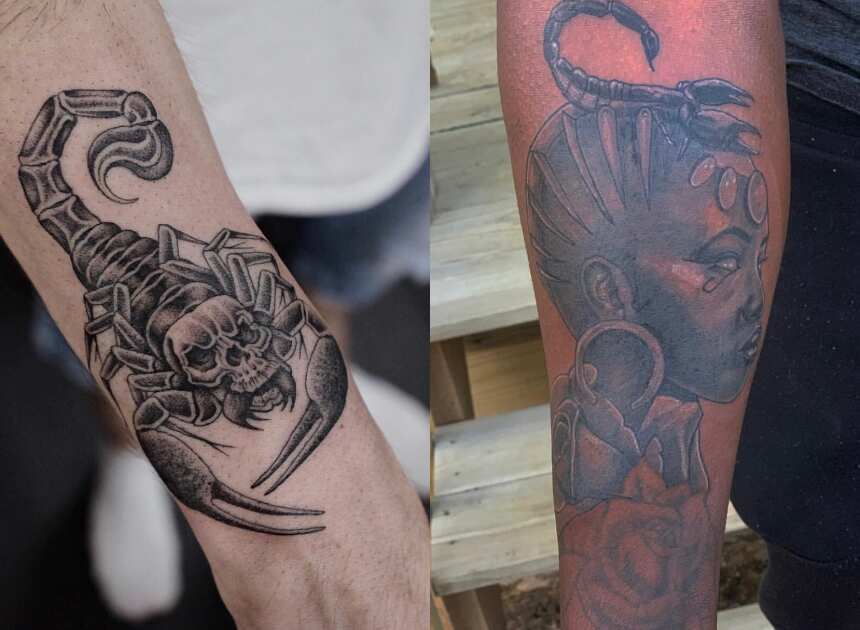 A scorpion is a popular symbol in modern inking art. In every nation or culture, a scorpion tattoo may have a different meaning. So what interpretations exist in the world? We suggest you get acquainted with some of them ​​and show the best ideas for men's designs.
What is scorpion tattoo meaning?
Among African tribes, a scorpion meaning had two sides. It was considered a symbol of revenge and a messenger of death, but at the same time, it was an embodiment of justice and determination. Also, this animal was considered a judge who can kill or heal at the same time, but healing must be deserved.
In Eastern, in particular, Japanese culture, it was a symbol of wisdom and justice. A scorpion depicted together with a flower could mean long marriage life and eternal love.
In addition to belonging to a specific group of like-minded people, meeting certain standards or expressing one's world perception, a tattoo with a scorpion is often made by people born under this zodiac sign. In such cases, the image does not carry a symbolic charge. It has the same meaning even if it is located on the chest, on the back or the shoulder.
It can be summed up that there is no unambiguous definition of a scorpion tattoo. Each person puts an image of this animal, trying to express one's vision, to designate the inner world and state of mind.
So, if you already know what meaning to choose for yourself, then it is a high time to pick a perfect design.
1. An eagle and a scorpion
Here is an interesting coloured ink design with an eagle sitting on the animal like on a tree branch.
2. Geometry
This ink looks like a sketch from an architects notebook. Incredible lines and circles are perfectly matched together with a half scorpion, half column design.
3. A 3D design
This one looks amazing like there is a real animal sitting on a body.
4. On the chest
Here is another beautiful example of a 3D chest design.
5. A shoulder design
There is a fantastic scorpion in colour placed in the bright gradient background.
6. Japanese design
This design will be much appreciated by fans of Eastern culture. They will love an ink with the animal, having the face of a Japanese demon Oni as its body.
7. An anchor and a compass
Here is an interesting combination of a scorpion with an anchor and a compass. A picture is completed with some geometry figures like a dotted triangle and a red lozenge.
8. An eyed bottle
You will admire this design if you like interesting concepts with hidden ideas and sense.
9. A large design
This wonderful design is what you need if you like big-scale inking.
10. On the shin-bone
This is a beautiful picture of a scorpion sitting in flowers with a drop of venom on its tale.
11. On the head
If you want everyone to notice your new ink immediately, then the head is the best place for placing it.
12. A wrist design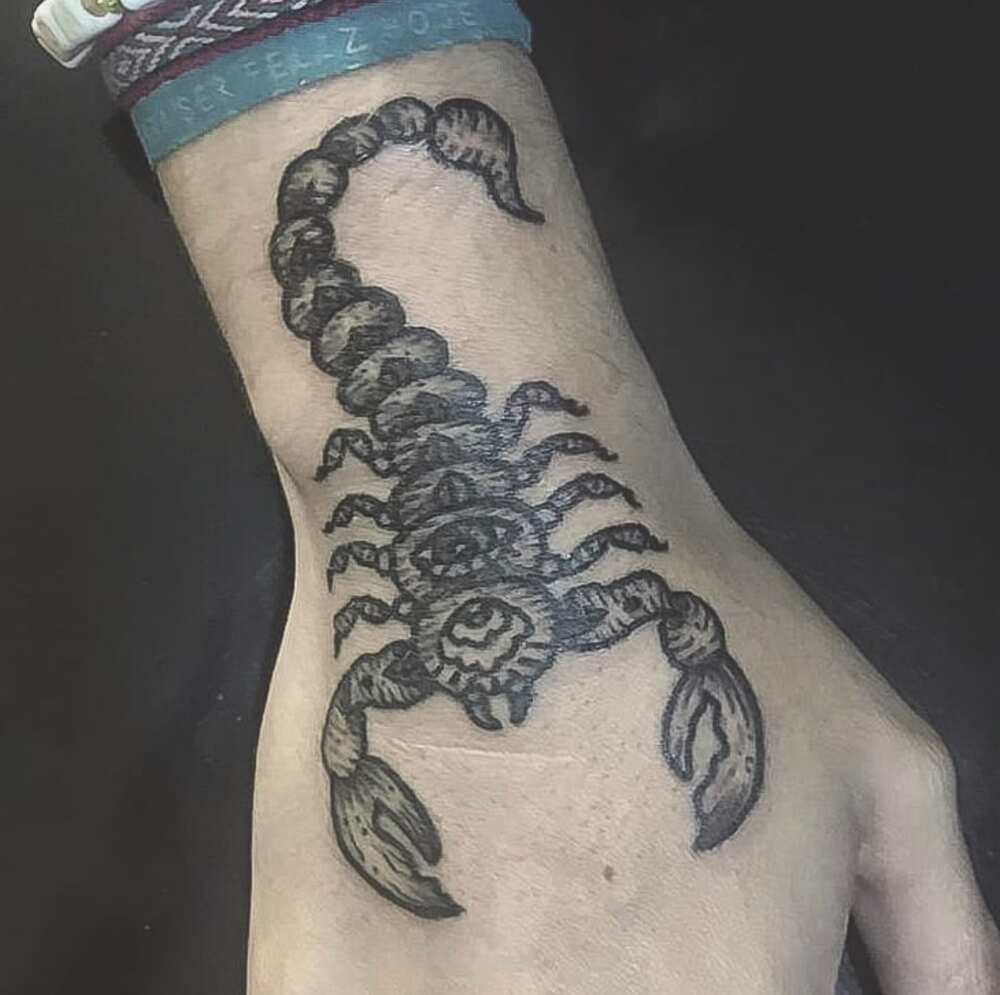 You can decorate your wrist with this wonderful permanent picture of the animal with little eyes all over its body.
READ ALSO: 50 mother daughter tattoos ideas to inspire you
13. A red coffin
This one is bright and dark simultaneously. It is a good combination of vivid red and black colours. The artist's work is amazing.
14. A blade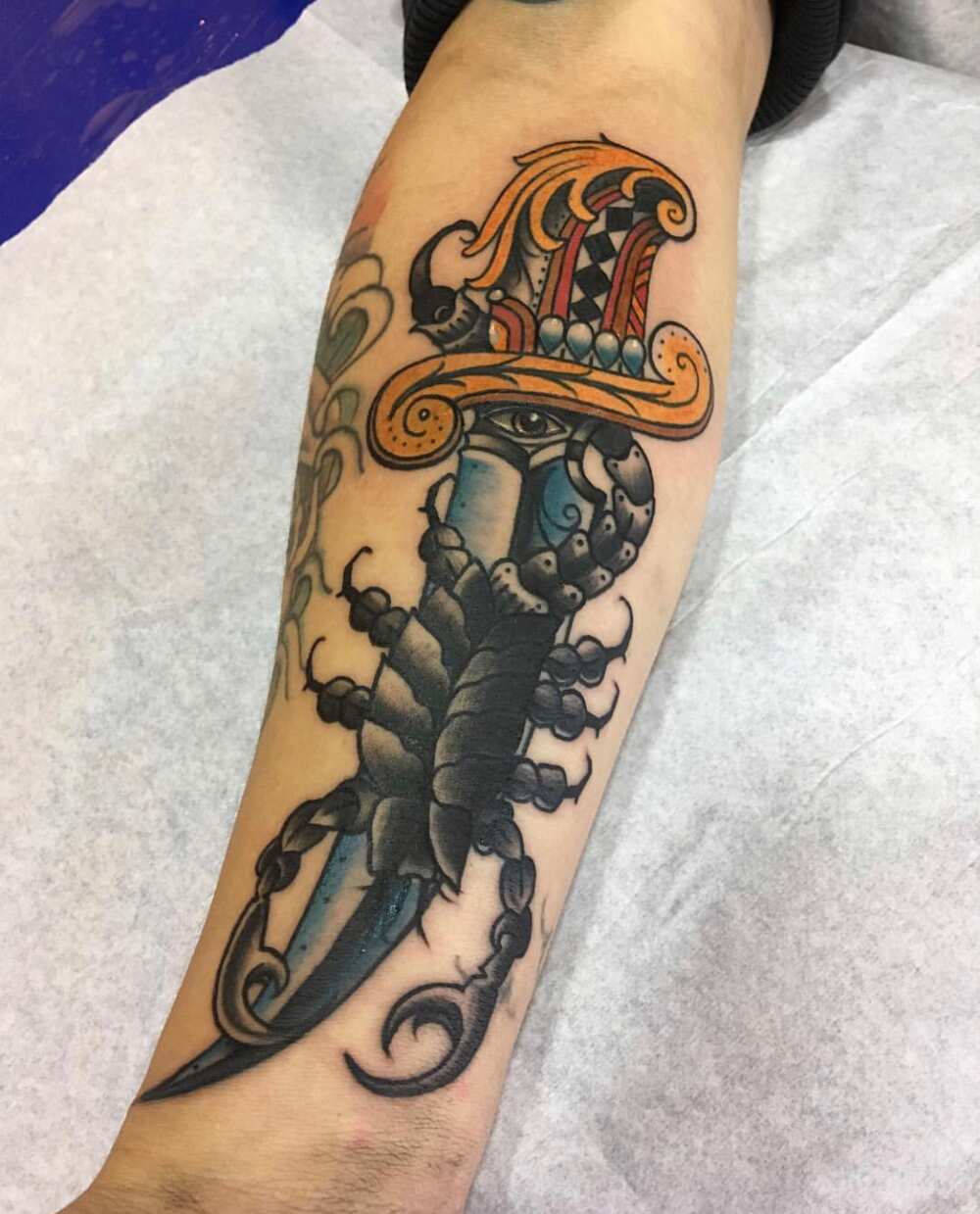 A picture looking like a real masterpiece will be an incredible decoration for your forearm.
15. A red scorpion
Here is a nice design with an interesting concept, where the animal's claws are placed on fingers to create an illusion of motion.
16. A foot design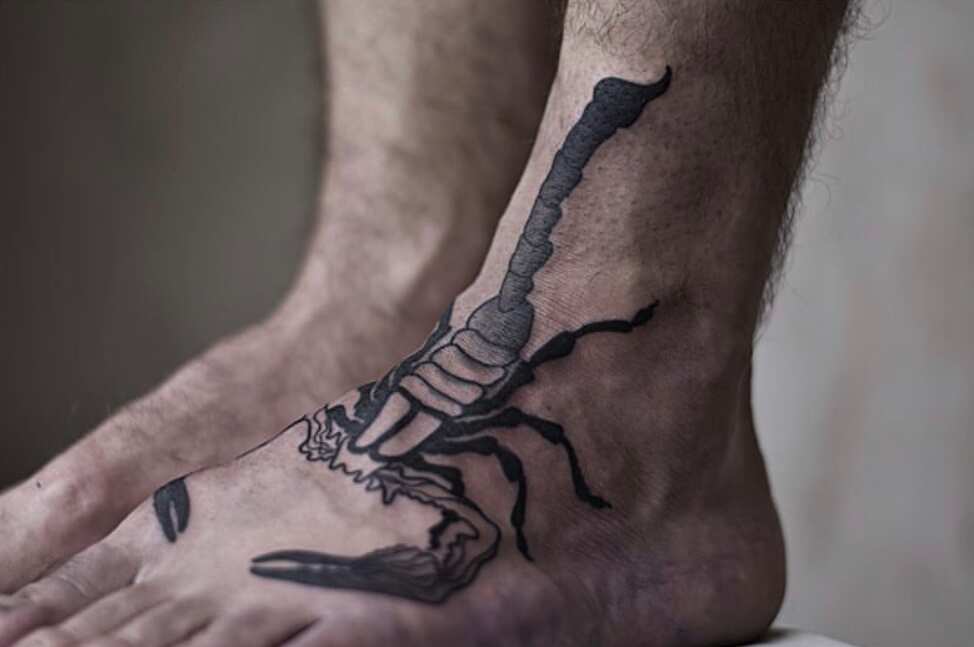 Such a symmetrical location of a tattoo will make it look wonderful and neat like it has been on you for your entire life.
17. A mirrored image
Here is another idea for a symmetrical ink, which will look amazing.
18. A sketched style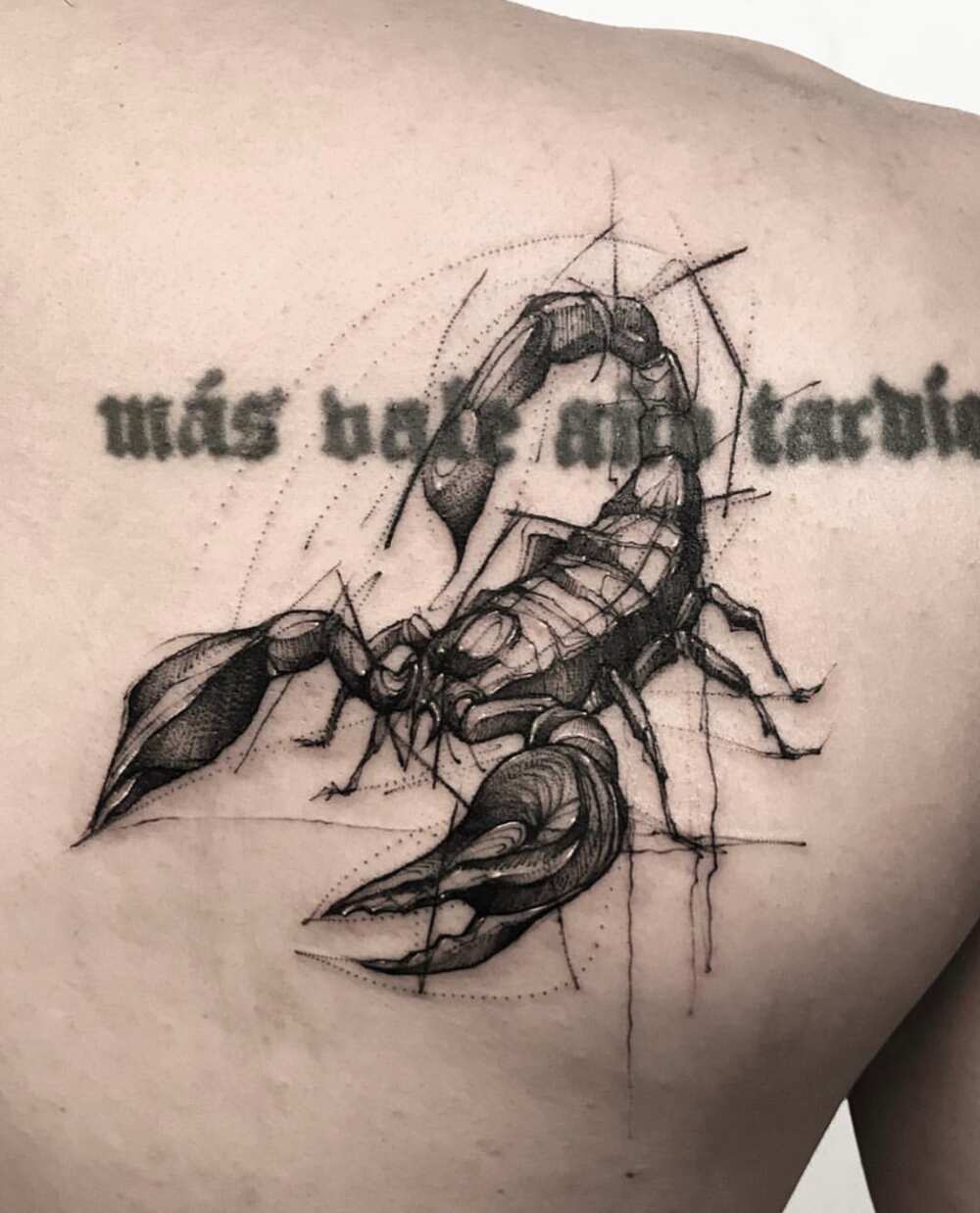 Sketched style inks always look amazing and special.
19. A skull
Here is a picture of a scorpion sitting on a skull and radiating beams of light with its tale. This design is totally masculine and illuminates strength and power.
20. On the head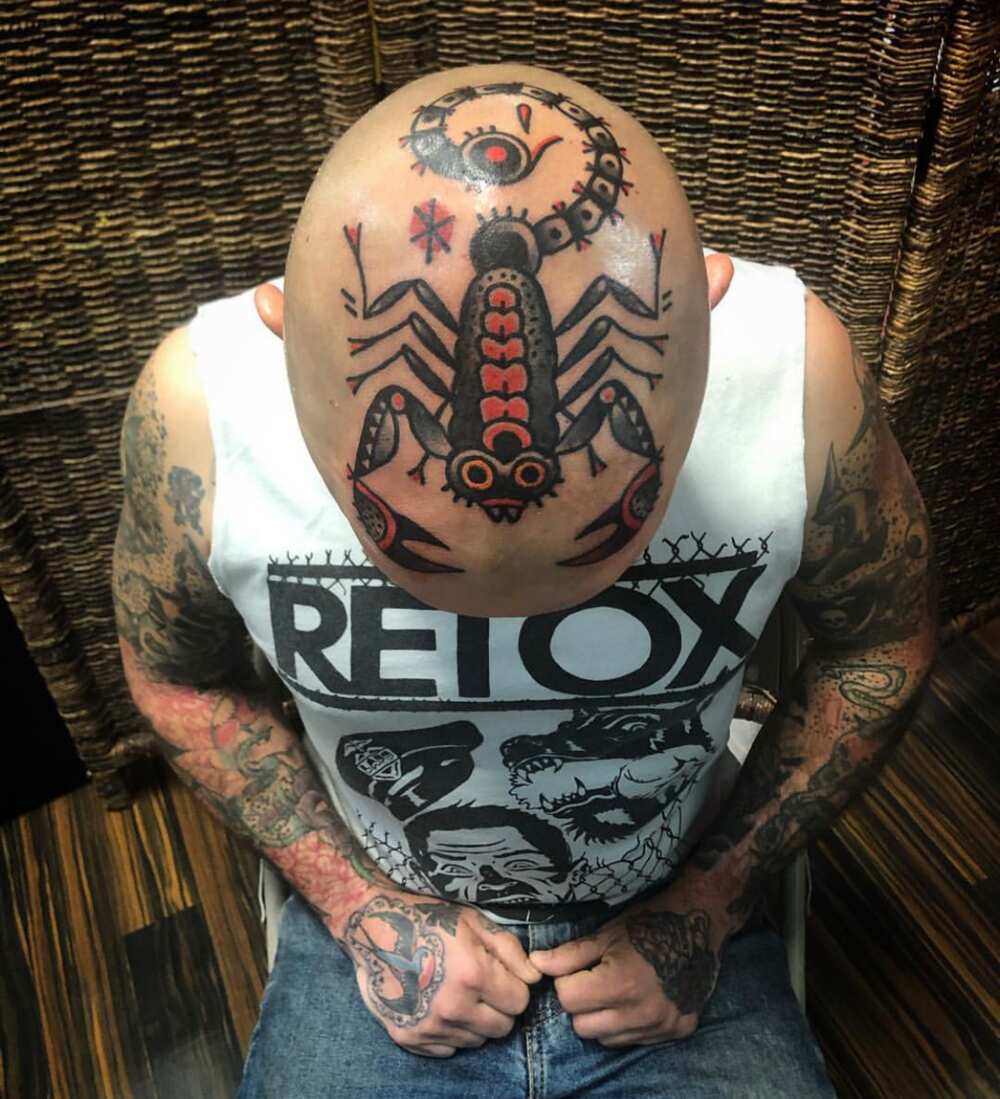 If you want to try this dashing one, be ready to shave your head.
21. Black and blue
This royal blue rose will show everyone who is the king of life here.
22. A neck design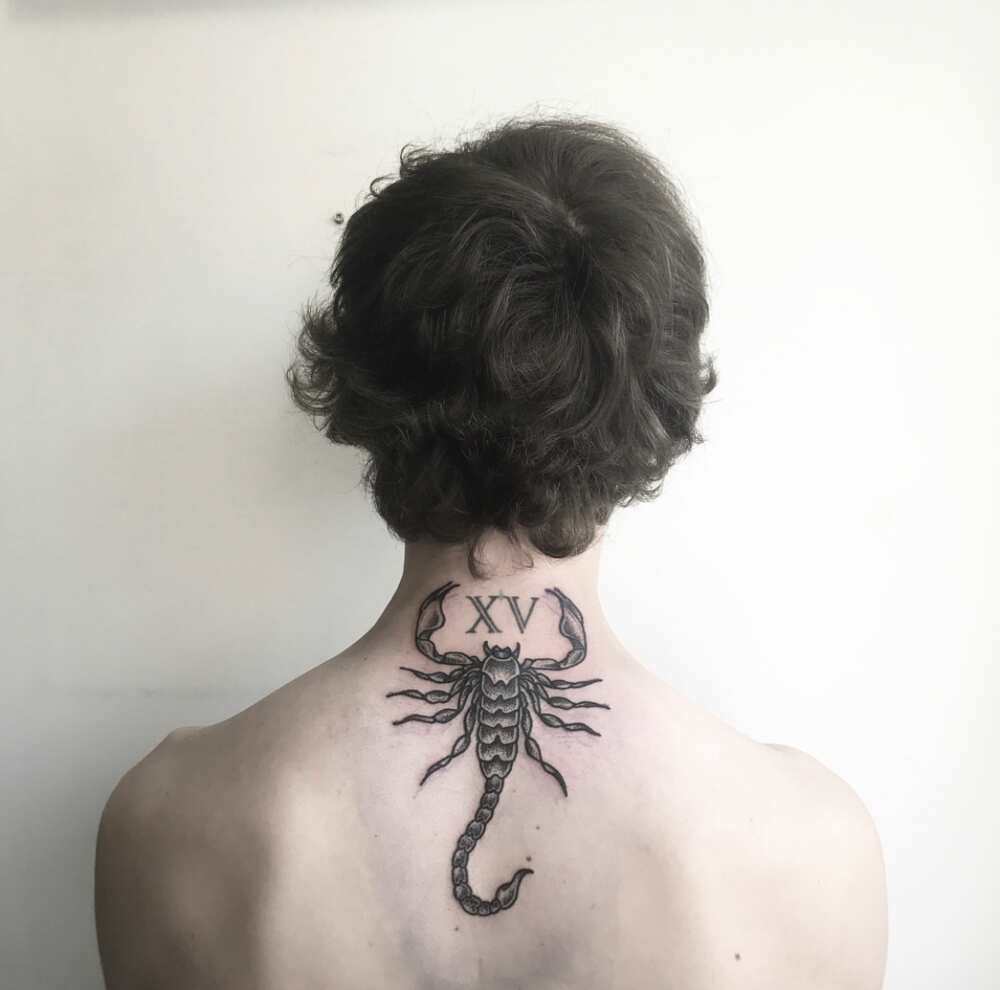 If you have plans on inking your back, start with this amazing picture going down your spine.
23. An ape head
Sometimes artist's imagination is unpredictable. Anyway, it looks fantastic and very unusual. You will definitely like this ape-head scorpion with bananas instead of its tarsus and stinger.
24. An ethnic one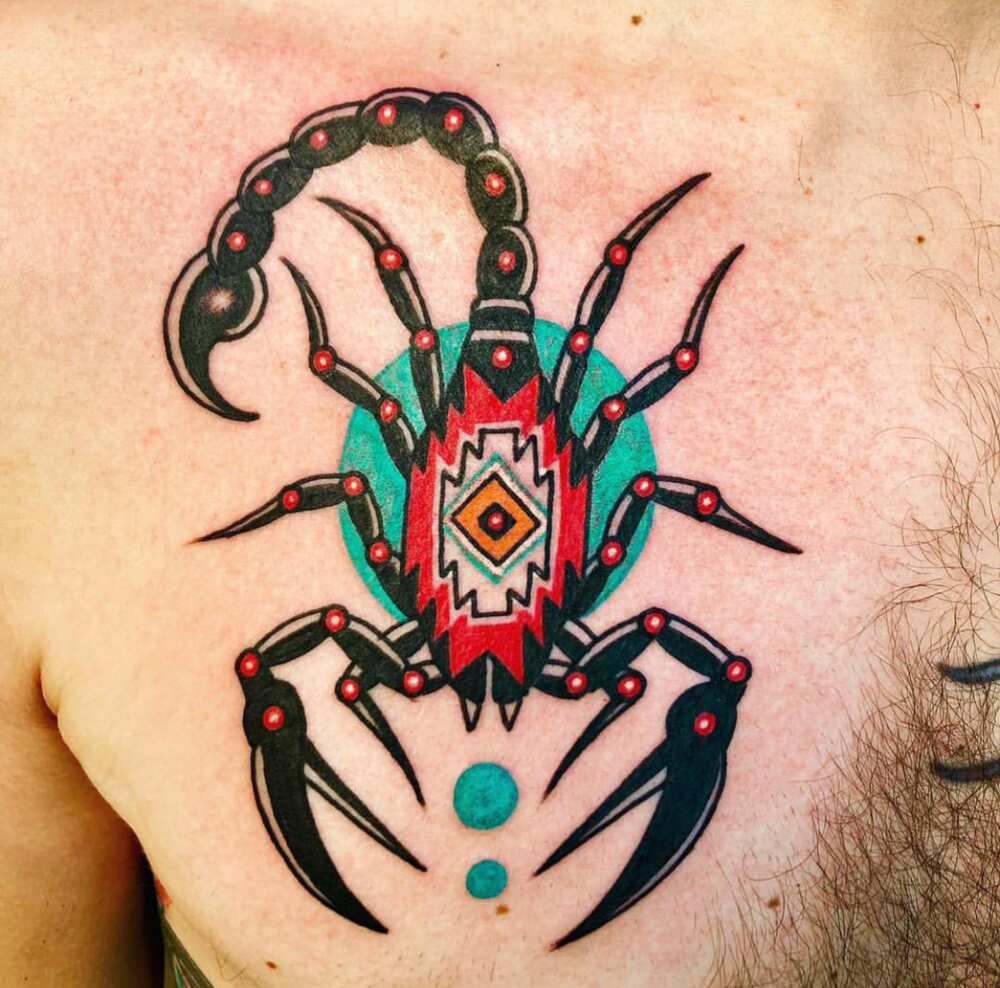 Ethnic motives always make an ink look better and can save even the most regular concept.
READ ALSO: 35 simple henna designs to try in 2019
25. A collarbone design
A collarbone is a good place for a tattoo. Take it into consideration as well as this image of the animal.
26. On the hip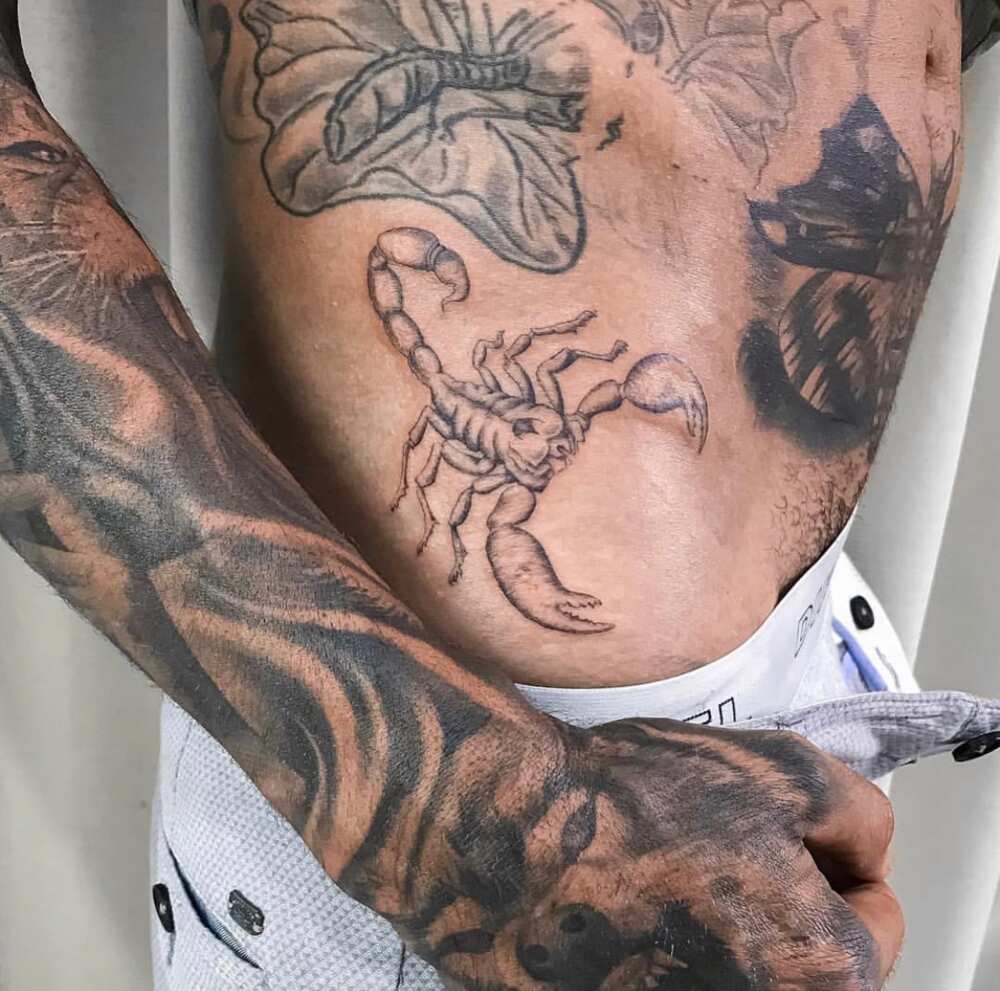 Such a neat work of an inking artist will be a great decoration for your body.
27. A neck tattoo
There is an excellent image for fans of neck designs.
28. A minimalistic picture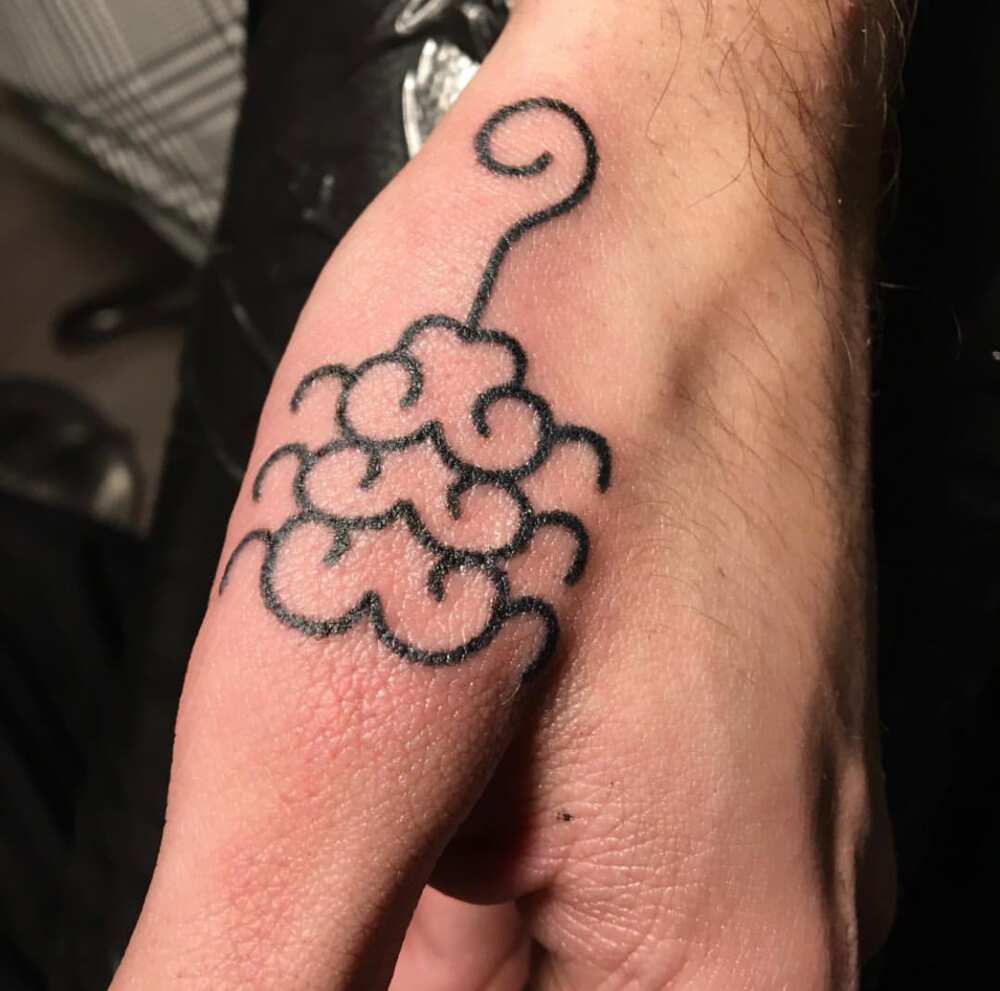 Here is an interesting and minimalistic image, for those men who love unusual designs.
29. A forearm design
This medium-sized tattoo with a bright design will help you stand out of the crowd.
30. A constellation design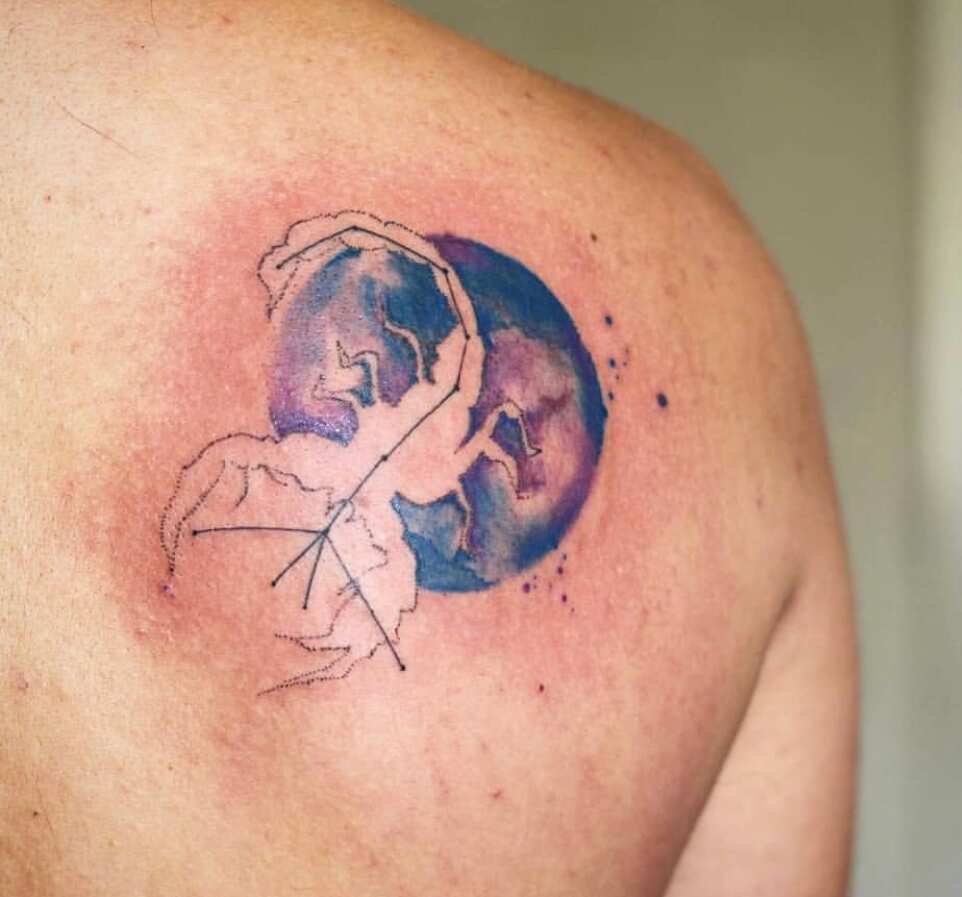 A man who was born under the Scorpio star can consider this amazing design. Here we can see a contour of the animal with the corresponding constellation, sitting on the Earth.
31. A scorpion on fire
A really bright image for a not less bright man. It will be your ideal design if you like to be distinguished.
32. A zodiac sign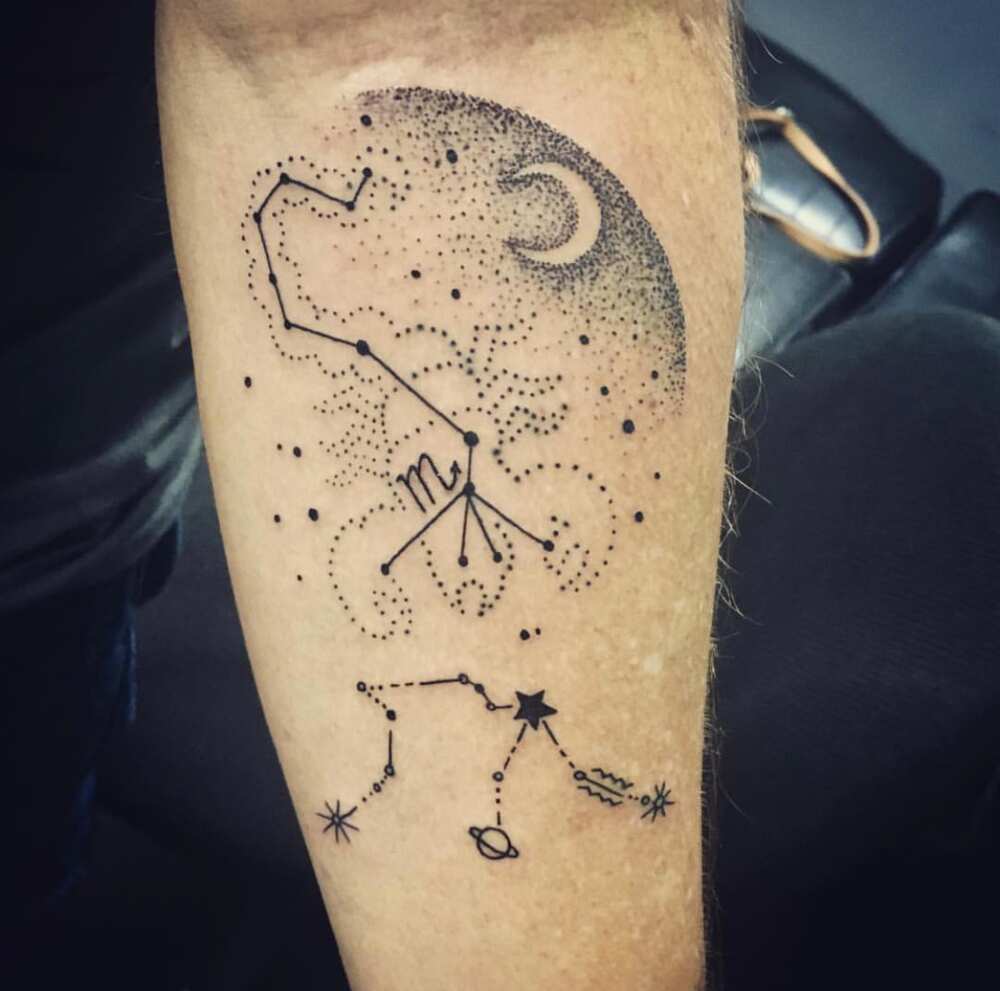 A beautiful picture with a Scorpio constellation, zodiac sign and the moon for November form gentlemen.
33. A yellow potion
This alchemy bottle with a scorpion and a centipede trapped in is another unusual and beautiful ink.
34. Scorpio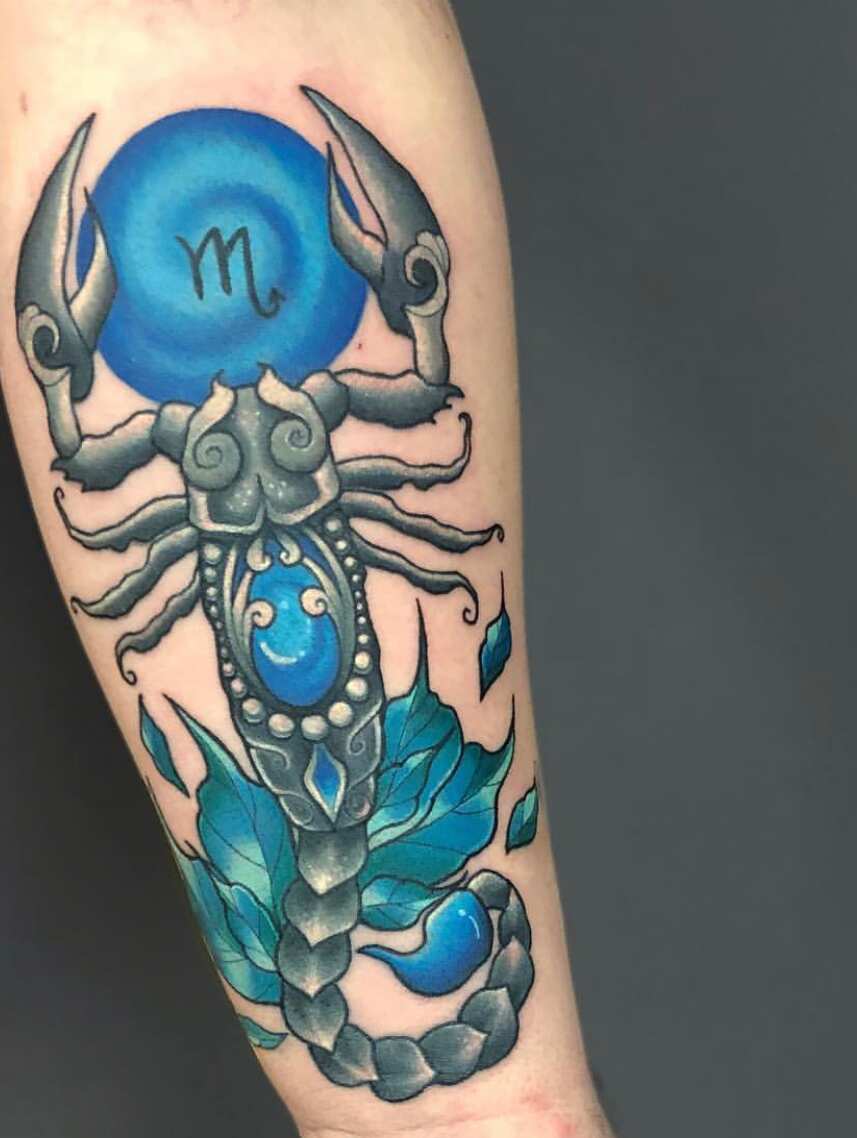 An amazing combination of colours and artist's work make this ink look really magically.
35. Representation of power
There is strength in a tattoo shape. Such tattoos represent mainly energy and vitality since this animal usually lives in totally inhospitable environments and is still king.
36. Bright and lethal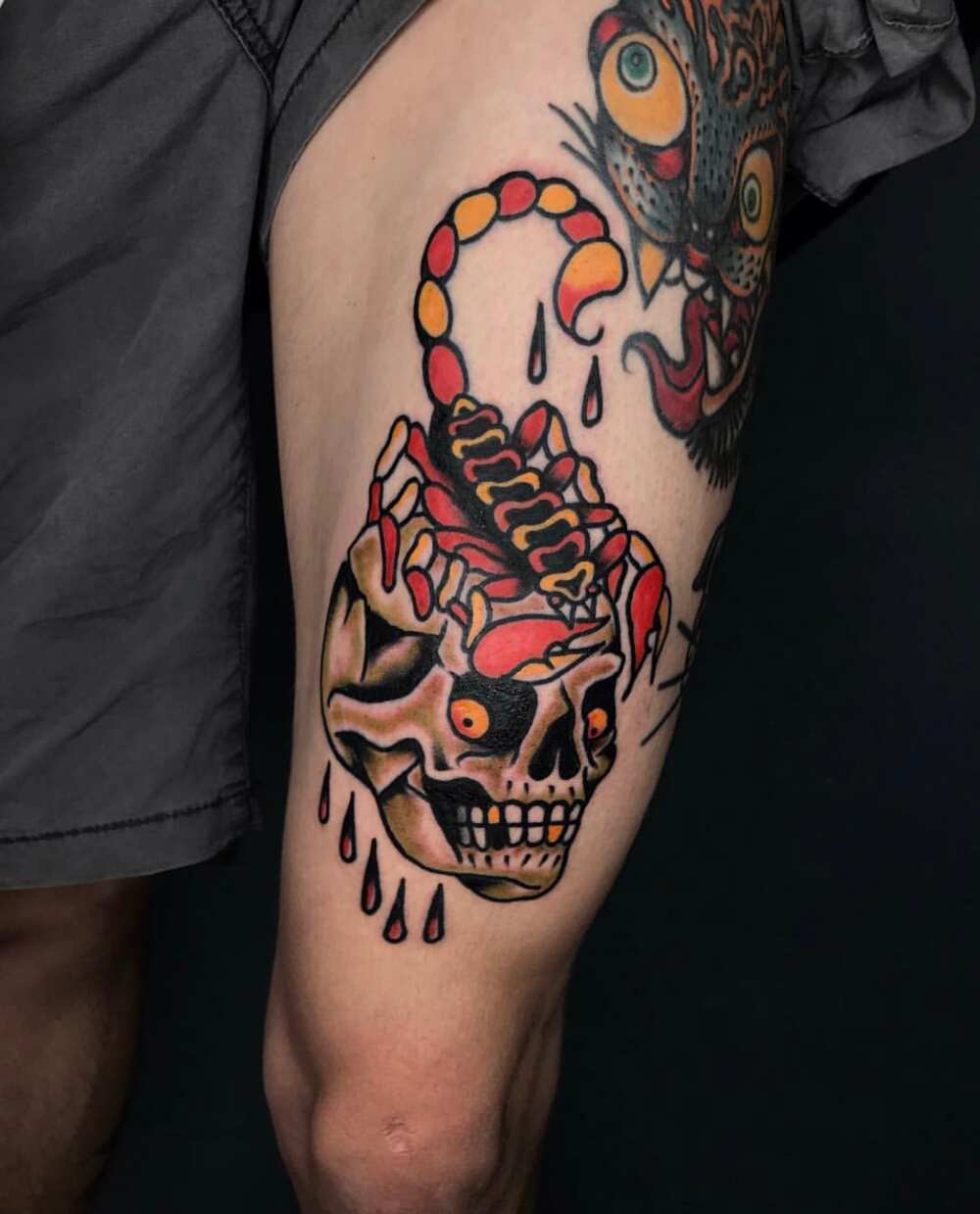 An original artist's style and bright colours make this design quite extraordinary and eye-catchy.
READ ALSO: Elephant tattoo: meaning and top 50 ideas
37. A neotraditional concept
Here is another ethnic pattern in very vivid colours. The animal has a beautiful ornament and split tale, and they make it look unusual.
38. A shoulder tattoo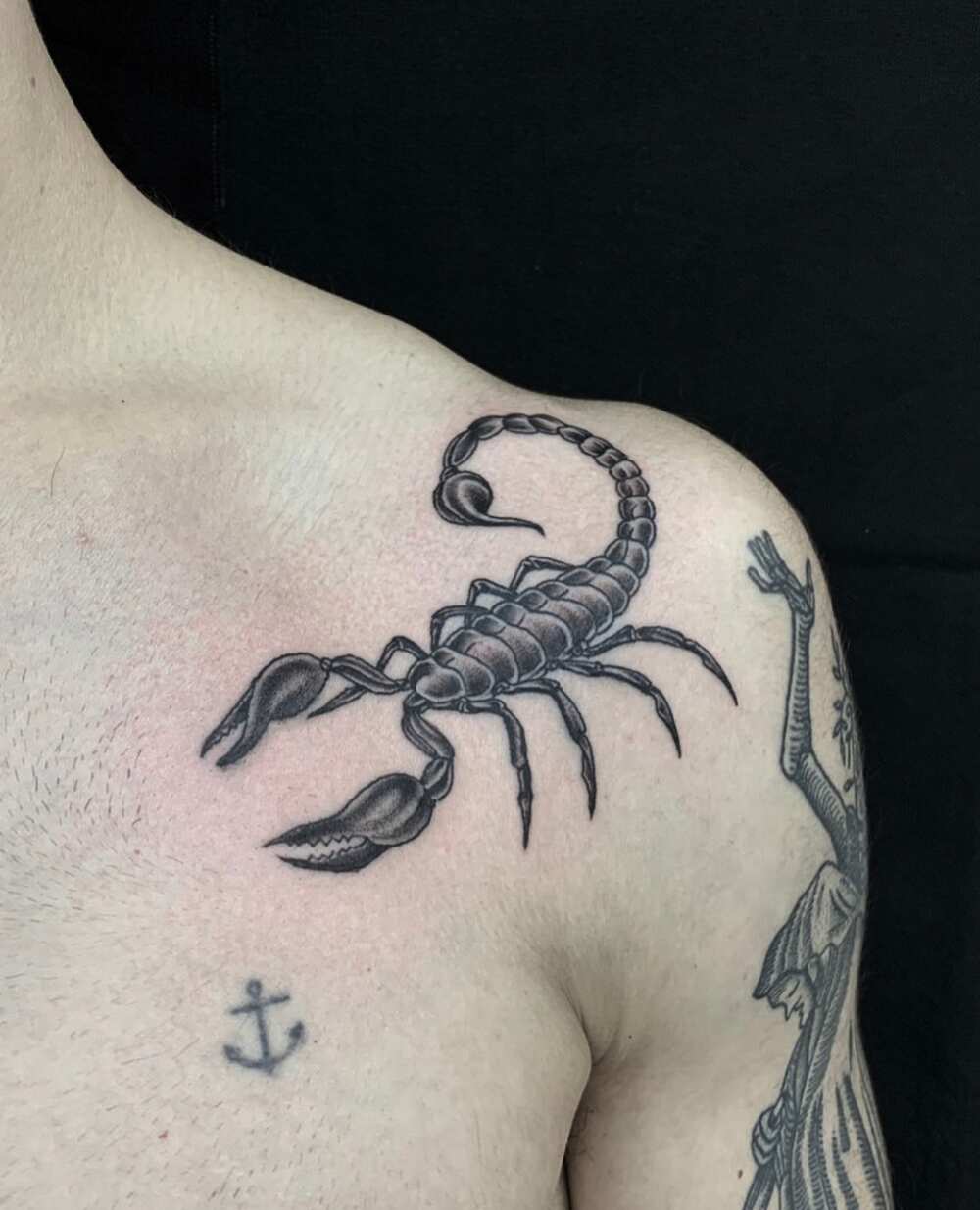 There is another testimony of the fact that the shoulder is an extremely popular body part for scorpion tattoos.
39. A crying face
This ink is an original combination of crying eyes and the exotic animal approaching them.
40. A golden and black design
If you want something really bright and unusual, you should definitely try this one.
41. A woman's face
This tattoo seems to be a new vision of the Egyptian Sphinx, but this one is the scorpion with a woman head.
42. A little one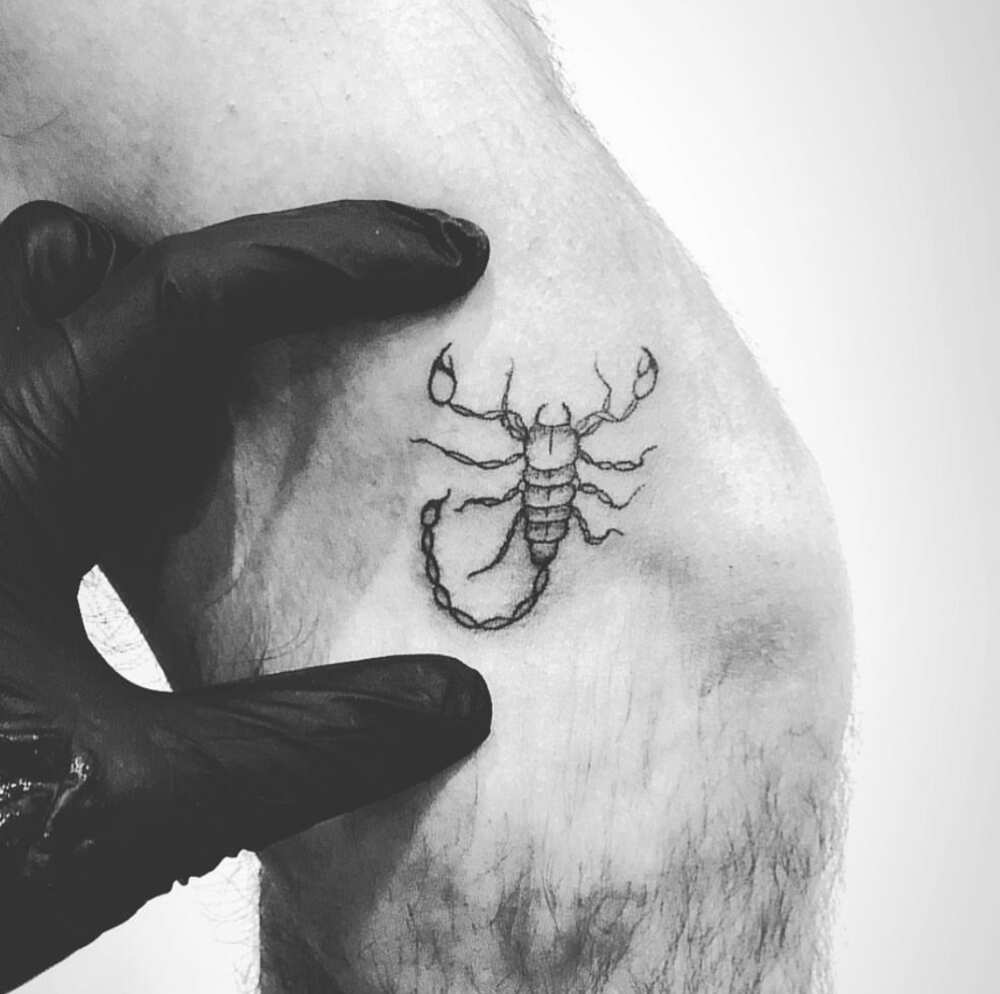 Scorpion inks are good in any size. For example, this small design looks exceptionally good like any other of a larger scale.
43. Memories last a lifetime
In some cultures, these animals are symbols of wisdom. So, why not combine it with some smart words? This sleeve looks like a masterpiece.
44. A skull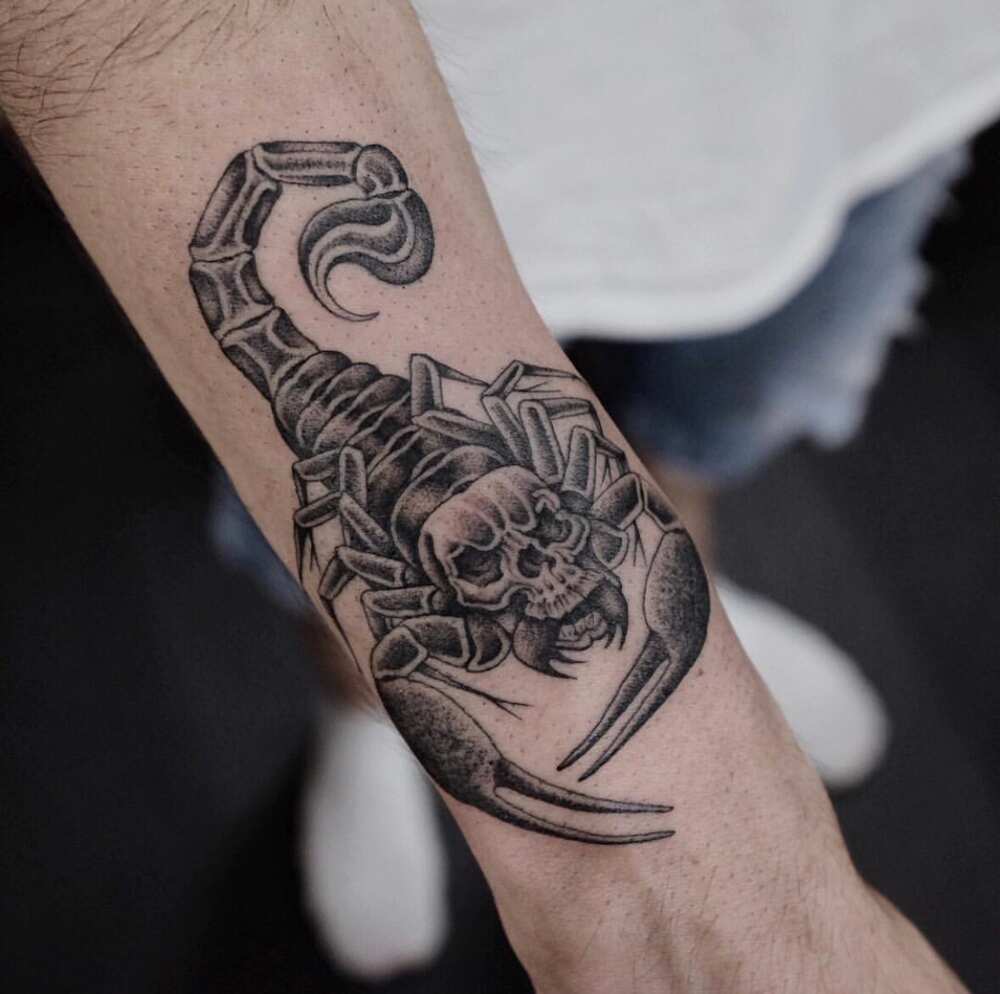 There is a somewhat trend on replacing animal's head with something else. It has appeared quite recently, so you can become a pioneer with this design.
45.Sleeve coverage
Take this design into consideration if you like sleeve tattoos. It looks really gorgeous.
46. A 3D neck design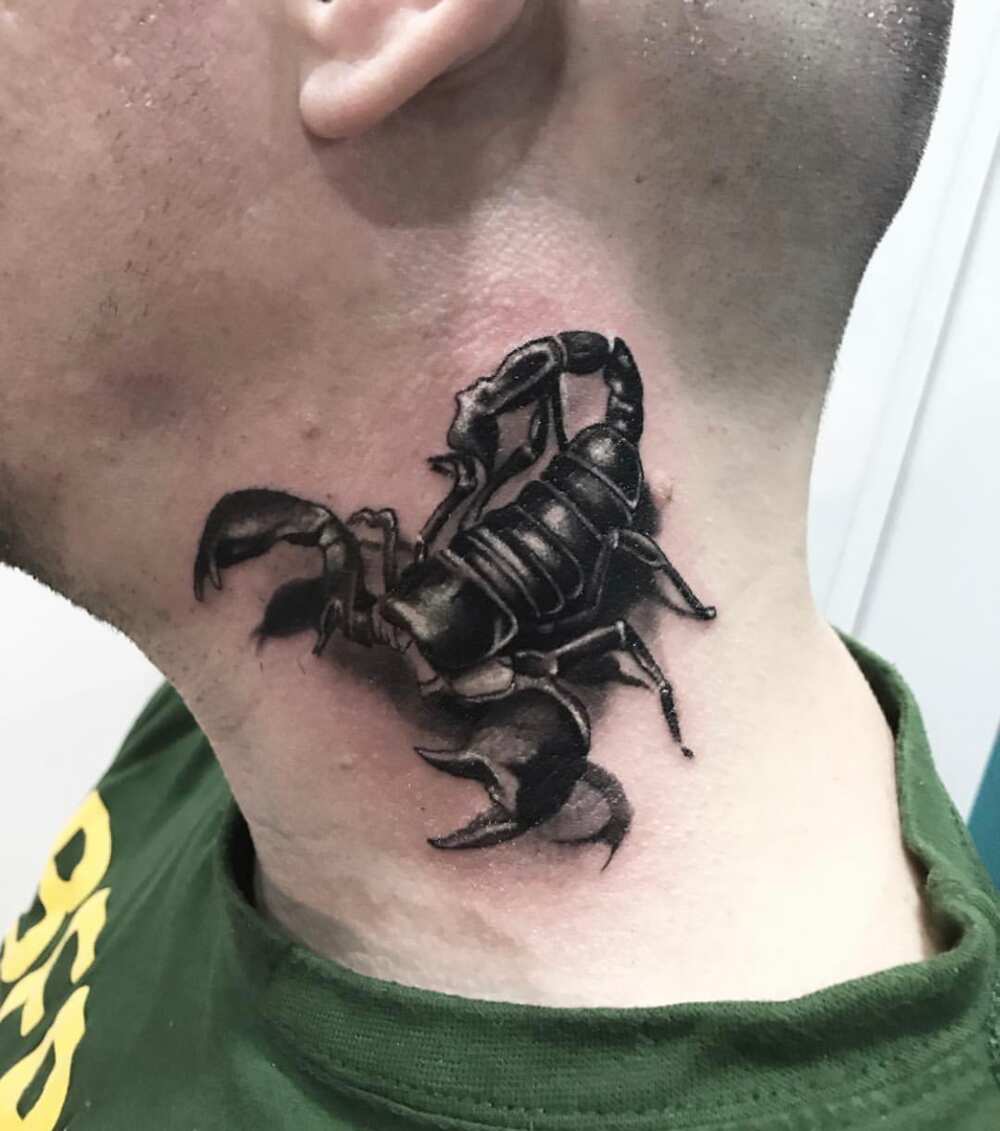 Realistic designs are extremely popular for scorpion tattoos, and they look amazing on any part of the body.
47. A face tattoo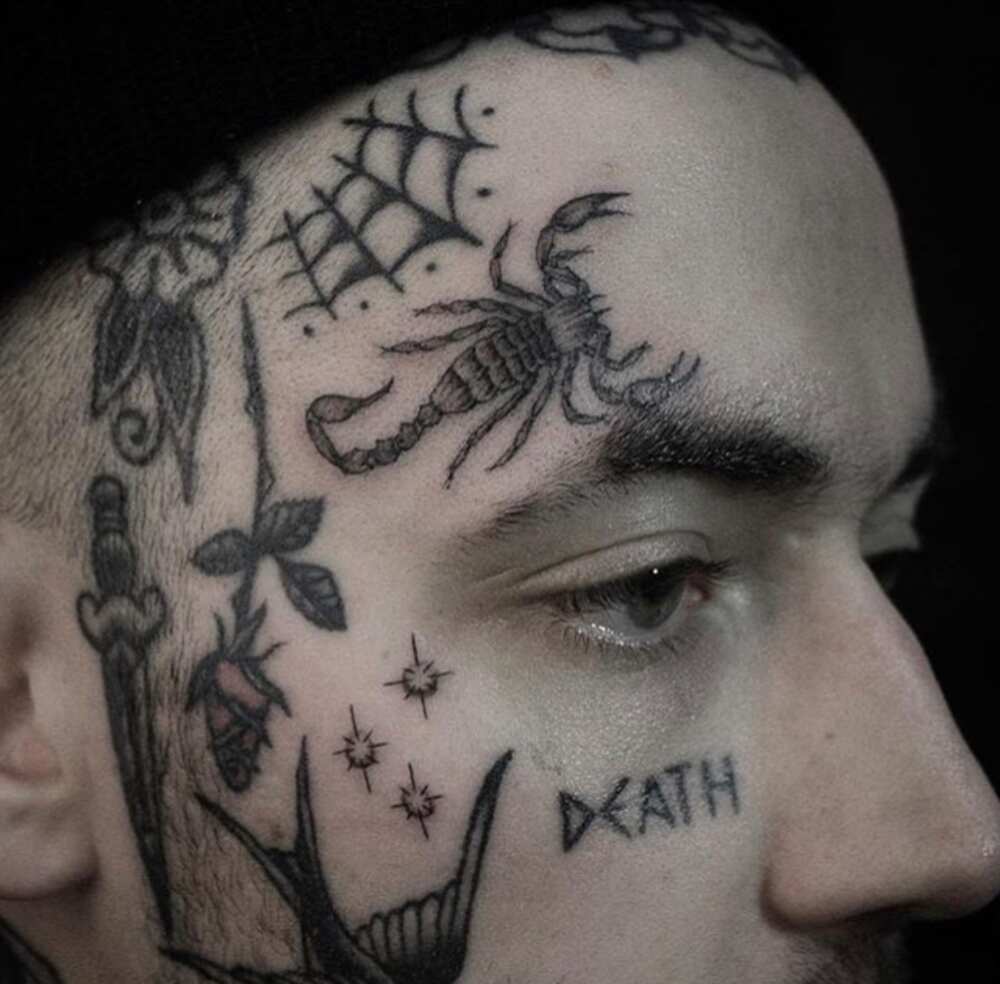 Recently, face tattoos became a real trend. Opinions about them vary, but they are still very popular. So, you can give it a try as well.
48. A big shoulder tattoo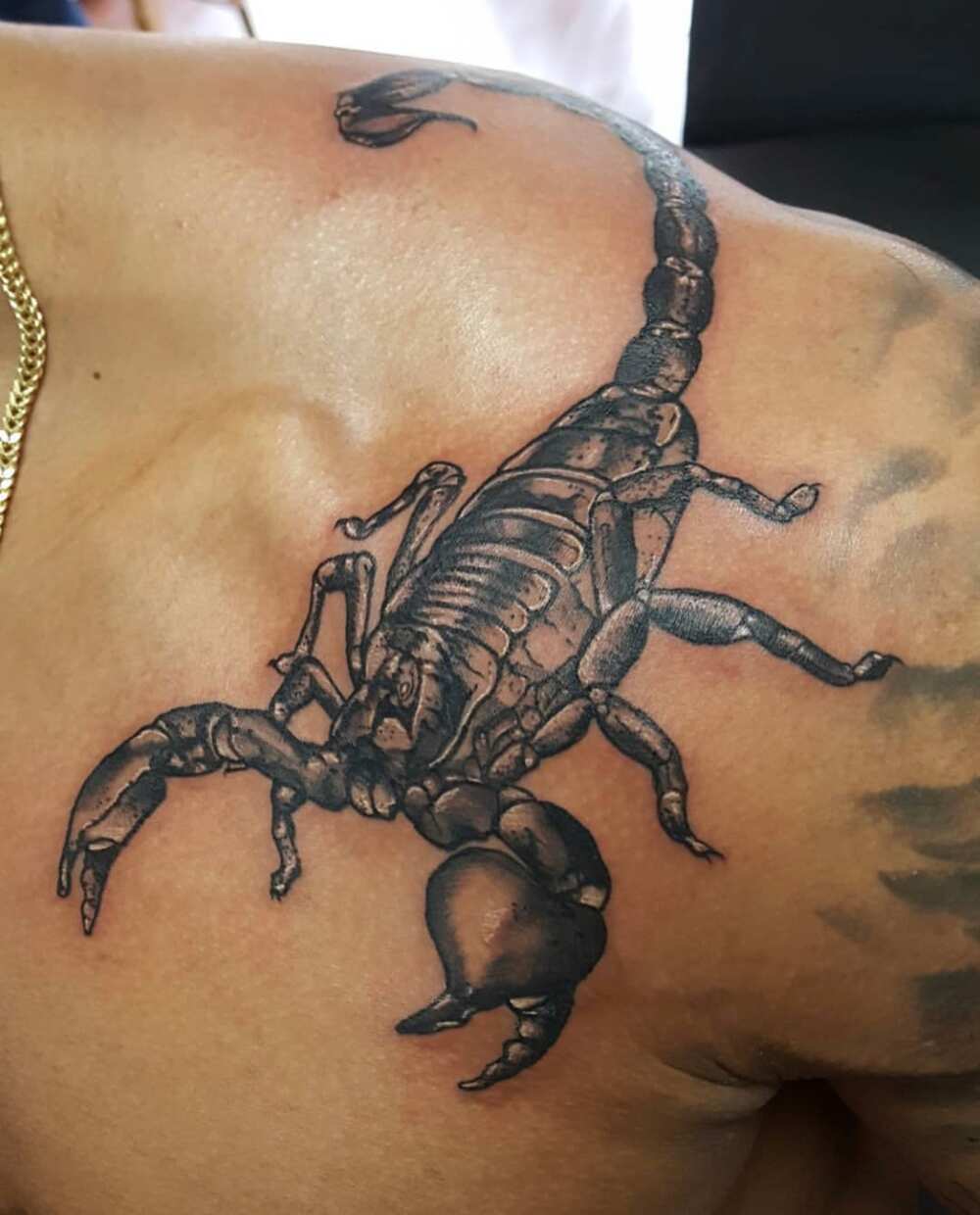 The shoulder is a popular place for men tattoos. So, consider it while searching for a new "home" for your scorpion.
49. Bright and colourful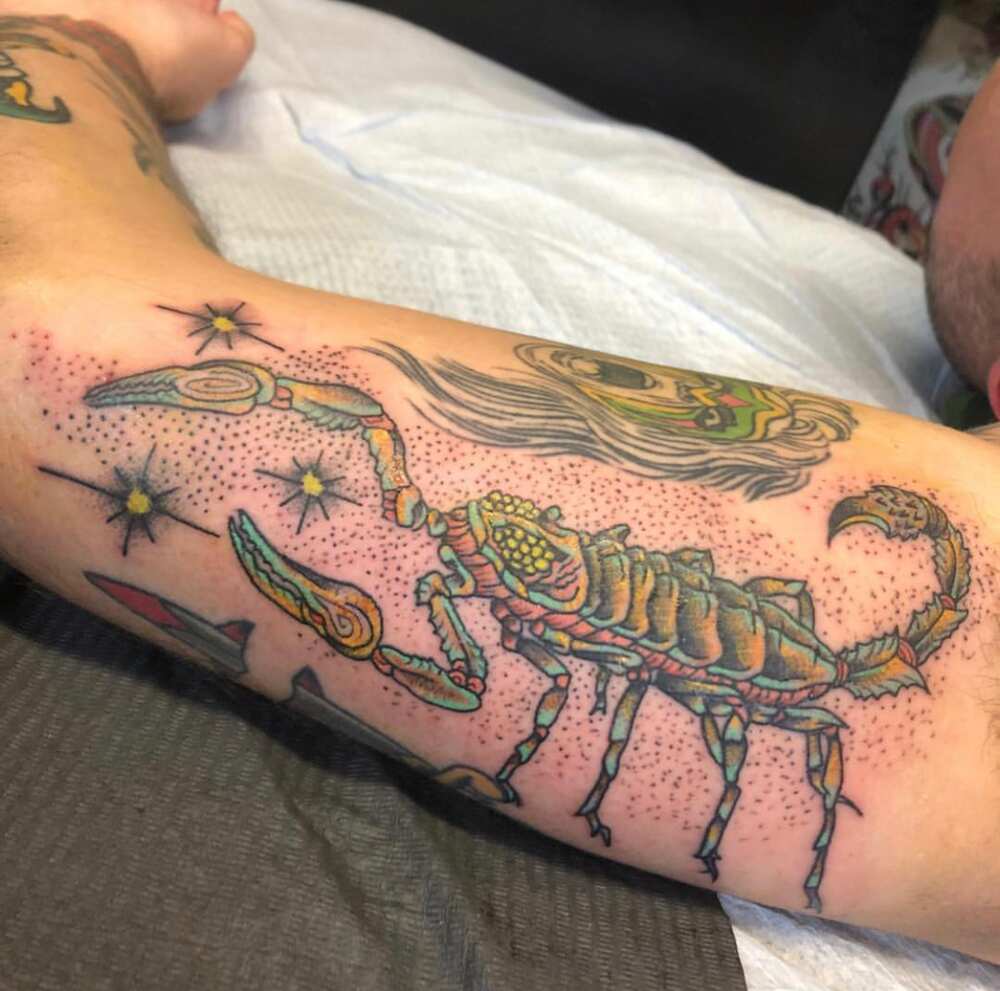 This is quite an interesting decision on a colour palette. Despite the fact that a scorpion is a dangerous animal, it looks great and unusual even without traditional black shades.
50. A minimalistic outline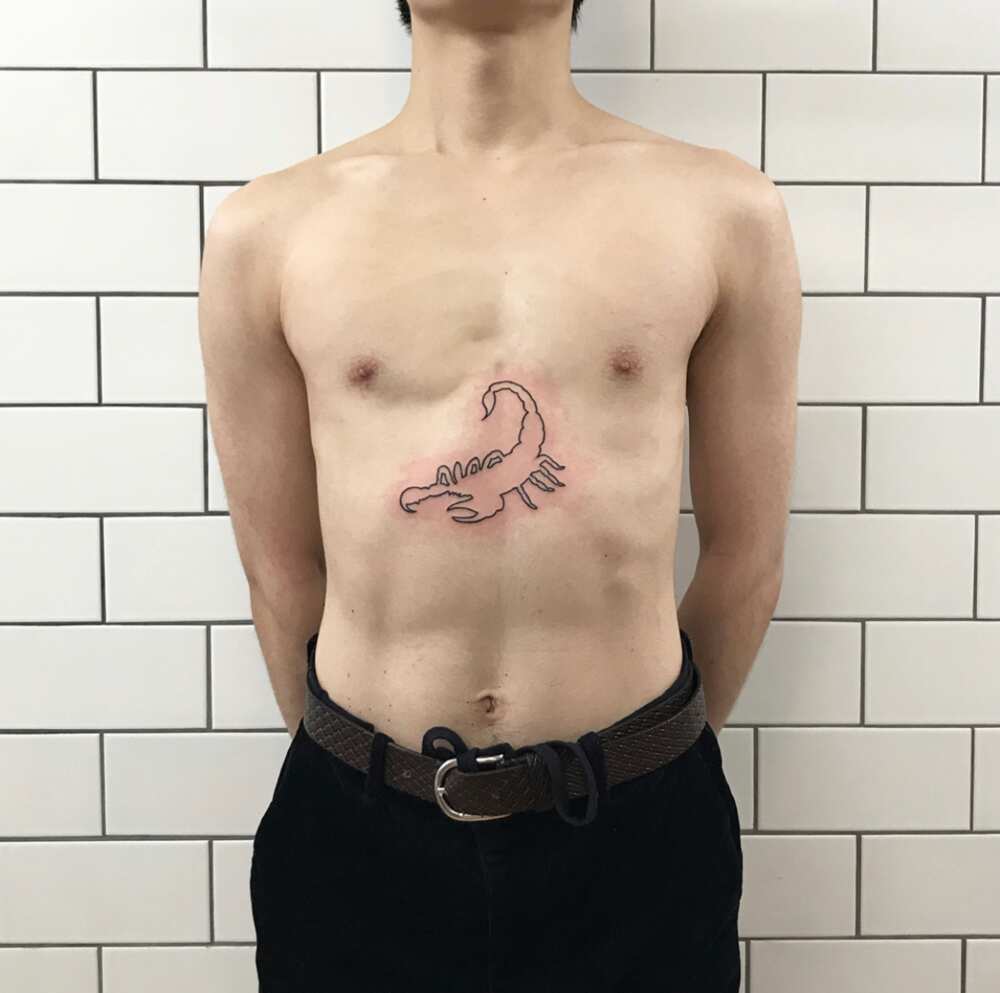 This elegant and neat outline will be a perfect start for inking your body. A minimalistic design is always a good idea.
Scorpion tattoo attracts the sight, fascinates and even scares a little. Using brighter colours and unusual tattoo designs, you can achieve the effect of otherworldly and unreality, giving it the meaning associated with numerous legends. A well-made coloured ink will be a very memorable detail in the appearance of any person. If you want to emphasise your individuality, identify hidden features and extravagance, then this tattoo is for you.
READ ALSO: Sunflower tattoo: meaning and top 50 designs
Source: Legit.ng