Kellita Smith bio: age, height, measurements, net worth, spouse
We know her as Wanda McCullough or Lieut, Roberta Warren, but do we know anything about Kellita Smith, the real personality behind these roles? It happens sooner or later to every actor: people start to mix them up with their characters. If you want to discover interesting facts about this actress, not her roles, prepare for amazing discoveries!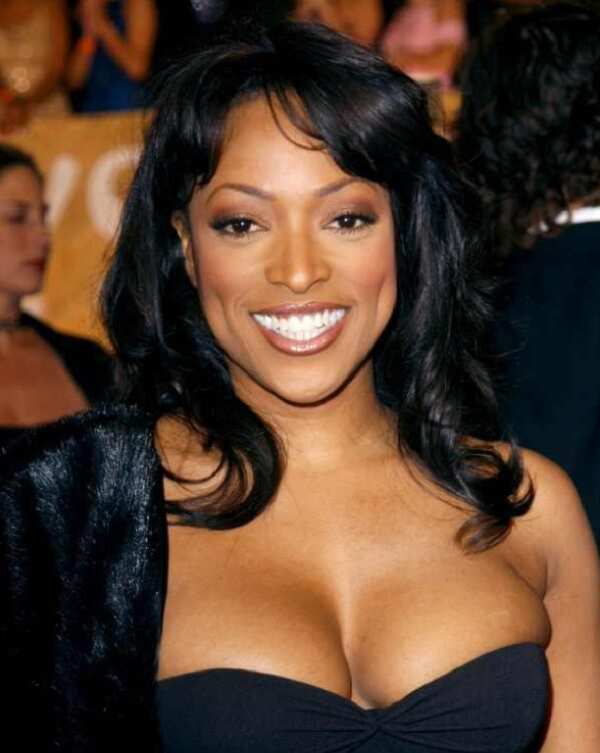 Kellita Smith movies and TV shows are among the most popular in the USA and outside. A talented comedian, she brings a sparkle to every show in which she appears. A beautiful woman, she makes men melt when they see photo shoots in which she participates as a model. It is time to learn more about this wonderful woman, her personal life, career, and personality.
A little about Kellita Smith family
Born in Chicago as the only female child of her mother Honey Smith, Kellita soon moved to Oakland, California. This is where her early years were spent. Her educational path started from the local Oakland Community Learning Center and proceeded to Santa Rosa Junior College. Studying there provided the future actress with a diploma and a degree in the field of political science.
There is no available information about her father. The only thing we know is that she has a brother named Eric. These are the only available facts about the celebrity's family and childhood. She also seems to have a degree in the art of concealing biography facts, too!
Discovering Kellita Smith net worth and career development
Everything started with modelling. Pretty and young, the future actress started to make money out of her natural beauty. Modelling experience has given her a unique gracefulness and has also taught her the art to show her most impressive sides.
Then, theatrical experience followed. The talented young lady wanted to achieve success in acting, and so it all began for her. Regional performances on stage eventually turned into first television roles. The year 1993 was quite fruitful for her as she received several invitations from television projects. "In Living Colour", "Living Single" – all these brought her a good deal of fame and the first good earnings for acting.
READ ALSO: Got7 Mark Tuan profile and facts: age, height, nationality, family, girlfriend
Three years later, Ms Smith was nominated for an NAACP Theatre Award and received it for her role in "No Place To Be Somebody" (the Best Supporting Actress). That year also brought her a list of roles; among them, there were four episodes in "Malcolm & Eddie", a popular sitcom.
The prime of her fame came in 2001 with the role of Wanda McCullough in another famous sitcom "The Bernie Mac Show". This role collected a handful of successful nominations and awards and made the actress a real star.
Since that time, success has been her companion in both acting and modelling. In spite of her age, this wonderful woman still looks fantastic and participates in diverse and multiple fashion events.
This career has collected Ms Smith a pretty big net worth. Even though she is not one of the brightest Hollywood stars who earn several million per role, she is said to have good salary incomes. For instance, her participation in "Z Nation" has brought her $30,000 per episode. In total, the actress' net worth is estimated at about $3,000,000. It is pretty good for a television star, indeed.
How old is Kellita Smith?
When you see this woman, she seems to be really ageless. Her body is slender and firm; her face is smooth and perfectly shaped. What do you think, how old can she be? Most people would say that the actress is hardly near forty (rounded down). Probably, you would agree with them.
Still, Kellita Smith age may surprise you a lot. She was born on the 15th day of January 1969. This year she has turned 50. She looks terrific for her age, does not she?
What is Kellita Smith height?
Since we are already talking about the actress's appearance, it makes sense to give more attention to the details of her exceptional beauty. This slim African-American beauty is not very tall, but she is definitely taller than many women. Her height equates to 5 feet 10 inches or 178 centimetres. High heels will certainly add drama and impressiveness to her height!
Are exact Kellita Smith measurements known?
Yes, we do know what the size of her beauty is. As estimated, Kellita wears bras of 34D size. 39 inches (99cm) for hips and 28 inches (71cm) for waist go perfectly well together with her height. The actress has a beautiful body with a waist-to-hip ratio equal to almost 0.7. This proportion is said to be the most attractive for males because it is very feminine and shows good health.
Who is Kellita Smith husband?
Kellita knows well how to keep certain parts of her life completely private. We do not know whether there is a man in her life and who he is. Fans prefer to think that the lady is still single because it is an inspiring thought for her male admirers. There was a couple of times when she was spotted with a mysterious man. The two were going to have dinner at one of Mr Chow's restaurants in Beverly Hills.
The actress was all shining and stunning, appealing and very hot, and so mass media came to a conclusion that the actress was on a date. However, there was no official confirmation from the actress whether these were really dates or just regular encounters with an old friend. Since the rumour was not disproved either, we can only guess whether the two were having romantic evenings out or just spending time as friends.
READ ALSO: Milly Shapiro Hereditary: age, family, appearance, medical condition
Judging by the assumption that paparazzi would have already noticed a husband or a boyfriend of hers, we can say that the beautiful woman is probably still not married. Her heart is still not conquered by anybody, and we can only expect news about a new romance. Fans are looking forward to seeing the moment when a future Kellita Smith spouse exchanges vows with their beloved actress.
What is known about Kellita Smith son?
Children are another private part of the actress's life. She renders no precise information about their presence in her life, but there is no evidence that she really has a child. Instead, there is information that the actress often visits a range of orphanages. She pays these visits for social service purposes and helps children who are deprived of parental care for some reasons.
It is a wonderful trait of her personality that should definitely be noted separately. Helping those who need help and taking care of those who are deprived of ordinary care and attention is very noble and kind. It is great that even being as concentrated on her career and professional growth as she is, the actress still finds time and energy to help those little souls.
To sum it all up, you are invited to take a look at several Kellita Smith hot pictures and see the unique beauty of this lovely woman.
It is miraculous how young and fresh this lady looks in spite of her age. Even though she cannot be called old, it is really awesome to stay in such a great shape for such a long time!
Yes, this is one of those early pictures from the time when modelling was the main occupation of the future actress. She looks totally gorgeous, does not she?
This woman manages to look terrific even when everything around her is blooded and dirty. She is incredible in this outfit of hers!
What an intimate moment! This picture combines innocence and a strong appeal at the same time. The actress looks great in it: modelling seems to be her second nature.
Some would say that the age of 50 is critical for a female television star. Kellita Smith is living proof that this statement is wrong. She is in her prime: a beautiful, energetic, talented woman with a lot of love and care in her heart. She works, enjoys her life and seems to be completely satisfied!
READ ALSO: Lacey Chabert husband David Nehdar: age, occupation, wedding pictures
Source: Legit.ng