Top 50 funny food quotes for food lovers
Food is not only an essential part of the daily routine but also the most exciting one. We cannot imagine our life without something yummy. How do you make ordinary eating fun and unforgettable? We bring to your attention amazing food quotes which will definitely make you smile.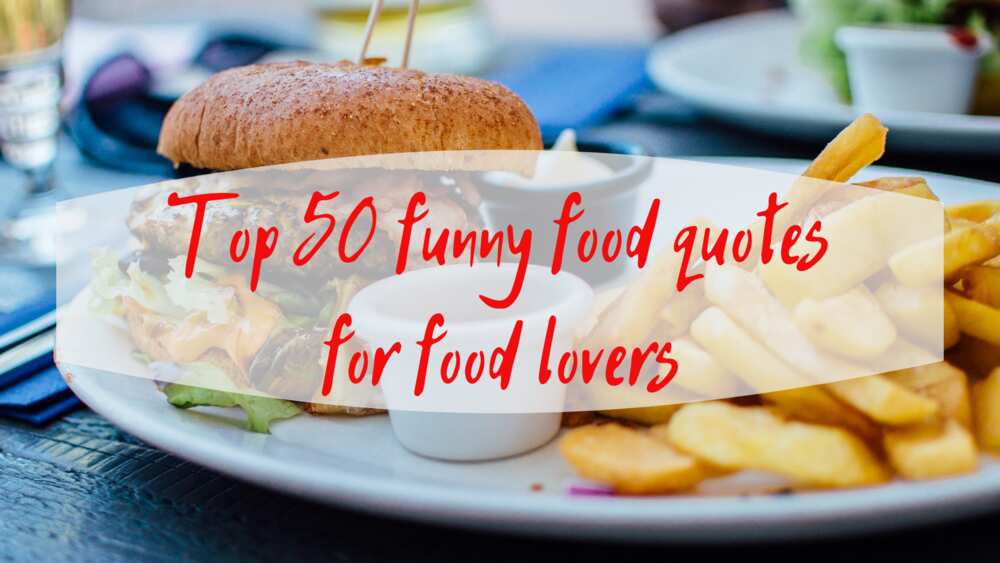 Are you looking for interesting ideas to entertain your interlocutor while having lunch at work or family dinner? Then this article is definitely for you!
Good food quotes
Below are food quotes, aphorisms and witty statements. This is an exciting and extraordinary collection of the top "pearls of wisdom" on this topic. Here you can find funny jokes and sayings, intelligent thoughts of philosophers and original words of great thinkers and inspiring statuses from social networks, as well as many other things.
The best appetite comes without food.
I love calories. They are dаmn tasty.
An empty stomach is the Devil's playground.
Have breakfast like a queen. Dine like a princess. Have supper like a beggar.
Now I will take the oil of Life, the eggs of Destiny, the pan of Justice, the sausage of Truth, and go to cook the scrambled eggs of the Apocalypse.
Watermelon is great food. You can eat it, drink it and wash with it.
My whole life is one big Big Mac.
Why is there no button on the refrigerator for locking the door from 7 pm to 7 am?
I read the composition of my favourite candy. In my opinion, it is safer to eat wrappers from it.
I love pizza so much that even when I eat pizza, I want pizza.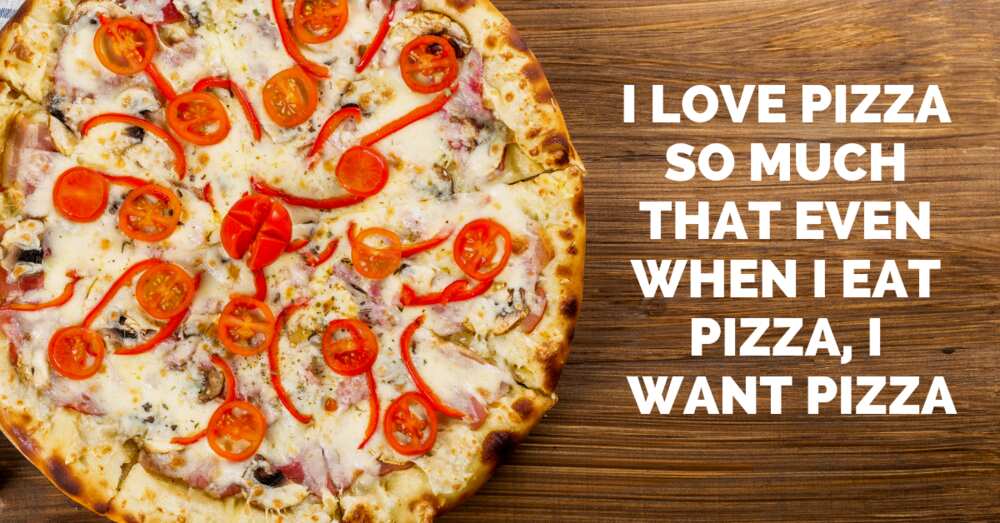 Swiss cheese differs from Camembert by better ventilation.
Sea urchins were on the menu for lovers of thrills.
Shooting is a stupid waste. I calculated that one bullet costs as much as four pancakes.
You have made a hole in my heart that you cannot fill with anything, and therefore I fill it with food.
If my soup has not killed you, nothing will kill you.
READ ALSO: 70 best emotional quotes and sayings
Mayonnaise or everything that does not kill us makes food tastier.
Carbonara is like a longtime mistress, with whom it is nice to meet again. It is good both before and during and after, because of the complicated process of digesting masses the brain and intoxicates thoughts like marijuаna.
I never refuse the food that someone offers me because this is my ninja way!
I want to tell you about the "sausage principle." The theory says, "If you love something, never try to find out how it is done."
When you doubt — just eat.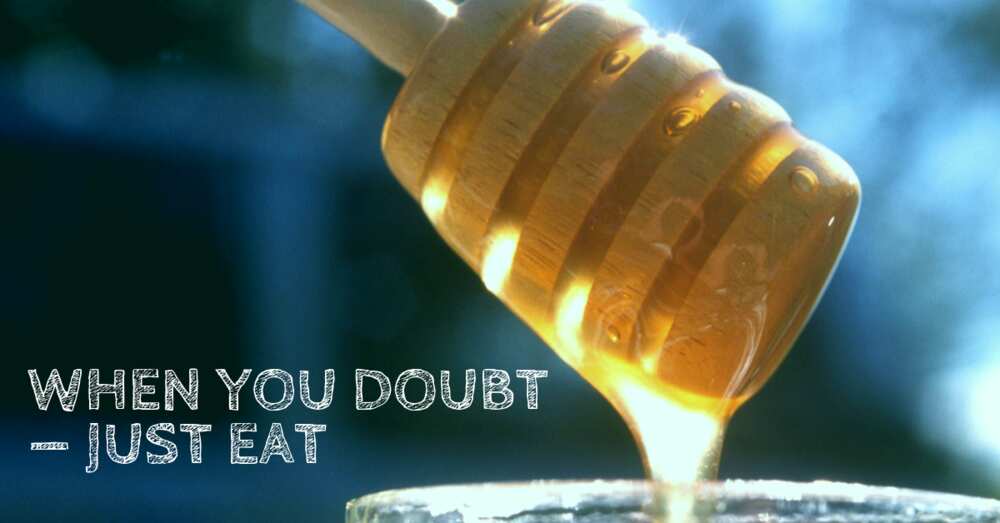 It turns out that blueberry muffins can soothe even the most hateful heart.
A coke without chips is still coke, and potato without coke is just a snack hung in the air and cut off from the semantic centre.
Food is a celebration of feelings, a painstakingly created flash, like fireworks, a hard work, but not demanding a serious attitude, but this is not art: it came in from one end, it came out through the other.
Caviar is the food of the gods, and they are very skinny.
In the morning I could not eat anything. I just drank two cups of tea with bread and butter, with potatoes and sausage.
Thus, we conclude that the pain associated with the fact that food with hot pepper comes out of the digestive tract proves that the straight intestine has taste buds.
Indigestion happens when you love food that hates you.
Even when you feel bad, it is impossible not to love someone who makes you toasts.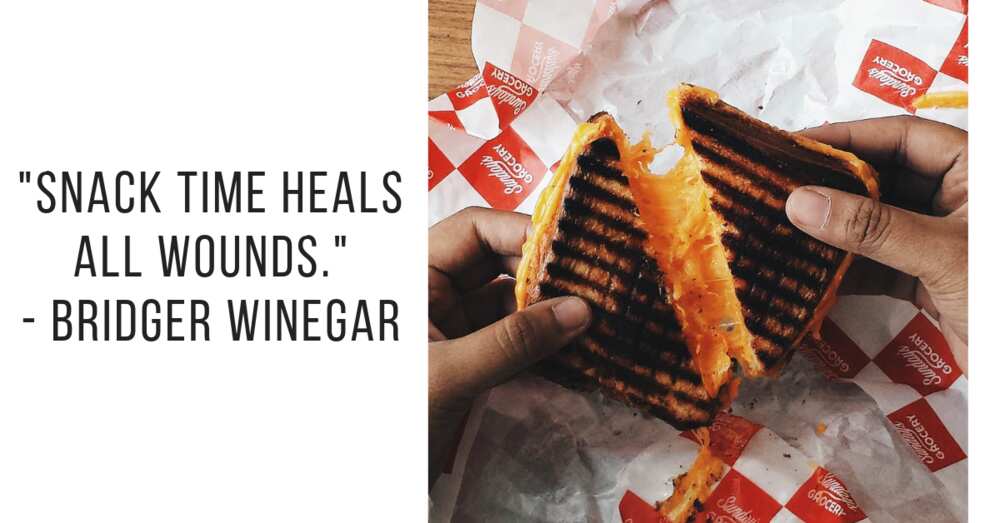 Quotes about food from famous people
Sometimes you may want to ask for help from great thinkers and simply famous personalities. What are their jokes and funny quotes on food? We have gathered for you some of the juiciest statements.
"There's no better feeling in the world than a warm pizza box on your lap." — Kevin James
"The 12-step chocoholics program: Never be more than 12 steps away from chocolate!" — Terry Moore
"A balanced diet is a cookie in each hand." — Barbara Johnson
"Soup is just a way of screwing you out of a meal." — Jay Leno
"There is no love sincerer than the love of food." — George Bernard Shaw
"Vegetables are a must on a diet. I suggest carrot cake, zucchini bread, and pumpkin pie." — Jim Davis
"I will not eat oysters. I want my food dead. Not sick, not wounded: dead." — Woody Allen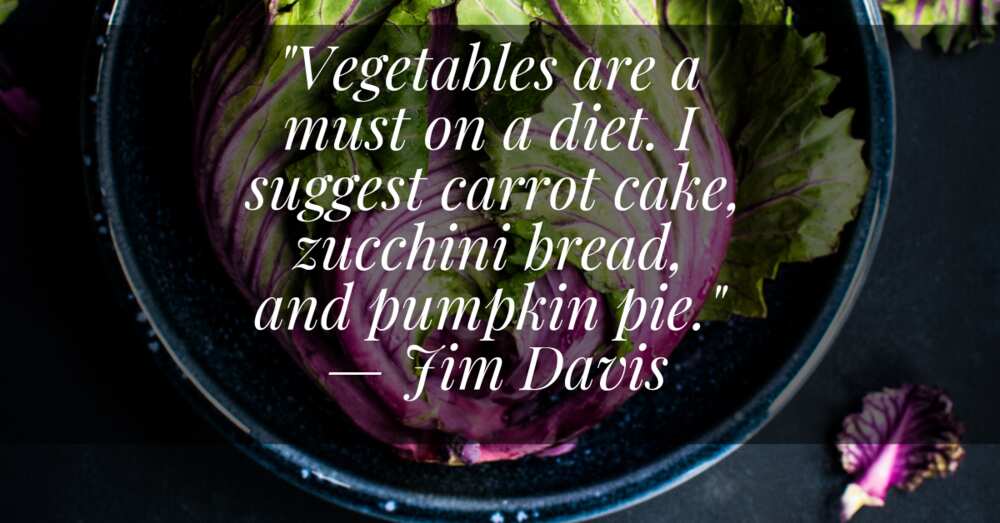 "A slice of pie without cheese is like a kiss without a squeeze." — Stephen King
"You can tell alot about a fellow's character by his way of eating jelly beans." — Ronald Reagan
"People who love to eat are always the best people." – Julia Child
"Food is symbolic of love when words are inadequate." – Alan D. Wolfelt
"I am not a glutton – I am an explorer of food." – Erma Bombeck
"Spaghetti can be eaten most successfully if you inhale it like a vacuum cleaner." – Sophia Loren
"All you need is love. But a little chocolate now and then doesn't hurt." – Charles M. Shulz
"I asked the waiter, 'Is this milk fresh?' He said, 'Lady, three hours ago it was grass." – Phyllis Diller
"Sacred cows make the best hamburger." — Mark Twain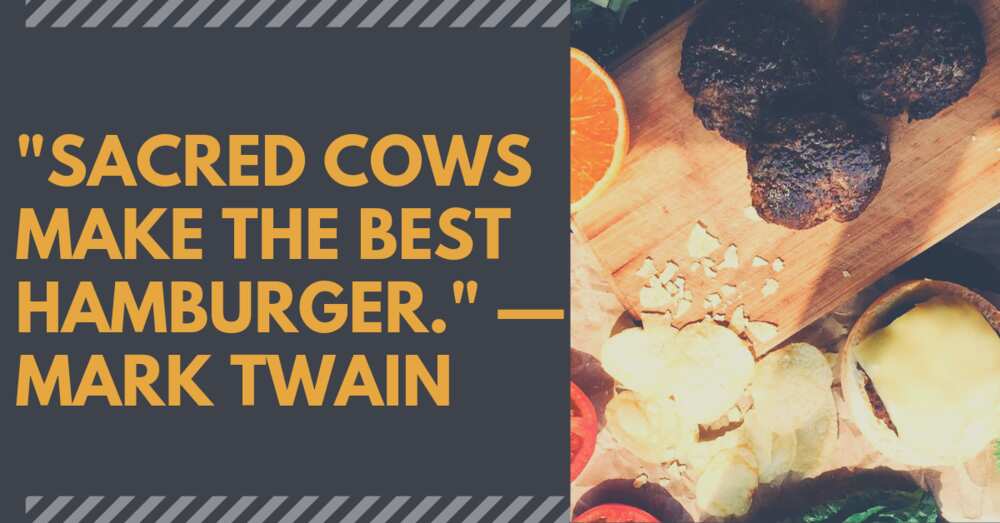 "I don't share blame. I don't share credit. And I don't share desserts" – Beverly Sills
"Without ice cream, there would be darkness and chaos." – Don Kardong
"I am not a glutton. I am an explorer of food." – Erma Bombeck
"I have long believed that good food, good eating is all about risk. Whether we're talking about unpasteurized Stilton, raw oysters or working for organized crime "associates," food, for me, has always been an adventure." – Anthony Bourdain
"If I hold a can of soda up to my ear and listen carefully, I can hear my bones pleading for a glass of milk." – Bridger Winegar
"The waitress said did I want my pizza cut into four or eight slices? I said: 'Four. I don't think I could eat eight'." – Yogi Berra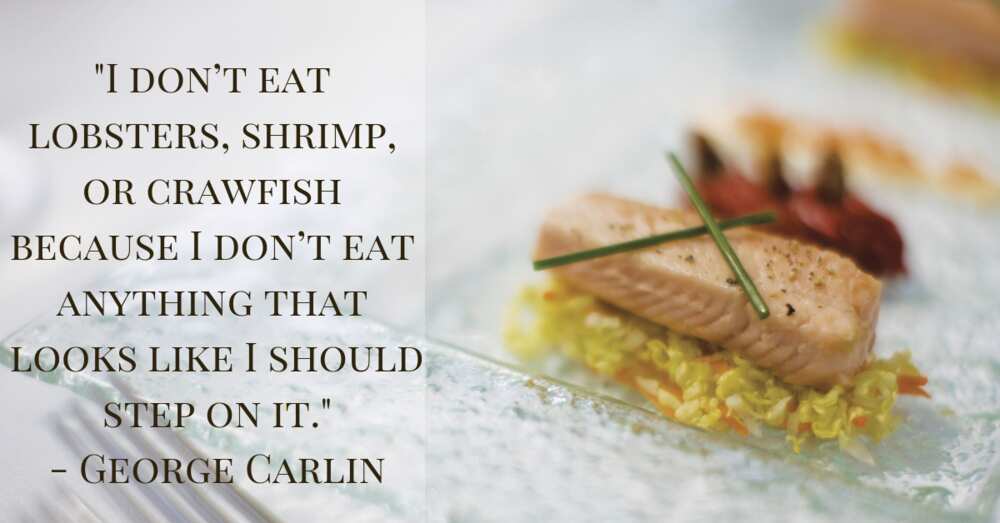 This humour is so sincere that a smile naturally appears on your face when reading it. Some phrases are quite sarcastic, but they do not offend anyone but make one laugh.
These food quotes will help to lighten the atmosphere during a meal. Add your smile to the statement, and you will surely get a dozen more smiles in return. Good food prolongs life, but laughter does it even better.
READ ALSO: 50 achievement quotes for students' motivation
Source: Legit.ng