There are many reports and gossips lately about the life of two famous Nigerians. Are Tonto Dikeh and husband back together? After seeing the pictures from their child's birthday party, many fans started to believe that the couple could be happy together again.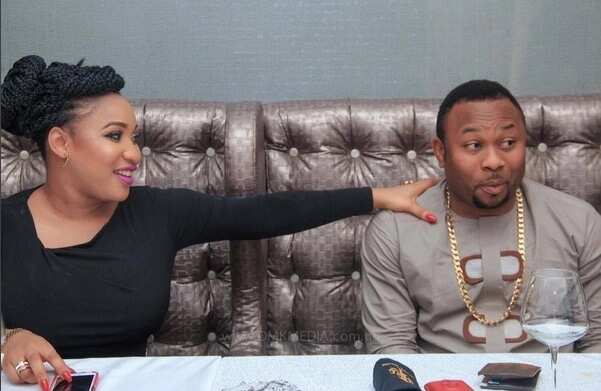 It is true that millions of fans of celebrity couples would be happy to see their favourite sweethearts together. This, however, doesn't always happen. Some couples break up, divorce, and stop all communication. Something like this has already happened to the Nollywood actress and well-known singer Tonto Dikeh.
Tonto Dikeh husband
Who is Tonto Dikeh husband? How much do you know about this man?
Let us start from the beginning. His full name is Oladunni Churchill, and he is a businessman. Most people in and outside Lagos call him hurchill.
He studied at ISCG University where he obtained a doctorate degree in communications. Oladunni Churchill has his own company called Big Churchill Haven Limited, and he is also a CEO at Big Church Entertainment. Besides, he is believed to be the former Nigerian President Olusegun Obasanjo's nephew.
Churchill and Tonto Dikeh
The two sweethearts seemed really happy back in 2015. They kept holding hands, showing their love and affection to each other and celebrated their marriage that summer (the famous Nollywood actress was already pregnant). However, their happiness lasted less than 2 years. Their happiest moments are most likely related to their child birth. Yes, the couple has a son. Their little boy's name is King Andre Omodayo.
Back in 2017, we heard how Tonto Dikeh was upset about her marriage. The famous actress was not satisfied with her family life. She spoke about numerous problems, and many Nigerians were upset about the possible breakup of such a happy couple (as it used to look like).
READ ALSO: Tonto Dikeh husband and baby
Tonto Dikeh and her husband in 2018
Since both 'second halves' have accounts on Instagram, you can follow them and see updates from their lives. Of course, such updates usually say nothing about their relationship. Still, sometimes it can get really curious.
Is the couple really back together? Well, there were rumours about Tonto Dikeh and her husband spending the holidays together. Those were just gossips. However, some of the new photos captured at their child's party made many fans jump for joy.
Both mommy and daddy were bonding with their little child. While they both smile and look happy, these are just the pictures. Besides, quickly after the birthday party, some new rumours were shared. In reality, the couple is believed to be going through custody battle over their little boy. Celebrating their kid's birthdays, unfortunately, doesn't mean that Tonto Dikeh and her husband are back together. This only means they respect their child and want to be with him at the most important stages of his life.
Nevertheless, the reality can upset the couple's faithful fans. For example, there was a short period earlier in May 2018 when the well-known couplskept calling each other out, and all their followers could read all the mess right on the social media.
They don't seem to be together, but they do have and will always have the connection through their child. However, if you check out Tonto Dikeh's Instagram account, you will not find photos from her marriage celebration or with her husband there. She only posts updates about her son and different moments from her professional life.
READ ALSO: Tonto Dikeh and husband: Why is she trying to sue him?
Source: Legit.ng