Nigerian French lace styles in 2018
Hey, fashionista! Do you know what lace is in trend this season? You definitely should take a look at these Nigerian French lace styles in 2018 to get inspired. Fashion designers call lace as a trend in 2018. Especially delicate French lace is in great demand in 2018.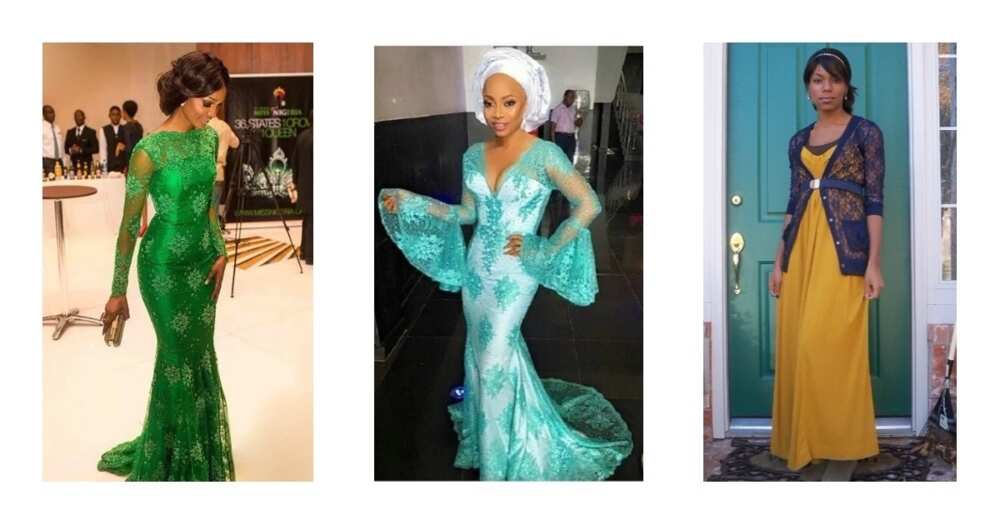 Fashion shows are full of refined lace designs. And Nigerian women join the fashion laws with great pleasure and fill up their wardrobe with really beautiful items! Besides, men are doubly happy: translucent feminine images excite their minds, inspiring new love exploits!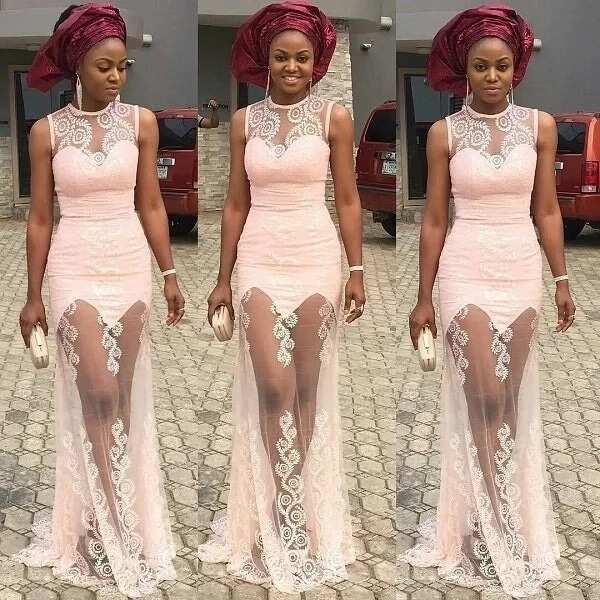 Until not long ago, lace was something intimate. Only in the shop of female underwear, it was possible to admire the most beautiful patterns. Many years ago lace blouses under the neck just appeared. But not every woman dared to dress it because she was afraid to look provocative. Then the lovers of Boho style were interested in lace. Ultimately, high-quality exquisite styles for lace at all times were considered as works of art!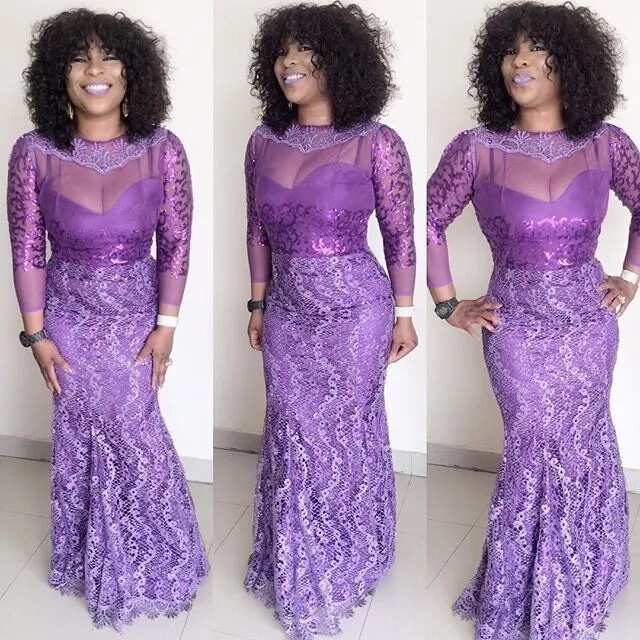 But now it's time for the explosive popularity of lace and guipure! And we outline the main features of the trendy Nigerian French lace styles in 2018.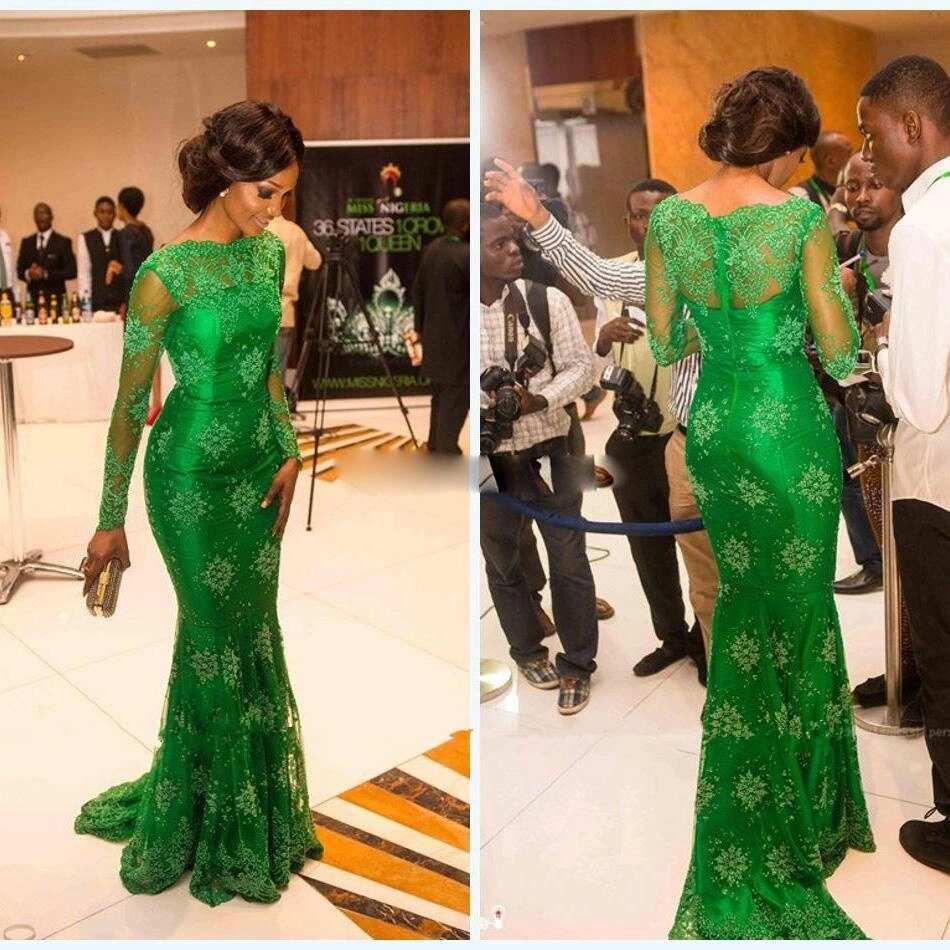 The fabric's texture can be very diverse. The most relevant is a thin and light French lace. It gives a feeling of weightlessness and airiness to each outfit.
French lace is combined with tulle and other fabrics. Fashion gurus presented styles with lacy ruffles and inserts.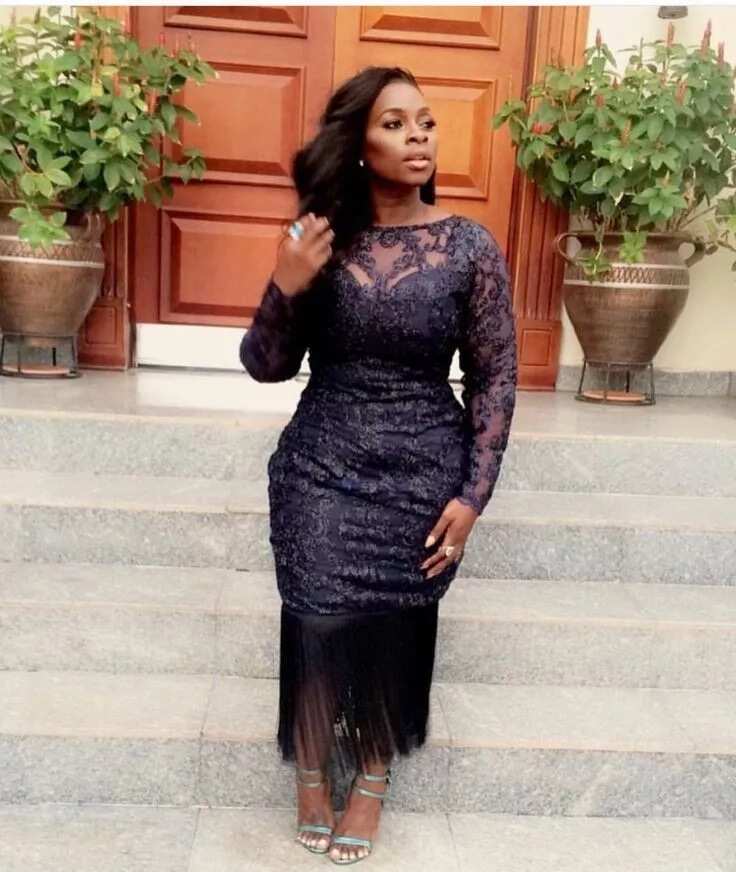 The mass market has a lot of lace varieties. Girls with an ideal figure choose thin lace with a stretch effect. It tightly fits the body. For some extra centimeters hiding, a tight lace that fits smoothly and without folds is good. Among the latest fashion trends, there are outfits where different textures of lace fabric are combined.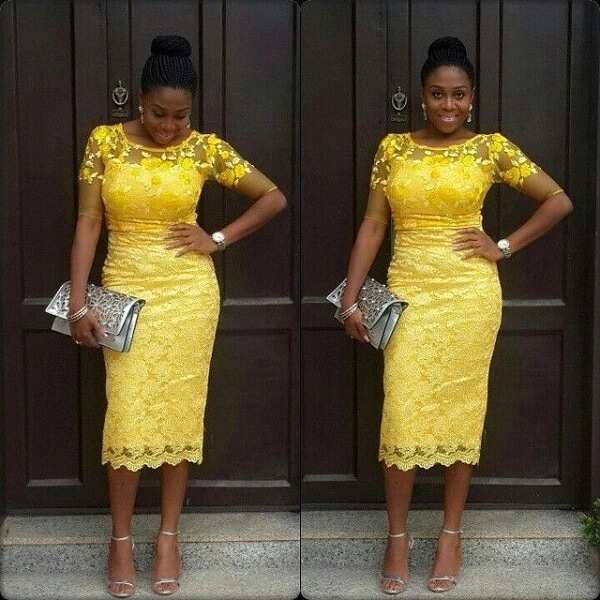 The transparency degree can be various. The dress is often made of translucent French lace fabric that opens the legs, hands or décolleté. But the main part of the figure is hidden from the other views because the lace outfit has one-coloured underdress. For modest ladies, there are a lot of styles made from dense textile but with lace inserts. Besides, you can find a great variety of feminine dresses, completely sewn from transparent lace.
French lace is most often used for dresses. But our list of delicate outfits is just beginning. In the next part of the article, let's talk about the lace items of different styles.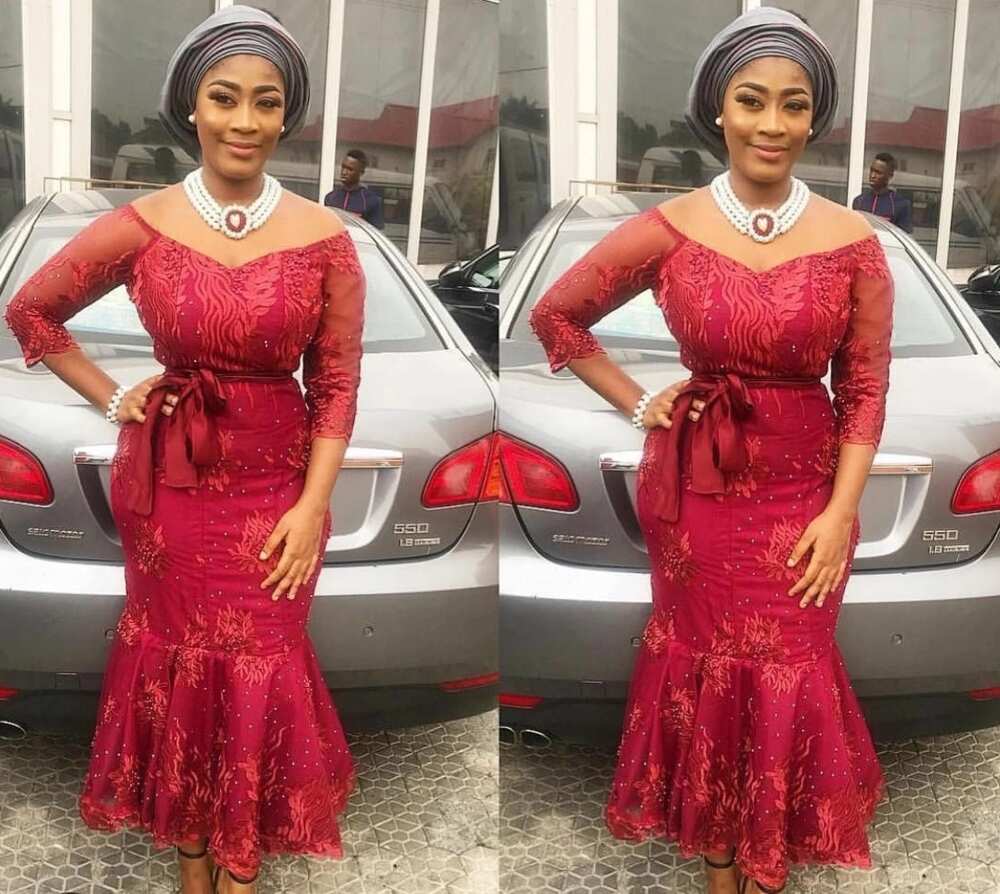 Nigerian French lace styles
French lace dresses
Lace magnificence turns any woman into a princess! Extremely spectacular maxi dresses are suitable for an evening outfit. The classical tailoring combined with the midi length or slightly above the knee is acceptable for work in various institutions and offices. Look more varieties of lace dresses and a gallery of delightful photos in our essay!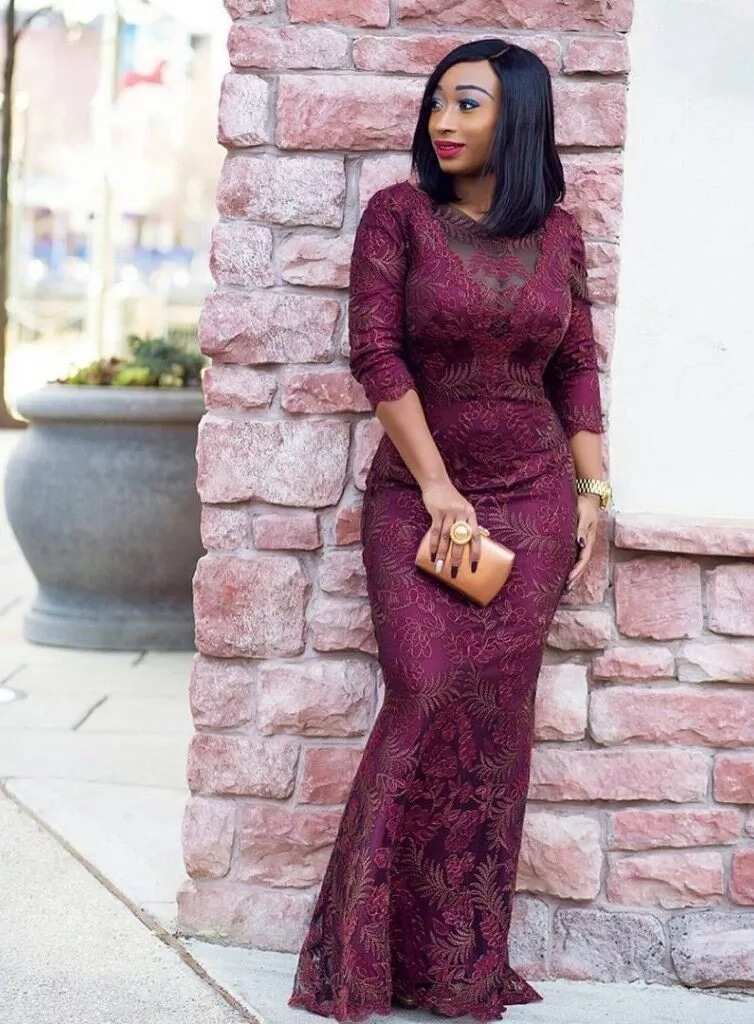 Gowns with a lacy back or sleeves are the successful use of lace in combination with thin, but dense or lightweight fabrics. Many leading fashion houses present evening dresses with lace inserts in collections of 2018.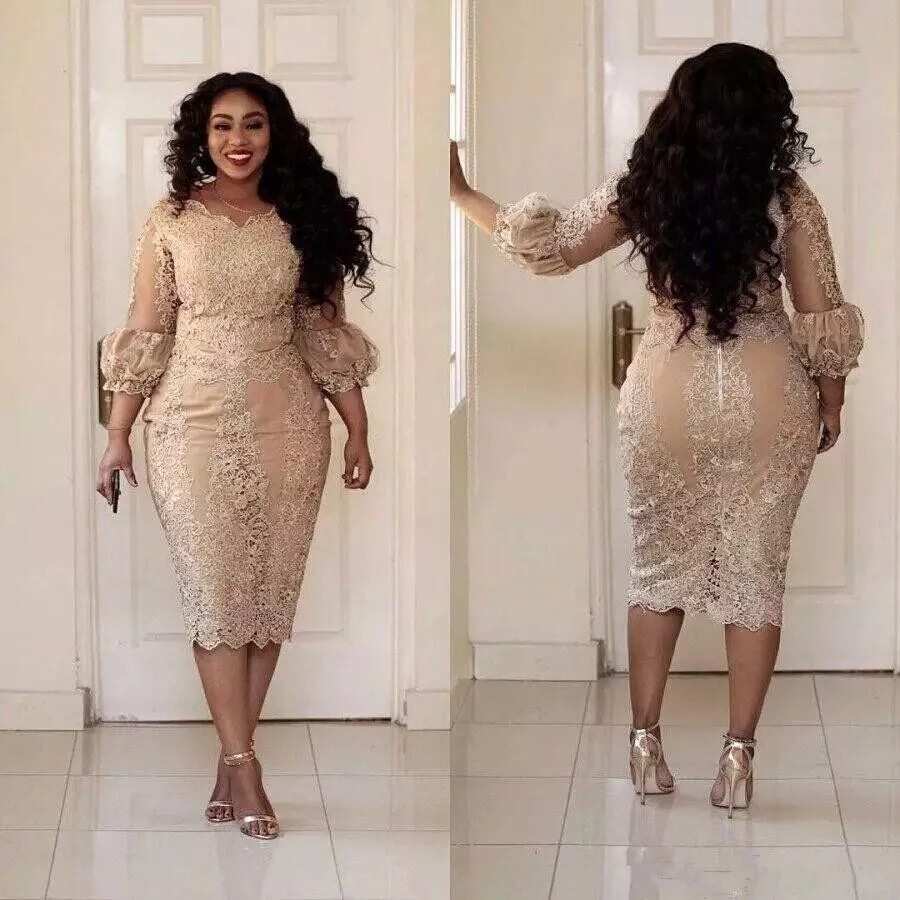 A fitted dress of neutral tones and midi length with lace inserts is a trend of the season.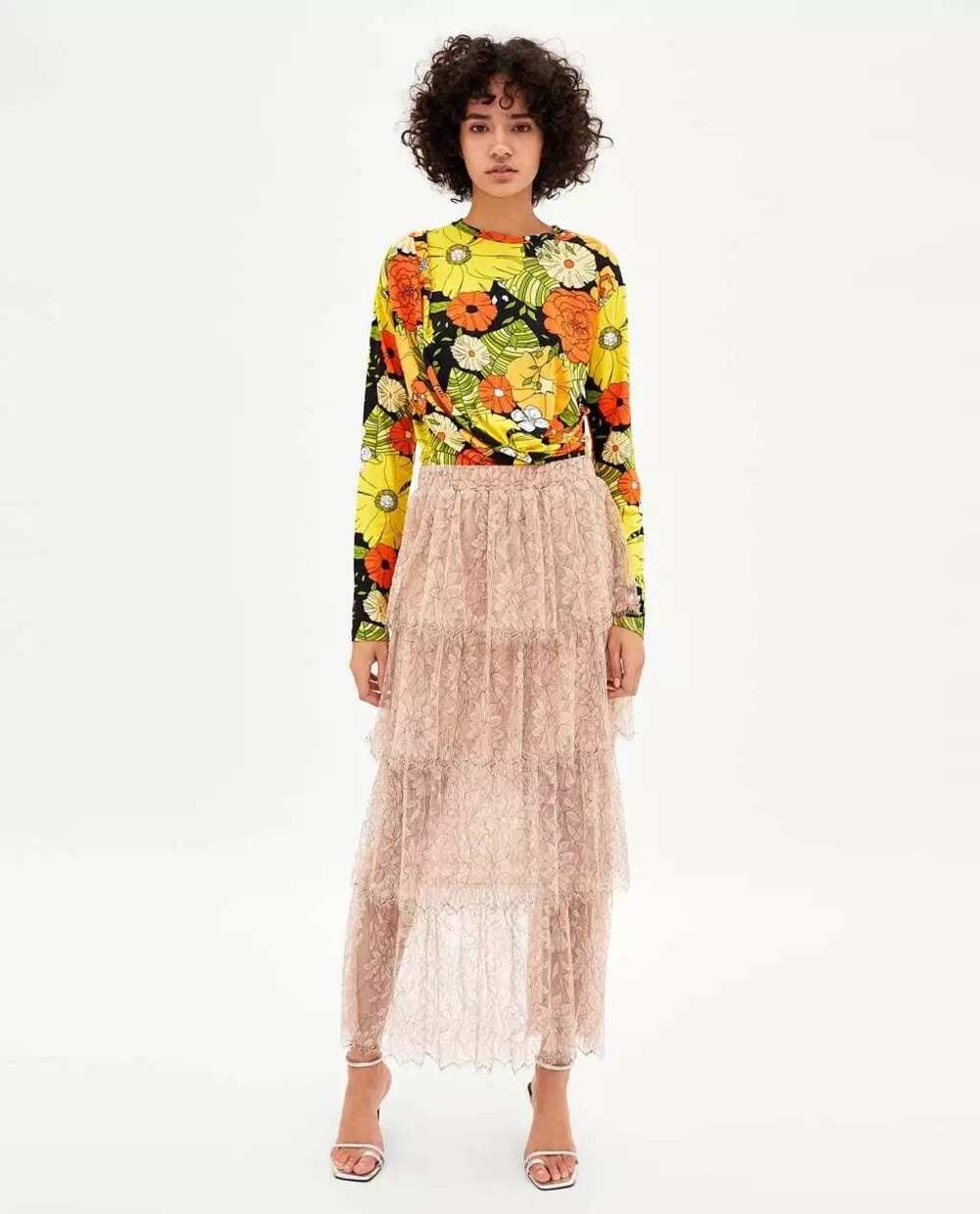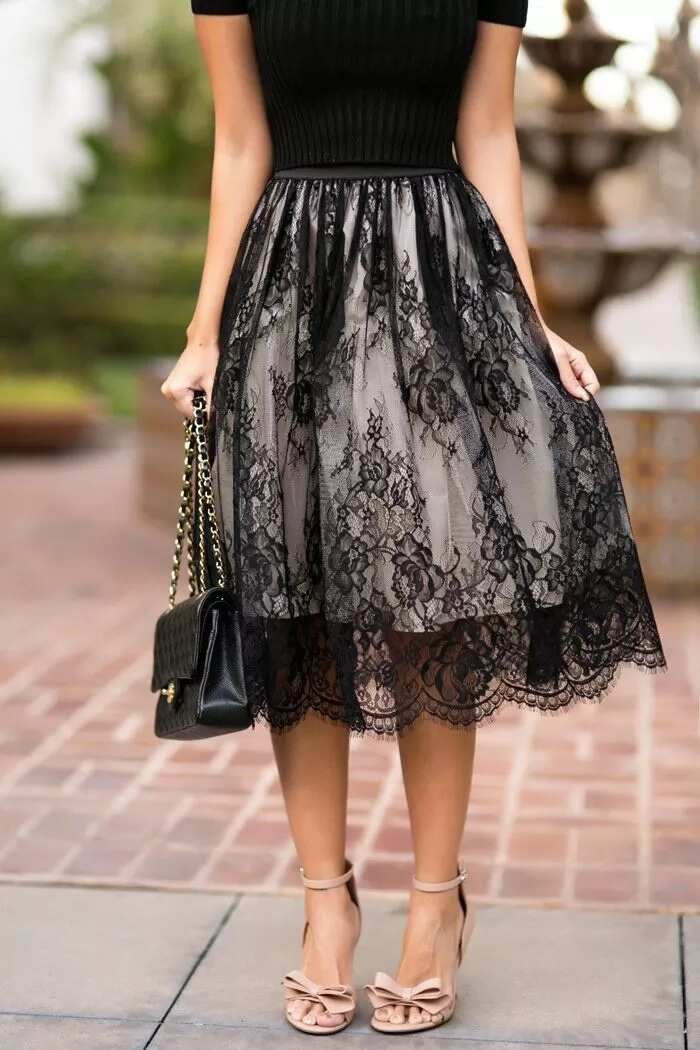 Lace skirts
Of the huge number of delicate lace skirts made of materials with different textures, each woman finds her best option. Maybe it's a short tight-fitting or classic pencil skirt? Lovely and restrained midi models or straight maxi skirts are also great! The colour palette is rich and can surprise even the most sophisticated fashionista.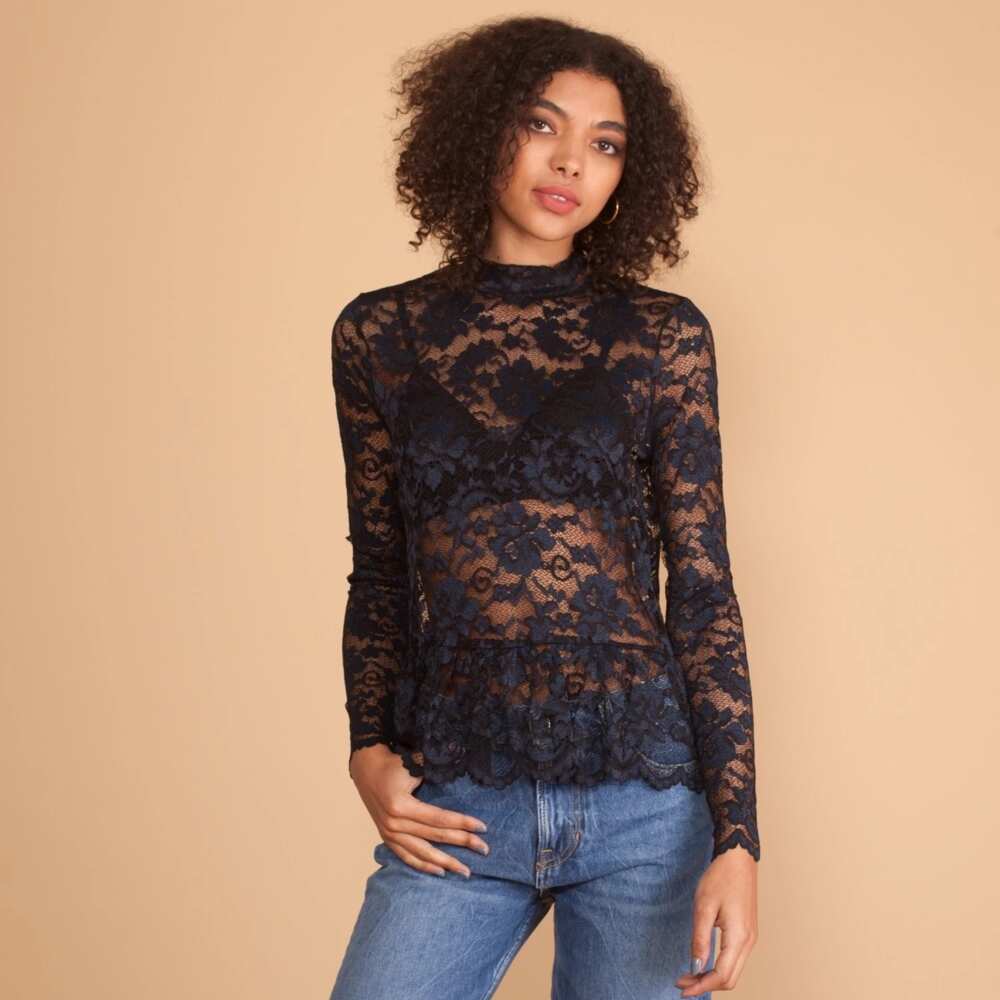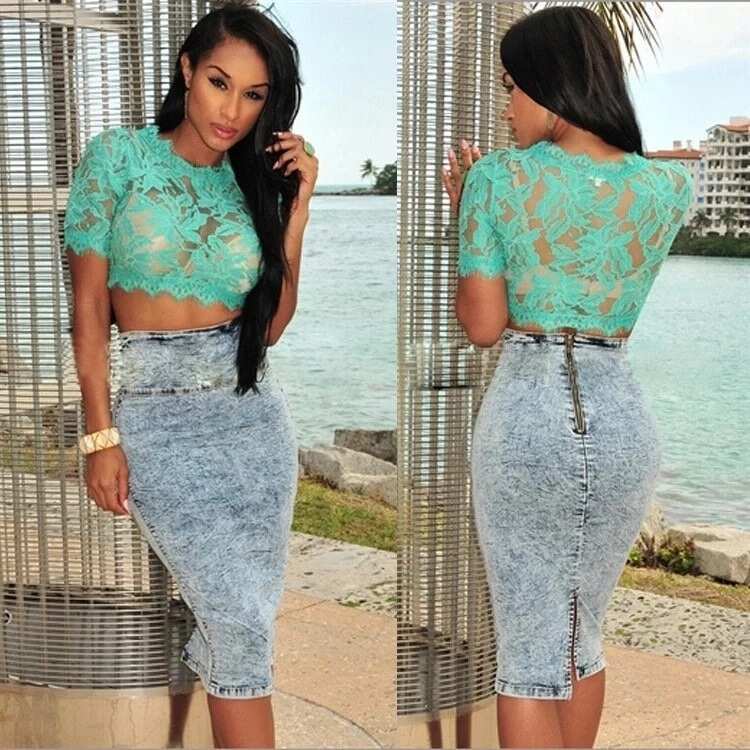 Lace blouses
White blouses are the most popular. They can be tried on not only with a strict skirt or dark trousers but also with short jeans shorts. Black lace blouse is presented in both loose and tight models. If you are beginning an excursion into the delightful world of lace, then the blouse becomes the most versatile item in the wardrobe. It won't lie on the shelf. The lace blouse will become the basis for all sorts of your stylish images for every day.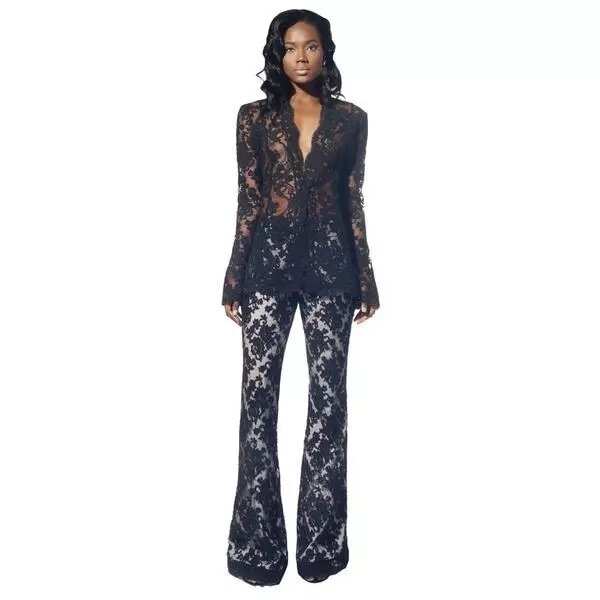 Lace costumes
Delicate skirts, as well as original trouser suits, can be made both using a material of the same texture and colour and different. Sometimes designers are limited only to the lace inserts. At the same time, there are entire charming outfits of lace.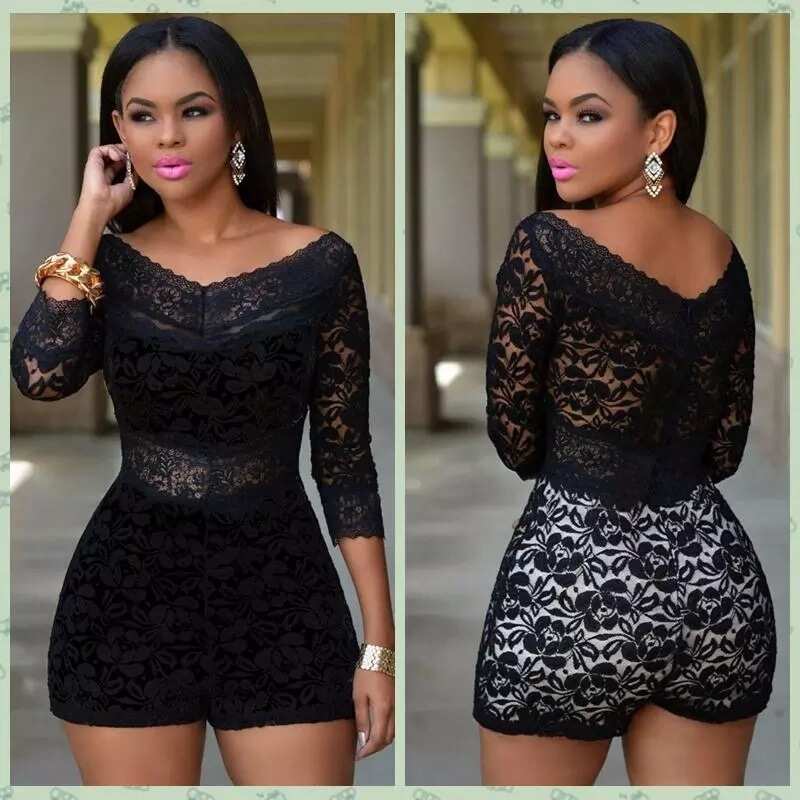 Lace overalls
Let us remind you that besides the long-familiar jeans overalls, designers offer the girls a new original solution. They are evening lace overalls and rompers, which can be worn for any festive event or even at the wedding! Luxurious lace styles look extremely effective.
READ ALSO: Best styles for lace materials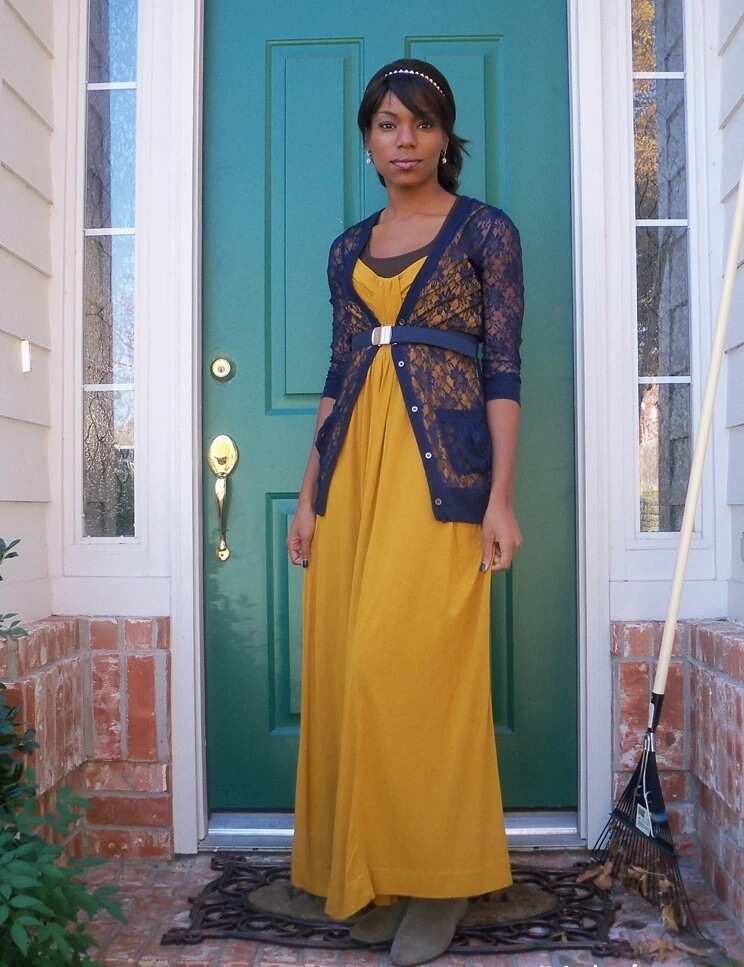 Lace cardigans
Loose cardigans are a hit of the season. They can also be made of lace. Depending on the type of lace fabric, it can be an excellent addition for both holiday images and everyday wear. The length varies from shortened models to long maxi items.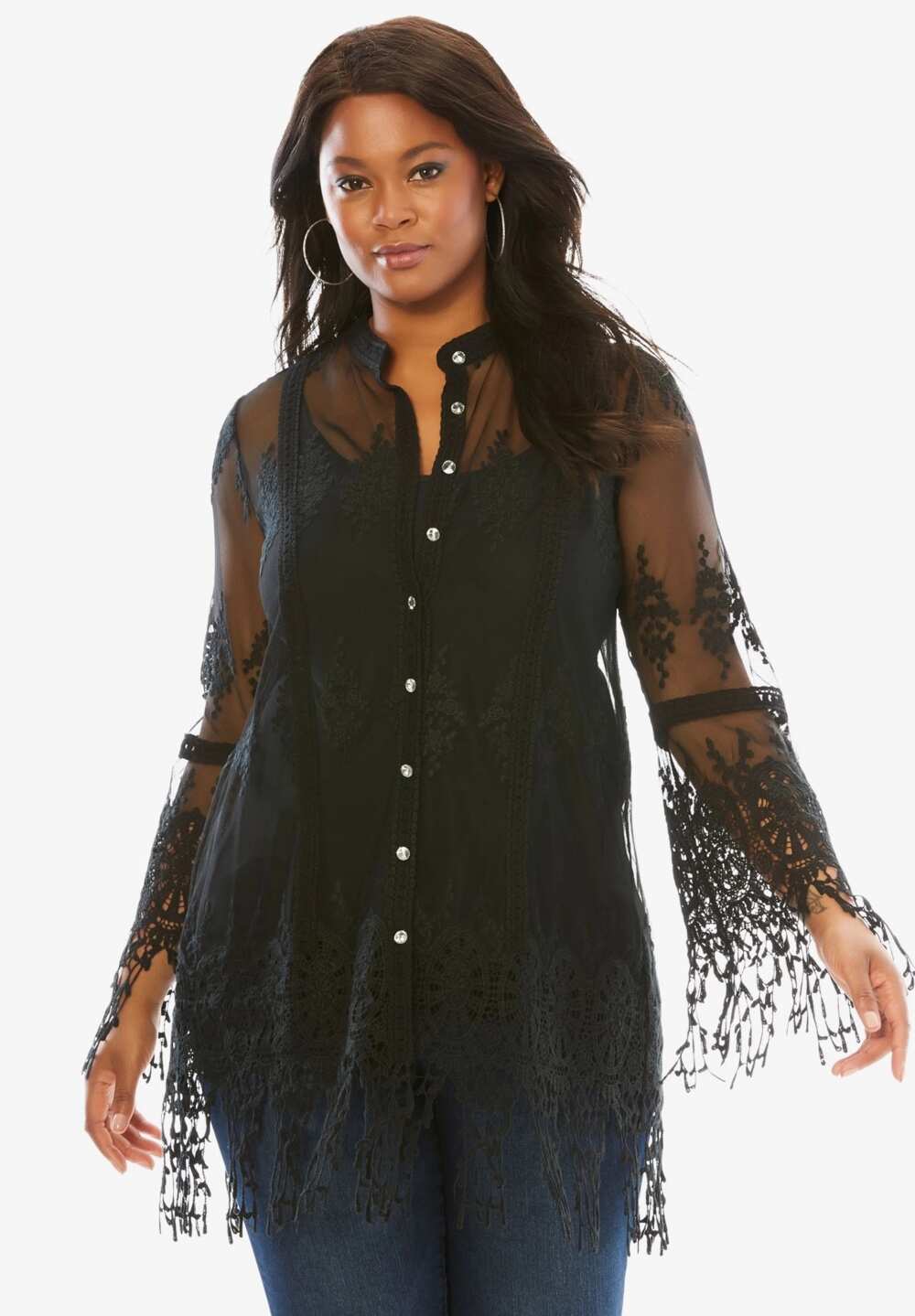 Lace tunics
The admirers of comfort like a tunic in Boho style created of lace very much. It can be worn as a dress or with trousers. And don't forget to supplement the image with accessories. For example, a hat with the brim is a topical addition! Such accessory is relevant this season!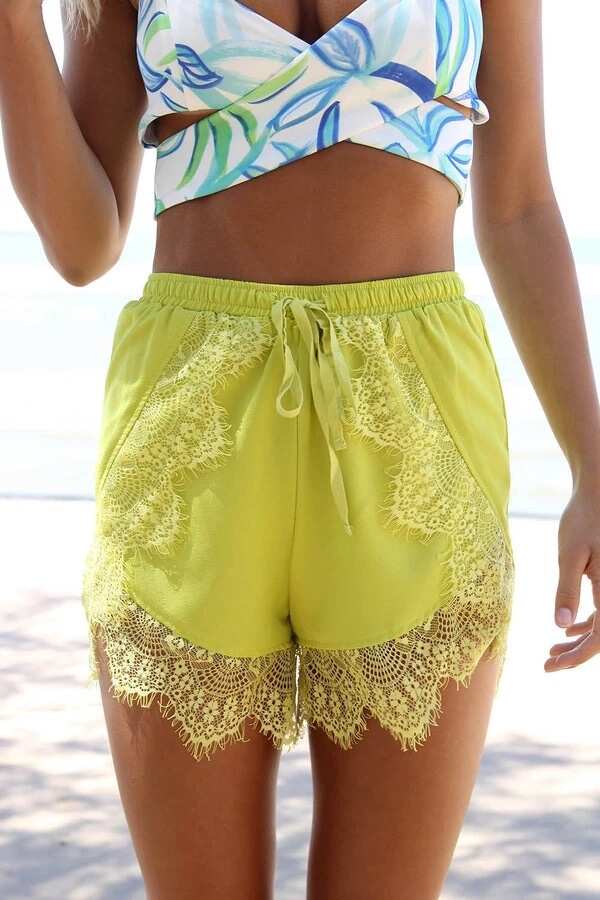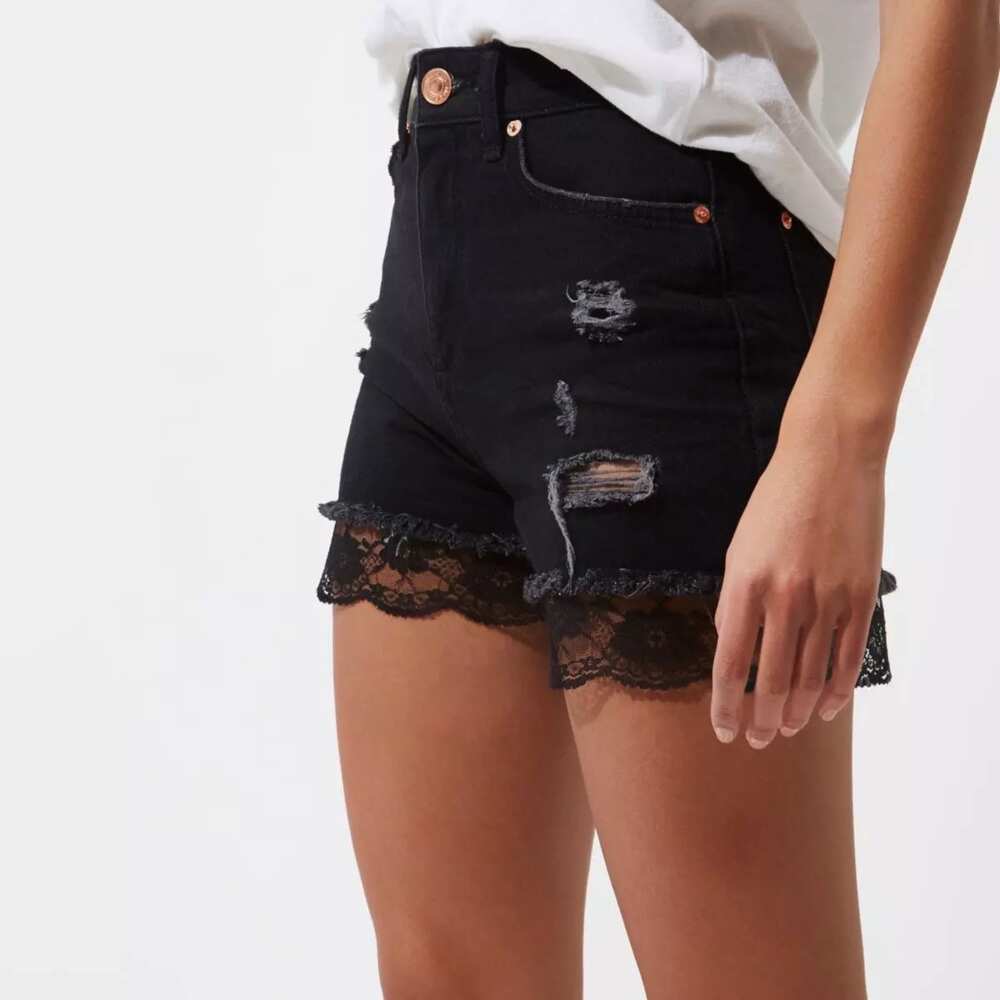 Lace shorts
Shorts made of lace fabric are an unusual and very fresh solution, adored by young girls. But such a bold thing isn't appropriate everywhere. Lace shorts are suitable for walks by the seaside or in the park.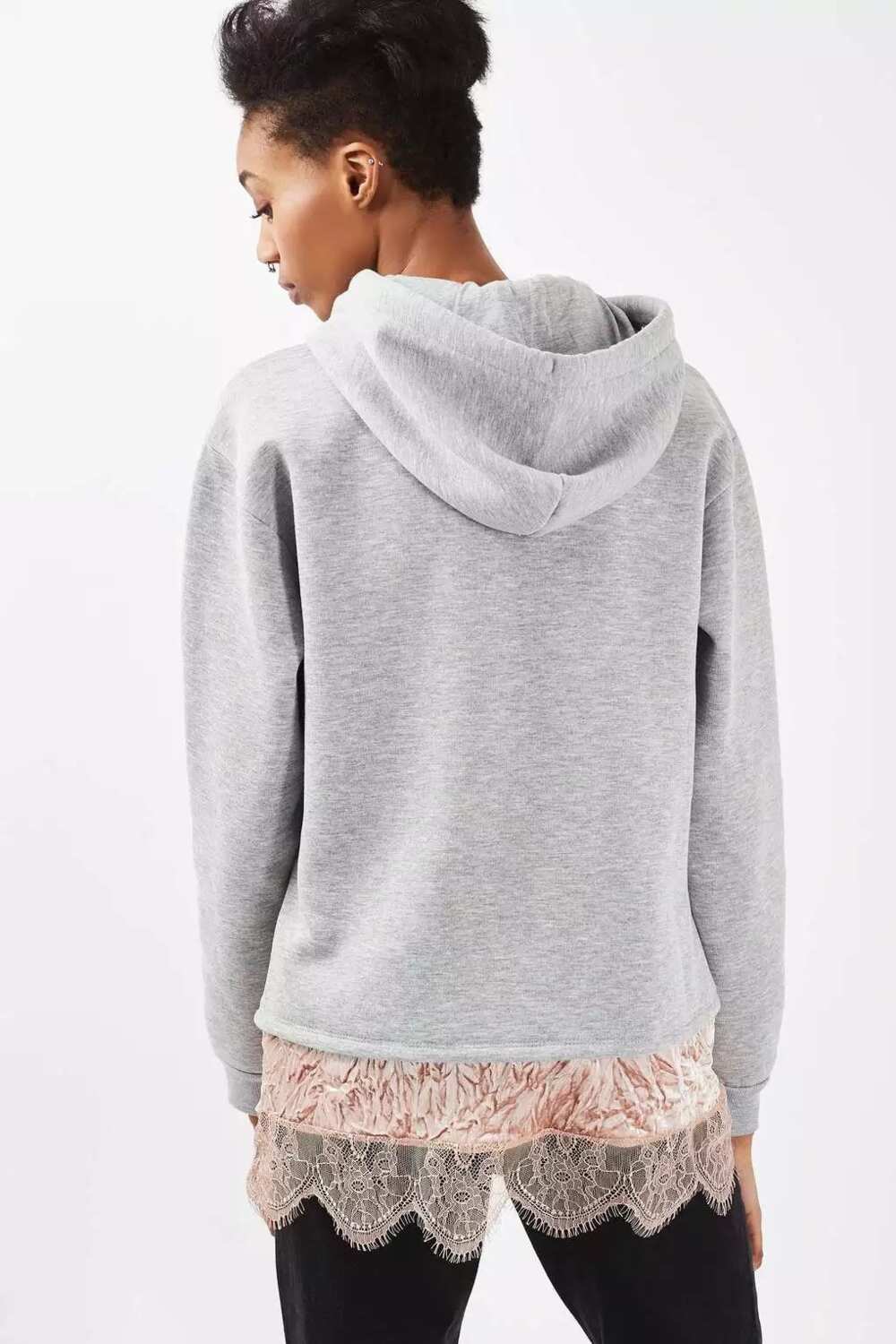 Other lace styles
Can we use lace in our daily outfits? Definitely, yes! A loose sweater with lace gives freshness and femininity on weekdays. On cool days, such image is the perfect solution for a comfortable pastime!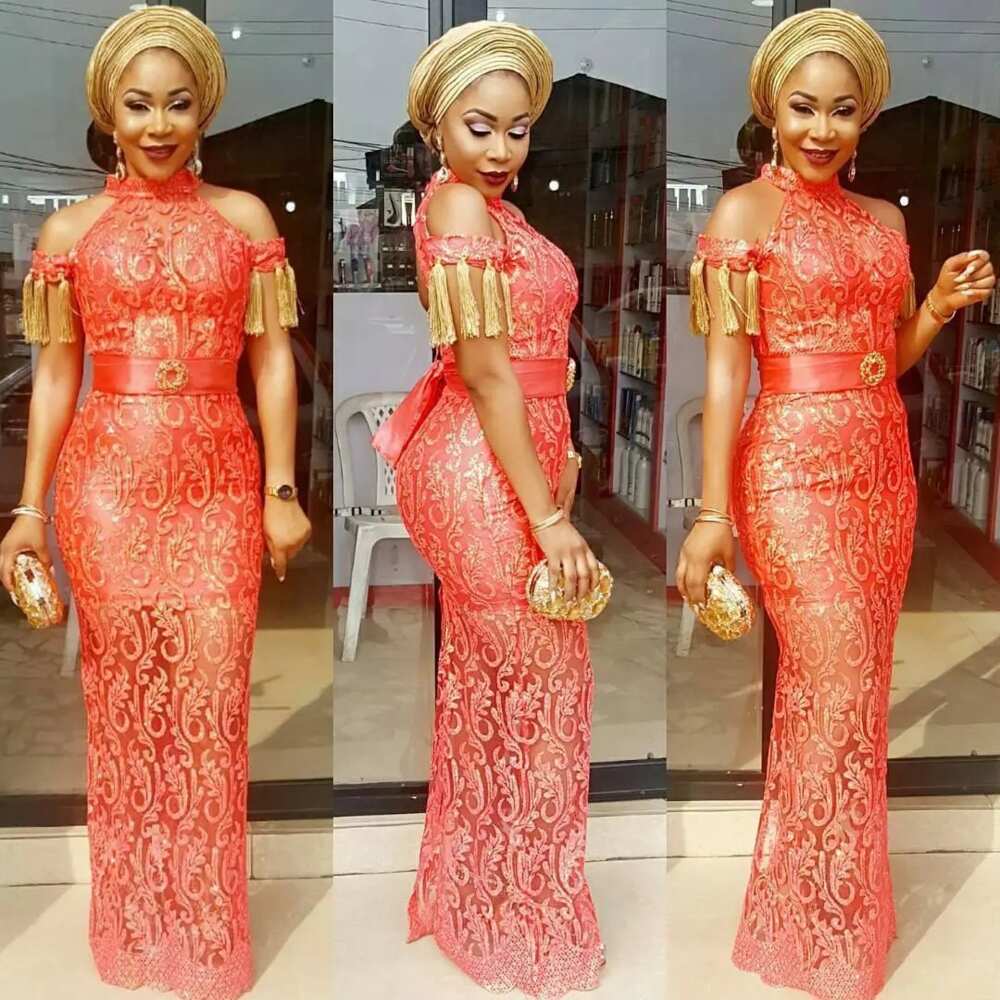 French lace Aso Ebi styles in Nigerian women fashion
French lace is widely used in traditional outfits. Nigerian ladies make beautiful lace gowns, skirts, and blouses in Aso Ebi styles.
A female figure looks elegant and solemn in lace attire. Intricate textile patterns in combination with the original tailoring create a unique and surprisingly feminine outfit.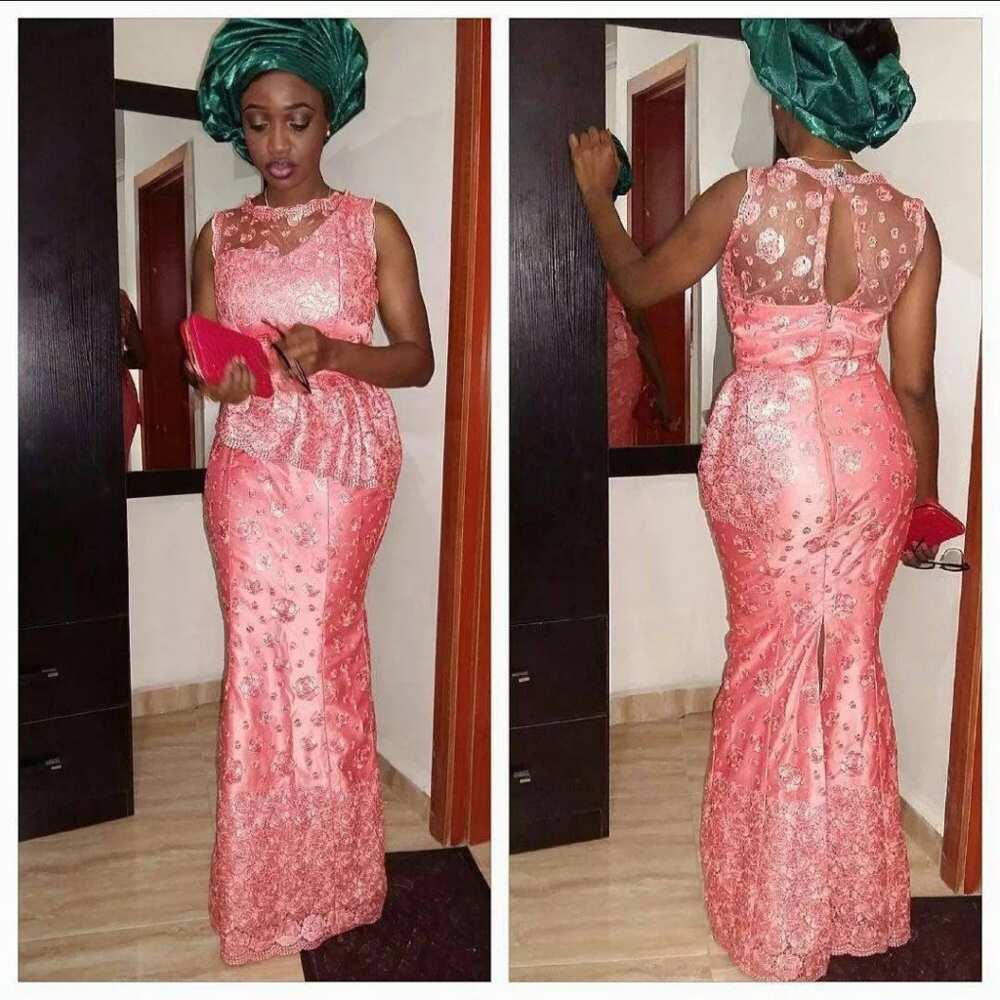 Aso Ebi styles cannot consist just of lace fabric. Designers widely use inserts from other chic fabrics: taffeta, silk, satin, and chiffon. French lace gowns are decorated with the volume patterns and smooth appliqués, giving an exquisite uniqueness to the Aso Ebi outfits. Lace inserts can be used in attires emphasising individual parts of the woman's figure.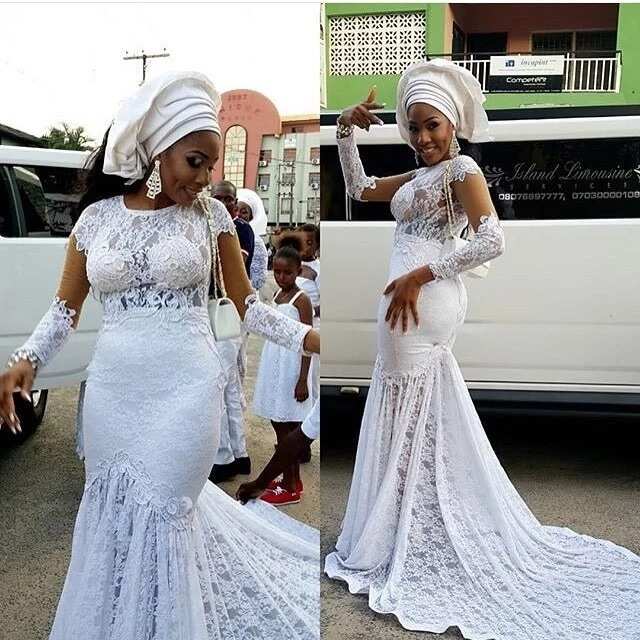 French lace for brides
The most common applying of French lace style is wedding attire. Modern wedding lace dresses can turn even an ordinary girl into a princess.
Classic wedding fashion is a maxi lace gown. The skirt can be straight or flared as well as has a plush train. Bride dresses with a lace top or open back, slightly covered with French guipure are invariably popular with brides.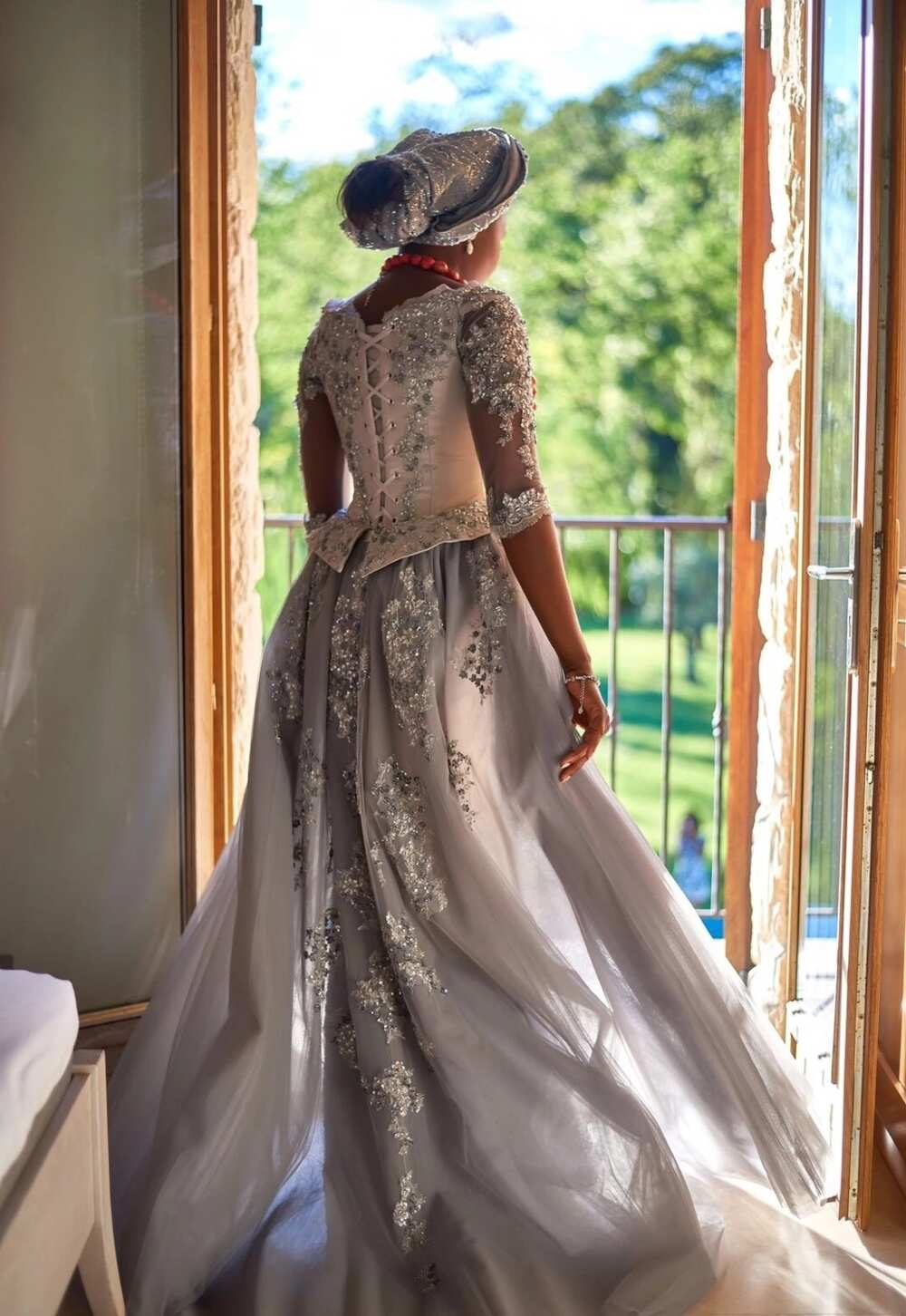 A wedding dress with lace sleeves gives a bride an opportunity to make the outfit unique. Different density and variety of lace patterns create unique gowns for the wedding ceremony.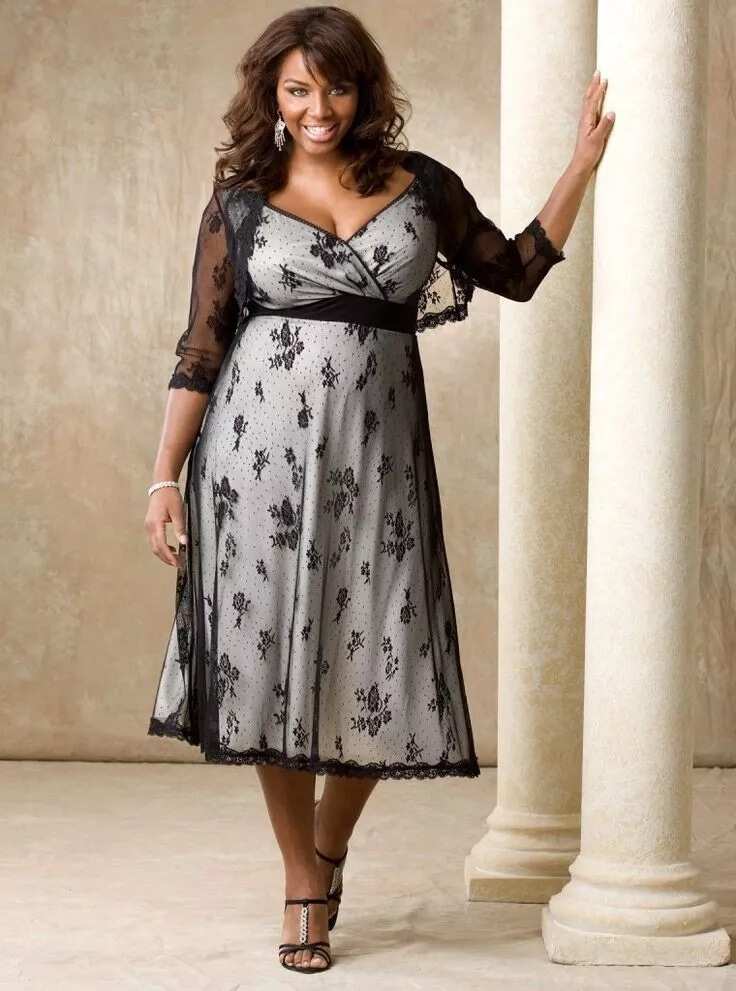 French lace styles for plus size ladies
Lace fabric not only perfectly underlines the figure, but it can treacherously demonstrate the presence of extra pounds. Beautiful lace outfits for plump women can be made given the features of tailoring and length.
The optimal length of attires for ladies with extra pounds is to the knee or slightly lower. Women with short stature should not have long skirts in the wardrobe. Curvy flounces are also taboo.
Women's outfits should hide those parts of figure that are not perfect. Dress with lace sleeves to the elbows is an ideal solution for plump hands, and the sleeves should not be tight.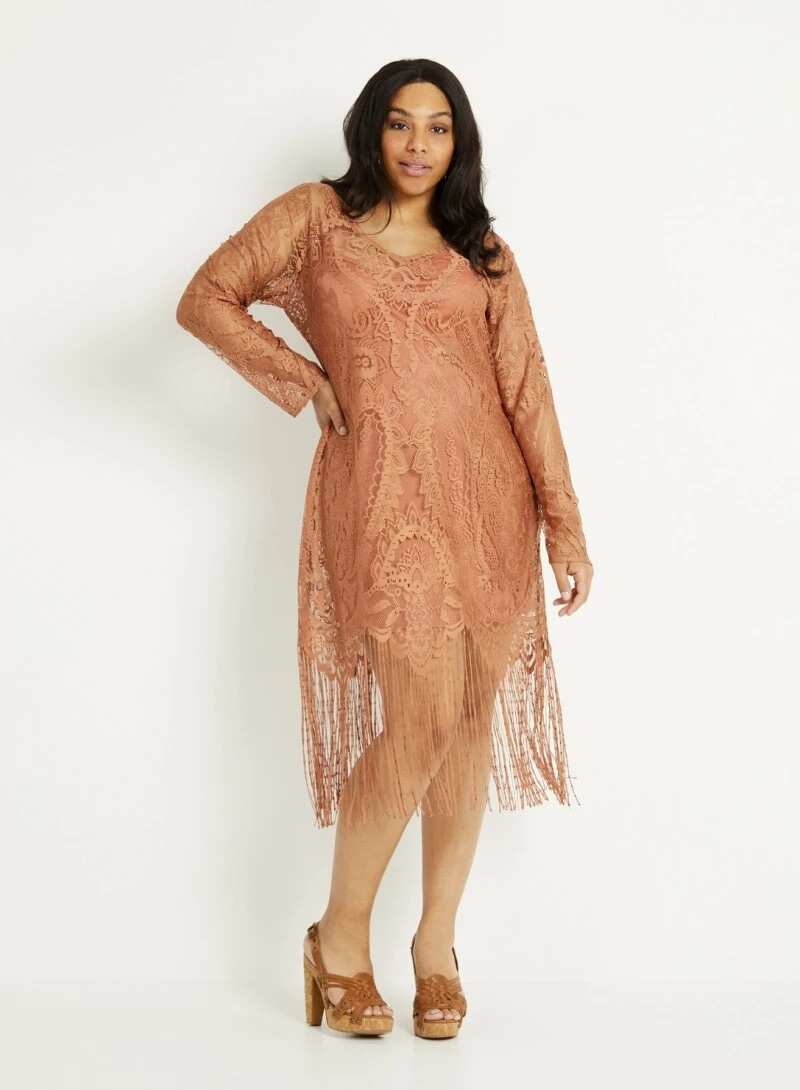 Plump hips and protruding belly can be masked by the models with an overstated waistline or trapezoid silhouette. A dense underdress for French lace allows you to form an optimal silhouette of semi-adjacent dresses. The V-neck with sufficient depth perfectly emphasises the women's chest.
There are enough options for ladies with extra pounds. But you should better avoid:
gowns and skirts above the knee;
large frills, flounces, and flared sleeves;
cutting waistline;
thin straps and open shoulders.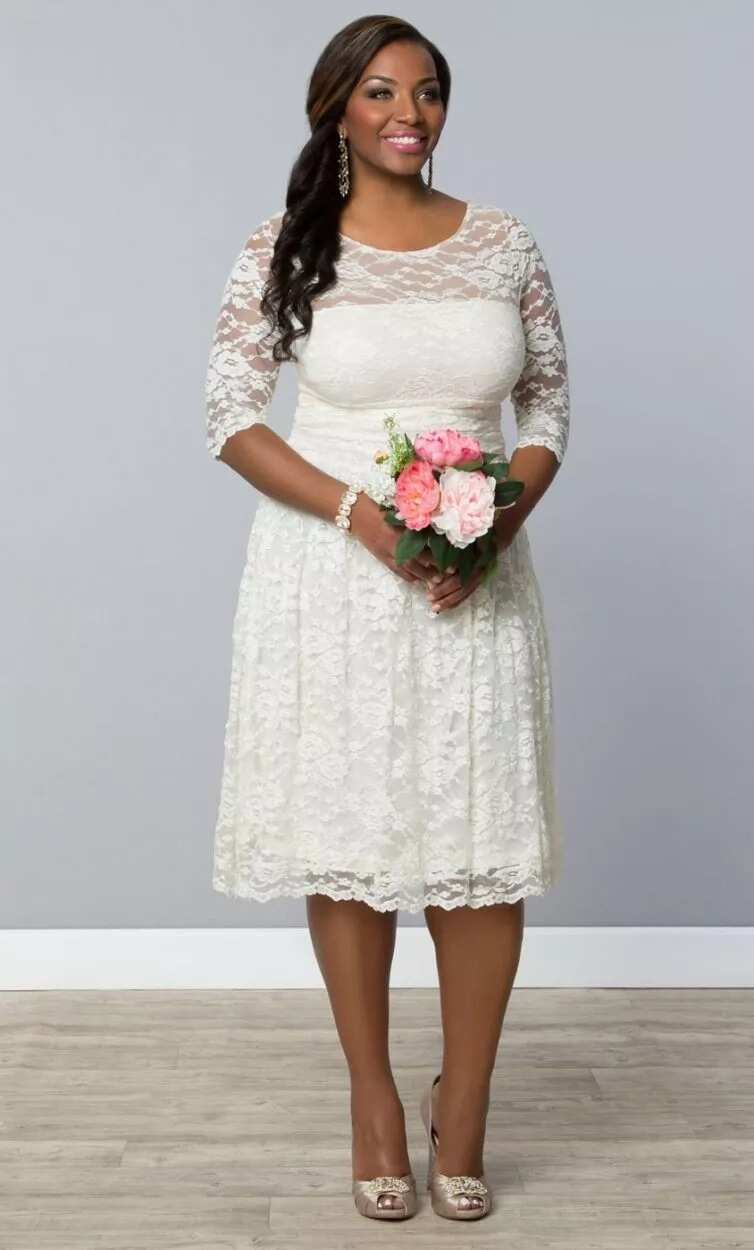 The colour and lace texture of plump women's outfits should be chosen carefully. Pastel and muted tones, small patterns hide the excess completeness. For day attire, you can choose a beige dress or skirt and blouse. For a festive event put on a dark blue option instead of the expected black colour and your attire will be confidently spectacular.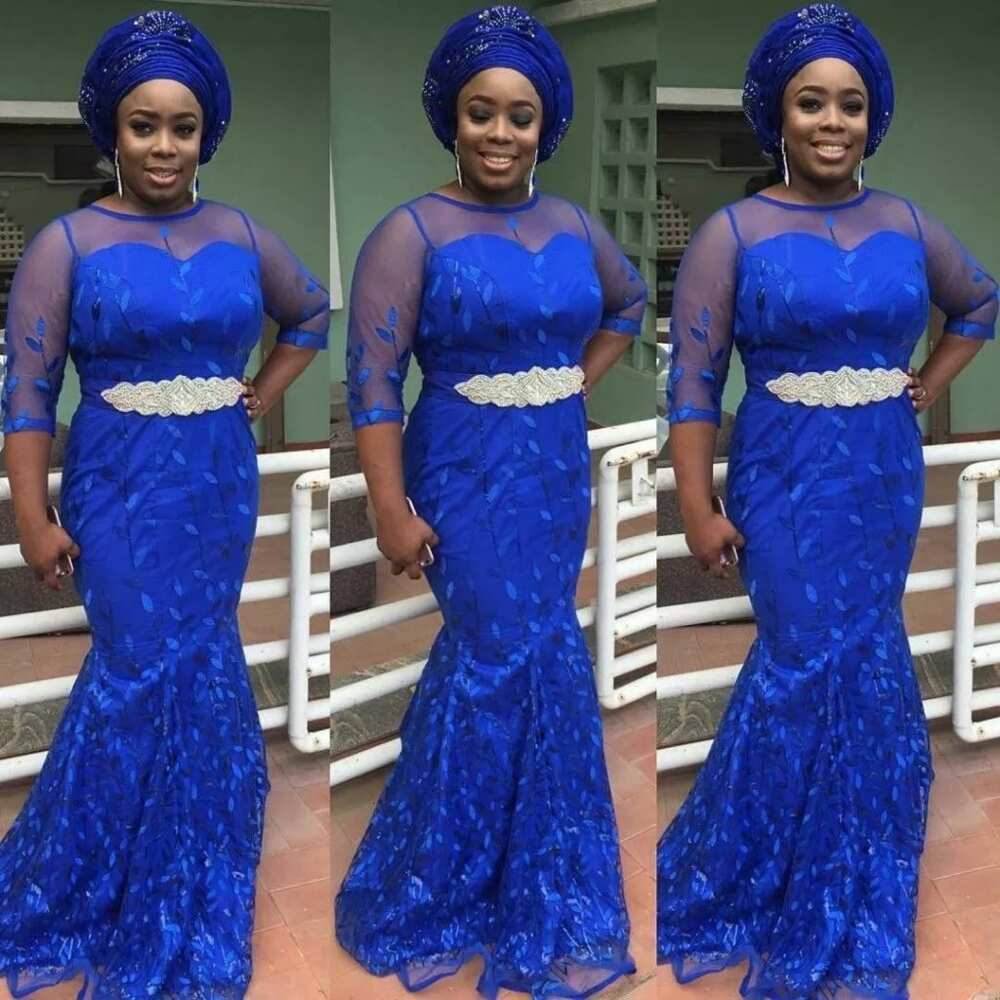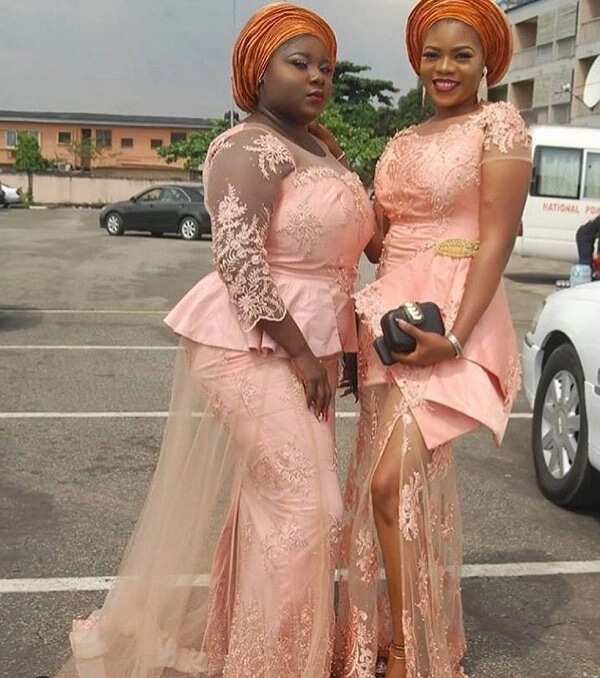 Trendy colours and tailoring of Nigerian French lace styles
The colour palette of lace styles has incredibly expanded. French lace styles in 2018 are distinguished by the use of one colour. The top colour of 2018 is pink quartz. A delicate pink tone in lacy execution does not require a complex shape, providing the modernity of the item. Pastel pink, beige blouses, and dresses look very gently.
Still, trendy tones 2018 are red and peach as well as blue, emerald, and coffee colours. Red lace outfits look optimistic and elegant. At the same time, the immense popularity is enjoyed by:
black lace styles;
white lace styles.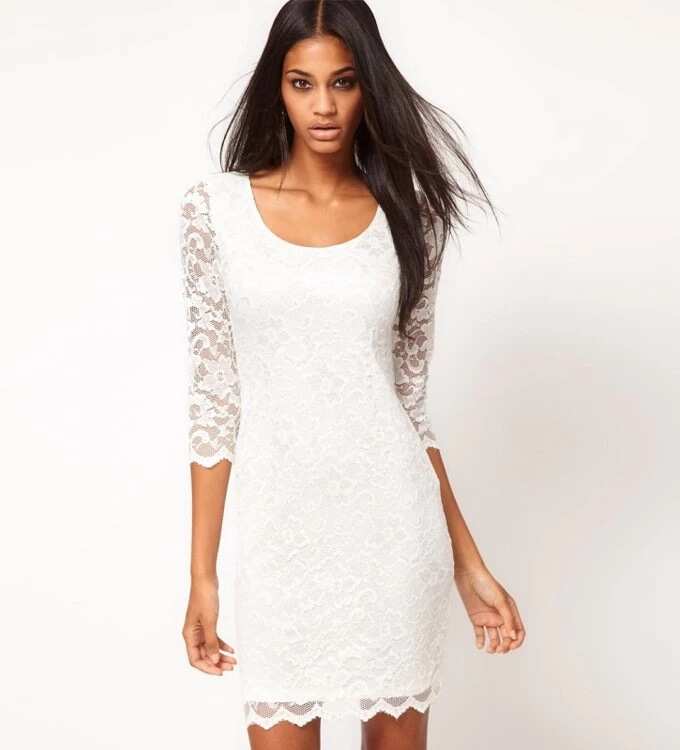 Elegant black lace, of course, leads, because it makes the figure favorably slim. White lace is relevant among young girls, especially brides.
French lace is beautiful in the outfits of any length. Any colour solution is offered both in a long version and in models of midi length to the knees. Short items also have not lost their relevance. They look great with a light and flared skirt.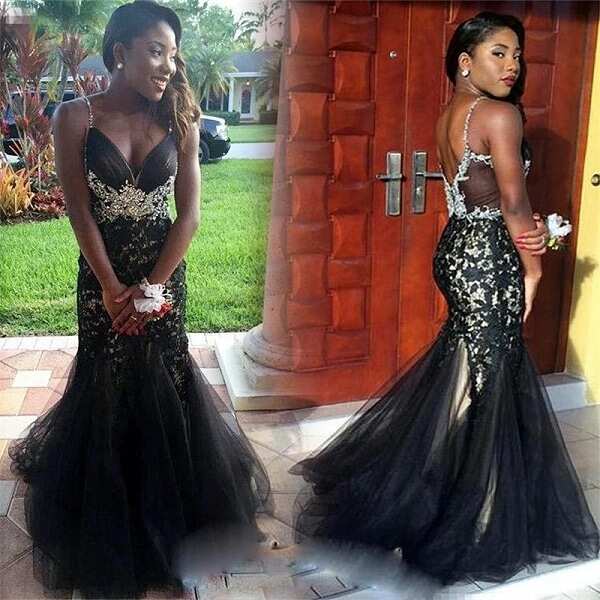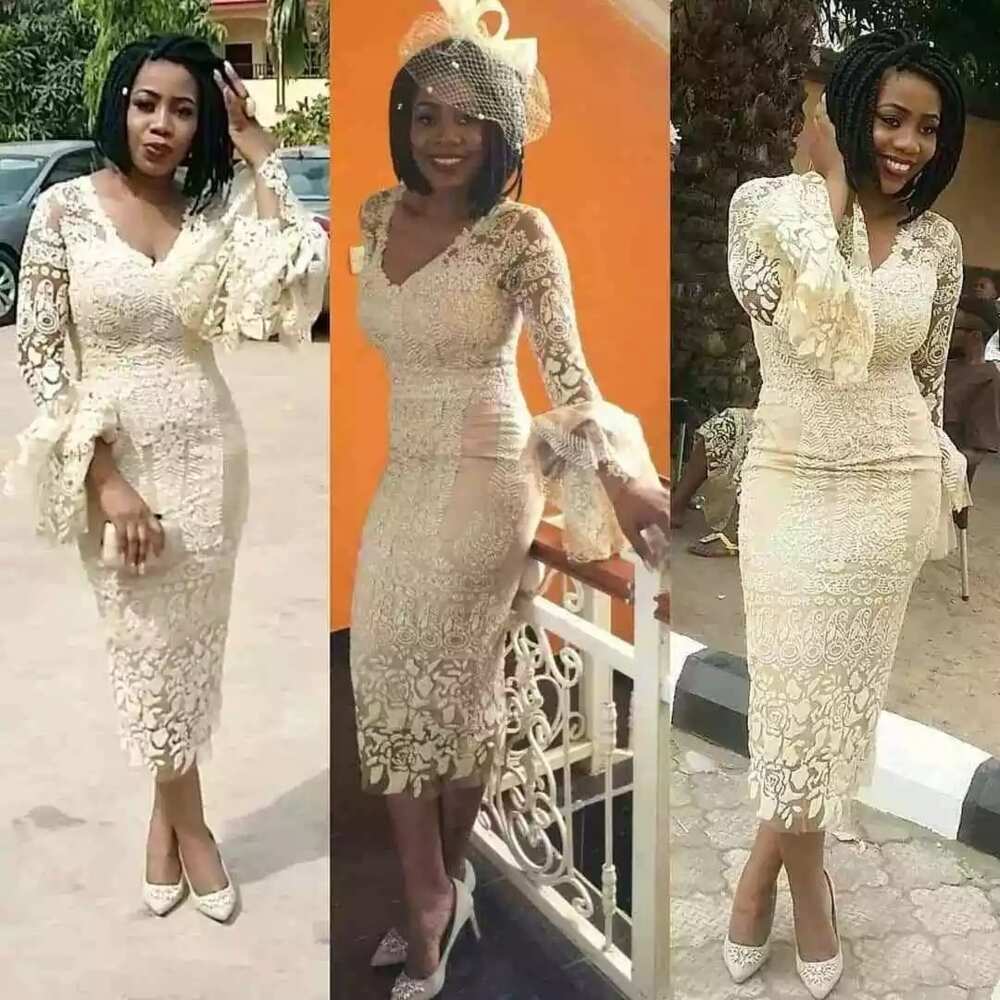 A long dress or skirt has a rather limited number of options, where it can be worn. Outfits with a midi skirt of standard length are versatile in use. They can easily be transformed from everyday to solemn outfit.
Each length has its followers. The only restriction is for plus size ladies. It's better for them not to use a skirt or gown above the knees.
We hope that you will use our recommendations for creating stunning lace images.
READ ALSO: Ankara dresses with lace that are popular this season
Source: Legit.ng