Every woman on earth is foolish including my mother - Nigerian man says (photo)
Wonders shall never end as a young man has taken to social media to insult women all over the world. However, he did not leave his own mother out of it.
The young man who was identified as Gran Ville on Facebook took to his Facebook profile on Saturday, May 12, to share this post and he has received a lot of backlash from social media users.
His controversial Facebook post reads: "Every woman on earth is foolish including my mother."
READ ALSO: Nigerian mom buys sanitary pads as birthday gift for her daughter (photos)
See post below:
A Facebook user identified as Pope Mac Pherson blasted the young man saying: "I don't blame him for this post, i blame you people for not ignoring it, he is a fame seeking nematode, death shall catch up with him soon....you people don't know that when u see post's like this, you are meant to ignore it, the same way his destiny ignored him....But as of this moment, Gran Ville:
1. As you have insulted the females of this earth, your future shall dribble you to death.
2. You shall drown your own feckless paramount foolishness.
3. As you continue to seek for fame, aero planes shall crash over your dad's baldhead.
I hope, with these few points of mine, you all have been convinced and not confused that Gran Ville shall not live to see 5:00pm today."
PAY ATTENTION: Get relationship advice on Naija Uncensored Facebook Group
See post below:
However, the young man did not end his post there as on Sunday, May 13, he took to his Facebook handle to celebrate Mother's Day. His post reads: "Happy Mother's Day."
See post below: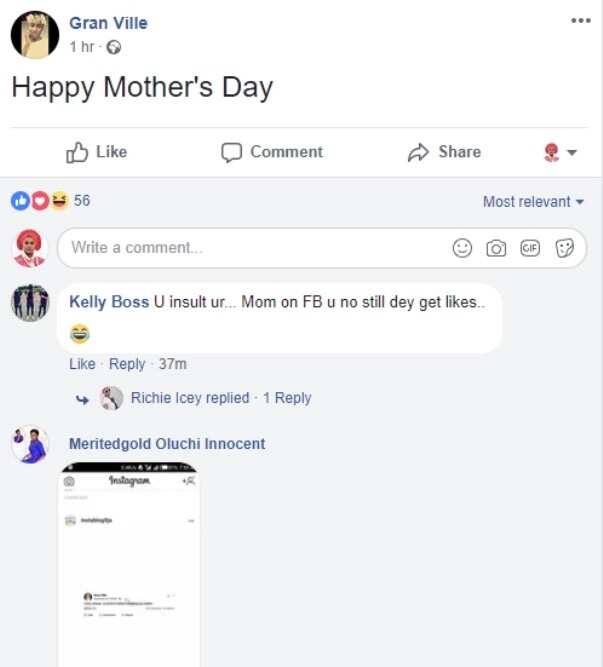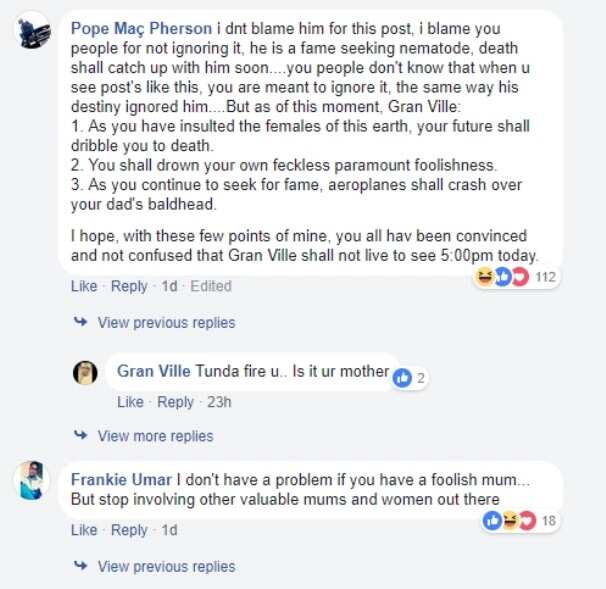 Nawa o!
What do you think will happen if women rule the world? (Nigerian Street Interview) | Legit.ng TV - on Legit.ng TV.
Source: Legit.ng