12 no-nonsense American soldiers train Nigerian infantry in Jaji, narrate experiences
- Twelve U.S. Army soldiers have been deployed to Nigeria to advise and assist Nigerian infantry
- The twelve soldiers are from 1st Brigade Combat Team, 10th Mountain Division, and Security Assistance Training and Management Organization
- They have the mission of training Nigerian Army infantry ground-level tactics
Some U.S. Army soldiers who came to Nigeria to fulfill a six-week advise and assist mission in a remote military compound in Jaji, near Kaduna state have narrated their experiences during the military exercise.
The US Army disclosed this in a feature article on their website on Wednesday, April 4. It remarked that on their way to the training compound, one of their general's perspective on future combat operations in austere conditions became a reality, given the fact that there will not be comfortable things like burger king, pizza hut, air-conditioning or internet, running water.
READ ALSO: Local vigilantes allegedly prevent SARS operatives from arresting Melaye
"We walk over to this big pump and get our own water to flush our toilets since water happens intermittently," explained Capt. Aaron Harris. "It's not always a fixed system or anything like that."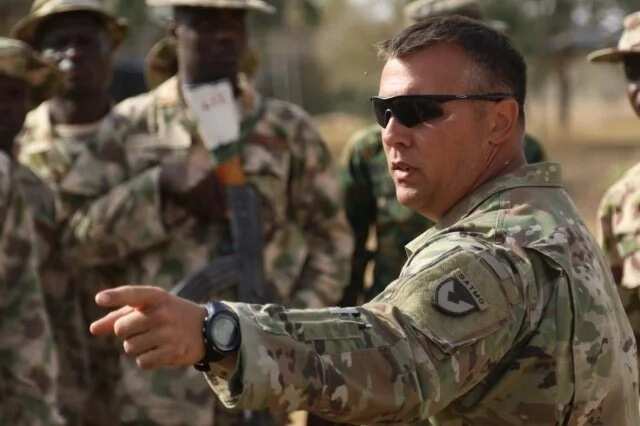 "We have bed space, plenty of places to sleep," Harris said matter-of-factly. "The food's great; we hired a local, a spouse of one of the Nigerian army soldiers. She cooks for us, provides us water. We have water, hot meals, beds, and mosquito nets. What more can you ask for?"
'What more can you ask for' was the last expression you'd expect to hear from any Soldier carrying two five-gallon buckets of cold water to a cramped stall walled off with thin vinyl. But if you want to shower, you fill your buckets. The process is simple. You pour one bucket on yourself, apply soap, and use the second bucket to rinse.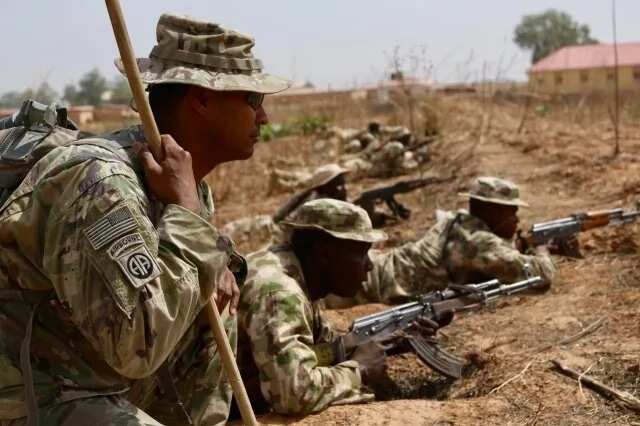 Going further, the army wrote that "the living quarters were reminiscent of a Hollywood war film. Bunk beds, boarded-up windows, PVC-pipe camping chairs, and faded-green socks hanging on a clothesline decorated the front porch. Inside, the walls were littered with hand-drawn operations orders bordered by two-inch green tape. ToughBoxes acted as furniture.
"The most-frequented corner included a plastic card table. The place was covered with the sounds of soldiers conversing and arguing over endless games of spades. The scene was a far cry from the modern field training exercise complete with eyes fixed to the glow of cellphones and headphones to reduce the chances of face-to-face interaction."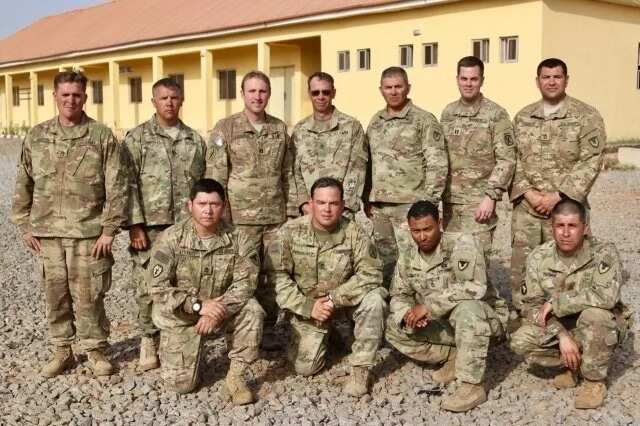 The 12-man team said they were happiest when training the Nigerian soldiers, despite the heat of the area.
"At least it's a dry heat," explains an optimistic U.S. Army non-commissioned officer. "It could be worse. It could be humid. The last thing we want is more sweat, mold and mildew. I'll take hot over humid any day. Heck, I'd take this heat over the cold, any day."
Sgt. First Class Saul Rodriguez, who is said to be the most experienced of the 12 U.S soldiers in the compound while speaking to the infantry men, during a training session said his job was to train the soldiers while it was the soldiers duty to defend Nigeria.
"My job is to train you as much as I can. Your job is to fight the bad guys out of your country," Rodriguez was claimed to have said while shouting to a group of soldiers demonstrating their best cover and concealment efforts behind's Jaji's bushes and trees.
Staff Sgt. Kevin Martin, another US soldier said: "Yes. We are hard on them. We have to be. Their life depends on it. They might need these skills one day. They face a very real and lethal threat. We aren't going to slow down, we are going to pack as much training in as possible."
On his part, the mission's leader, Capt. Stephen Gouthro said the mission was not only about tactics but that it has lots more.
PAY ATTENTION: Install our latest app for Android, read best news on Nigeria's #1 news app
"What better way to demonstrate mission command," Gouthro said. "This mission isn't only about the tactical. Everything our team does could have diplomatic effects. Out here, the team has to be professional, mature and discipline. And we are," he said.
Meanwhile, Legit.ng had reported that Nigerians in diaspora have continued to put Nigeria as a country on the map with their wonderful achievements.
Legit.ng reported that Dr and Mrs Harold Okay Odocha produced children who are all military officers in the US Army.
If you could choose your country of birth, what country would that be? on Legit.ng TV:
Source: Legit.ng