Nigerian lady delivers triplets, says her husband left her after seeing scan result
- A Nigerian woman who delivered triplets has revealed that her husband fled the house after he saw the scan
- She explained that her husband left without a word after he found out they were expecting triplets
A woman identified as Ijeoma Uzoma has delivered triplet babies on Thursday, March 22, at Tolu Crescent Medical Centre at Ajileye Street in Bariga, area of Lagos state.
After the birth of her babies, the woman revealed that her husband ran away from home four months ago after he viewed the scan result of the babies. Uzoma who stated that she has no idea where her husband went to, disclosed that he fled in December.
The woman who expressed sadness over the fact that her husband left her while she was still pregnant, stated that she would tell him to see the government if he ever comes back.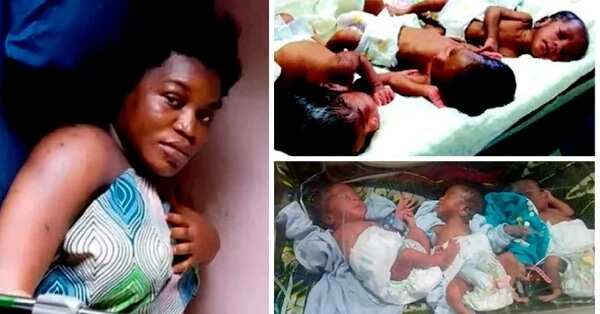 READ ALSO: Father comments on daughter's post after sharing sultry photo on Instagram (photo)
She said: ''My husband left home since December when we did the scan and the results showed that I'm carrying triplets. I don't know where he is. I've not set my eyes on him since then. He left home without my notice. I wonder how he could abandon me in such condition. If he returns, I will tell him to go and see the government since they are the ones taking care of me."
It was gathered that Kolade Alabi, the chairman of Bariga local council development area had come to the woman's aid when it was time for her to deliver the triplets.
Uzoma thanked the chairman and his aides for coming to help her. She said: "God will bless him, the Lord will lift him and give him bigger position and others who came with him. They really made me happy."
She further expressed that she is in need of assistance to raise her children. She appealed to the government and Nigerians t help her start a business to raise her children.
PAY ATTENTION: Get all the latest gossips on NAIJ News
"I don't have anything. I'm still feeling pains. If the government can help with money, I will be glad. I used to hang umbrella to plait people's hair in our house before delivery. I need money to raise these children and start business. I do not like begging; I can work if government can give me fund to establish myself."
My life after the plane crash – Nigerian plane crash survivor Kechi Okwuchi speaks on Legit.ng TV
Source: Legit.ng