Most beautiful church decorations in Nigeria for your wedding
When you are getting married, you surely want to remember this day for your whole life. You want everything to be perfect, especially the decoration! Some people would give all the money in the world to make their wedding day memorable. They choose the best restaurants, outfits, and decorations for their special event. Of course, the church decorations should also be spectacular, so here are some interesting ideas for church decorations in Nigeria.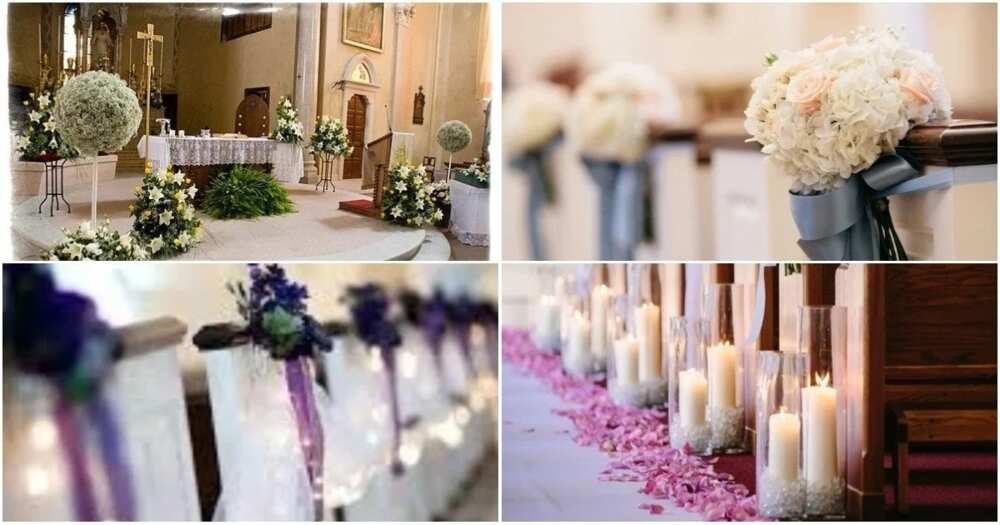 Church altar decoration in Nigeria: things you need to know
All the countries have their special traditions for weddings, including Nigeria. Our country's wedding customs involve lovely decorations for the church altar. Churches in Nigeria are sacred places, and the whole interior should look especially gorgeous on the wedding day.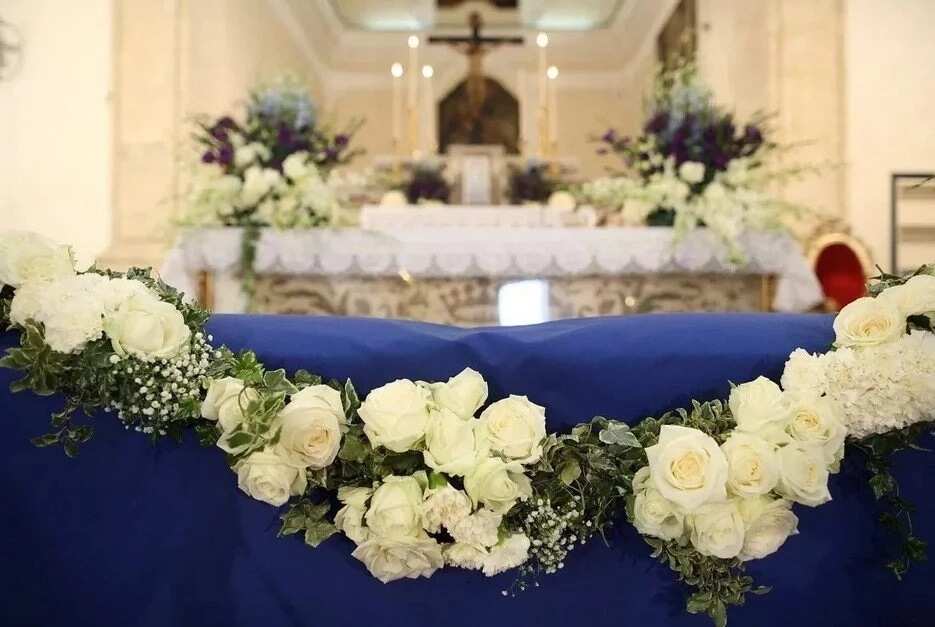 When Nigerians decorate the altar for their wedding, they usually choose two colours that are opposite to each other, to create a captivating and personalized effect. For instance, some of the most beautiful combinations are red or purple with white, yellow or orange with black, yellow with red and orange, navy with golden, minty green with peach, pastel blue with purple. Quite often, the altar is decorated in favourite colours of bride and groom. It is fully up to you and your fantasy – just be creative and do not be afraid to try different combinations.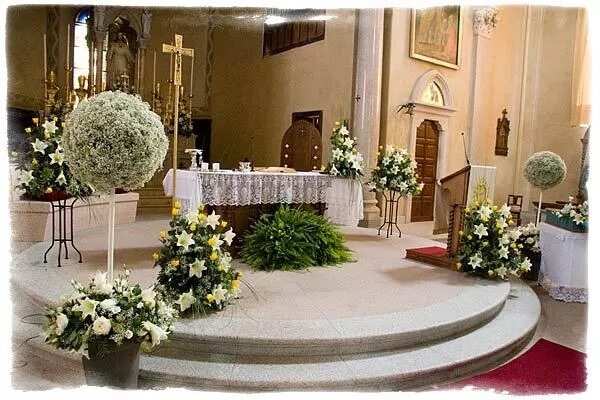 Interesting ideas for church decoration
You can create some unique and beautiful designs using the most common decorating items. Here are some of them – maybe you will consider using them for making the church look festive inside.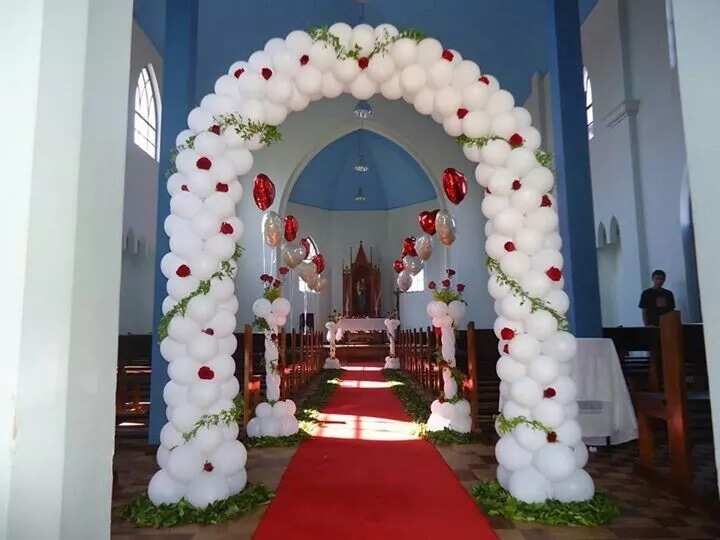 Balloons
Probably the easiest way to make anything look more celebratory is decorating the interior with colourful balloons. For everyone, they are symbols of childhood, relaxation, and happiness, so it is definitely a good idea to have them at your wedding. Besides, they can come in various colour combinations, and you will be able to customize them to match the general colour combinations of your wedding.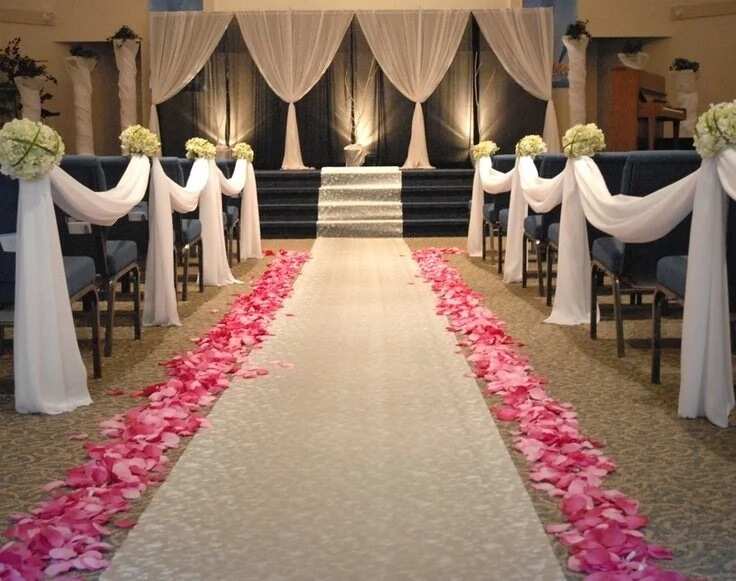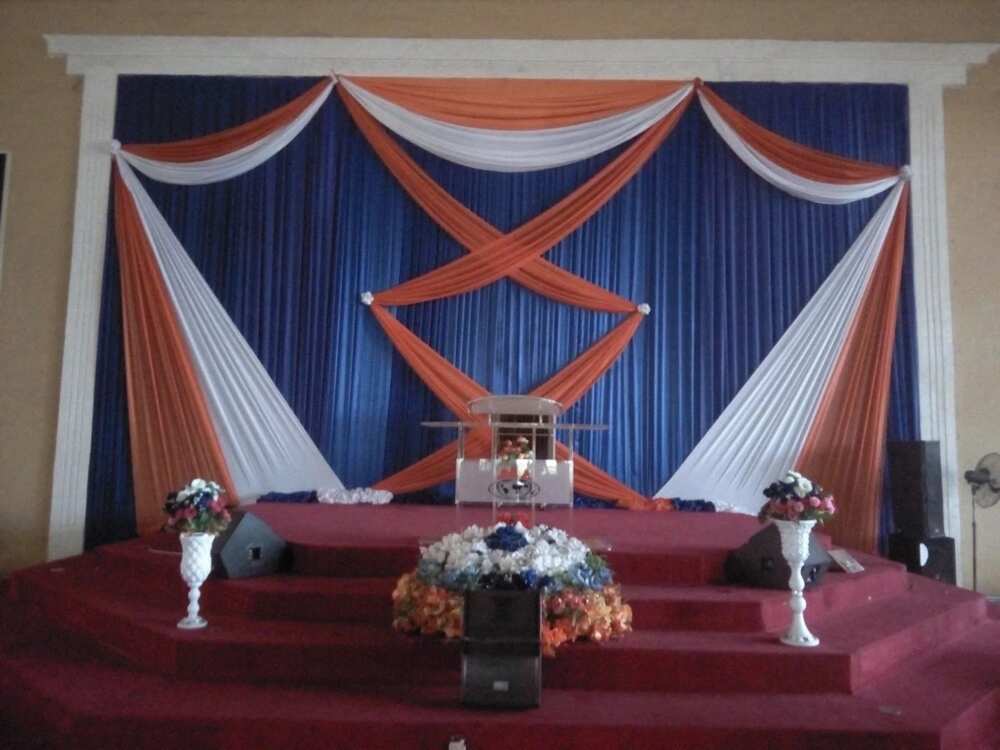 Fabrics
Different fabrics can be combined together for special effect, and there are thousands of ways to decorate altar and the benches/chairs in the church using light and beautiful pieces of cloth. Many couples even hire professionals for decorating their place with fabrics.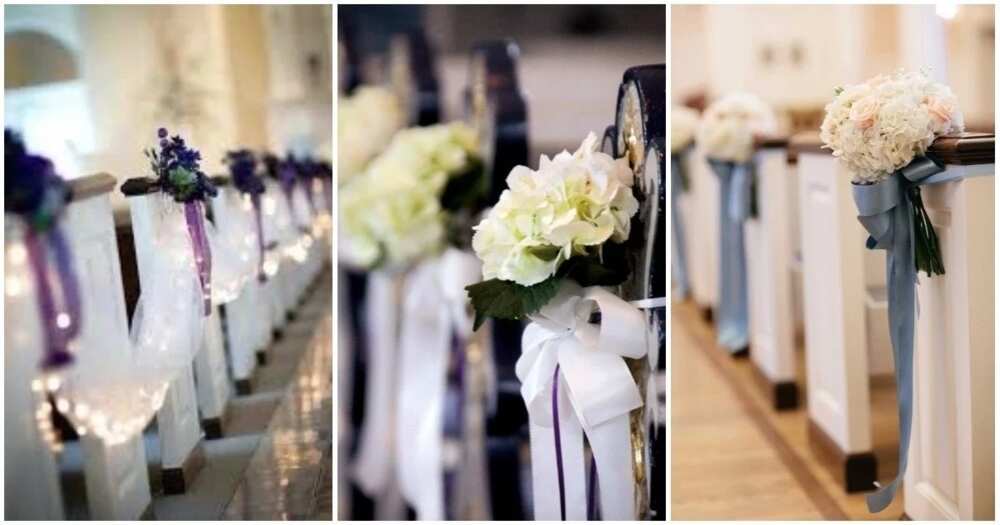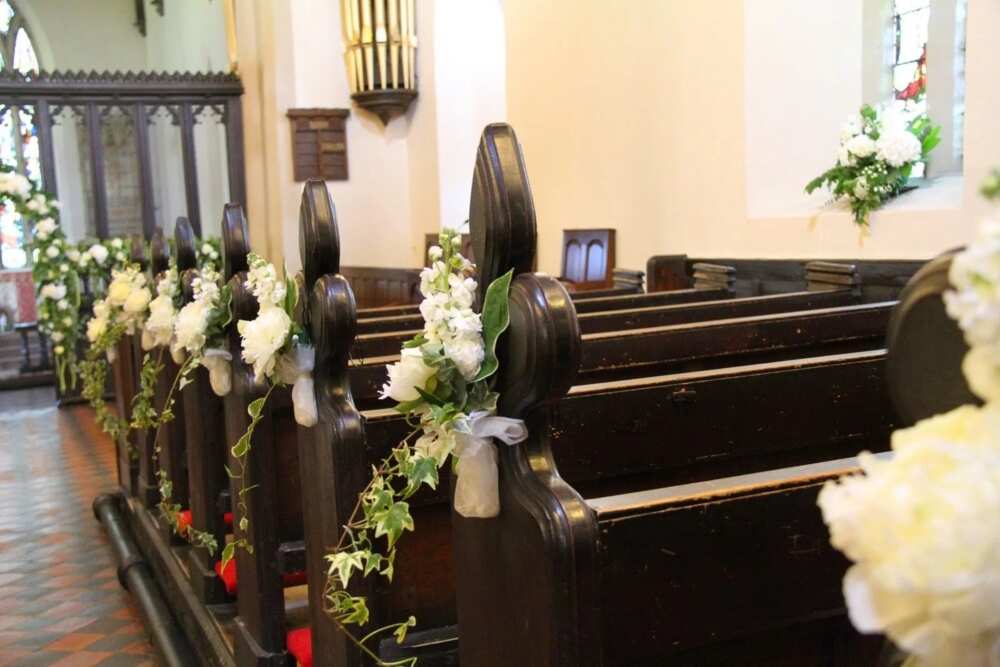 Flowers
Of course, you should not forget flowers! They are what makes weddings so special. If you are a big fan of floral designs, you can decorate your altar with beautiful roses, lilacs, orchids, tulips or whatever flowers you like. You can place an arch made of flowers at the altar or in the entrance to the church, and customize it to your personal preferences. As a bonus, the whole place will have a pleasant smell.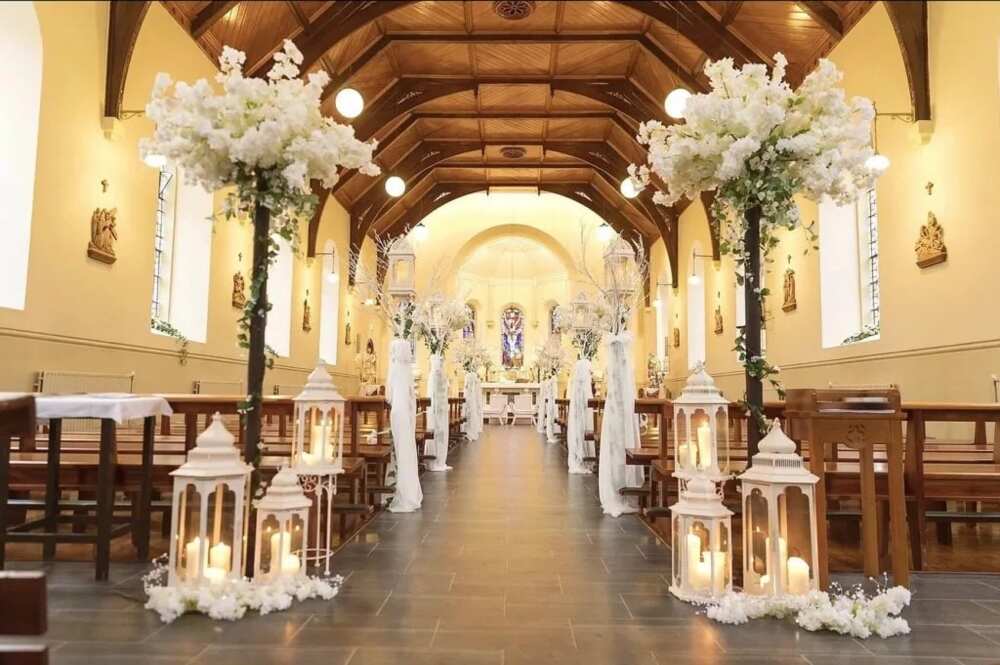 Lights
Usually, light effects add to the general atmosphere, so you can use them for your altar decoration to make the place more personal and romantic. If you prefer candles, you can decorate the altar and the church with multiple ones to make it look magnificent. You should be careful with them because real candles can pose a fire threat in a closed church, so we would advise to turn to the fake ones or to hide candles under the glass.
However, lately Nigerian brides and grooms often use modern LED lights, the colours of which can be easily customized. Unlike candles, they are entirely safe. Besides, they are really convenient and easy to install, and your wedding venue can look absolutely breathtaking.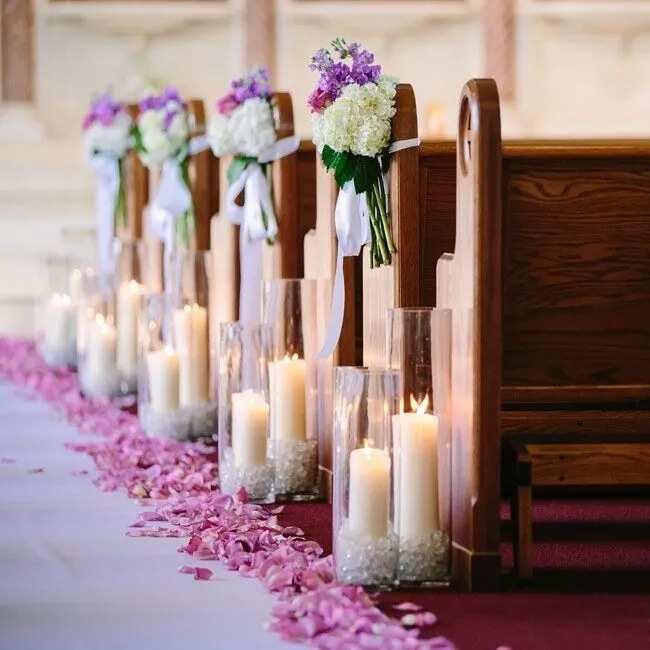 Are you still undecided on your church decorations? Well, it is no problem! Your day has to be incredibly special and memorable, and nothing should stand in your way. If you feel like your creative muse is gone, we can advise you some more interesting ideas for your church altar designs: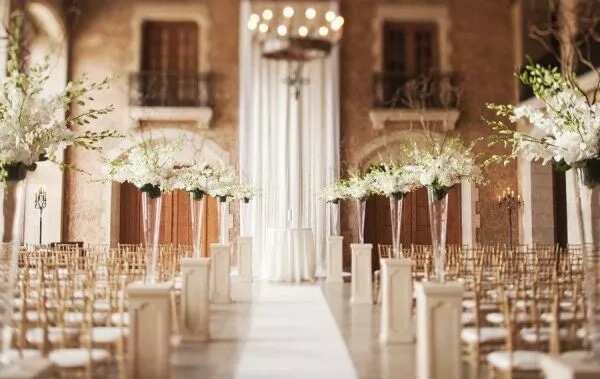 You can add some pieces of bamboo that will give an exotic effect and make your wedding seem unique. If you are a fan of Asian culture, you can even decorate your altar in the Asian theme. You should not be scared to bring the elements of new cultures in your life!
Another interesting idea is the marine-themed celebration. If you are fond of sea and pirates, you can add some seashells, bottles, ship decorations. Your wedding colors can be blue, aquamarine, and white if you choose to take this route.
You can customize your furniture too. Choose some nice chairs for the guests so they could feel almost like royalty. Add some lovely touches to your church altar design. Placing too much furniture, however, is not recommended – there should be enough free space in the church.
Combine materials that you have never thought would look good together. Do not be afraid to experiment! However, if you are feeling like this is too much or dislike the general look, you might go back to the minimalistic style.
And lastly, you can use some imagination and personal inserts. Use the things that you and your bride/groom like or things that hold a meaning for you two, and put new life into them by using them as church decorations. For example, you can use your favourite colours, the flowers that you usually present to each other, your interests and hobbies; anything that expresses your personalities and makes you stand out from the crowd! You can have your favourite music played at the wedding to create an incredible atmosphere. It will be the most personal and memorable wedding, and it will not look too generic and similar to everyone else's.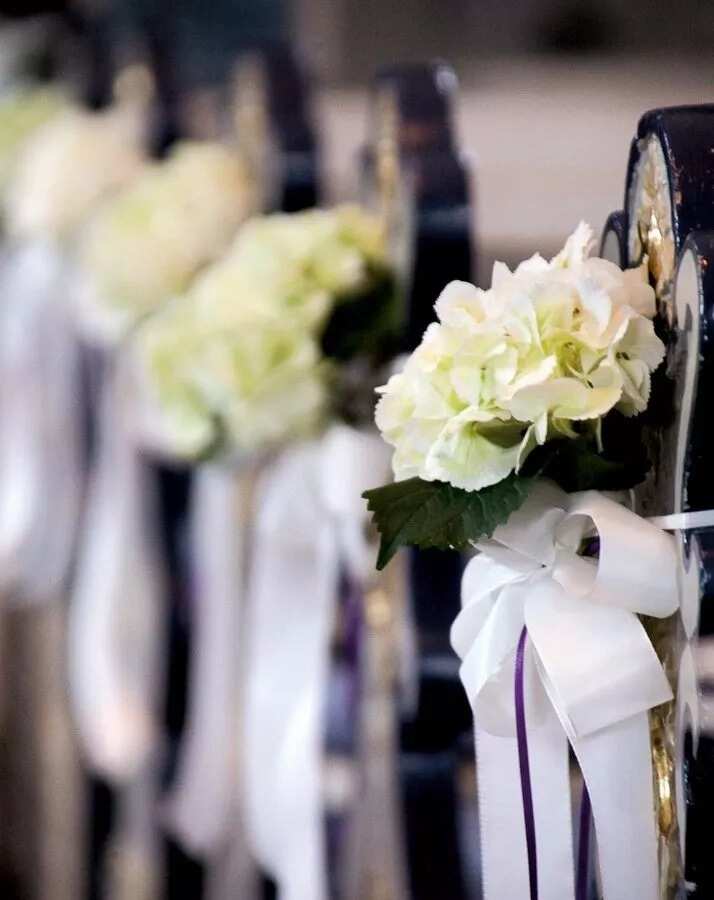 On your wedding day both you and your spouse have to be satisfied with the decorating, so don't forget to consult each other on altar designs. Be creative and think of the new solutions, and if you have no ideas, you can talk to your family and friends, and see if they offer something.
READ ALSO: Church altar decoration in Nigeria
Source: Legit.ng