Literary writers of different English speaking countries
English writers over the years have been instrumental in social changes in the society, especially from the renaissance period. Through their literary works, they have been able to affect the world positively.
In this report, Legit.ng brings to some of these great English writers whose works are still celebrated up till date.
William Shakespeare (1564 – 1616) English poet and playwright.
Shakespeare is a writer that is celebrated worldwide. His famous plays include Macbeth, Romeo and Juliet, Merchant of Venice and Hamlet.
Jane Austen (1775 – 1817)
She is an English author who wrote romantic fiction combined with social realism. Her novels include: Sense and Sensibility (1811), Pride and Prejudice (1813) and Emma (1816).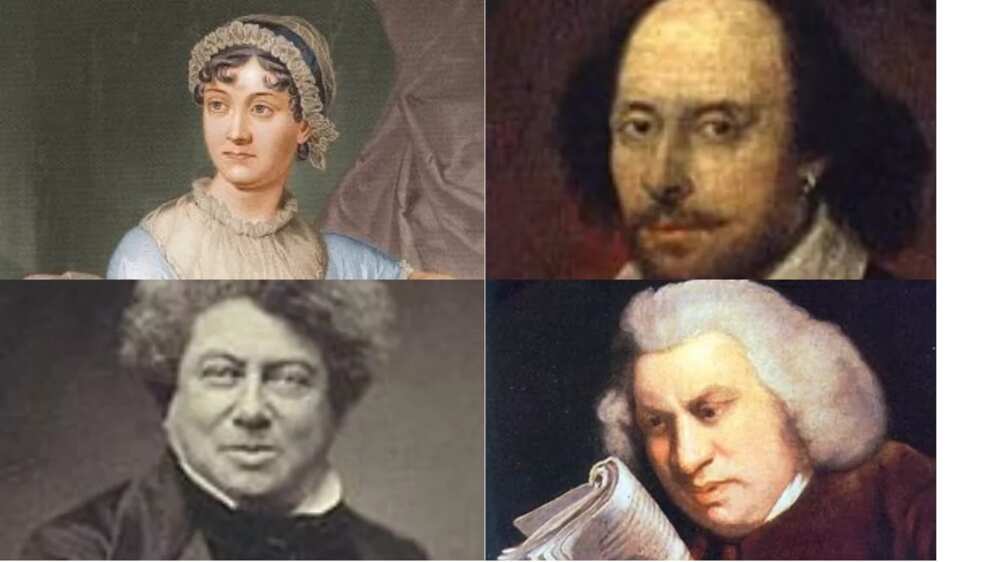 READ ALSO: Why are Chinua Achebe books so important for Africa?
Charles Dickens (1812 – 1870)
Dickens is an English writer who is also a social critic. His best-known works include novels such as Oliver Twist, David Copperfield and A Christmas Carol.
Charlotte Bronte (1816 – 1855)
Bronte is an English novelist and poet. Her best known novel is 'Jane Eyre' (1847).
Emily Bronte (1818 – 1848)
Emily isthe English novelist who is best known for her novel Wuthering Heights (1847), and her poetry.
George Eliot (1819 – 1880)
Eliot uses the pen name Mary Ann Evans. He wrote novels such as The Mill on the Floss (1860), Silas Marner (1861), Middlemarch (1871–72), and Daniel Deronda (1876)
Mark Twain (1835 – 1910)
Twain is an American writer and humorist who is considered the 'father of American literature'. His works include The Adventures of Tom Sawyer (1876) and Adventures of Huckleberry Finn (1885).
Thomas Hardy (1840-1928)
Hardy was an English novelist and poet and a Victorian realist who was influenced by Romanticism. He wrote about problems of Victorian society - in particular, declining rural life.
His works include: Far from the Madding Crowd (1874), Tess of the d'Urbervilles (1891), and Jude the Obscure (1895).
Sir Arthur Conan Doyle (1859 – 1930)
Dolye is the British author of historical novels and plays who wrote famous short stories about the detective – Sherlock Holmes, such as The Hound of the Baskervilles (1902) and Sign of Four (1890).
Beatrix Potter (1866 – 1943)
English conservationist and author of imaginative children's books, such as the Tales of Peter Rabbit (1902).
Virginia Woolf (1882 – 1941)
English modernist writer, a member of the Bloomsbury group. Famous novels include Mrs Dalloway (1925), To the Lighthouse (1927) and Orlando (1928).
Alexandre Dumas (1802 – 1870)
Dumas is the French author of historical dramas. His works include The Count of Monte Cristo (1844), and The Three Musketeers (1844).
D H Lawrence (1885 – 1930)
English poet, novelist and writer. Best known works include Sons and Lovers, The Rainbow, Women in Love and Lady Chatterley's Lover (1928) – which was banned for many years.
Leo Tolstoy (1828 – 1910)
Tolstoy is the famous Russian novelist and moral philosopher. His works include the epic novels – War and Peace (1869) and Anna Karenina (1877).
PAY ATTENTION: Install our latest app for Android, read best news on Nigeria's #1 news app
Agatha Christie (1890 – 1976)
She is the British fictional crime writer. Many of her books focused on series featuring her detectives 'Poirot' and Mrs Marple.
J.R.R. Tolkien (1892 – 1973)
Tolkien wrote the best-selling mythical trilogy The Lord of the Rings. His other works include, The Hobbit and The Silmarillion, and a translation of Beowulf.
George Orwell (1903 – 1950)
Orwel is the famous English author who wrote the Animal Farm, and 1984.
J.K.Rowling (1965 – )
She is the British author of the Harry Potter Series – which has become the best selling book series of all time.
She wrote Harry Potter and the Philosopher's Stone in 1997. She has also published adult fiction, such as The Casual Vacancy (2012) and The Cuckoo's Calling (2013).
Samuel Johnson (1709 – 1784)
Johnson is the British author best known for his compilation of the English dictionary.
British Council Rewards Nigerians - on Legit.ng TV:
Source: Legit.ng