Boko Haram ambush Army commanding officer's convoy, kills six
- Nigeria's quest to defeat Islamist group, Boko Haram is still on course
- The mission is however becoming increasingly difficult by the day as the terrorists regroup and attack every now and then
- Senior officers of the Nigerian Army are also not immune from the attacks
A report by Sahara Reporters claims that six persons were killed on Thursday, October 19, when suspected Boko Haram terrorists ambushed the convoy a Nigerian military senior officer.
According to the report, the terrorists attacked the Nigerian Army's commanding officer near Bulabilin, a village along the Maiduguri/Damboa highway.
Quoting an unnamed security source, the report also said the attack left scores of injured people.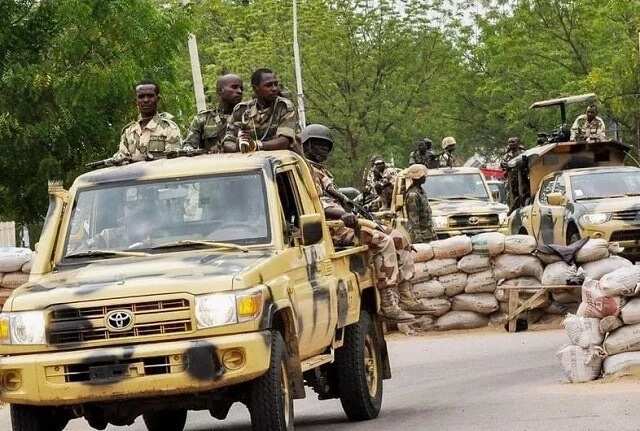 READ ALSO: Scores of Boko Haram members arrested in Kano - Governor Ganduje
The commanding officer's convoy was reportedly travelling along the road when it suddenly came under heavy fire by insurgents.
The source said: "Our convoy came under terrorist attack yesterday a few kilometres after Bulabilin when the commanding officer of Bulabilin village was going to Damboa. Unrepentant terrorists killed our soldiers and seriously wounded others," said the source.
He added that the wounded soldiers were taken to the military hospital in Maiduguri for treatment.
The Nigeria military is yet to issue a statement on the alleged ambush at the time Legit.ng published this report.
Meanwhile, the Pentagon on Monday, August 28, notified the U.S. Congress that Nigeria is set to buy 12 Super Tucano A-29 planes and weapons worth $593 million (over N200 billion).
It was specifically mentioned that Nigeria wants to utilize the planes for its fight against Boko Haram.
The Super Tucano A-29, an agile, propeller-driven plane with reconnaissance and surveillance as well as attack capabilities, is made by Brazil's Embraer.
Both countries hope that the propeller-driven warplanes — tailored for counter-insurgency operations — will bolster Nigerian efforts to combat Boko Haram.
READ ALSO: Wife of UNIMAID staff laments over FG's inability to secure husband, colleagues release from Boko Haram
Nigerian Air Force operations against Boko Haram on - Legit.ng TV
Source: Legit.ng News