Meet mother who financed 5 of her children's education roasting yam for a living (photos)
A Nigerian mother identified as Franca Nwosu has shared her success story of how she trained five of her children in school with money she made from her yam business.
In an Interview, the mother of nine who sells roasted yam along Shinroro road in Niger state, explained that she started her business over fifteen years ago.
Nwosu said the business lifted her family from poverty, adding that the business has always been good for her and her family.
She said: "I started this business over 15 years ago and with the proceeds, I was able to train five graduates. So, as far as I am concerned, the business is booming, no matter the hardship in the country, people must eat, you cannot avoid food."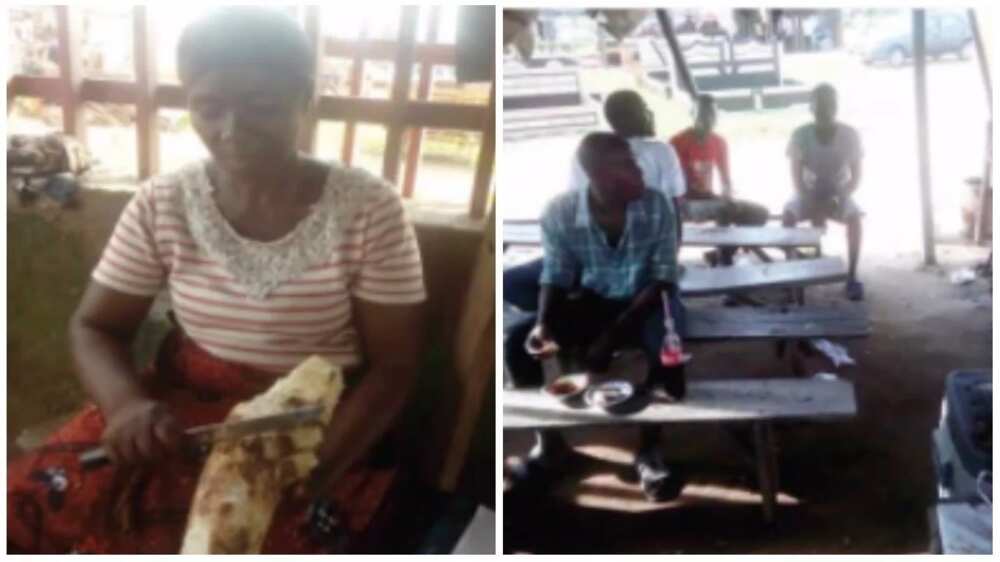 The hardworking woman further noted that she started the business to support her husband who is a welder.
Nwosu said: "My husband is a welder by profession but with the current situation of things in the country, what he is getting cannot sustain the family; so, I engaged myself in the yam roasting business to support him so that our family will not suffer."
According to The Punch, the roasted yam business serves customers such as motorcyclists and artisans.
READ ALSO: Inspiring story of a successful Lagos-based puff-puff seller (photos)
It was gathered that Nwosu starts her business as early as 7:00am every day. Nwosu usually roasts about 150 tubers of yam in a day.
Some of her customers who patronise her daily praised her service. Read what they said below:
Samuel Edom said:"With between N50 and N100, I can feed myself and this is far cheaper than eating at a restaurant where a plate of food would cost me between N300 and N400. Almost all the Okada riders in town have their lunch at her spot. Leave home early for my Okada business, so, most times, I have no other choice but to patronise the roasted yam seller because I cannot afford to go back home for a meal."
Abubakar Mohammed said: "I patronise Madam Nwosu because I can afford roasted yam compared to other foods in town. We (Okada riders) are comfortable with her roasted yam; most of us eat there two times a day and she sometimes sold on credit to us, she is our 'mother' in town."
PAY ATTENTION: Get all the latest gossips on NAIJ News App
Meanwhile, watch Inspiring story of a successful Lagos-based puff-puff seller below:
Source: Legit.ng