Nigerian braids for round face
No matter how pretty a woman looks, she would still want to make her appearance stand out. For this reason, women always experiment with their make-up, outfits, and of course hair. But what kind of hairstyles should you choose to look amazing? Of course African braids! Choose Nigerian braids for your hair if you want something new and unique. In case if you have a round shape of face, do not be afraid that braids will make it even rounder. There are a huge variety of designs and colors, new solutions for Ghana weaving style braids that will suit every face shape. Do not wait any longer and take a look at these different styles of Nigerian braids for round face.

Nigerian women love to make their hair look nice. One of the favourite styles for hair is braiding. The Ghana weaving braiding is popular in the whole world. This style gives you a variety of braids choices and you can make it in different colours and styles. No matter how round your face is, when you have your hair pulled in braids, you will definitely look great.
Ghana weaving styles for round face are also called Ghana cornrows, Pencil braids or Banana cornrows. These hairstyles are very trendy, as they are suitable both for a special occasion and for work. It is also popular due to the hairstyle's durability. You can wear them for weeks as long as you care for them well.
So, do not think that your face shape will let you down. No matter how long your hair is and what kind of shape you have, African braids will make you look both very modern and traditional at the same time. Cute Nigerian braids give you a lot of options for experimenting with your hair. You will certainly stand out.
READ ALSO: Nigerian cornrow hairstyles 2017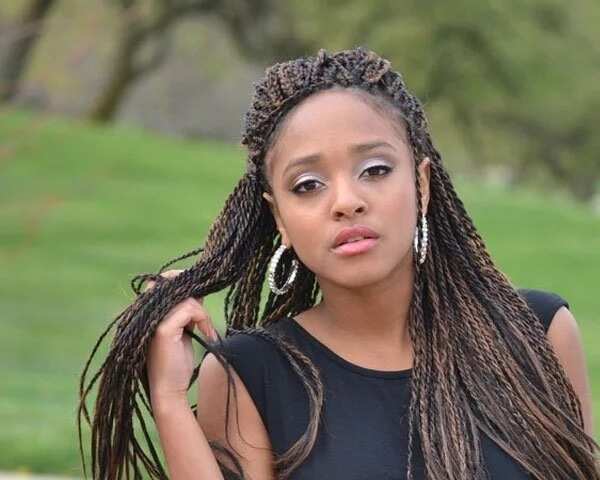 Braids are very cool to have, as you do not need to wash them that often. If they do not get dirty or smell bad, then letting them be funky is okay. Although you need to change your hairstyle from time to time as this will help you to keep them fresher for longer. There are so many different styles of braiding.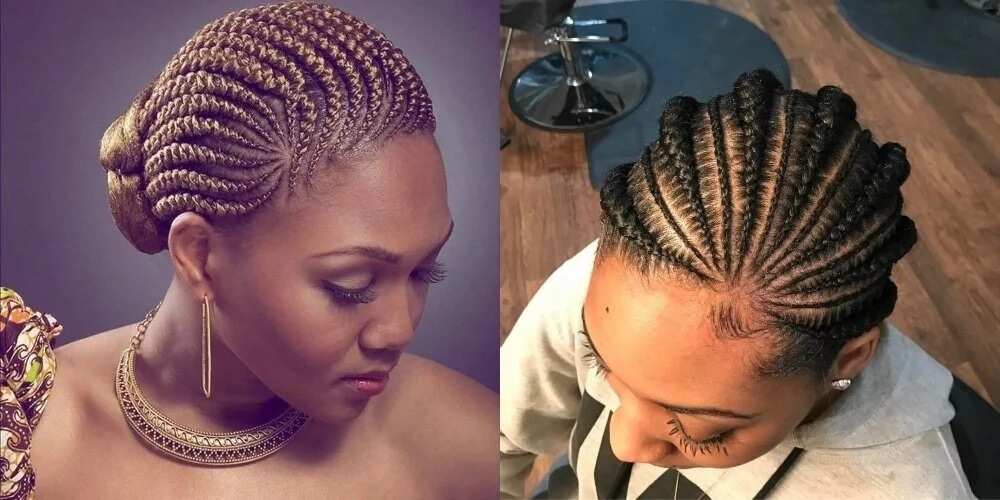 15 Best Nigerian braids hairstyles we know you're going to love!
You don't have to wait any longer, if you have a round face and you have struggled with finding a good hairstyle, take a look at these different styles of braids.
1. Easy thin braids style
These African braids are surely worth having! If you want both to have a great look and rock a style that will last for a long time, then easy thin braids are for you! They keep the same shape for several weeks or even months. They also protect your hair from hot weather and dust. If you don't want to run to the salon every week, thin African braids is a great choice!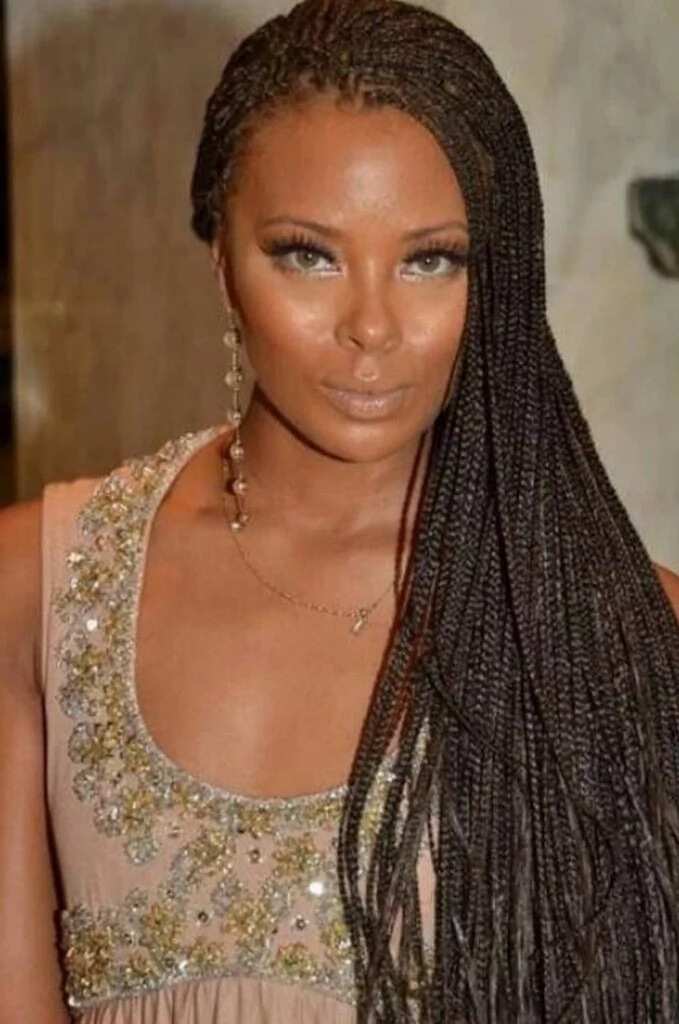 2. Amazing ombre braids
Here's a hairstyle which you might not have considered – ombre braids. It is a perfect choice of hairstyle if it is hot outside. The amazing colours mix together to give you a fresh look.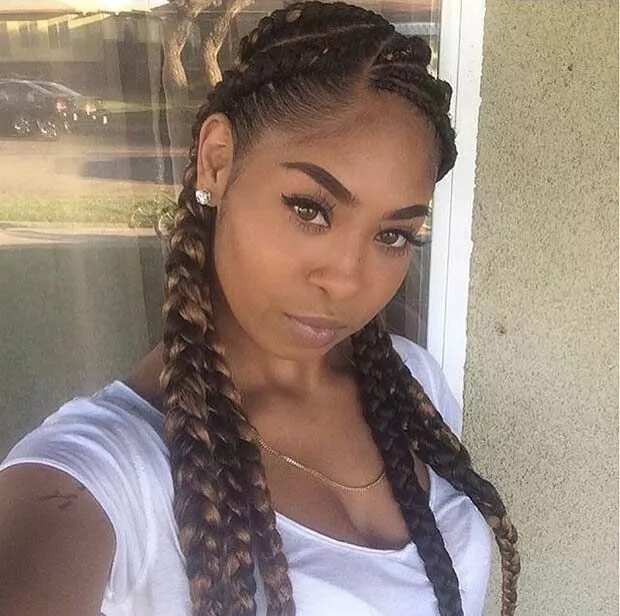 3. Braids pulled into a bun
One of the coolest ways to deal with wobbly strands at the nape of the neck is to wrap it up. One easy thing to do is to wrap it all around and use pins to fix it into a cute little bun. This bun at the nape of your neck makes you feel more comfortable and not so hot during the heat.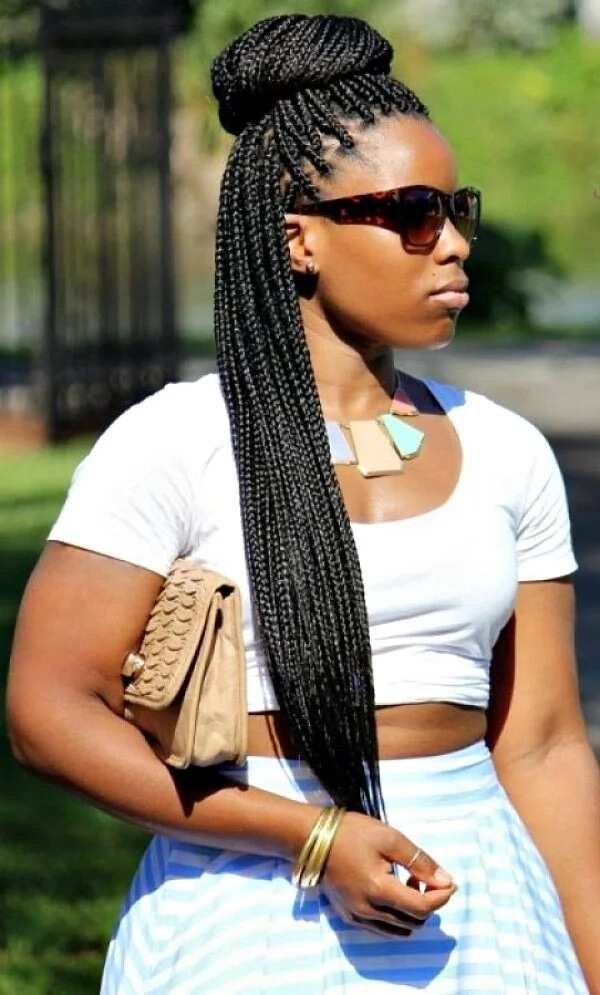 4. Shiny blonde braids
Have you ever wished to have blond hair? Well, there is no need to bleach your hair or dye it in blond color. All you need to do is to use some blond extensions. It is an easy way to change the colour of your hair and not have to suffer from hair dryness afterwards.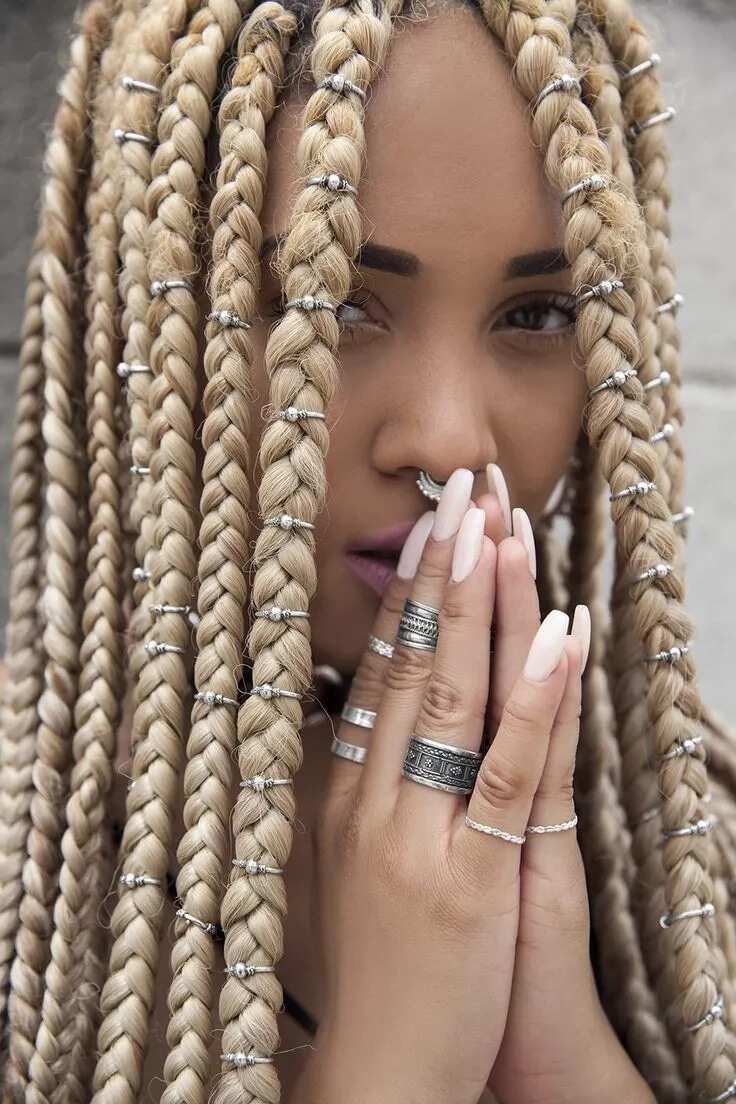 5. Jumbo cornrows
Just take a look at these amazing Jumbo cornrows! They will last for few weeks or so and can be done in thicker or thinner braids. It is all up to you to decide. The easiest way to open the world of fancy braids for yourself is to make some jumbo cornrows! It is easy, fast, and cute way to change your hairstyle. To look even more stylish and bright you can make the braids in different colors.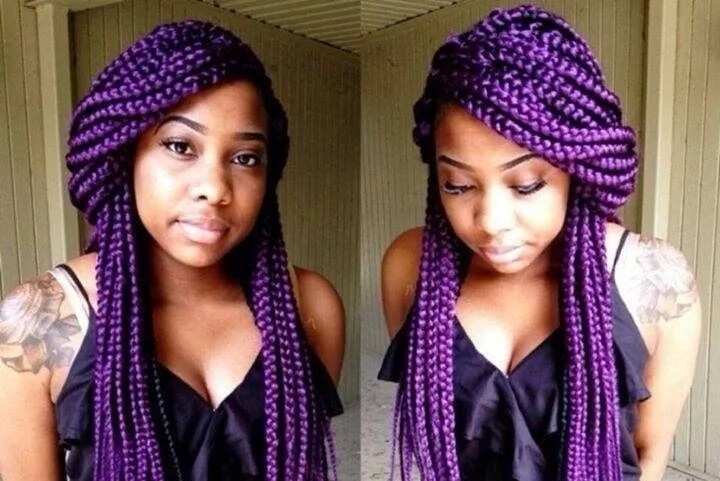 6. Classic Black & White braids
When we see these cute White and Black braids, we immediately want to rock the world with old Michael Jackson song " Black or White"! It is an absolute throwback to 90's and to be honest we love it. The style and colour of these braids will suit every outfit and if you want to be the most stylish and special - choose White and Black braids as your hairstyle. The 90's are back now. Make some black and white chocolate braids and wear some tight plastic chokers to complete your 90's look.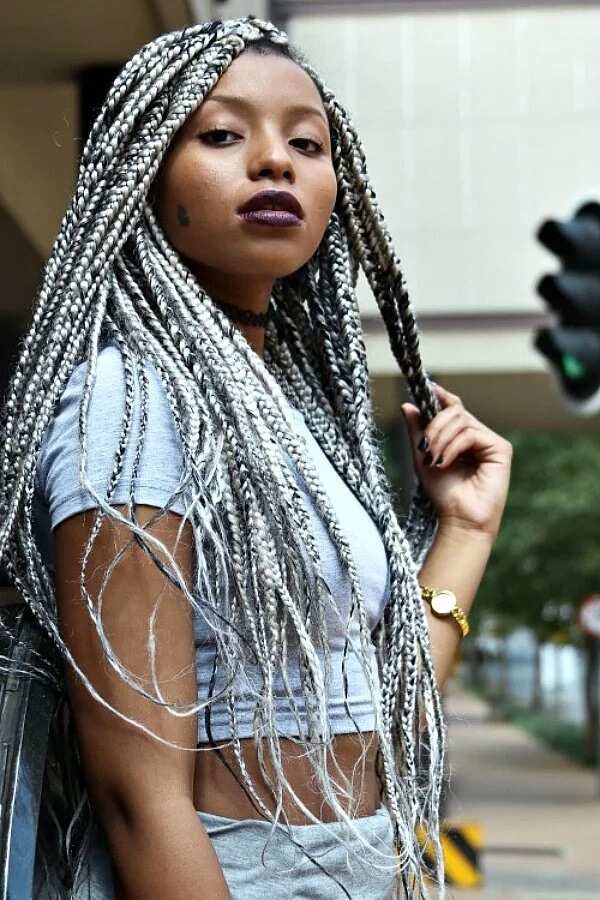 7. Long braids
Long braids are always in fashion and even Beyonce chooses them to complete her look. You can experiment with the length of your braids and wear some heavy extensions. Do not be afraid of suffering from hair loss or any other issues. But, be careful with using heavy extensions. Try these long braids at least once in your life.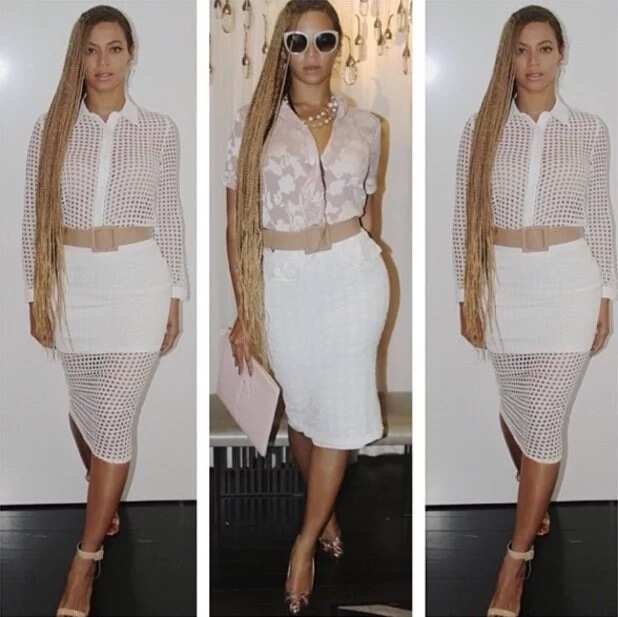 8. Elegant updo
If you feel that keeping your hair up is something that you want to do, then this elegant updo is a right choice of hairstyle. It works perfectly for summertime and the thick, twisted updo makes you feel more relaxed during steaming hot days. For this kind of hairstyle, choose thinner braids, but if you have thick braids, it is also okay.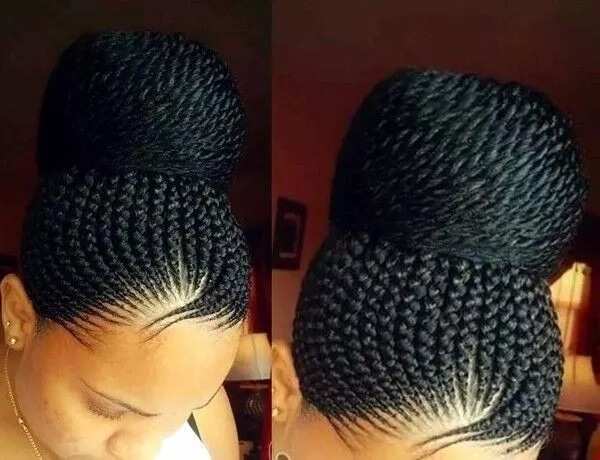 9. Banana braids
Taking into the account recent investigations on the history of African braids, it is believed that the appearance of this popular hairstyle dated back to 500BC. It is quite an impressive fact and makes this hairstyle one of the most popular these days. Ancient Africans, both men and women used to have braids in their hair and they looked really amazing with these Ghana braids. So if you wish to look like the ancient Africans and to show your respect to tradition, then choose Banana braids.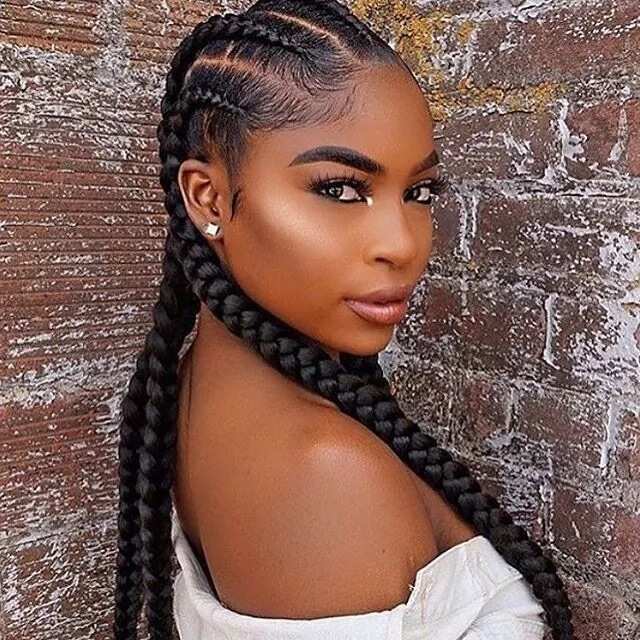 10. Big Ghana Cornrows
Big Ghana corncrowns are top choices for any season of the year by every African woman. A long time ago, these straight-back African braids hairstyles were meant to be very traditional and classic. It also depended on such factors as social status, ethnic background, religion. Nowadays, everyone woman can enjoy this hairstyle. So hurry up and get yours done.!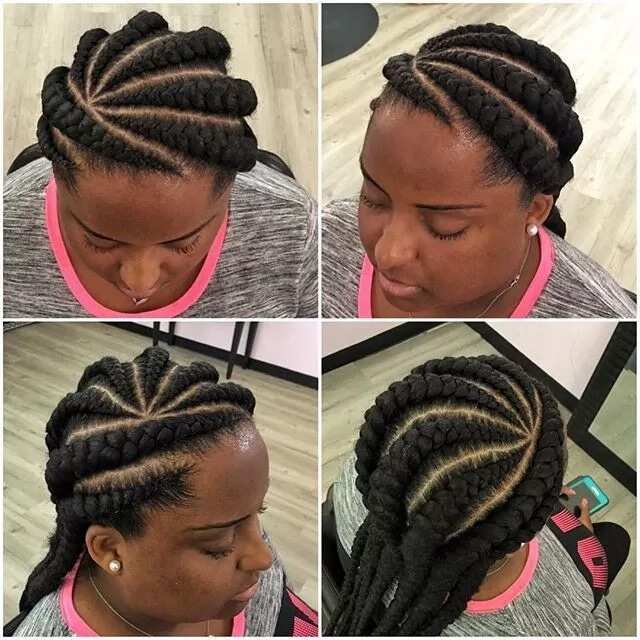 11. Pop of caramel Ghana braids
Do you think blond hair is too much for you to handle? Then what about caramel? It's lighter and not so bright but gives your hair an obvious, trendy change. It is perfect for women who wish to look different, but at the same time are not ready to permanently change their appearance. Not too bright, not too light. The waves of caramel blended into traditional Ghana braids hairstyle are both noticeable and hidden. This highlights are very much in trend.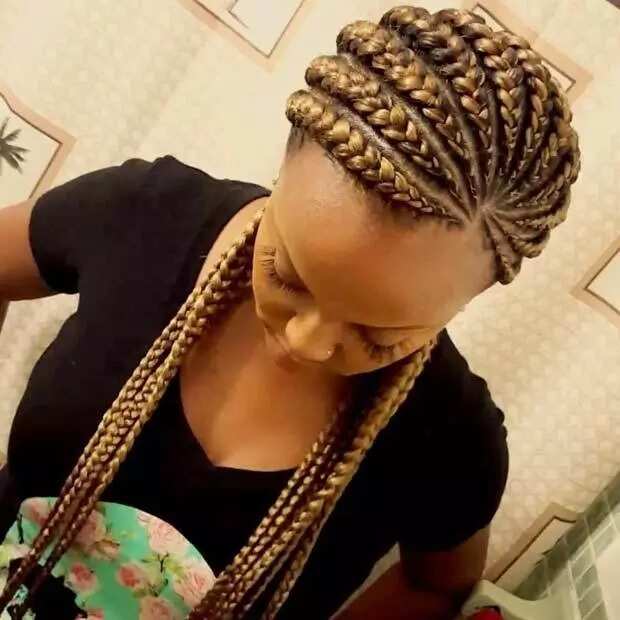 12. Trendy Zig-zag Ghana braids
Who has not heard about Zig-zag Ghana braids hairstyles ? In past, they were considered to be hairstyles for slaves. When someone got a zig-zag hairstyle, he or she definitely wanted to express an act of defiance or protest.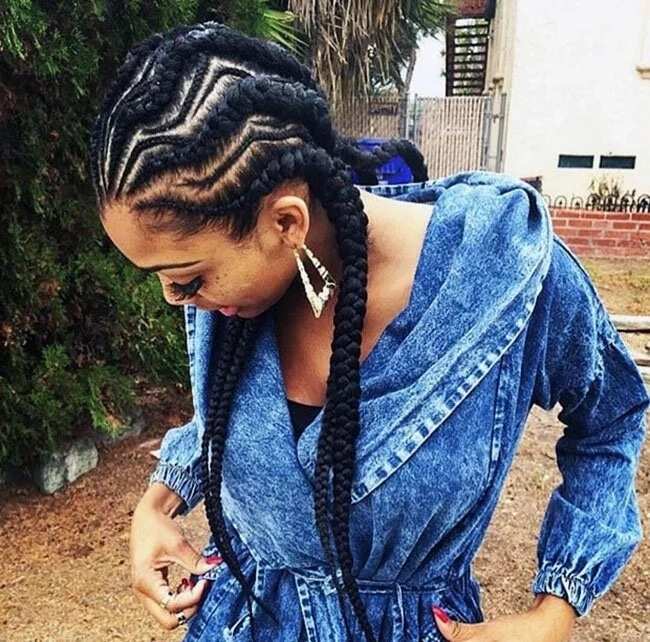 13. Iconic braids
Another great reason for getting some Nigerian braids, is that you do not need to take care of them once you get them. There is no need to comb hair every day after you get braids. So if you need a break from weekly salon visits, go for funky and fun braids.
14. Colourful Nigerian braids style
Are you tired of natural and plain braids? Breath a life full of colour to your look with these rainbow styles.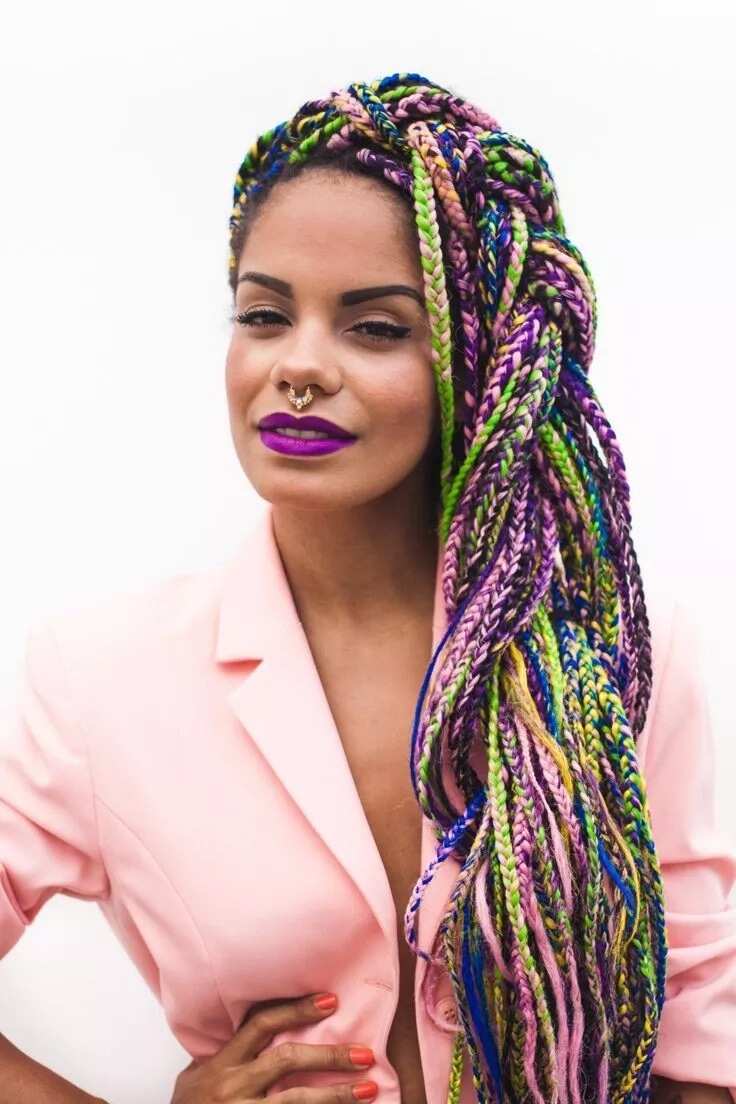 15. Braids with accessories
If you like to shine, it is time for your hair to shine bright as well. Tired of simple braids? Then caramel and honey tones will be great for your hair. Choose one of these Nigerian trendy braids and dazzle everyone with your beauty!
Another way to wear traditional braids is to wear them with various hair accessories. You do not need to limit yourself. Their are various choices of golden accessories that can be used to decorate your hair and it surely will help you create a unique, modern hairstyle.
There are numerous kinds of decorations from which you can choose. Here some tips for you. Take a look at hair beads and jewellery, adorable hair pins, and some little hair bands to put on your braids. Don't you just love them already? They really stand out and look gorgeous.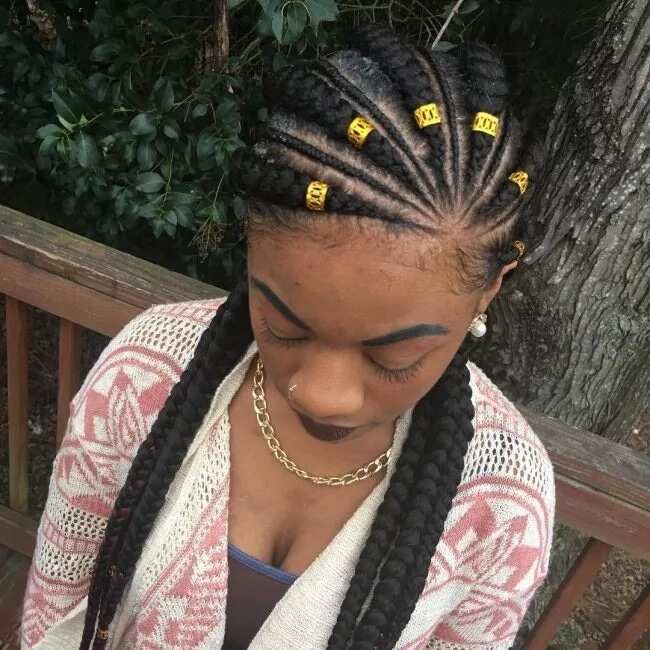 A mix of thick and thin braids has been always loved by African women. It is a great solution for those who really want to stand out from the crowd. Also, if you want to have both thick and thin braids or cannot decide which ones to choose, this will be a good compromise to go with. So, if you happen to have thinner hair at the edge of the hairline, this is the best way to handle them. You could use thicker braids in some areas and thinner braids in others.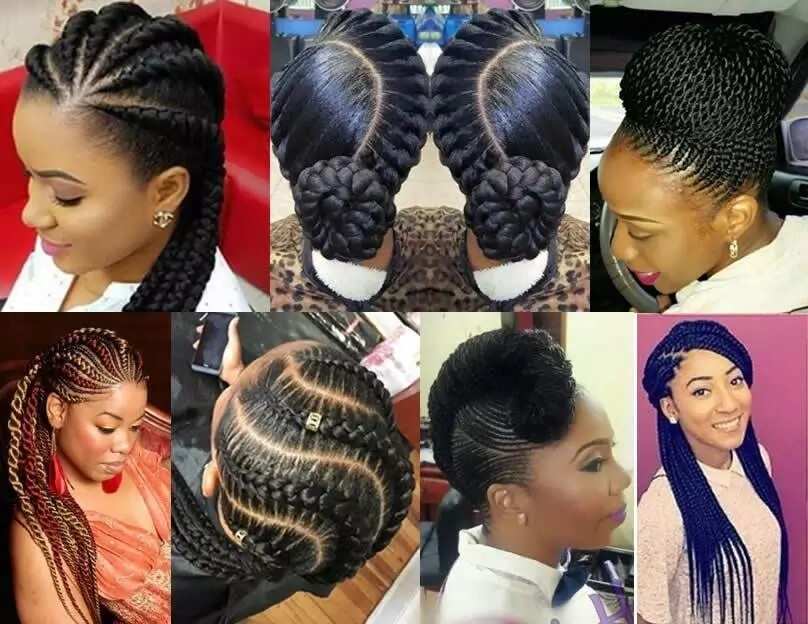 Depending on how well you take care of your braids, these African braids will usually last for two to four weeks. It also depends on what kind of style you got and the length of braids.
If you want to make Nigerian braids hairstyle at home yourself, you can do it with your natural hair, if it is long enough. But extensions help give it a fuller and luscious look.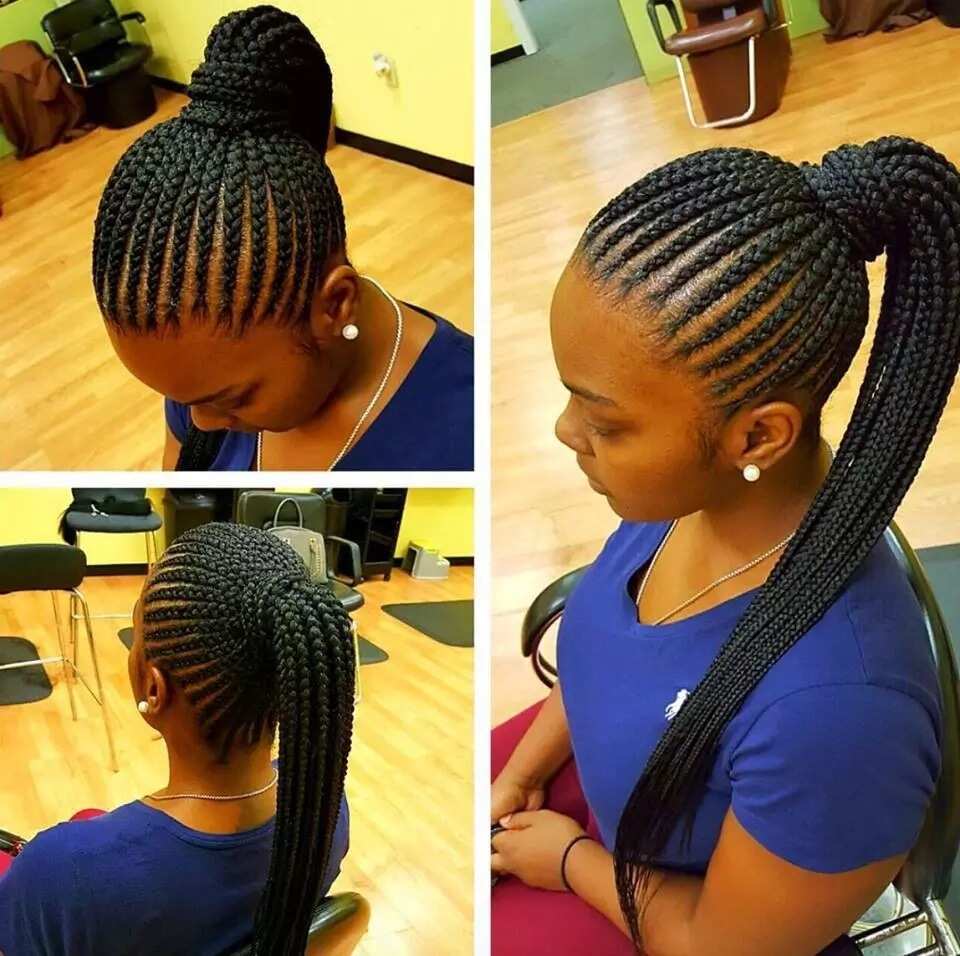 It's a very simple to do Nigerian braids and every single type of braids is very different. Girls love to make braids not only because they are cute, but because of an opportunity to have a new stylish look. It matches every style and every shape of face. No lies, it is pretty cool to have traditional braids these days as you're guaranteed to look awesome.
For those ladies who want to have stylish look, Nigerian braids are the perfect choice both for office and fancy occasions. You can wear them in an elegant updo or you have leave them long and falling towards your shoulders and back. You can add some colours into them or keep them natural.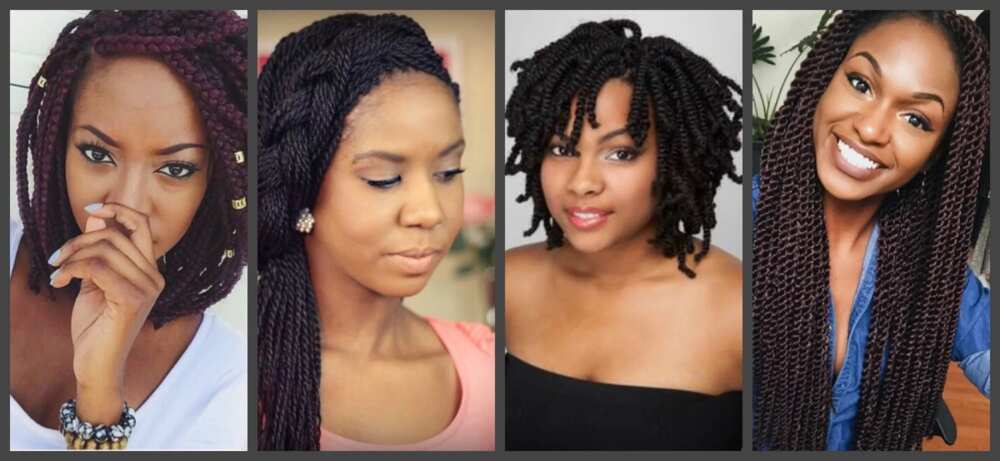 Now you see, Nigerian braids are not only a stylish hairstyle but also an art. It is easy and fun to make braids and experiment with them. Would you like to make some braids? If any of the above-mentioned braid hairstyles had you tickled, then try one for yourself. Choose a colour, shape, and design of African braids for yourself and do not be afraid to experiment!
READ ALSO: How to steam natural hair at home?
Source: Legit.ng