Amazing! How to prepare catfish and unripe plantain pepper soup
Editor's note: Mariah Adeboboye, the Legit.ng partner blogger, in this article, explains why every family must consume catfish and unripe pepper soup during this rainy season.
Mariah is an amazing cook, who is passionate about her family and inspires other families to ensure best meals are on their tables on a daily basis.
She is the owner of food bog called Mariellasmenu, the platform she uses to share recipes in order to inspire people to cook for their families.
Mariah could be contacted via: +2348173155778, +2348126766674 or Mariellasmenu.
More details in Legit.ng's step-by-step guide for guest bloggers.
On the menu today is my delicious catfish pepper soup with unripe plantain. I mean, the weather in Nigeria right now will not permit me to think of anything other than spicy recipes, and rather than eat just pepper soup, I thought to add a staple to make the meal a balanced one thereby keeping my family warm with the spicy broth as well as satiated with the addition of the unripe plantain.
This dish is indeed one to cozy up to the fresh and fragrant aromatic spices and the fact that it is cooked slowly on low heat intensifies the flavors of this dish, making it just right for the weather.
I am a seafood fan and I have been feeling feverish as of late, so having a bowl of this warm spicy broth along with the fish and plantains makes it a wonderfully restorative dish for me this rainy season.
This delicious dish is perfect for a family's supper and it is incredibly easy to make, I will in fact call it a one pot wonder, there's not much fuss to it at all.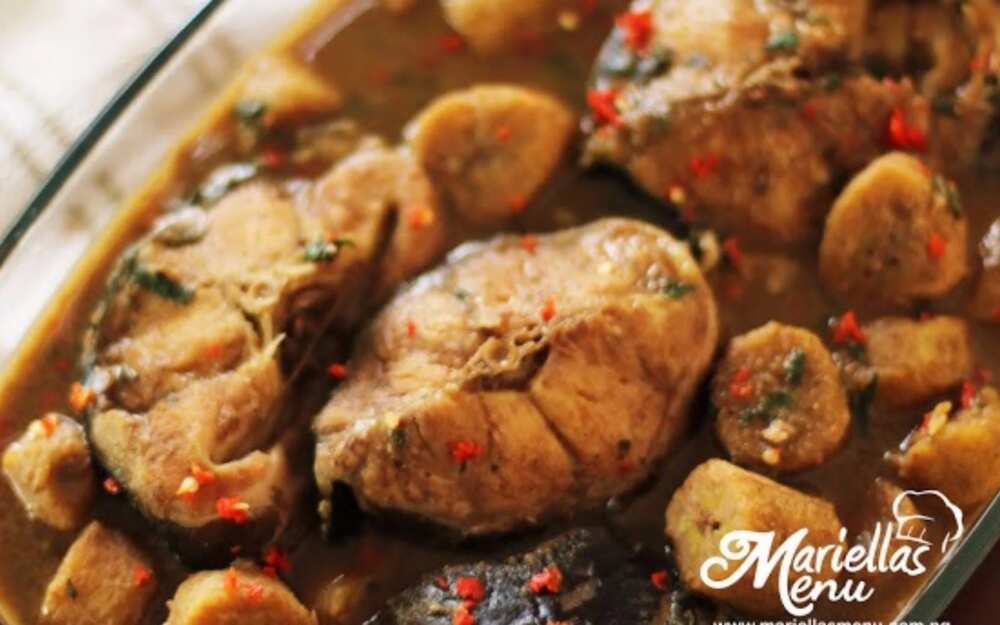 READ ALSO: See 6 amazing benefits of eating mango fruits
Let's cook!
Ingredients
1) Fresh catfish 1kg
2) Unripe plantains about 500g
3) Blended crayfish 20g
4) Blended dried chillies (as desired)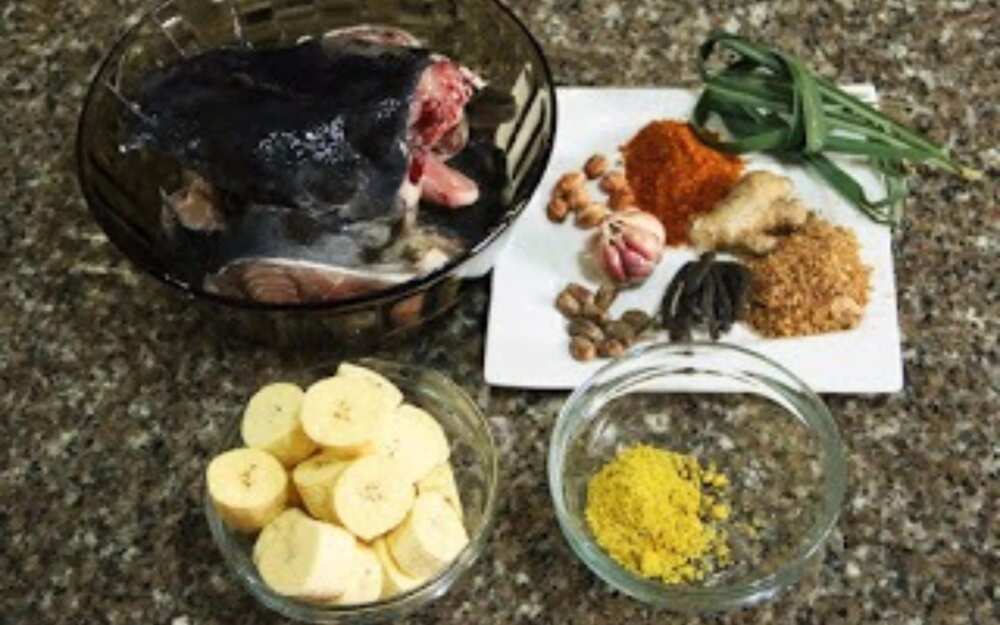 5) Fresh scotch bonnets 5g ( I add this fresh at the end)
6) Pepper soup spices (I usually make mine)
7) 3 sprigs lemon grass
8) Seasoning 8g
9) Salt 2g
10) Ginger and garlic 6g
11) Small onion bulb
12) Scent leaf to garnish
Directions
1) Wash the catfish and set into a large bowl, pour hot boiling water over the fish and leave this in for 3 minutes, pour the hot water out, you will find the slimy protective coating washing off, rinse with cold water and set aside
2) Blend all the aromatic spices together in a dry miller and set aside
3) Also blend the ginger and garlic with the onions and set aside too
4) In clean pot, add in 3 cups of water or enough water to cook your fish, add in the unripe plantains, the blended spices, crayfish, dried chilies, lemon grass, ginger and garlic paste, seasoning and salt. Allow this to simmer for 6 minutes or until the plantains are tender.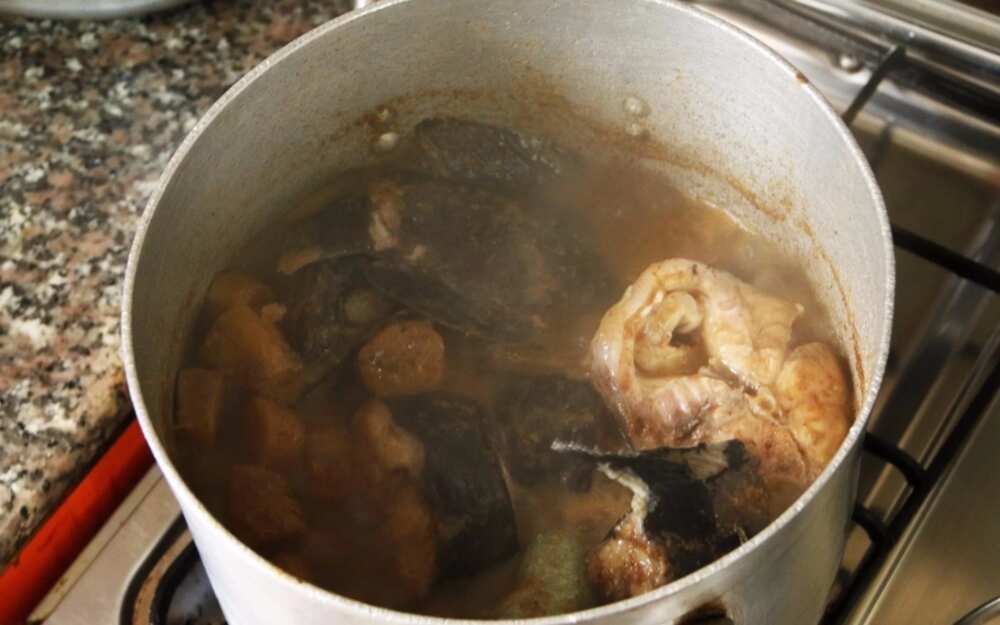 Cooks tip:
This is why I call it a one pot wonder, all of the ingredients go into one pot almost at once, leaving no room for dirty pots and pans lying around and the best part, the dish always comes out delicious!
PAY ATTENTION: Read best news on Nigeria's #1 news app
5) Now add in the fish head into the pot, fish head takes longer to cook, as compared to the other more tender parts of catfish. Give this 5 minutes to simmer slowly on low heat before adding in the rest of the fish parts. Give another 5 minutes and your delicious one pot wonder is ready!
To be honest with you, I can't think of a better way for you to enjoy this chilly season than cosying up with a bowl of this amazing broth with your family.
Be inspired!
Meanwhile, Legit.ng had previously reported about wonderful ways to make yam and goat meat pepper soup (Ukodo).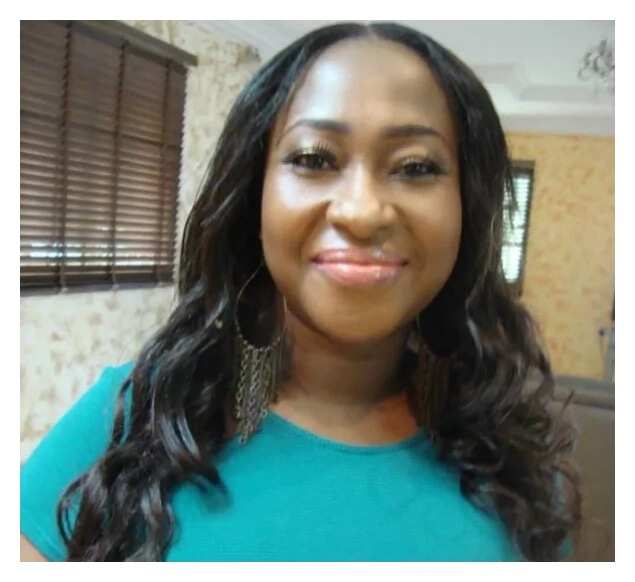 The views expressed in this article are the author's own and do not necessarily represent the editorial policy of Legit.ng.
Legit.ng welcomes writers, bloggers, photographers and all sorts of "noise makers" to become a part of our Bloggers network.
If you are a seasoned writer or a complete newbie – apply and become Nigeria's next star blogger.
Send us some info about your career, interests and expertise and why you'd like to contribute to the Blogger Network at blogger@corp.legit.ng Also, please send us the link to your blog and three examples of your work.
More details in Legit.ng's step-by-step guide for guest bloggers.
Watch this Legit.ng video to know amazing benefits of taking cucumber:
Source: Legit.ng