N71bn fraud: 8 Nigerian senators accused of financial crimes (LIST)
Corruption in Nigeria is one thing President Muhammadu Buhari has promised to fight to a standstill. However, it looks like it is going to be one long, uphill battle.
Recently, it has been revealed that Nigerian lawmakers are involved in defrauding the country and many of them have been sued by the Economic and Financial Crimes Commission (EFCC) for varying crimes.
TransparencyITng recently made an infographic of some Senators who have been accused and charged to court for being involved in financial wrongdoing.
Below is the infographic: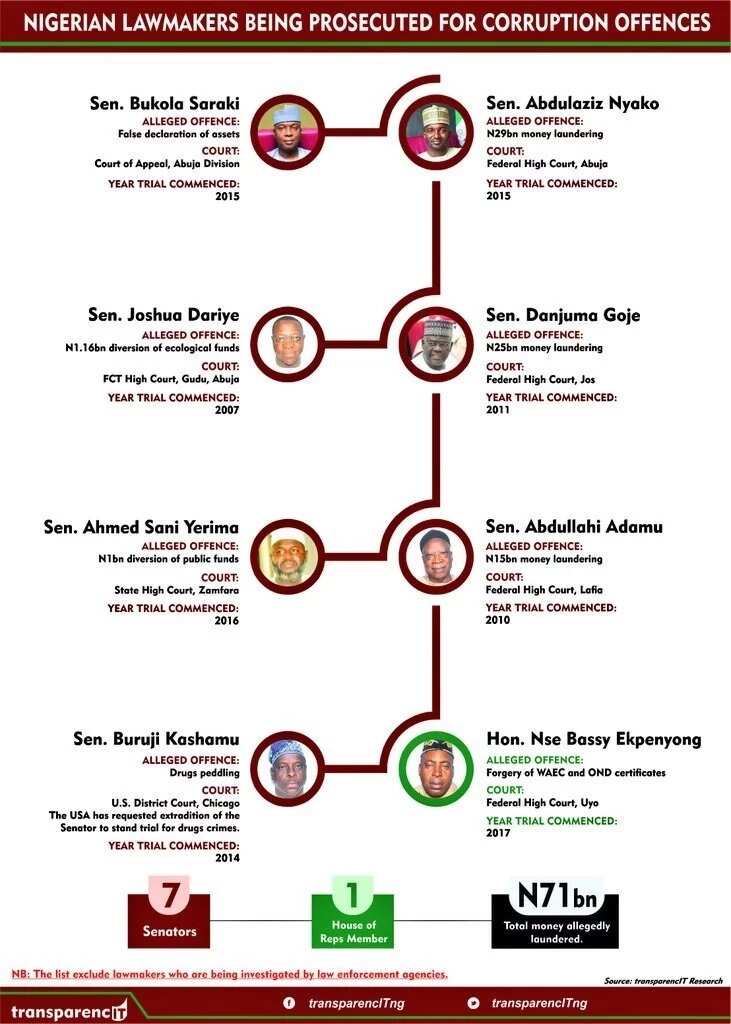 1. Senator Bukola Saraki
The senate president, Bukola Saraki has been accused of false declaration of assets. However, in June 2017, he was acquitted of the charges.
2. Senator Abdulaziz Nyako
Senator Nyako has been accused of N29bn money laundering and is on trial at the federal high court Abuja.
READ ALSO: Peace Corps: Akoh denies bribing Nigerian senators to pass bill
3. Senator Joshua Dariye
Senator Dariye has been accused of diverting N1.16bn ecological funds and has been on trial since 2007.
4. Senator Danjuma Goje
Senator Goje has been accused of N25bn money laundering and is trial commenced in 2011.
5. Senator Ahmed Sani Yerima
Senator Yerima has been accused of diverting public funds to the tune of N1bn.
6. Senator Abdullahi Adamu
Senator Adamu has been accused of N15bn money laundering.
7. Senator Buruji Kashamu
In 2014, Senator Kashamu was accused of peddling banned substances and put on trial at the US Distric Court in Chicago.
READ ALSO: Reps block Senate's move to cut Nigerian president's powers
8. Honorable Nse Bassey Ekpeyong
Honorable Ekpeyong has been accused of forging his West African Examinations Council (WAEC) and Ordinary National Diploma (OND) in 2017.
PAY ATTENTION: Watch more videos on Legit.ng TV
Legit.ng earlier reported that according to a report, the presidential panel set up to investigate the activities of the duo recommended that they should be disengaged and replaced.
Other members of the investigation panel are; the National Security Adviser, General Babagana Monguno (rtd) and the Attorney-General of the Federation, Abubakar Malami.
Watch this Legit.ng video as Nigerians speak on the state of the nation:
Source: Legit.ng