30+ stunning Guinea brocade styles that are a must-have in your wardrobe
Guinea brocade originated from the expensive silk fabrics of Renaissance Europe. It is a rich woven fabric with raised patterns and has a unique fiber structure and pongee texture. Most Guinea brocade female styles are designed for special traditional occasions like weddings. The modern Guinea brocade styles have a touch of African and Western clothing designs. This article shows you beautiful images of Guinea brocade clothing styles for women. You will be inspired to add one or two to your wardrobe.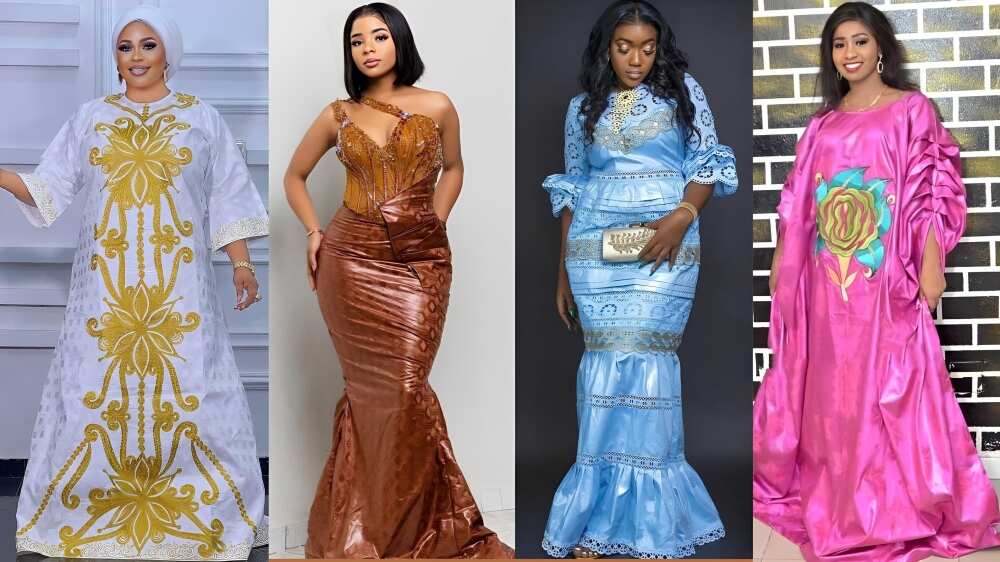 Global fashion trends are changing, making it difficult for many to keep up. Therefore, many opt for the latest African fashion trends, like Guinea brocade styles, because they stay in fashion longer. Moreover, buying these attires saves money in the long run compared to upgrading their wardrobes with other designs that fade away quickly.
Trendy Guinea brocade styles for females
Guinea brocade styles can make you feel like a queen if you love African fashion. These designs are making waves worldwide because most are from bright-colored fabrics attracting attention. Below are some beautiful African Guinea brocade designs you can buy for yourself or a loved one:
Simple Guinea brocade styles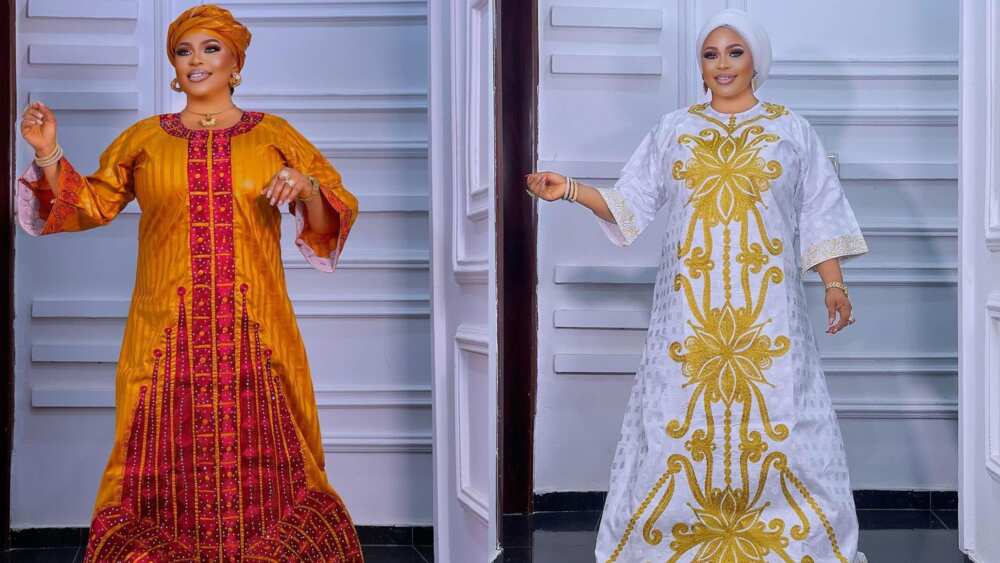 Guinea brocade fabric is durable, lightweight, and has a unique texture because it is made from high-quality cotton. The material also comes in a wide range of colors and patterns; hence you can select what suits your taste and style.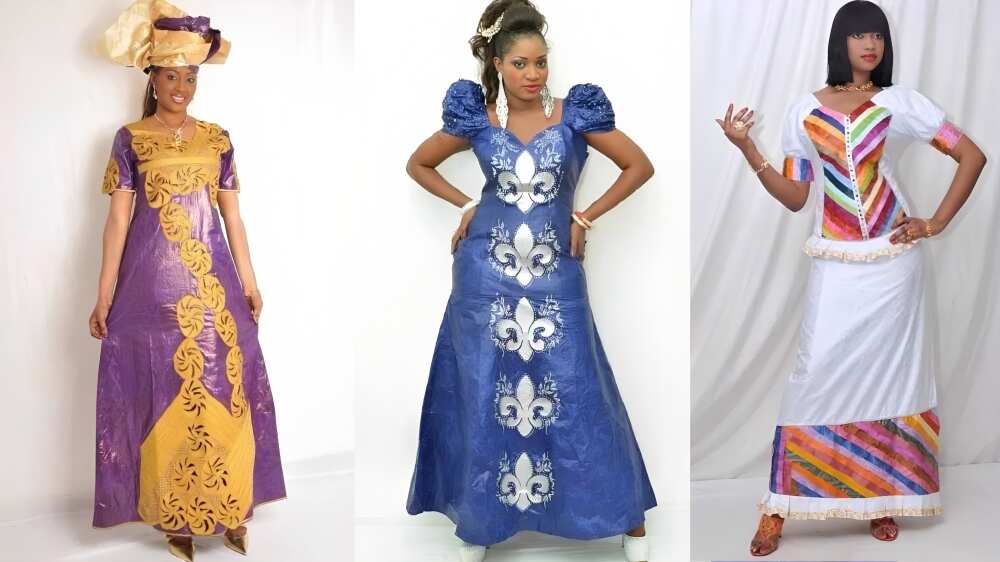 Guinea brocade is a beautiful fabric and ideal for sewing attires for ladies, men, and even children. Also, you can use the cloth to make elegant African wears for various festive events. The glitters and shimmers in the material make the wearer shine at the venue.
Beautiful brocade dress styles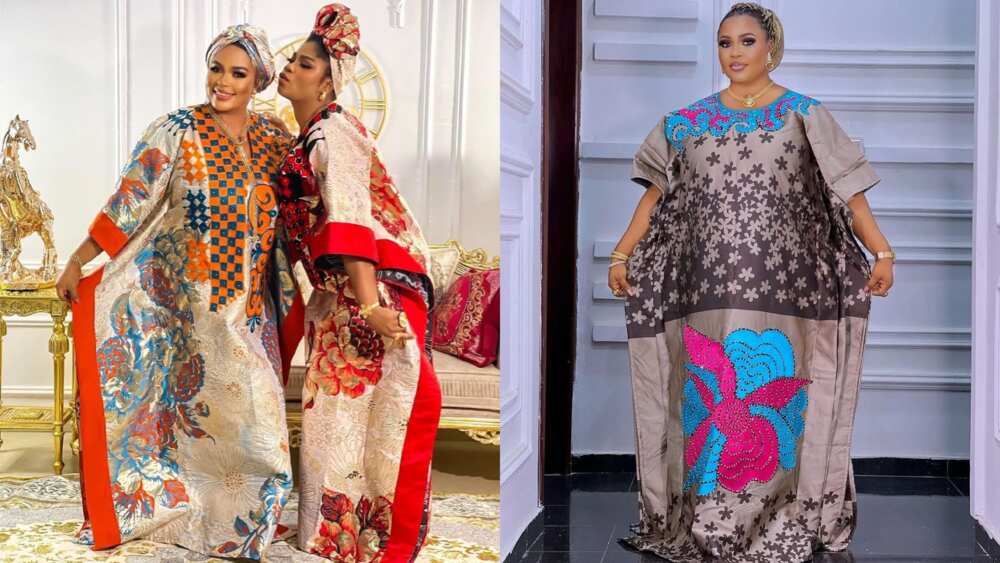 The Guinea brocade fabric is very suitable for long dresses. You can find embroideries with floral patterns and traditional African prints. The threads of different colors are used to create the unique patterns you see on the dresses.
Peplum Guinea brocade styles for ladies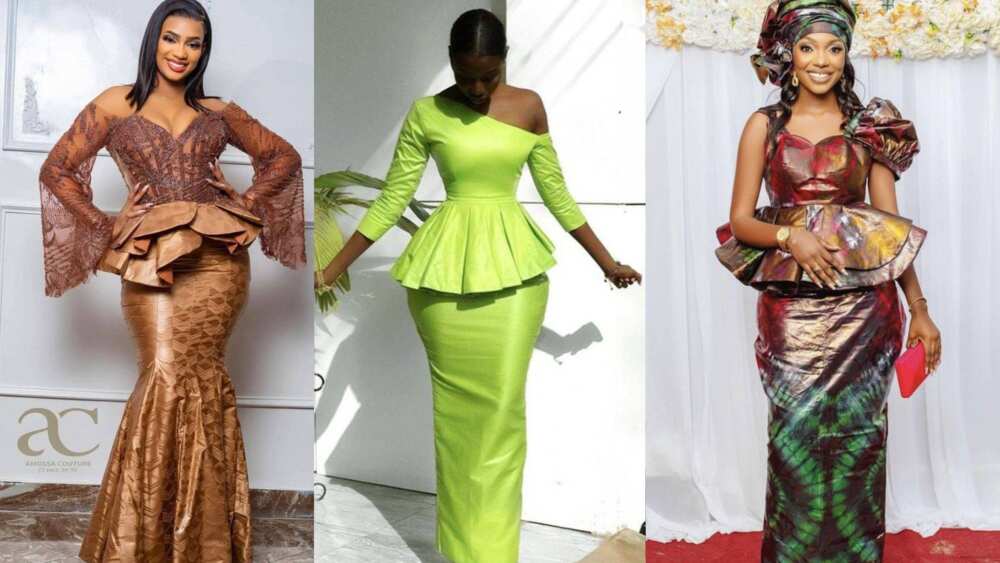 Peplum Guinea brocade styles are so flattering to the body of the person who wears them. The peplum is attached to the top at the natural waistline to make the person's waist appear smaller. It also flares below to create a flattering cover for your lower belly area.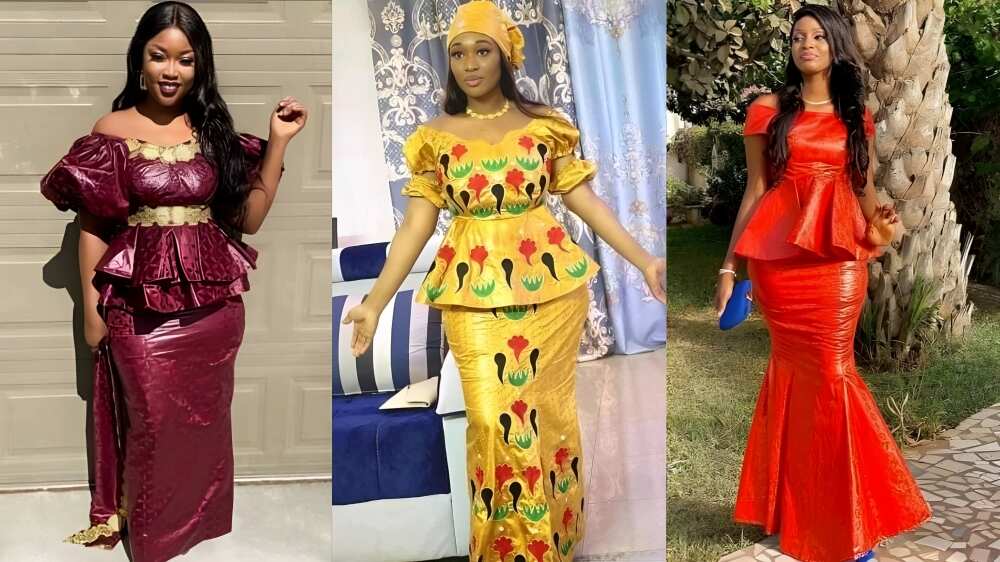 You can use plain-colored Guinea Brocade or multi-colored fabrics for your peplum clothes. Plain-colored ones are aesthetically pleasing, and the multi-colored fabrics are adorned with beautiful, intricate designs that enhance their overall appeal.
Meshwork Guinea brocade fabric styles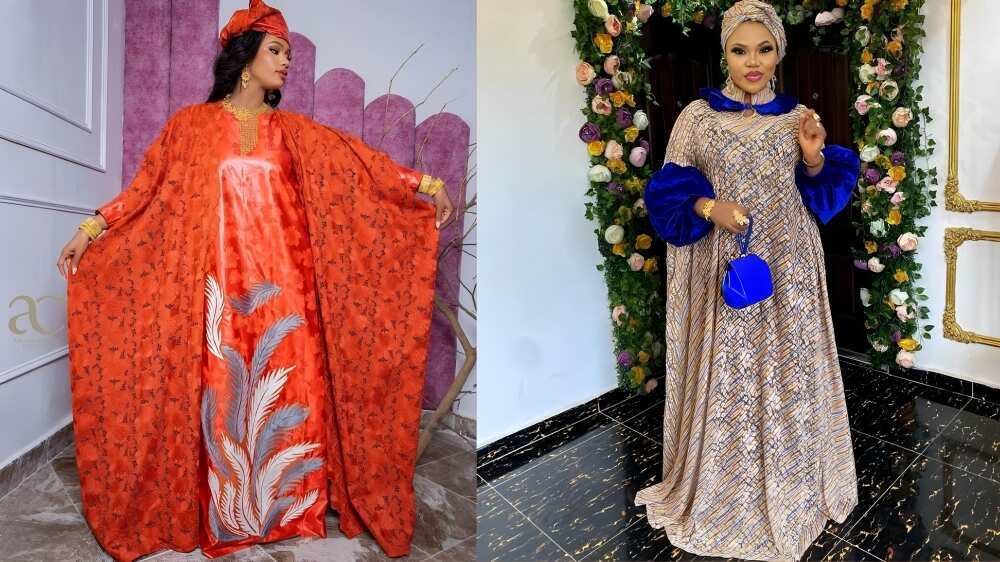 If you're looking for a fabric that is stylish and culturally significant, try out the meshwork Guinea brocade fabrics. Mesh fabrics that have become incredibly popular in African fashion are highly breathable and resistant to wear and tear.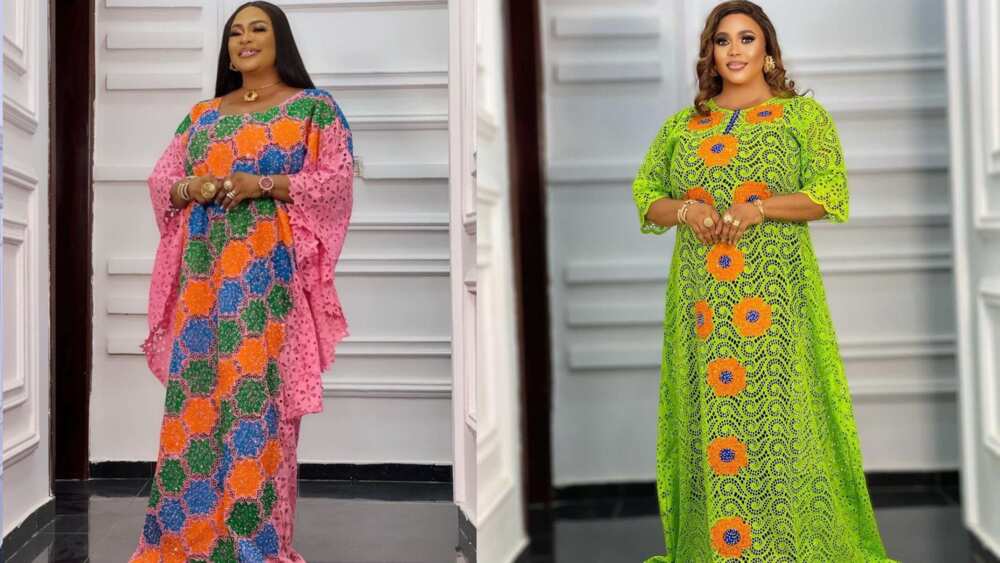 Mesh Guinea brocade fabric is indispensable in today's African fashion industry. Many wear these fabrics on hot days because they are breathable, water-resistant, can withstand extreme temperature changes, and are easy to maintain.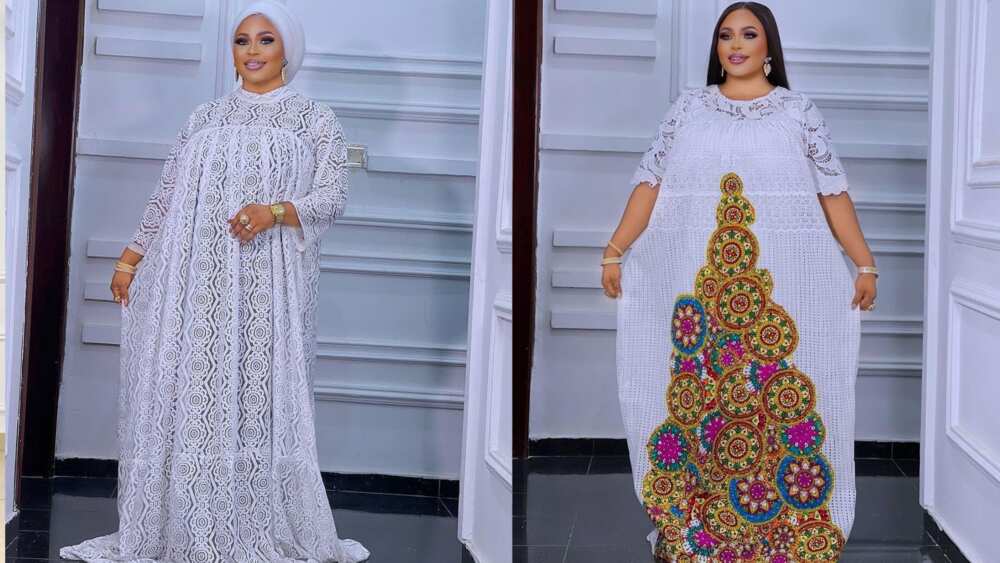 The mesh Guinea brocade fabric is ideal when combining other fabrics — usually non-transparent materials — on the same attire. The designer used non-transparent fabric underneath the mesh fabric when sewing the dresses.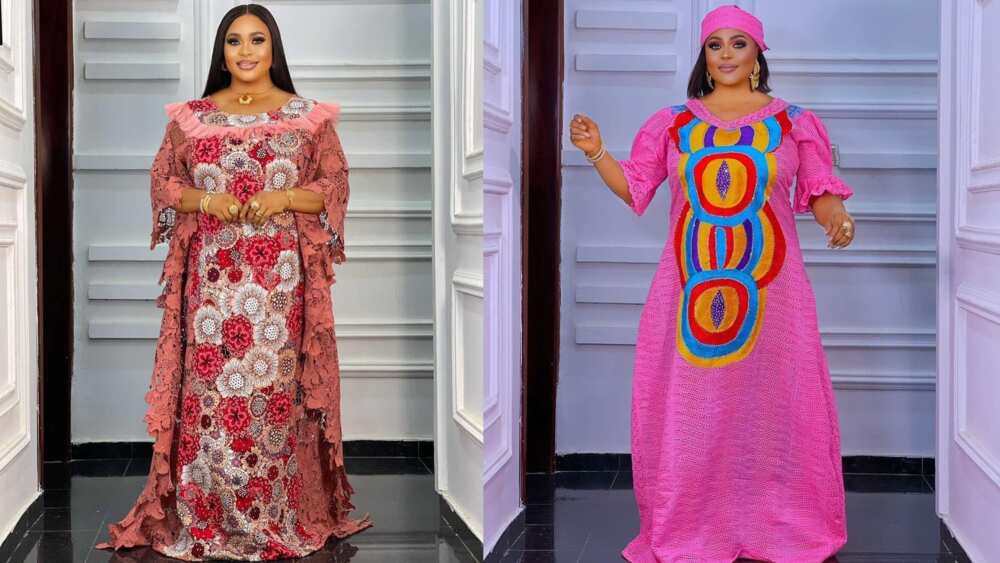 Unlike most fabrics with closely-woven textures, the mesh is woven loosely and has thousands of tiny holes. Nevertheless, you can still give your mesh Guinea brocade fabric personal touch to create a unique dress. The small holes will not be an obstacle if you use the right sewing tools and machine.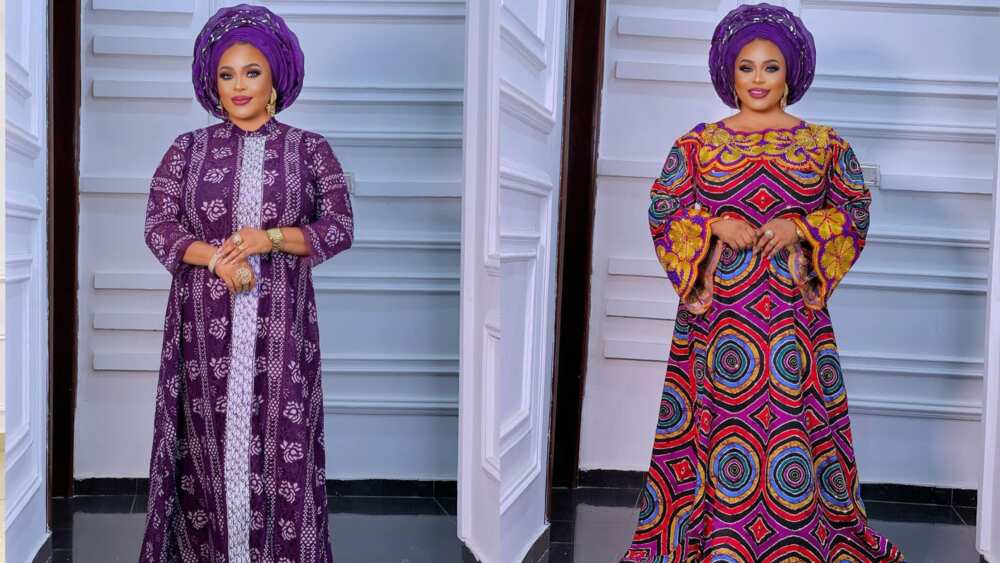 These dresses are made from loosely-knit fabric but can still keep you warm. This is because the holes between the yarn fibers trap the warmth of your body. The material is made with a variety of different techniques to enable them to keep you warm.
Skirt and top Guinea brocade styles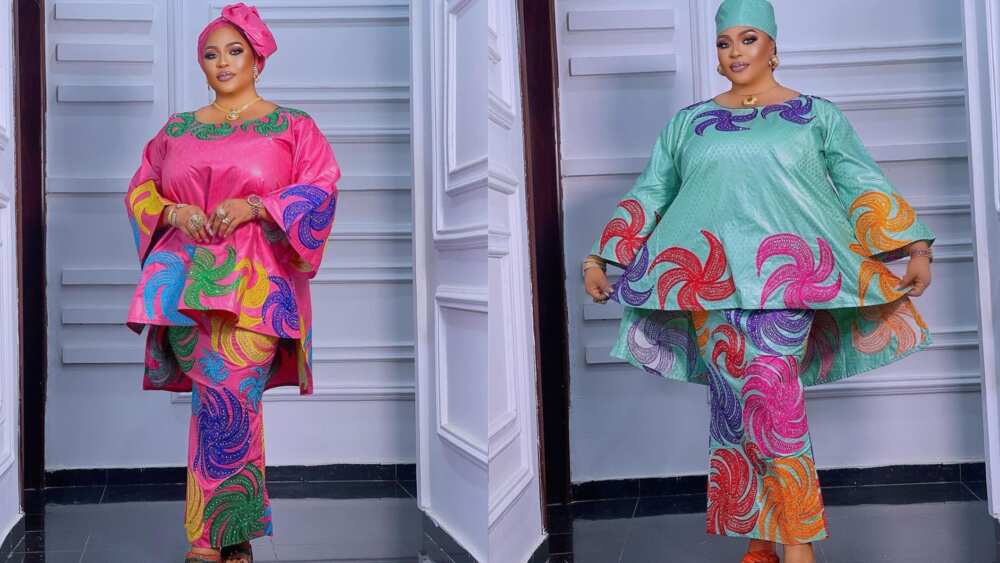 You can wear a Guinea brocade blouse with a matching skirt or stylish pants. If you desire this dressing style, pick a fabric with tone-down color or a barely noticeable pattern and sew a matching skirt/pants and blouse. Your blouse can reach the hip or knee area.
Guinea brocade dress with a wrapper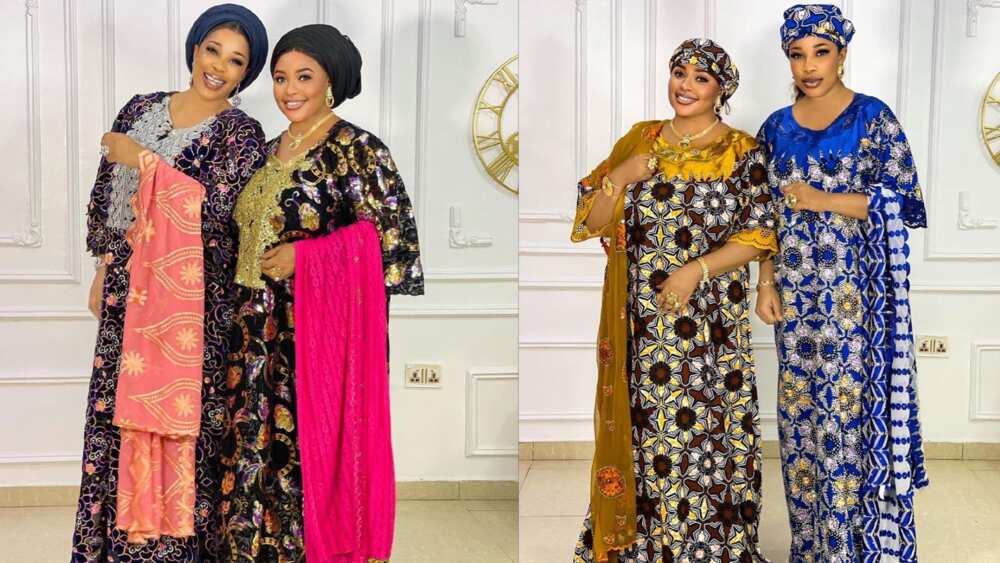 The Guinea brocade dress-and-wrapper combination looks lovely. Women are falling in love with this unique and conservative dressing style. If you plan to wear a brocade dress with prints, pair it with a laced wrapper from the same fabric or a plain-colored one, as long as they blend with your dress.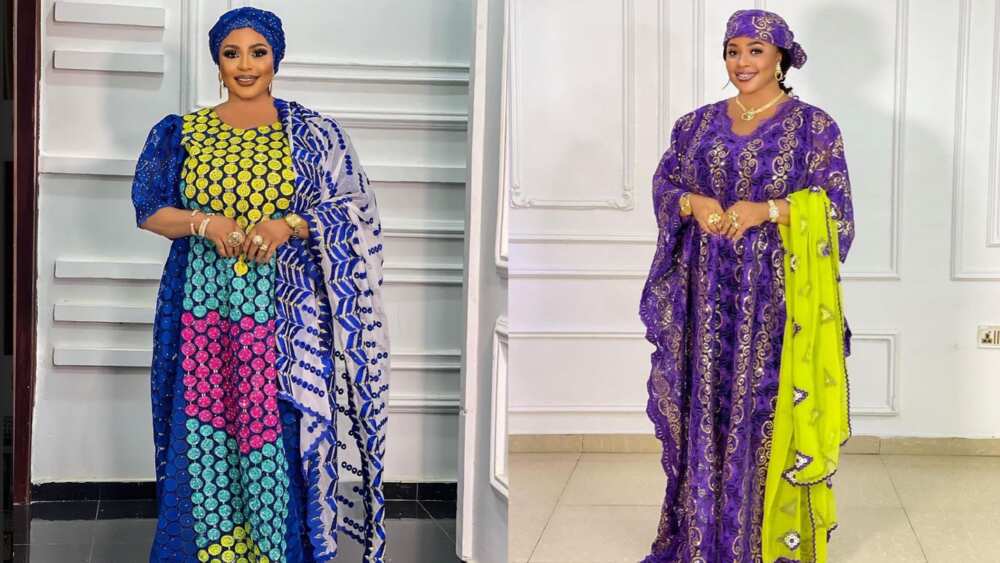 A head scarf completes this fascinating look, and you can also get creative with your jewelry to create unique Guinea clothing styles. You can rock this look to the office or any casual event. If you are going to the office, minimize the jewelry to look official.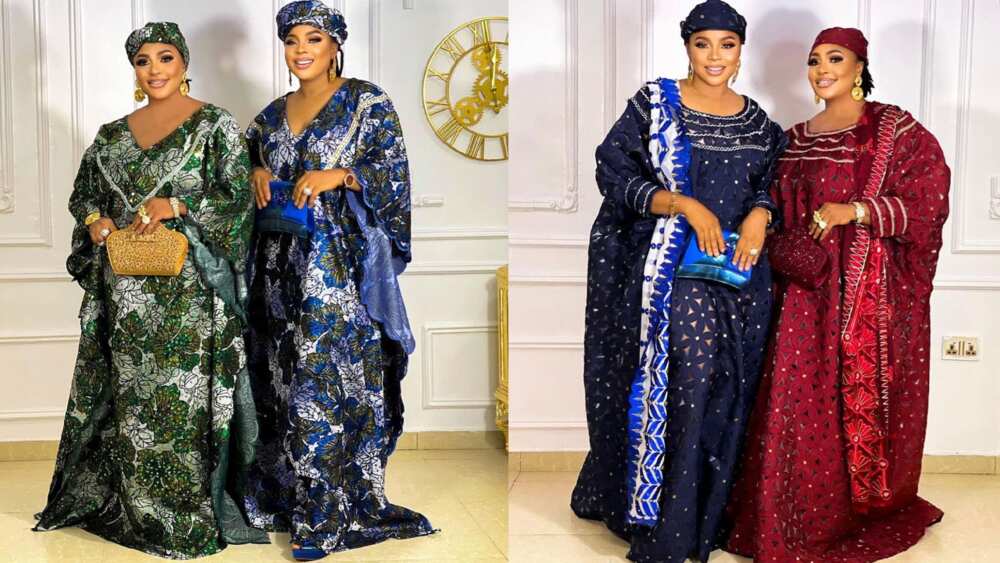 A matching clutch bag is also one of the best ways to style a Guinea brocade dress. Avoid sling bags, large handbags, and any bag with a long handle when wearing such long free-size brocade dresses. Otherwise, you will look overdressed and disarranged.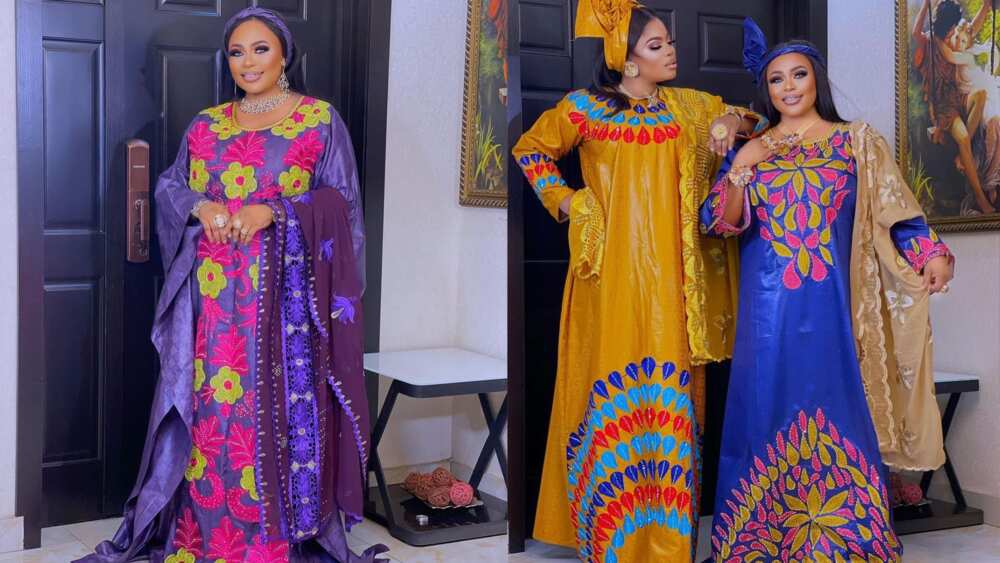 You can wear the Guinea brocade dress-and-wrapper combo in many ways. For instance, you can tie it around the waist, drape it on one of your shoulders/arm, or ties it on your head, depending on whether you are going to a formal or informal place.
British-inspired brocade gown style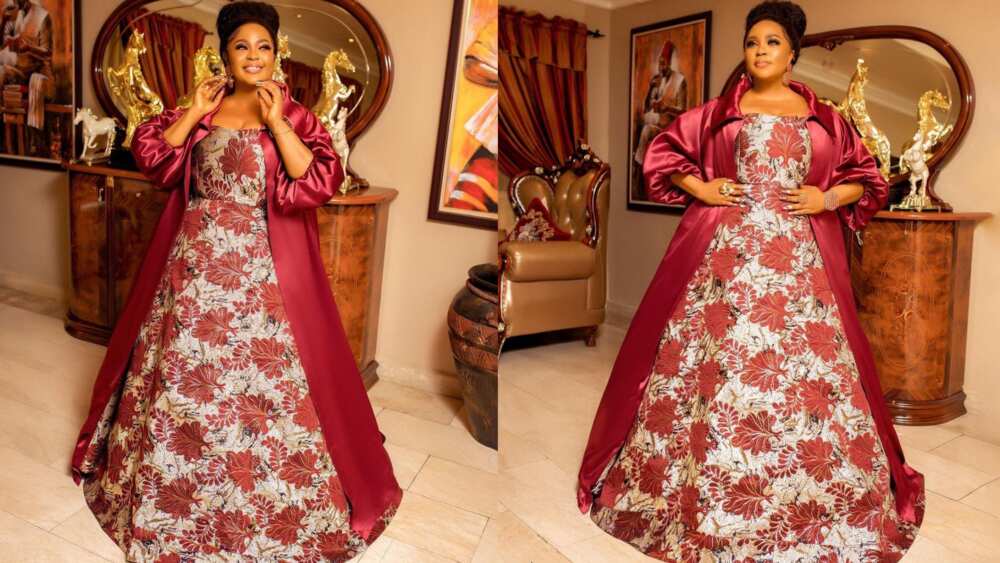 You should be careful when combining colors for a British-inspired Guinea brocade dress. Usually, you can pick a plain color for the outer cover-up and printed fabric for the dress, or vice-versa. You must also stick to colors that blend to make the attire pop up.
One-shoulder Guinea brocade styles for ladies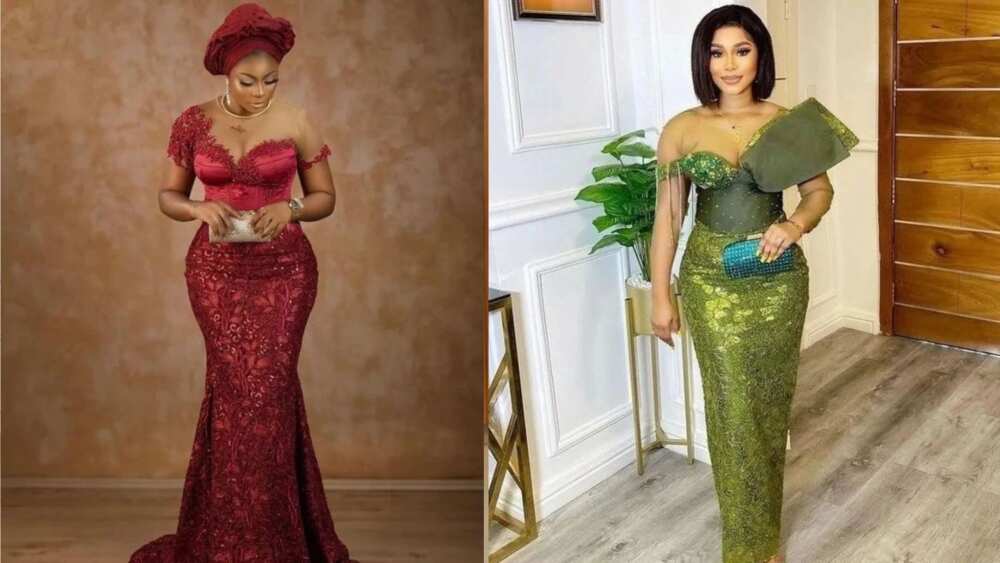 When sewing a one-shoulder Guinea brocade dress, pay attention to the neckline. You can choose a plunging V-neckline and add a stretching-padded material around the bust of the bodice so that the dress is figure-hugging.
Off-the-shoulder brocade gown styles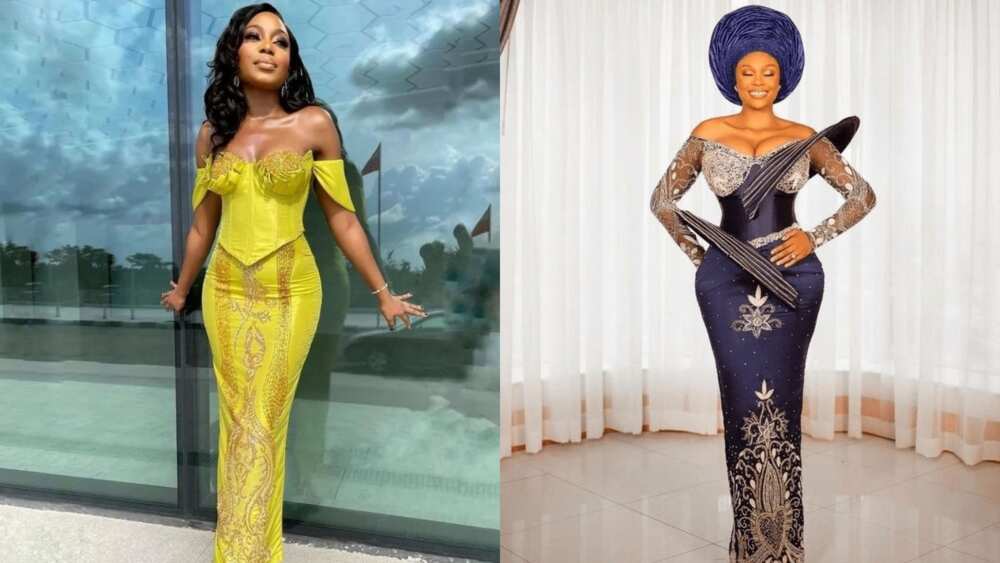 Guinea brocade fabric is relatively dense in structure, which makes it strong enough to hold your body in place and give you a desired hourglass shape. The bodice is padded around the waist, and the neckline is tight to prevent the dress from falling off your shoulders when you dance and move around.
Mermaid Guinea brocade styles for ladies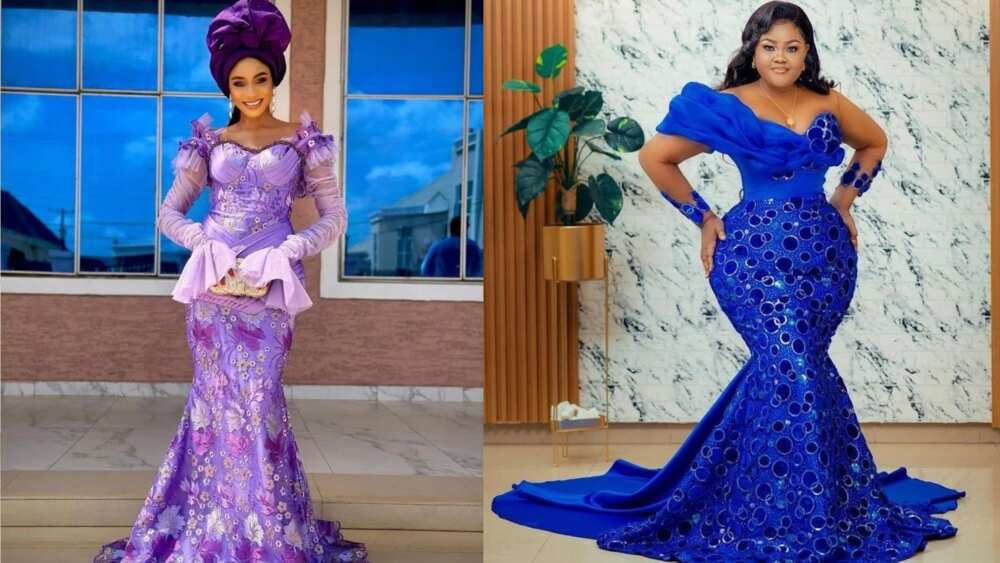 Long dresses that are slightly flared towards the hemline are trendy. You can sew a long mermaid dress with a tail permanently attached to the dress at the knee area. You can also make a dress that flares from the knee downwards without attaching it to the knee area. Others prefer a tail they can detach from the dress and re-attach it anytime.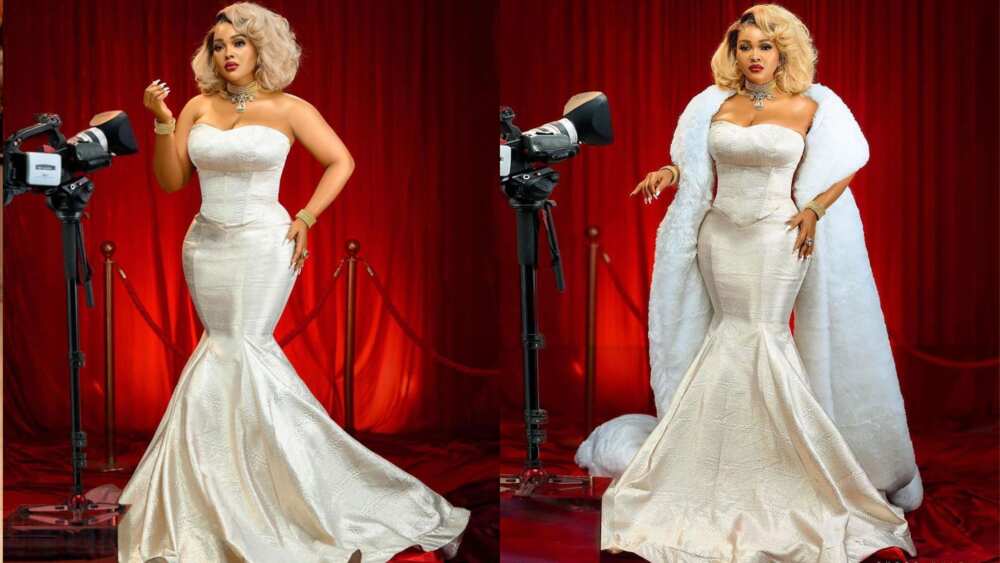 Mermaid dresses have been around for many centuries. A Guinea brocade dress of this design creates an hourglass figure. The silhouette accentuates your curves by hugging the chest and waist and flaring out at the bottom.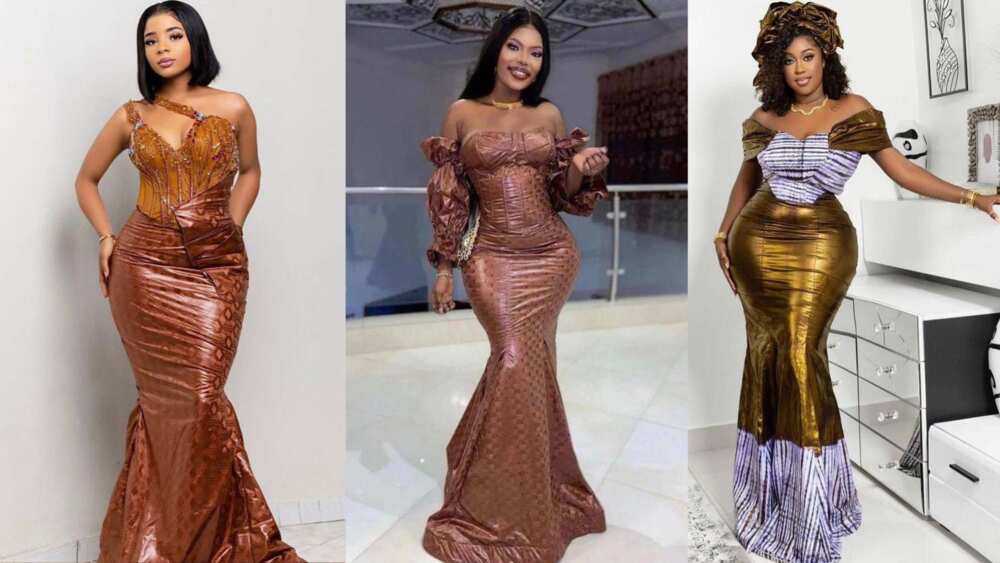 Unlike ball gowns or A-lines, Mermaid Guinea brocade styles play up natural curves. These dresses generally fit around the hips and chest to create a flattering body shape. Also, the designer makes a fitted neckline that complements the bust.
Plain-colored Guinea brocade styles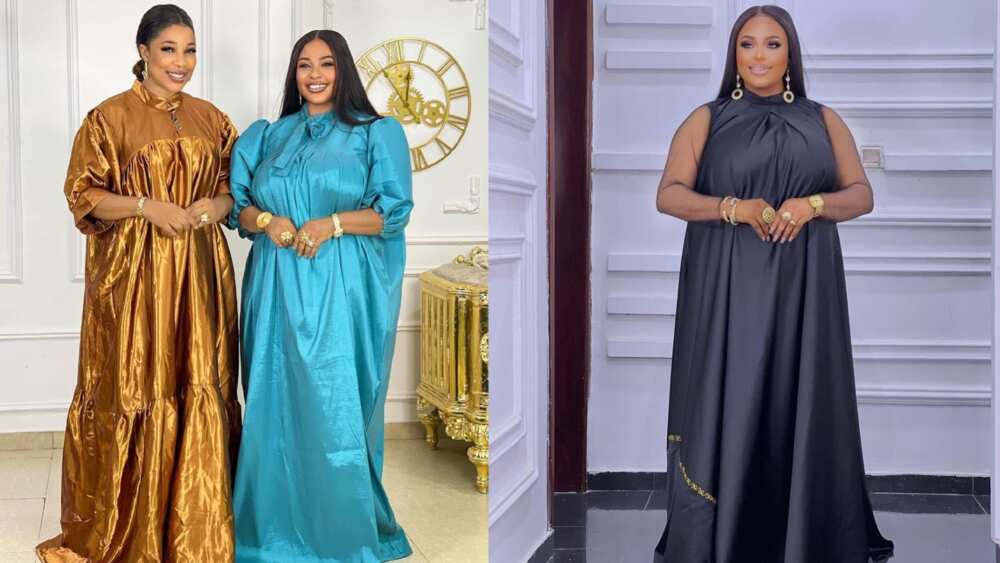 Plain-colored Guinea brocade styles are simple and timeless. They offer a clean and minimalist aesthetic, making it easier to add your style. You can enhance your look with your jewelry, bags, and shoes.
Guinea brocade pants and top styles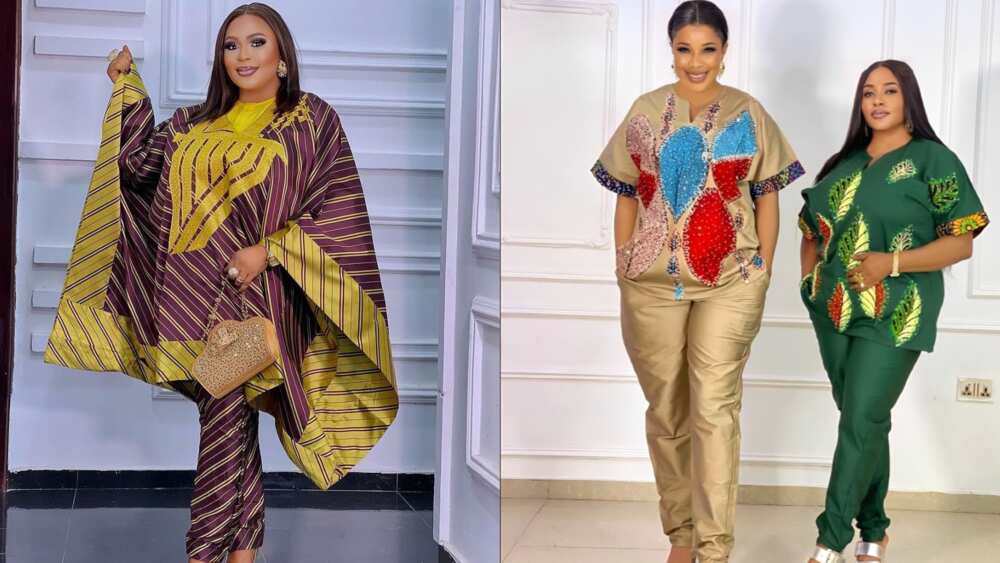 You can combine the same or different colors when wearing Guinea brocade pants and tops. A brocade fabric with patterns looks better when a skirt or pants of the same material or plain color. You can also wear contrasting colors/patterns to brighten your look.
Nigerian-inspired Guinea brocade styles with wrapper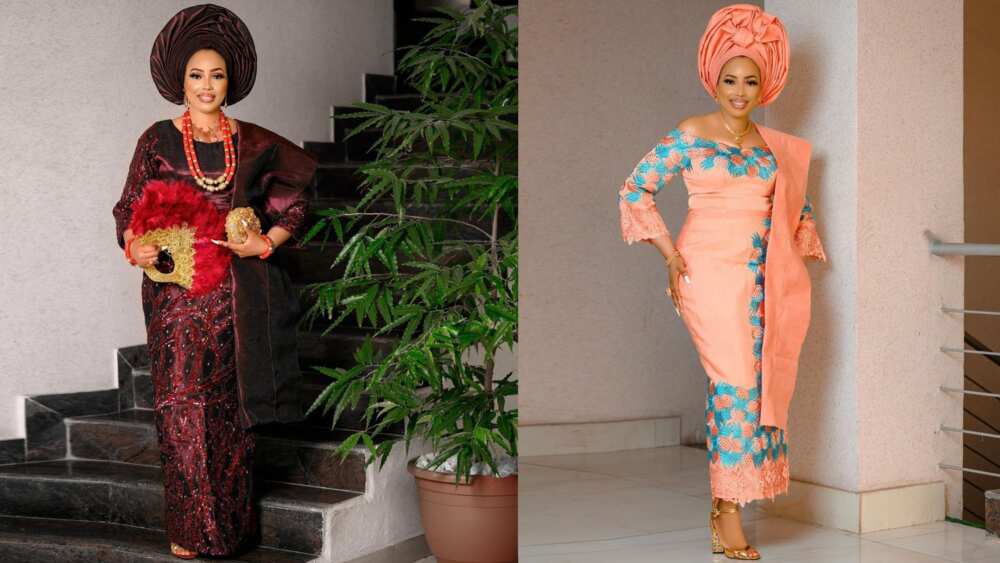 You should consider upgrading your wardrobe with Nigerian-inspired Guinea brocade styles. You can do this once after a month or two to avoid pressuring yourself. These clothes are alluring and expensive. Therefore, they can drain your pockets if you do not shop with self-control.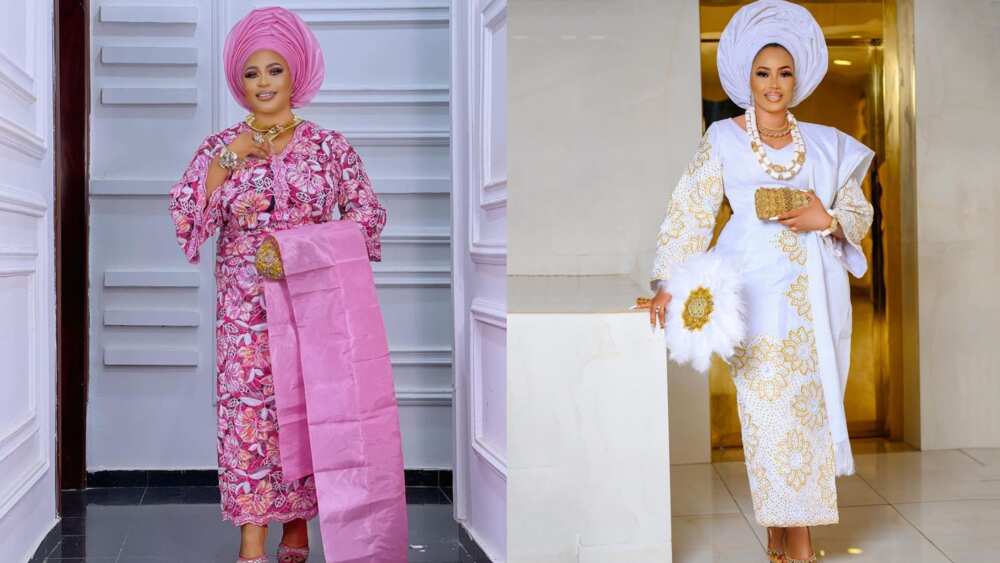 The Nigerian-inspired Guinea brocade styles are among the latest fashion trends in the second decade of the 21st century. These dresses have taken over social media by storm because fashion designers in Africa and abroad are showcasing new Guinea brocade female styles online almost daily.
Modern Guinea brocade material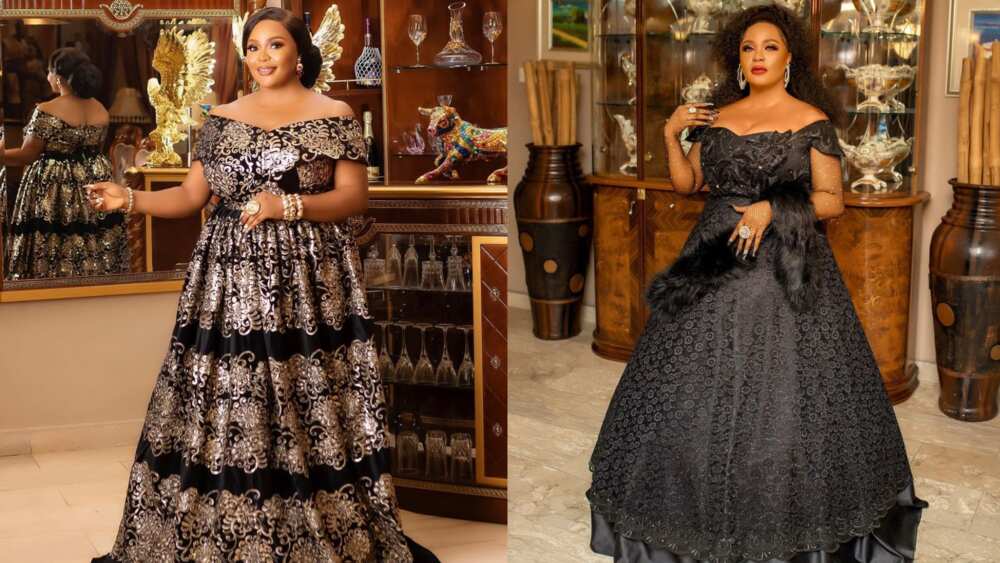 The latest Guinea brocade materials are gorgeous, more flexible, and suitable for sewing any trendy design, including flaring princess gowns. You can also choose between the shiny Guinea brocade fabrics or the latest fabrics with minimal shininess.
Simple Guinea styles with stripes
Guinea brocade with stripes pattern can be decorated with rhinestone jewelry for special festive occasions. Note that horizontal stripes have a widening effect, while vertical ones have a thinning and elongating effect. So, if you have a larger bottom half, Guinea brocade with horizontal stripes will balance you out by broadening your chest to match. Meanwhile, Guinea brocade with vertical stripes will make you look thinner and longer.
Stylish Guinea brocade dresses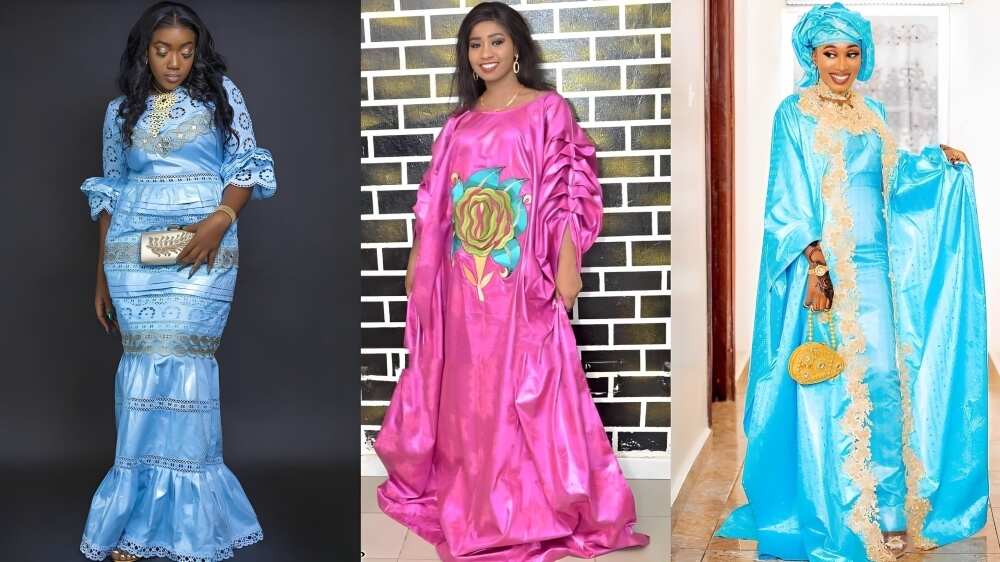 Shiny Guinea brocade dresses can reduce acne and irritation to sensitive skin because they are smooth and non-abrasive. So, if you want to tie a headscarf, consider wearing a Guinea brocade dress with a matching headscarf.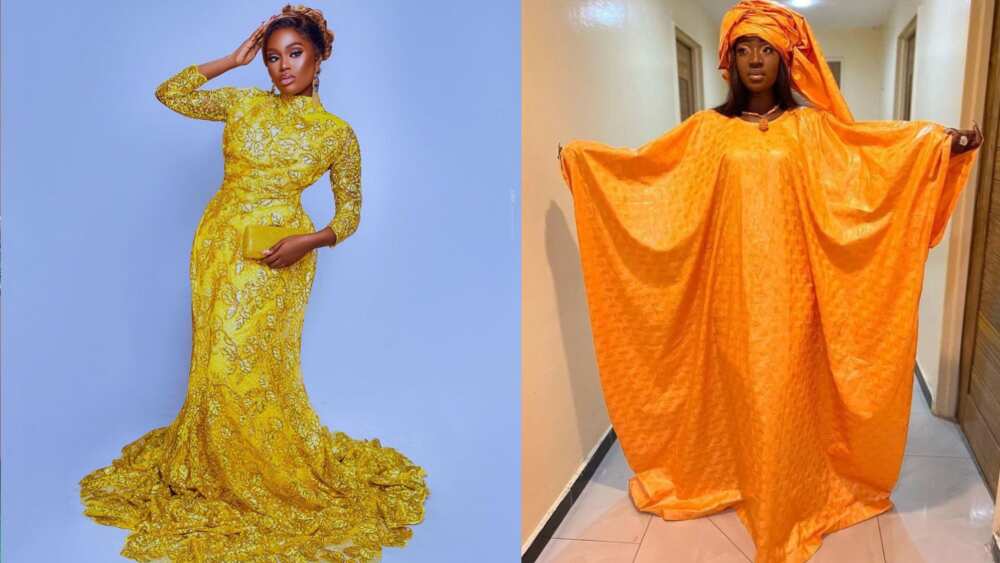 The shiny and smooth Guinea brocade dresses feel comfortable and breathable. What's more, the clothes retain moisture and warmth to keep you comfortable in a cold environment. So, no matter the weather, these dresses will keep you relaxed.
What is Guinea brocade?
Guinean brocade is an ancient luxury clothing material that originated in China between 475–221 BC. The fabric has a pongee texture and fiber structure and was mainly used to make wedding dresses and clothes for festive seasons.
What are the different types of brocade fabric?
The different types of brocade fabric are silk, cotton, Himru, synthetic, Damascene, continuous, and discontinuous brocades.
What are the characteristics of Guinea fabric?
The modern Guinea brocade fabric is made from high-quality cotton, has a unique texture, is lightweight, and durable. You can wear the material to any formal or casual occasion.
Is brocade fabric expensive?
High-quality brocade is expensive because of its intricate weaving process at the production stage.
What is the most expensive brocade fabric?
The Damascene brocade is one of the most expensive fabrics in the world. Royalties like the late Queen Elizabeth II of Britain usually wear it. Her wedding dress was made from this material.
Guinea brocade styles for women have become popular worldwide because the clothes have rich and lustrous colors and a silky feel. You will rarely go anywhere in this dress and leave unnoticed because it gives off a wealthy woman vibe. These fabrics are known to be expensive and have a royal appearance. Hence, people often conclude you are doing well financially when they spot you in these dresses.
Legit.ng shared pictures of over 40 Nigerian native attire for men. Nigerian men's Agbada is famous worldwide, especially in African countries.
The Agbada comes in many vibrant colors and unique designs. These are some of the reasons many Africans wear them to official functions and casual events.
Source: Legit.ng