11 things you should know about Late Maitama Sule
- A respected Nigerian elder statesman has passed away
- Foremost northern leader and ex-Nigerian minister, Alhaji Maitama Sule died this morning
- Alhaji Sule reportedly died in a Cairo Hospital in Egypt
Foremost northern leader and ex-Nigerian minister, Alhaji Maitama Sule died today, Monday, July 3.
Alhaji Sule reportedly died in a Cairo Hospital in Egypt according to several media reports.
Legit.ng lists 11 things to know about the revered politician below: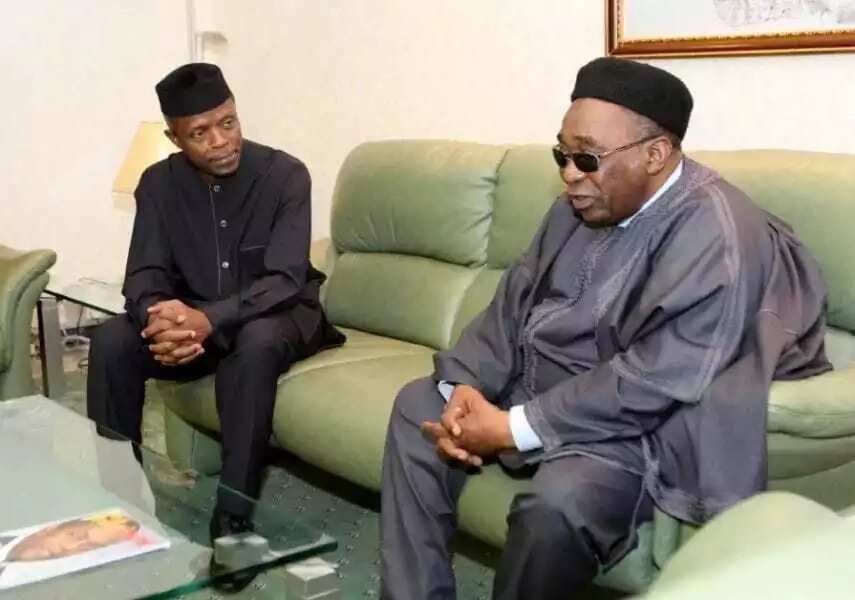 PAY ATTENTION: Read the news on Nigeria's #1 news app
1. He hails from the ancient city of Kano and has the title 'Dan Masanin Kano.'
2. He died at the ripe age of 87.
3. He became member of parliament at 24 and a minister at the age of 29.
4. His closest friends were late Emir of Kano, Alhaji Ado Bayero, Alhaji Aminu Dantata, and the late Tijani Hashim, the Galadima of Kano.
5. His favourite drink is the popular Kunu drink.
6. Apart from Hausa and English, he was also fluent in Arabic and Fulfude.
7. His role models were; Alhaji Tafawa Balewa, Chief Obafemi Awolowo, Dr Nnamdi Azikiwe an Mallam Aminu Kano.
8. He became the federal commissioner of public complaints in 1976 under the military government of Olusegun Obasanjo, a position which gave him the nickname 'anti-corruption minister'.
9. In 1979, he contested as a presidential aspirant under the National Party of Nigeria but lost to Alhaji Shehu Shagari, who went on to win the main elections
10. That same year, he was appointed Nigeria's representative to the United Nations, where he later emerged as chairman of the United Nations Special Committee against Apartheid.
11. In 1983, he returned back to the country and was made the minister for national guidance, again, another portfolio designed to tackle corruption within government circles.
READ ALSO: Kemi Olunloyo announces her plans to run for presidency in 2023
Watch the Legit.ng TV report on the firepower of the Nigerian Air Force below:
Source: Legit.ng