Why Nnamdi Kanu was not invited to South-East meeting with Osinbajo - Presidency
- The Presidency has revealed why the leader of the Indigenous People of Biafra (IPOB) Nnamdi Kanu was not invited to Presidential Villa
- The Presidency said Kanu is not a leader of thought in the South-East
- Special adviser to the president on political matter Babafemi ojudu said Ohanaeze leaders have only complained about marginalization in appointments and harassment by police at road blocks
The special adviser to President Muhammadu Buhari on political matters Babafemi Ojudu has given reasons why the leader of the Indigenous People of Biafra (IPOB) Nnamdi Kanu was not invited to Presidential Villa.
Ojudu said Kanu was not asked to join the acting president and the South-East leaders in a meeting last week because the IPOB leader is not perceived as a leader of thought in the South-East.
READ ALSO: Read how billionaire kidnapper Evans reacted to seeing picture of his wife and children in tears
He however said not inviting Kanu during the last South-East leaders meeting with the Acting President does not mean the IPOB leader will not be invited if the need arises.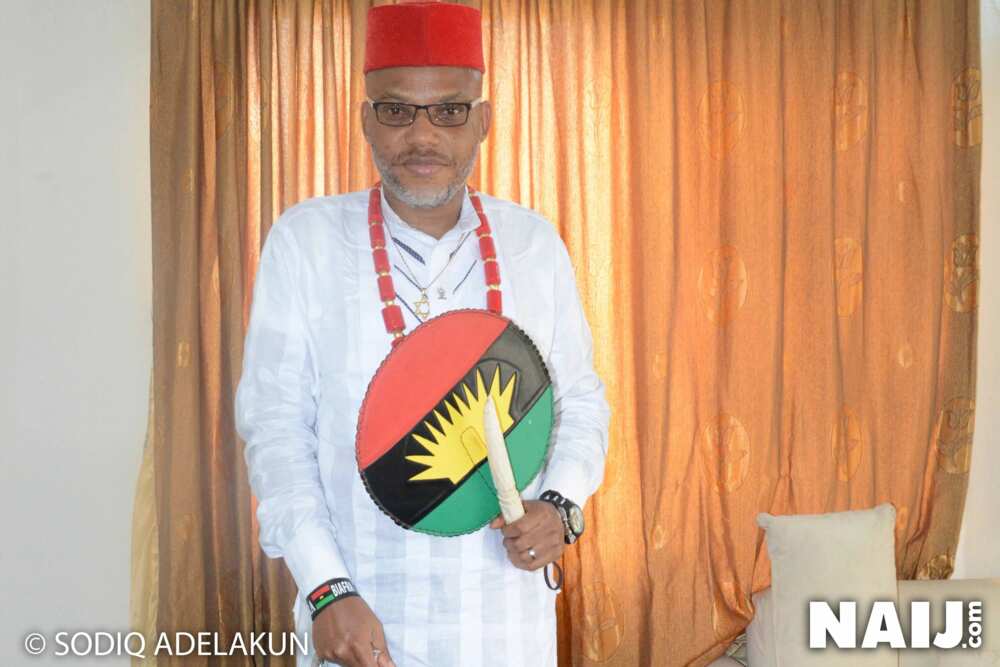 Ojudu said: "Well, the thing is that we were looking for leaders of the people, leaders of thought and we do not see him as a leader of thought in the east."
READ ALSO: Lagos state resumes sales of LAKE RICE: Check out prices, sales outlets nearest to you
"May be opportunity will come at one time or the other for him to be engaged.
But so far, what we have done is to look at people who have influence in the communities, whether it is religious, whether it is traditional, whether it is political, social or governance.
These are the people we brought in for discussion," Ojudu said.
PAY ATTENTION: Read the news on Nigeria's #1 new app
The presidential adviser said the leaders of the Ohanaeze Ndigbo who visited the acing president have neither asked for a referendum on Biafra or the secession of Biafra.
He said these leaders have only complained about marginalization in appointments and harassment by police at road blocks.
Legit.ng had reported that some traditional rulers from South-East led by Eze Eberechi Diick met with Acting President Osinbajo on Sunday, June 18, at the Presidential Villa.
The traditional rulers discussed the quit notice issued to the Igbos living in the North by a Northern youth group.
You can watch this Legit.ng TV of Nnamdi Kanu speaking about Biafra agitation:
Source: Legit.ng