Fraudster posing as student apologises following exposure on social media
Legit.ng gathered that a young man was exposed on social media for posing as a needy student while defrauding unsuspecting victims of their hard earned money.
Nigerians are known to be compassionate especially when there's a need to show support for a presumed needy person who has reached out to the public for help.
A young man who uses the Twitter handle @samuel_face2, decided to take advantage of that compassion, to defraud a couple of Nigerians.
The young man had asked for help with raising money to pay his school fees. He forwarded his account number to a couple of donors who were willing to help.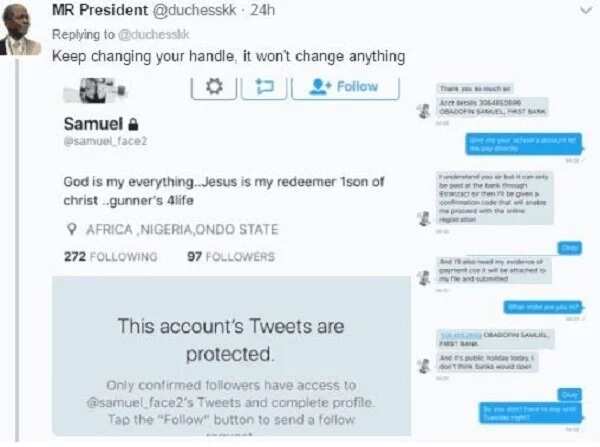 READ ALSO: Woman gives birth to her own BROTHER after agreeing to act as a surrogate for her mom and stepdad (photos)
He was said to have blocked the donors from his page after receiving money from them and had even gone as far as messaging some people directly, asking them to become donors as well.
He shut down the @samuel_face2 account and started a new one with which he continued asking for money as a different person with the same goal of wanting to pay his school fees.
His 'wahala' started when he was called out by a Twitter user, @duchesskk, who claimed to have encountered him before. She shared screenshots to prove that @samuel_face2 was actually a fraudster.
READ ALSO: Nigerian man shares pictures of his girlfriend's massive bumbum
The scammer's bank was notified and they stepped into the situation, eventually refunding the people who were scammed.
Another Twitter user who would have fallen victim also tweeted:
After being exposed for his fraudulent activities, Samuel took to his handle to tender apologies to his victims. He wrote:
PAY ATTENTION: Get all the latest gossips on NAIJ Gossip App
Na wa o! Hope he has genuinely learnt his lessons sha!
Meanwhile, see what Nigerians think of MMM:
Source: Legit.ng