Nigerian music star Sound Sultan set to feature in stage play 'Apere'
In recent times, Nigerian celebrities have learnt the act of hustling as they now keep more than one job. Some actors have become music stars and vice versa.
However, examples of such persons include actress Dayo Amusa, Omotola Jalade-Ekeinde, comedian Seyi Law, Basketmouth, Ayo Makun (AY), radio presenter Yaw among others.
Joining that category is talented Nigerian music star Sound Sultan. The singer turned Nollywood actor is making a debut appearance at Yaw's annual show/stage play, Apere which is set to take place at Eko Hotel and Suites.
Speaking on his new choice of career, the singer exclusively disclosed to Legit.ng that he is very creative and has always been in the movie industry. However he urged people to come out and watch this stage play.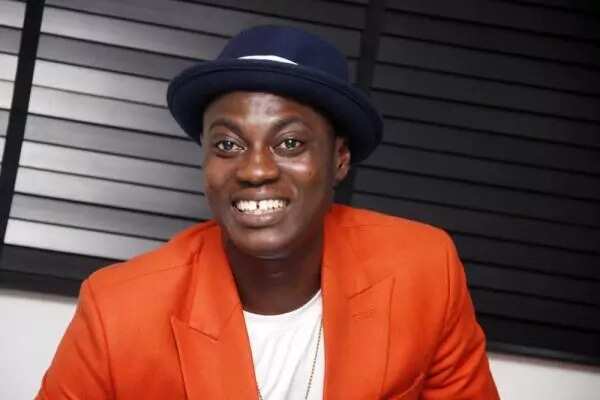 READ ALSO: Actress Anita Joseph hints at expecting a set of twins
You have always done music over the years and now you have veered into acting, how is the new choice coming along?
ANS: before I started music, I have been acting and featured in a lot of movies. It has always been something I have been doing not that I gate crashed into it. Also, when a night a thousand laff started I have always participated. I have a very creative person and do not want to remain in one box doing just music so I try as much as possible to do a bit of everything. I might be new for some people but not new for me.
Legit.ng gathered that you are featuring in a comedy show, Apere, what can you say about the stage play?
ANS: Apere is exceptional which I call a 3D stage play because it is not just about acting but we also have music merged in between. The issue been acted focuses majorly on the realities of life most especially what has affected the country negatively in the past year and myself and the producer of the show, Yaw had to tackle each issue as it comes. Despite the present situation of the county I urge everyone to come out and watch the play and if you are not there, you will miss a whole lot that's why I'm happy.
PAY ATTENTION: Get all the latest gossips on NAIJ Gossip App
What do you think is the major lesson this show intends to pass across to Nigerians?
ANS: Apere (basket) is not an empty project but contains a lot of substance and value. It is set to iron out the present situation of the country. Despite the jokes that would be used in passing across this message, there is still something very vital to learn at the end of each joke not one but a lot.
Watch video of Sound Sultan's rehearsal with Yaw below:
What is your take about domestic violence?
ANS: It is a very sad thing. If you have been following me you can tell that I have done a lot of campaigns and partnered with different Non-Governmental Organizations (NGO) to help support and curb this menace. It is only a weak and powerless man that beats up a woman and it should not be. If you hurt by your partner, there are a lot of therapies you can do for your anger to cool off but not by hitting a woman. This is very important because you have to set good examples for your children.
After this stage play, Apere, should we expect you to feature in more movies?
ANS: Of cos because I would love to exhibit all my talent. I have still not sang more than half of my song but I intend to seize any opportunity I get do achieve my aim, as long as I am not a stranger in that field.
Watch Legit.ng video below:
Source: Legit.ng