Osinbajo writes to Speaker Dogara, seeks approval to borrow $1.28b and €9m
- Acting President Yemi Osinbajo wrote a letter to Speaker Yakubu Dogara just days after the budget for 2017 was passed
- In the letter, Professor Osinbajo is seeking for the approval of the House of Representatives for loans to Nigeria
Acting President Yemi Osinbajo of Nigeria is seeking the approval of the House of Representatives for the country to borrow $1.28b and €9m, reports have indicated.
Osinbajo is therefore seeking the inclusion of the Development Bank of Nigeria (DBN) and the Fund for Agricultural Finance in Nigeria (FAFIN-II) in the 2016-2018 borrowing plan.
READ ALSO: People in government actually killing Buhari's anti-corruption war - Magu
This is contained in a letter the acting president sent to Speaker Yakubu Dogara.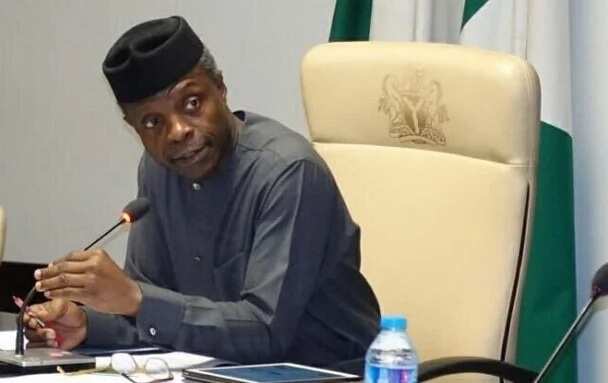 In the letter, Osinbajo said the DBN was omitted in the 2014-2016 external borrowing plan adding that the donors were ready to release funds to the international agency once the National Assembly approved.
For the FAFIN, this international organisation was being supported with a sum of €9 million by the KfW Development Bank of Germany, after it had released €10.5 million in 2013 in the first tranche.
PAY ATTENTION: Read the news on Nigeria's #1 new app
The letter stated: "Mr Speaker may wish to know that the DBN is a multi-donor supported bank approved under the previous administration with financing agreements executed on 25th February 2015.
"However, the facility in the sum of $1.28 billion appeared to be inadvertently omitted in the 2014-2016 external borrowing plan approved by the National Assembly.
"In view of the importance attached to these two projects by our administration, it has become imperative to seek for your usual understanding and kind consideration for the inclusion of the DBN and FAFIN-II into the 2016-2018 external borrowing plan as addendum."
Meanwhile, Acting President Yemi Osinbajo has revealed that one of the top priorities of the current administration remains the fight against corruption.
Osinbajo, who spoke on Tuesday, May 23 in Kano while declaring open the 2nd Kano Economic and Investment Summit, said: "We will remain committed on the three focused areas which include fighting corruption, insurgency and providing employment to the teeming number of unemployed youths in the country."
Watch what Nigerians think of the possibility of having a female president in the country:
Source: Legit.ng