Macron fever! Nigerians below 40 to run for president soon - Dogara
- Honorable Yakubu Dogara says Nigerians below 40 will soon be allowed to run for the office of president
- Dogara says the House of Representatives is committed to ensuring that this happens soon
- The speaker says the NotTooYoungToRun# bill will open up opportunities for young persons
The recent victory of Emmanuel Macron in France, has caused Nigerians to start nursing the thoughts of a young president.
Macron on Sunday, May 7, beat Marine Le Pen in French election, taking more than 65 per cent of the vote, according to exit polls.
According to the polling conducted by Ipsos, Ifop and BVA, Macron secured a strong lead over Front National leader Marine Le Pen.
His victory comes after a massive hacking attack on his campaign database which saw hundreds of thousands of private emails and official documents dumped online.
The 39-year-old former investment banker, who served for two years as economy minister but has never previously held elected office, will now become France's youngest president.
In the light of Macron's victory, Hon Yakubu Dogara has assured Nigerians that soon, persons below 40 will be able to run for president.
READ ALSO: BREAKING: Army captures 126 suspected jihadists as Boko Haram infiltrate IDP camp
Dogara affirmed that the House was committed to passing the NotTooYoungToRun# bill.
The bill is to be passed in order to lower the age requirements for elective offices.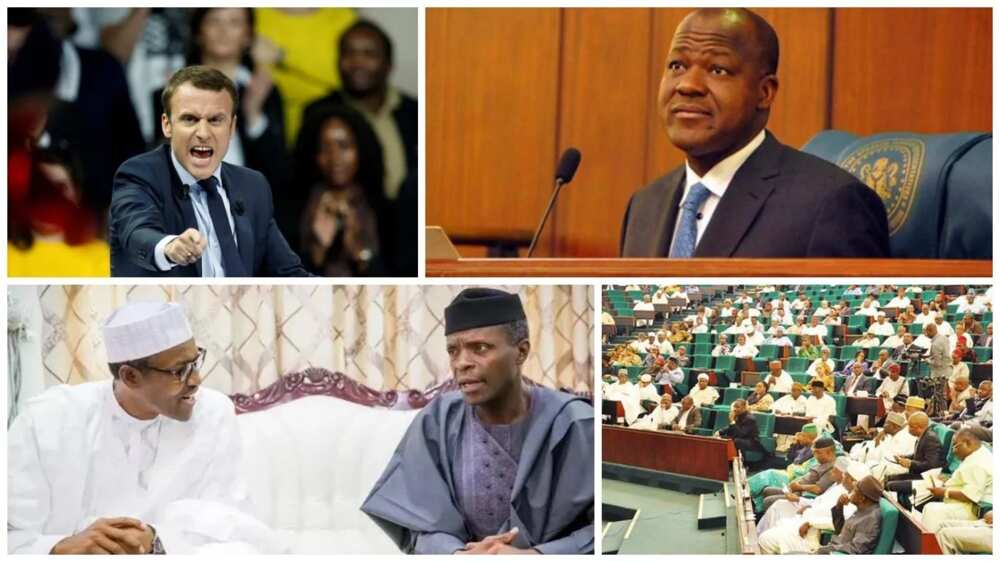 It is aimed at ensuring youth inclusion in politics and leadership.
Dogara made the assurance while addressing the plenary session of the Nigerian Youth Parliament in Abuja on Wednesday, May 17.
Dogara stated that as elected representatives, it was their duty make sure that their constituents' voices were heard.
He said it is essential that the peoples' voices are listened to, especially in a country with a youth population of over 60%.
Dogara noted that the parliament is committed to give priority to necessary legislative interventions.
Stressing that interventions which promote equality and inclusion, and entrench the rights of women, youths and vulnerable groups in the society are of great concern.
He said the bill which seeks to alter sections 65, 106, 131 and 177 of the 1999 Constitution is aimed at reducing the age of eligibility for elective offices across board.
The bill is also aimed at introducing independent candidacy to Nigeria's electoral process.
The speaker however, said that while the bill will not immediately correct the marginalization of young persons in Nigeria, it will, however, open up opportunities hitherto unavailable to young persons in politics.
A chieftain of the APC, Comrade Timi Frank has said that the emergence of Emmanuel Macron, who will become France's youngest-ever leader has become a serious challenge to the African youths in general and Nigeria in particular.
READ ALSO: BREAKING: Former PDP chairman assassinated in Bayelsa
Frank believes that the resounding victory of the 39-year-old former investment banker should be a thing of joy and encouragement to the youths in Nigeria, challenging them to stand up for the positions of leadership.
Initial estimates showed Macron winning between 65.5 percent and 66.1 percent of ballots ahead of his closest rival Le Pen on between 33.9 per cent and 34.5 per cent.
In a statement Frank signed on Monday, May 8 in Abuja, he congratulated Macron, the people of France and the country's embassy in Nigeria for a successful election.
He called on African youths to take the challenge Macron's emergence has brought to them, advising the youths to to come out and join politics to attain political power.
In a similar vein, former president Goodluck Jonathan has congratulated French president-elect Emmanuel Macron on his emphatic victory against Marine Le Pen in the nation's presidential run-off.
PAY ATTENTION: Read best news on Nigeria's #1 news app
In a message posted on his Facebook page, Jonathan said: "As a democrat who believes in one man one vote, one woman one vote and one youth one vote as the ultimate means of attaining political power, I congratulate the French nation, that stood by Nigeria during my time in office, for the successful determination of their Presidential election.
"I also congratulate the man of destiny, Emmanuel Macron, for his victory.
May God grant him wisdom to lead a nation that has shown herself to be a bastion of liberty and freedom over the ages. Vive le Nigeria et la France."
In the video below, Legit.ng went to the streets, to ask Nigerians if like France, Nigeria can have a young president also.
Source: Legit.ng