The fattest woman, who weighed 298kg, bedridden for 8 years, gets new life
- Amita Rajani was considered the fattest woman in India
- She was so huge she couldn't move her body, had to be helped by four people
- When her dad passed away, she pleaded with doctors to help her
- The medics agreed to operate on her and managed to lower her weight
- She can now walk and is even thinking of finding herself a boyfriend
A 44-year-old woman who weighed a staggering 298 kilos and was bedridden for eight years can now walk and smile after life-changing surgery.
Amita Rajani, from Vasai in India, was considered the fattest woman in India. She was so huge she had to be supported by four adults to get her stand up.
"I was bedridden and confined to my bedroom for about eight years. I could hardly walk a few steps on my own," she says.
READ ALSO: Cultist begs residents to save him from bleeding to death after cult clash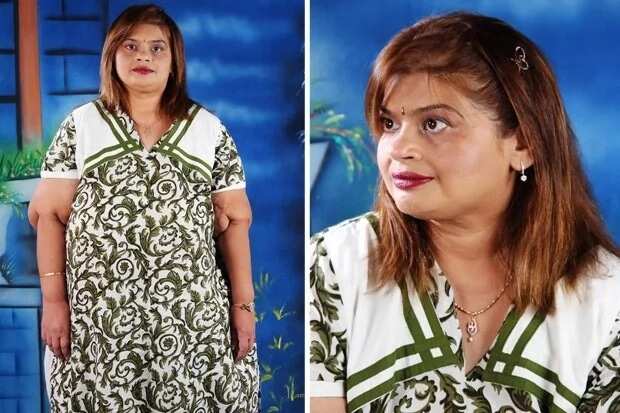 When her dad died in 2014, Rajani's situation became worse. She says she added on more weight and clocked five feet wide. This was way too much for her. She decided to do something about her weight.
She says she pleaded with doctors to come to her rescue. Luckily, they gave in to Rajani's plea for help. But it wasn't going to be an easy operation.
"After some consultations, we resolved that we were going to help Rajani. It was a challenge that we decided to take head on," says Dr Shashank Shah, Bariatric surgeon at Pune Hospital.
READ ALSO: Longest hair in the world
Rajani was transported to the hospital using a truck. The doctor says her legs were swelling, so they used a special compression device to squeeze out excess fluid from her legs.
After first surgery, Rajani reportedly shed off 158 kilos in the first eight weeks. She then went through another surgery.
Everything is now promising as she is now able to walk a few kilometers on her own.
"I can now walk, drive my car to work and go out for shopping, something that was not possible back then," she says. "I make sure I walk for at least 2km every day. I also no longer need four people to help me stand up."
Life has changed for Rajani. She has even started looking for a boyfriend. But first, she wants to lose half of her current weight, which now staggers at 120 kilos, all the way from 298 kilos.
May all her dreams come true!
READ ALSO: Anthony Joshua receives special gift from Mourinho and Man Utd stars
Meanwhile, watch the video below about amazing health benefits of taking cucumber.
Source: Legit.ng