Ignore their threats - Nigerian Army reacts to Boko Haram's latest videos
- Army spokesman Sani Usman Kukasheka says the terrorists are making empty threats
- Brigadier-General Usman confirmed that the Boko Haram commander identified as Shuaibu Moni was indeed swapped for 82 Chibok girls that were recently released
- Moni had appeared in a new Boko Haram video which emerged late on Friday threatening fresh attacks on Abuja just days after his release from detention
The Nigerian Army has reacted to two new videos released by Boko Haram insurgents on Friday, May 12.
In a statement by its spokesman Brigadier-General Sani Usman Kukasheka, the Army said the videos were full of empty threats and that Nigerians should ignore them.
Usman confirmed that the Boko Haram commander that issued the threat was just recently swapped in return for the Chibok girls and noted that as a result cannot make violent threats.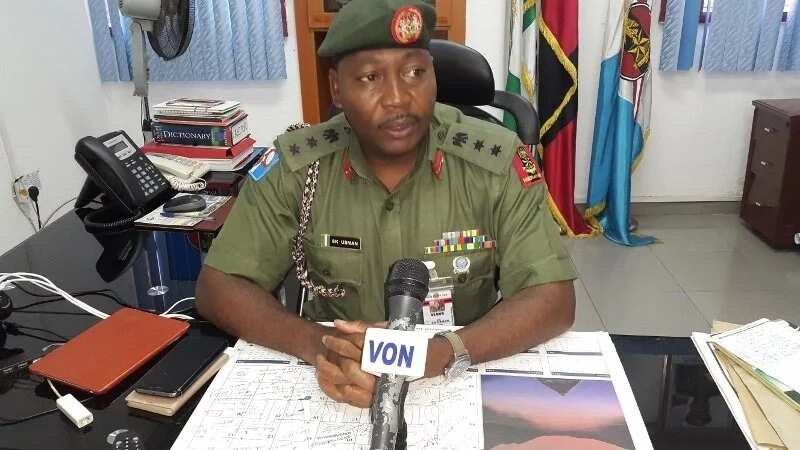 The statement read: "The attention of Nigerian Army has been drawn to two video clips released by one of the released Boko Haram terrorists in exchange for the abducted Chibok school girls.
READ ALSO: Naval officer allegedly kills 3 youth in WarriNaval officer allegedly kills 3 youth in Warri
"In the first clip the terrorist, among other things, made boastful and spurious allegations, while the second clip was about alleged indoctrination of some of the abducted Chibok school girls in captivity.
"We wish to state that the terrorist has lost touch with current realities.
"It was aimed at seeking relevance and attention.
"As you are all aware, he was a direct beneficiary of the process that led to the release of 82 of the abducted girls, and does not have a say or capacity to do anything, therefore his threats should be ignored.
"We would like to assure the public that the Nigerian Army is totally committed to the Federal Government's determined efforts of rescuing all abducted persons and peace in the country.
"We will not relent our determined efforts of clearing the remnants of the Boko Haram terrorists as manifested through the ongoing clearance operations.
"The Nigerian Air Force is unrelenting in its bombardment while other Security Agencies are equally doing their best.
"Therefore, we wish to solicit for more support, cooperation and understanding of the public, particularly members of the Press.
READ ALSO: We won't give updates on President Buhari's medical trip to UK - govt. officials
"We should not give in to terrorists propaganda and empty threats. We have come to a very critical stage of the fight against terrorism and insurgency in Nigeria that require more patriotism and security consciousness by all and sundry.
"Gone were the days when people glamorize terrorists and their criminal acts."
Before the video emerged on Friday, presidential spokesman Femi Adesina had said that there is nothing for Nigerians to worry about over the Boko Haram insurgents swapped with 82 Chibok girls because security agencies were in full control.
Adesina made this submission in a live interview on Sunrise Daily, a Channels Television programme where he said only pockets of attacks occurred in the northeast.
Watch this Legit.ng TV video of child survivors of Boko Haram narrating their ordeal in the northeast
Source: Legit.ng