Reno Omokri blasts Nigerians, says their problem is laziness
- Reno Omokri has schooled Nigerians on the need to be independent and objective
- He uses Kaduna state as an example to show Nigerians how much they can achieve
- He also pointed out the fact that opportunities abound in Nigeria
Reno Omokri, the spokesperson to former President Goodluck Jonathan has taken his time to reach out to Nigerians who are depending heavily on the President Muhammadu Buhari's administration.
Legit.ng gathered that Omokri who is presently in the United States judging by the location set with the Facebook post he shared with people on Wednesday, May 10.
Omokri schooled Nigerians telling them how blind they are to the resources around them and the things they could achieve by making adequate use of those things.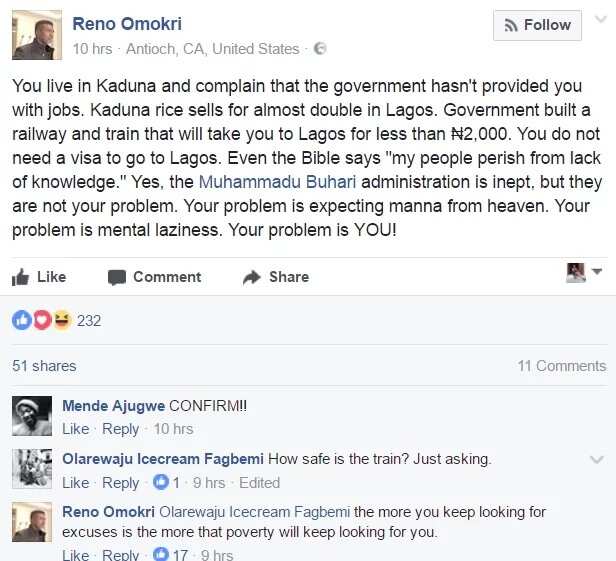 His Facebook page is where he constantly shares his opinions about sensitive issues.
READ ALSO: Woman allegedly runs mad after spending time with man in a Malaysia hotel
He noted that people have not stopped complaining about the inability of the government to provide jobs. Yet, the price of rice in Kaduna is twice the amount it is being sold in Lagos.
Having established that fact, Omokri went on to talk about the government's effort in providing a railway in Kaduna. He also mentioned that it would take less than N2000 to travel from Kaduna to Lagos by rail to sell the rice.
Omokri who was obviously bitter about the issue laid emphasis on this by saying Nigerians do not need a visa to travel to Lagos for business purposes.
At that point, Omokri who is also a pastor quoted the bible to substantiate his point. He acknowledged the fact that the President Muhammadu Buhari's administration is inept, he asked Nigerians not to dwell on that fact as it is not their problem.
There, he stated the problem most Nigerians have: "Your problem is expecting manna from heaven. Your problem is mental laziness. Your problem is YOU."
READ ALSO: Meet 64-year-old wife of newly elected French President who is 24 years his senior
To this honest observation, another Facebook user identified as Olarewaju Icecream Fagbemi replied him by asking how safe the train is. Omokri who was not ready to let anyone render his opinion useless replied by saying Nigerians are always looking for excuses.
Omokri went further to breakdown how Nigerians can make use of the opportunities that abound in the country. He said:
What is your take on this? Talk to us in the comment section.
Watch the Legit.ng TV below to see the tips you need to save more and spend less:
Source: Legit.ng