200 most influential philanthropists in the world (See the only Nigerian on the list)
The very wealthy people who constantly try to give back to the world deserve a lot of gratitude and recognition for their efforts to make the world a better place.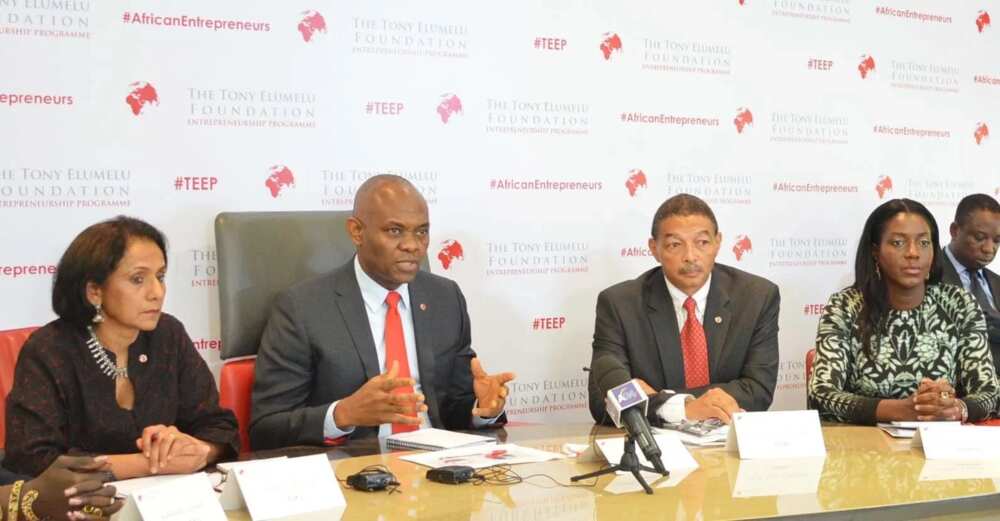 Richtopia recently compiled what they called: a list from top philanthropists and social-entrepreneurs, a list of influential people at effectively having soft-power and being pro-active, particularly at being socially concerned.
There is only one Nigerian on this 200-strong list and he is none other than Tony Elumelu. Coming in at number 185 on the list, his work has been recognized.
Tony Elumelu is the founder of the Tony Elumelu Foundation (TEF), which has over the years become the patron of thousands of entrepreneurs across the continent though the foundation's TEF Entrepreneurship Programme.
Through TEP, Elumelu has assisted in securing over 3000 startups by providing seed capital of $10,000 each as well as mentoring to 1,000 young African entrepreneurs annually since 2015.
An economist, investor, and philanthropist, Elumelu chairs privately held investment firm Heirs Holdings, pan african bank, United Bank for Africa and Nigeria's largest quoted conglomerate, Transcorp.
READ ALSO: The richest musician in Nigeria
His investments across Africa, span from the oil and gas, financial services to hospitality and power sectors. His investments are informed by his philosophy of Africapitalism: the belief that the private sector can lead Africa's economic renaissance and that investment should create both economic prosperity and social wealth.
Among his numerous roles, he serves as co-chair of the Aspen Institute Strategy Group on Global Food Security, sits on the global advisory board of the Washington DC-based think tank, the Wilson Center, and is a member of the Global Advisory Council of the Harvard Kennedy School's Center for Public Leadership. He is also a member of the World Economic Forum Community of Chairmen.
Below are the first 20 people on the list:
1. Warren Buffett
2. George Soros
3. Elon Musk
4. Bill Gates
5. J.K. Rowling
6. Richard Branson
7. Mike Bloomberg
8. Oprah Winfrey
9. Tim Cook
10. Barack Obama
11. Bill Clinton
12. Melinda Gates
READ ALSO: Elumelu reveals why Nigeria's power sector will soon collapse
13. Jimmy Wales
14. Michelle Obama
15. Narendra Modi
16. Hillary Clinton
17. Mark Zuckerberg
18. Steve Wozniak
19. Earvin Magic Johnson
20. Leonardo DiCaprio
See full list here.
Meanwhile, Fortune released its annual list of World's 50 greatest leaders and award winning Nigerian author, Chimamanda Adichie made it to the list.
About Chimamanda who is 42 on the list, the magazine wrote: "The prize-winning Nigerian writer has won admirers with her prose and a pair of viral TED Talks (one of which was famously sampled by Beyoncé).
"But Adichie has been most powerful in challenging her audiences to think differently and more expansively about Africa, identity, race, and gender.
"Many in the English-speaking world have embraced the invitation, and she has emerged as a feminist icon—she tells girls to get over being liked—and a fearless political and cultural critic."
Also, members of the National Youth Service Corps (NYSC) are making Nigeria proud. Watch a video on them produced by Legit.ng:
Source: Legit.ng