Unpaid salaries: Kogi citizens write touching letter to Buhari, say they are in severe agony
Some citizens of Kogi state, including civil servants and pensioners, have written a Save Our Soul letter to President Muhammadu Buhari asking him to save them from the severe agony they are going through.
The Kogites in an SOS titled 'Save Our Soul; A Cry Of Agony From The Army Of Victims Of Maladministration In Kogi State To Your Excellency' and signed by a Peoples Democratic Party (PDP) youth leaders and a lawyer from the state, Mr Usman Okai Austin, said that it was 'evident that the common denominators in Kogi state today are; starvation, depression and neglect which was as a results of the over 14 months non-payment of salaries and pensions to the workers and pensioners, some of whom are dying almost on daily basis arising from avoidable circumstances'
According to Vanguard, The SOS letter further said: "That all these financial interventions meant to ameliorate the sufferings of civil servants and pensioners have been grossly misappropriated and mismanaged."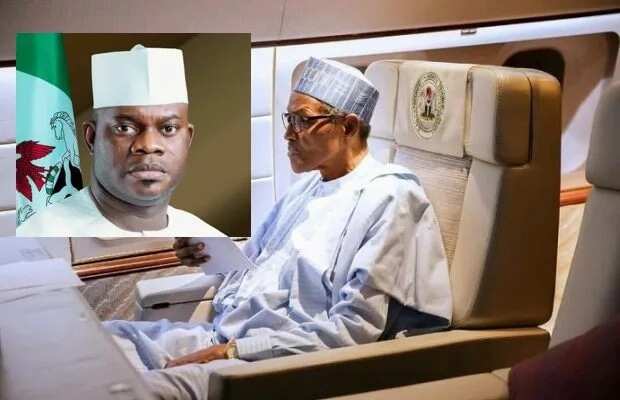 READ ALSO: BREAKING: Senate begins investigation of Melaye over alleged certificate scandal
Thy begged the President to save them from abject poverty or they will 'all perish in the hands of Governor Yahaya Bello and his team of oppressors"
Read the letter below
Mr President Sir,
SAVE OUR SOUL; A CRY OF AGONY FROM THE ARMY OF VICTIMS OF MALADMINISTRATION IN KOGI STATE TO YOUR EXCELLENCY
Greetings and best wishes from the army of the oppressed, exploited and victimized citizens of Kogi state. We wish to sincerely thank Almighty Allah (SWT) for the speedy recovery He granted you and at the same time pray that He grants you the strength and wisdom to pilot the affairs of this great nation to lofty heights.
Your Excellency, we are compelled to bother you at this time that you just returned to office, bearing in mind the fact that there are other urgent state matters requiring your attention.
However, we consider this medium as our last life line because of the serious and expedient nature of our case.
Your Excellency, we presume you mind not have been familiar with our situation in Kogi state and as such it is appropriate for us to succinctly explain to you.
Kogi our beloved state is undergoing tough trial and awkward avoidable circumstances imposed on us by his Excellency Governor Yahaya Bello. This may sound unbelievable to you, but Kogi citizens are in severe agony resulting from the maladministration of our Governor.
The suffering of Kogites is evident from the over 14 months non-payment of salaries and pensions to the workers and pensioners some of whom are dying almost on daily basis arising from avoidable circumstances. As it is in Kogi state today, the common denominators are; starvation, depression and neglect.
Your Excellency, you may recall that the immediate past administration in Kogi state under the leadership of Governor Idris Wada, applied for fairly over Fifty billion naira (N50, 000,000,000) bailout fund to settle all salaries and pensions arrears and other related issues. However, the bailout fund was not released to him. The current administration of Governor Yahaya Bello was able to access the sum of twenty billion (N20, 000,000,000) of that sum. In the same vein, several financial interventions such as Paris Club money refund, refund of the expenses by the administration of former Governor Idris Ibrahim as well as the statutory monthly allocations and the improved Internally Generated Revenue hovering almost a billion naira monthly were all accessed by the current administration.
Regrettably, all these financial interventions meant to ameliorate the sufferings of civil servants and pensioners have been grossly misappropriated and mismanaged by our Governor and his team. Without iota of exaggeration, as we write this letter to you, the civil servants and pensioners are owed 14 months of salaries and pensions respectively and are thereby wallowing in abject poverty.
Currently all the state owns tertiary institutions have been on strike for months now as well as the medical Doctors in the state are also on strike due to non payment of salaries.
Worrisome is the disturbing fact that, whenever we tried to protest against this injustice, the Governor uses the security apparatus to harass and to suppress the hapless innocent citizens. In fact, he has also perpetually played the mind-game on us by making us to understand that he has an intimate rapport with the Presidency and he is more or less a SACRED COW!
Thus, officials at the Federal Level would not hearken to us no matter how much we cry. Sadly enough, the media that is supposed to be the veritable avenue to tell you and your God fearing team about our predicament, has been hijacked by the Governor's team . And these heavily financed media aides have completely dispossessed us of all avenues to be heard.
The Governor's frequent excuse for this deprivation is that there is an on-going screening of the workers and pensioners. This screening which started on the 22nd of February, 2016 is still on-going. This has humiliated, exterminated, exhausted, extorted, deprived and tampered with the integrity and the wellbeing of Pensioners and Civil servants. As earlier explained above, civil servants and pensioners meet their on untimely death almost on daily basis in Kogi state because of this arranged screening meant to buy time and dodge from the responsibility of salary payment.
We are ready to furnish you with facts of the civil servants and pensioners' predicaments of mostly heart attack and strokes sequel to the non-payment of their entitlements and which subsequently culminated to their untimely death.
On this matter, many Kogi citizens believe that the Federal Government had tactically stayed aloof and refused to monitor/ensure these financial interventions benefit the Civil servants and Pensioners they were truly meant for. The reason for this conception is the general opinion that Governor Yahaya Bello is 'The Presidency,s Sacred Cow'. Of course, he has openly boasted about this and there is a recent video clip in which he unequivocally told the workers to report him (the Governor) to whoever they so wished adding that he was invincible.
READ ALSO: Allwell Orji's colleague reveals why the medical doctor killed himself
OBSERVATION AND PRAYERS
It is in view of the above that we make the following observations and prayers. We strongly believe that you would use your good offices to treat this with dispatch as our father and as custodian of justice, equity and fairness.
Hence, we observe and pray as follows:
1. That Kogi state governor, Alhaji Yahaya Bello has so far accessed N20 Billion Naira bailout fund and over 11 Billion Naira Paris Club Money Refund, aside the consistent monthly allocations and other funds like the N10 billion Naira ecological funds refund.
2. That Governor Yahaya Bello has deliberately and consistently misappropriated all these financial interventions. And the monies were not used for the purposes (salaries and pensions) meant for except that the funds were diverted for private use by the Governor and his political cronies.
3. That the Civil Servants and Pensioners are still owed 14 months of salaries and pension arrears.
4. That the Governor has cleverly employed an unending screening exercise as a delay tactics and excuse to keep us quiet. A screening which could have been long concluded using BVN to sort out the ghost workers.
5. That the Federal Ministry of Finance should stop all financial interventions to Kogi state especially the forthcoming Paris Refund money, until the Governor is able to account for the ones he has received so far.
6. That we know as a fact that Governor Yahaya Bello would still refuse to pay workers and pensioners even if you give him the Paris Club Refund money.
7. That the Federal Government should send a monitoring team that would ensure further financial interventions is judiciously used to resolve salaries and pensions.
8. That refusal to check the reckless and profligate lifestyle and spending of the Governor and his aides would continue to deepen the agony of workers and pensioners and invariably undermine the war against corruption.
We therefore, appeal at this point to hastily come to our aid or we all perish in the hands of Governor Yahaya Bello and his team of oppressors.
Thank you and God bless you.
Yours faithfully,
Usman Okai Austin
Source: Legit.ng