Law seeking to stop poor men from marrying many wives is necessary to guide Muslims - Emir
- The Emir of Kano has explained further the proposed law seeking to ban poor men from marrying more than a wife
- The Chairman of Islamic family Law Committee in charge of the new law said the law is already being drafted
- The is no known punishment yet for those who might break the law
The Emir of Kano, Muhammadu Sanusi ll has explained reasons for the new law that seeks to stop poor men from marrying more than one wife as accepted by Islamic religion.
The Emir who spoke through the Chairman of Islamic Family Law Committee, Dr.Bashir Aliyu, Sanusi on Tuesday, February 21, said the law was rather meant to guide Muslims faithful on how to conduct their family lives in line with the teachings of Islam, Nigeria Bulletin reports.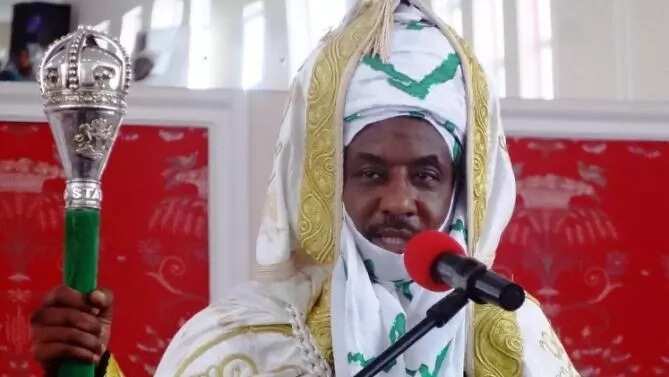 READ ALSO: Emir Sanusi clarifies statement on conversion of schools to mosques
The emir said the law provides that a Muslim can marry additional wife only when he meets up with two fundamental conditions:
1. The man will be just and treat his wives equally
2. The man has the means of taking care of more than one wives
The Emir said: "These are the two conditions provided by the law and that what Islam says about polygamy. When passed into law, the law will help our judges and lawyers in discharging their duties as administrators of justice.
"It will also guide the community how resolve some family matters. And it will equally prevent alien laws and culture from penetrating into our religion."
He announced that the 40-member family law committee had already drafted the law and is currently reviewing it before submission to the main committee for final draft and subsequent passage into law by the Kano state House of Assembly.
He however said punishment for breaking the law is yet to be drafted as the law is just a way to sought family planning and reduce poverty in the North.
PAY ATTENTION: Get the latest News on Legit.ng News App
Meanwhile, the emir of Kano has recently accused Nigerian leaders of being selfish and only concerned about members of their families.
The former governor of the Central Bank of Nigeria spoke on Wednesday, February 8 in Abuja at the award presentation ceremony of 'Most Security Conscious Governor' to Gov. Yahaya Bello of Kogi by the Nigeria Police Force.
Source: Legit.ng