Nnamdi Kanu named as president of the Biafran people
- Mazi Nnamdi Kanu has remained in prison for over one year over allegations of treason for demanding the break-up of Nigeria
- A video of a leader of the Indigenous People of Biafra (IPOB) declaring Kanu as the president of Biafra has been released
Detained leader of the Indigenous People of Biafra (IPOB), Nnamdi Kanu, has been declared as the Commander-In-Chief of the Biafran Armed Forces in a trending video showing the organisation's main base in Spain.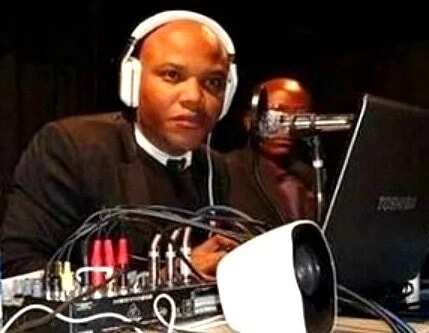 Kanu is being held in detention by the Muhammadu Buhari government for over a year now on charges of treason after being picked up in Lagos.
The video, though old, resurfaced on social media on Friday, February 10 and has been generating reactions.
READ ALSO: Biafra Agitation: IPOB are righteous people fighting noble cause - FFK reveals
Kanu has refused to denounce the organisation that has severally clashed with security agents resulting in the death of many of its supporters.
The video shows a man, Mazi Uchenna Asiegbu, who heads the Spanish office as saying Nigeria is evil and that nothing good would come out of it.
Asiegbu, who seemed to be taking a female loyalist of the organisation round the office, introduced the late Dim Chukwuemeka Odimegwu Ojukwu as the first president of Biafra adding that the latter ruled between 1967 and 1972.
He also introduced late Philip Effiong as the vice president during the administration of Ojukwu.
"And our leader now is Mazi Nnamdi Kanu, the Commander-In-Chief of the Biafran Armed Forces and as well, the director of Radio Biafra and Biafran Television. He is the present president of Biafra.
"He is still in incarceration in Abuja," he said.
READ ALSO: My husband's obsession with Biafra is scary - Nnamdi Kanu's wife
Asiegbu introduced himself as the head of the directorate of state of the IPOB worldwide. He added that his office controls what happens across the world.
"We are disciplined people and can never be terrorists," he said.
Watch the video:
Source: Legit