Patience Jonathan does not engage in corrupt practices – Yoruba youths to EFCC
The Coalition of Yoruba Youths (CYY) on Sunday, January 15, stormed the Economic and Financial Crime Commission (EFCC), alleging that there is a plot by the anti-graft agency to manufacture evidence against former first lady Dame Patience Jonathan.
This comes even as the group urged the EFCC to embark on thorough investigation on Patience Jonathan before smearing her name, Vanguard reports.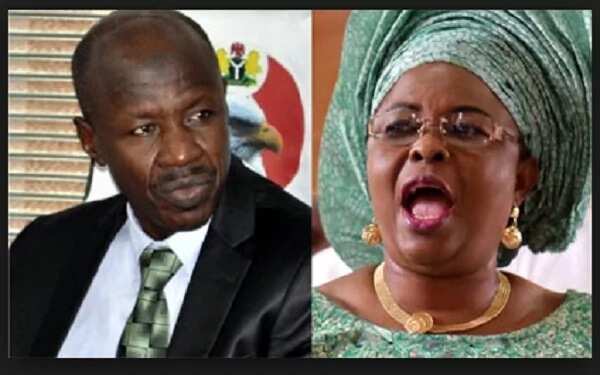 READ ALSO: Real reason police stormed Patience Jonathan's house
In a peaceful protest staged at the Lagos office of the EFCC in Ikoyi, Lagos, Yoruba group warned the EFCC against campaign of calumny against the former first lady.
Addressing newsmen in Lagos, leader of the group, Prince Usman Oyekan argued that the EFCC has gone contrary to its claim of commitment to the principles of rule of law.
In a petition, the group said: "An Open petition by the Coalition of Yoruba Youths on the sinister plot by the EFCC to manufacture evidence against Dame Patience Jonathan, Nigeria's former First Lady and President Africa First Lady Peace Mission."
Oyekan alleged that there is an elaborate political scheme to silence Mrs Jonathan
He said: "For the sake of records, Dame Patience Jonathan does not engage in fraudulent or corrupt practices as she is being portrayed by some individuals with vested interest in President Buhari's government. This is for no other reason than to envy the rising profile of former President Goodluck Jonathan and his wife, within and outside the shores of the country."
In his response, Executive Chairman, Head of Economic Governance of the EFCC, Mohammad Issa Rabo, denied the allegation that the commission was out on a smear campaign against Patience Jonathan.
However, he assured that the commission would do its job thoroughly without witch-hunting or persecuting anyone.
READ ALSO: Ijaw youths protest probe of Patience Jonathan
Rabo said: "We are talking about Patience Jonathan, we are on it and we are investigating. We do not just call somebody for calling sake, we must have carried out our investigation thoroughly, so we assure you that we shall do as you have asked, we shall look into your complaints and we shall address the issue. We shall investigate thoroughly, before investigating anybody, no enemies carried of justice, no stone will be left unturned when it comes to issues of corruption. Your petition will also be forwarded to the executive chairman."
Recall that security operatives recently raided the house of Patience Jonathan at Igbeti Rock street in Abuja.
It was gathered that the unknown security operatives took with them an envelope whose content is yet to be disclosed.
Source: Legit