-The Nigerian military has been praised for their swift action in rescuing a critically injured soldier
-The solider was among four other soldiers wounded at today's early morning gun battle between the Boko Haram sect and the military
-The battle is the first since the federal government declared that the sect has been defeated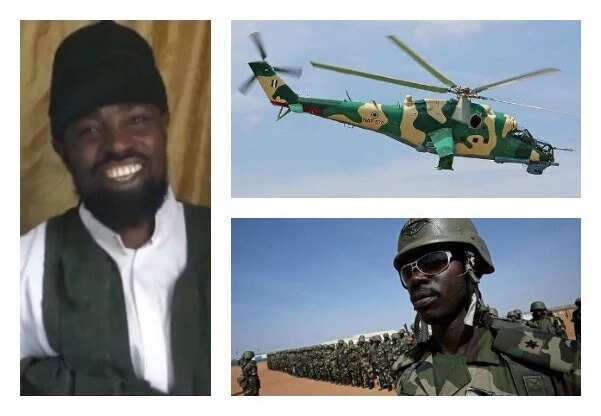 The Nigerian military has been praised for their speedy action in rescuing a soldier from the war front.
Premium Times learnt that the military rushed an Augusta helicopter to the battle front in Rann, northern Borno to pick a wounded soilder earlier on Friday.
The soldier was among four wounded soldiers in Friday's fierce battle between the military and the Boko Haram terror sect.
READ ALSO: BREAKING: Many feared dead as Boko Haram launches surprise attack against army
It was gathered by Premium Times that Nigerian soldiers had killed at least 15 terrorists after the terrorists surprised and attacked the military location early on Friday.
According to an inside source who spoke to Premium Times, the Nigerian military moved swiftly immediately they received information of the need to evacuate a critically injured soldier.
Accordingly, it was gathered that the Nigerian Air Force (NAF) helicopter left Maiduguri for Rann at around 1 p.m. to transport the soldier to 133 Reference Hospital in Kaduna.
It was also gathered that the helicopter made a stopover at Gamboru before proceeding to Rann, to pick up the commanding officer of 3 Battalion.
Military insiders have praised the military for their prompt action in responding to the call from the battle front.
READ ALSO: France vows to continue to support anti-terrorism fight in Africa
The quick response was described as
"The pace at which they responded to the distress call is commendable," one soldier said. "With this kind of efficiency, there will be better morale among troops", the source said.
A gun battle ensued between Nigerian troops of Operation Lafiya Dole and Boko Haram terrorists at 6 a.m on Friday morning and did not end until after 9 a.m, Premium Times reports
The recent battle is the first since the military claimed triumph over the sect and since a day after new footage of Abubakar Shekau appeared, in which he debunked the news of the sect's defeat