Boko Haram to release more Chibok girls if FG meets demand
- Boko Haram expressed desire to release more Chibok girls if government meets its demands
- It includes the release of some of its commanders and payment of cash
- Some of the Chibok girls have been married off and radicalised.
Boko Haram terrorists have tabled two conditions to the federal government before they can release 83 more Chibok girls.
The country was thrown into excitement following the release of 21 of the 200 girls who were abducted from their school in 2014 in Chibok.
READ ALSO: More Chibok girls are returning home soon - Buhari
The 21 girls were released on Thursday, October 13 and according to Vanguard, 83 more girls may soon be released.
A source close to the negotiation revealed that while the release of 21 girls was based on trust to test the sincerity of the government, the release of 83 more girls will be based on ransom payment and release of no fewer than 16 of Boko Haram commanders.
The sect in its last video had called on the federal government to release Boko Haram terrorists in exchange for the Chibok girls and it seems this demand still stands.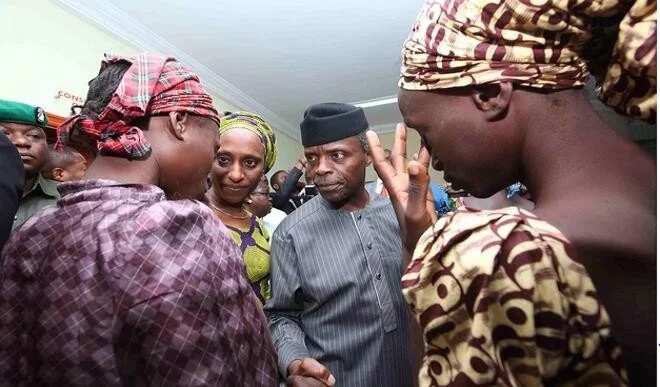 A source disclosed that only that only 104 were left as the rest had been married off and radicalised while 83 girls were being held by a top terrorists in an undisclosed location in the north east.
"The truth is that those Chibok girls are now Boko Haram members, having married the sect members and become radicalised.
"The remaining 83 girls are with a top leader of Boko Haram and those are the only ones we are going to work for their release in the next phase of our negotiations which starts immediately. "
The others had since become Boko Haram members, having been married off and radicalised into Boko Haram as soon as they were captured over two years ago".
READ ALSO: Full story of how 21 Chibok girls were rescued
"I think the guys are settled on the idea that the cash must come ahead of the release since they had proved to government that they are reliable by releasing the 21 girls, last week, without many conditions attached."
The source said that the sects so far believe in the sincerity of the government in getting the girls back
The source however said that the challenge was that while some of the girls were with the group loyal to ISIS, others where with Abubakar Shekau but expressed optimism in the release of the girls if a meaningful deal is reached.
Meanwhile, Asiwaju Bola Tinubu expressed delight in the return of 21 Chibok girls and applauded President Buhari for his effort.
"The news of the release of the 21 Chibok girls came to me as a delightful relief.
"I congratulate the families of these young ladies who have endured so much anxiety and pain on account of this horrendous experience. I am also grateful that these budding young stars now have the opportunity to again pursue their dreams and aspirations."
Source: Legit.ng