Queen Elizabeth II: Full Poem, Sermon at Monarch's Funeral Emerge
The late Queen Elizabeth II will be buried on Monday, September 19, in the presence of members of the Royal Family and leaders across the world.
Already, the remains of Queen Elizabeth have been taken to Westminster Abbey where she got married back in 1947.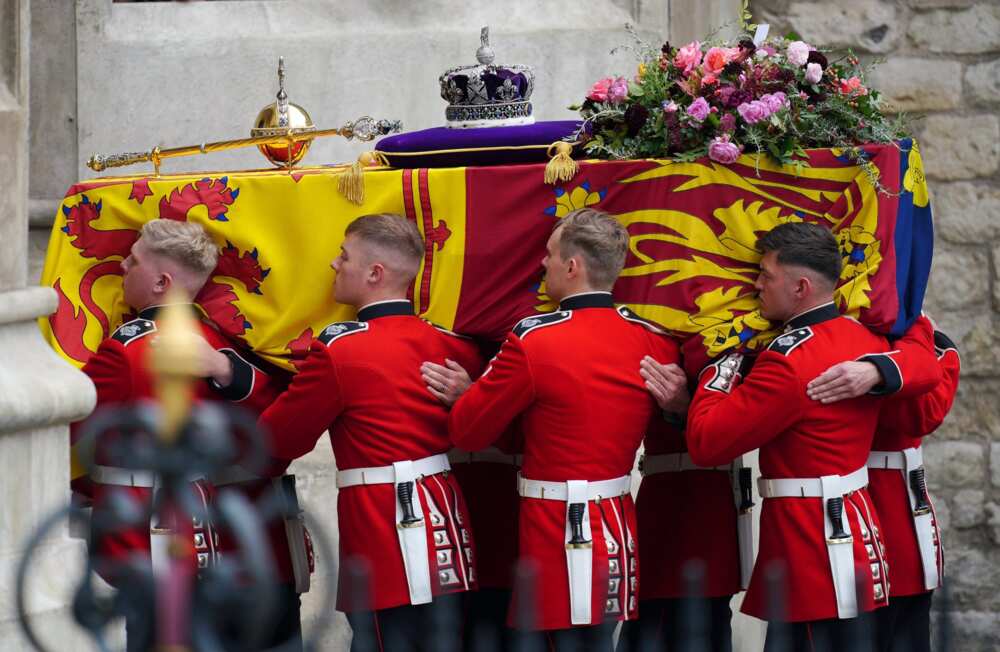 It is the venue of her coronation as queen in 1953 as well as where she attended royal weddings and funerals.
All of these, including the much-talked-about funeral, is part of the phase of death and renewal happening all over again.
Queen Elizabeth II: Full funeral service sermon by Archbishop of Canterbury, Justin Welby
Below is the full funeral service sermon given by Archbishop of Canterbury, Justin Welby:
The pattern for many leaders is to be exalted in life and forgotten after death.
The pattern for all who serve God, famous or obscure, respected or ignored is that death is the door to glory.
Her late Majesty famously declared on a 21st birthday broadcast that her whole life would be dedicated to serving the nation and Commonwealth.
Rarely has such a promise been so well kept
Few leaders receive the outpouring of love that we have seen.
Jesus, who in our reading, does not tell his disciples how to follow, but who to follow, said: "I am the Way, he Truth and the Life."
Her late Majesty's example was not set through her position or her ambition, but through whom she followed.
I know his majesty shares the same faith and hope in Jesus Christ as his mother; the same sense of service and duty.
In 1953, the Queen began her coronation with a silent prayer just there, at the high altar.
Her allegiance to God was given before any person gave allegiance to her. Her service to so many people in this nation, the Commonwealth, and the world had its foundation in her following Christ, God Himself, who said that he came not to be served but to serve and to give his life as a ransom for many.
People of loving service are rare in any walk of life. Leaders of loving service are still rarer.
But in all cases, those who serve will be loved and remembered when those who cling to power and privileges are long forgotten.
The grief of this day felt not only by the late queen's family but all round the nation, the Commonwealth, and the world arises from her abundant life and loving service now gone from us.
She was joyful, present to so many, touching a multitude of lives and we pray today, especially for all her family grieving as every family at a funeral, including so many families round the world who have themselves lost someone recently.
But in this family's case, doing so in the brightest spotlight, may God heal their sorrow; the gap left in their lives be marked with memories of joy and life.
Her Late Majesty's broadcast during COVID lockdown ended with: "We will meet again", words of hope from a song of Vera Lynn. Christian hope means a certain expectation of something not yet seen. Christ rose from the dead and offers life to all, abundant life now and life with God in eternity.
As the Christman Carol says, "Where meek souls will receive Him still. The dear Christ enters in..."
We will all face the merciful judgment of God. We can all share the Queen's hope which in life and death inspired her servant-leadership.
Service in life, hope in death; all who follow the Queen's example and inspiration of trust and faith in God can with her say, "We will meet again."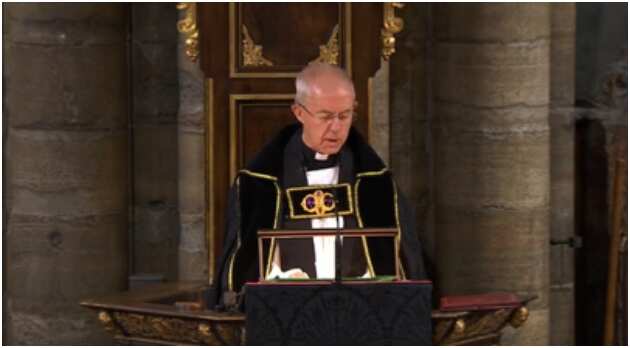 Queen Elizabeth II: Poem, Life and Times of late monarch
Via its verified Twitter handle on Monday, September 19, the Royal Family released a stream of videos on the life and times of late Queen Elizabeth II.
The Royal Family also published a poem written in the queen's honour. The poem was authored by Poet Laureate Simon Armitage.
Read it below:
I
An old-fashioned word, coined in a bygone world.
It is a taking hold and a letting go,
girlhood left behind like a favourite toy,
irreversible step over invisible brink.
A new frock will be made, which is a country
hemmed with the white lace of its shores,
and here is a vast garden of weald and wold,
mountain and fell, lake, loch, cwm.
It is constancy and it is change:
the age of clockwork morphs into digital days,
but the song of the blackbird remains the same.
II
Queenhood: a long winding procession
from the abbey door to the abbey door.
Queenhood: vows taken among bibles and blades,
beneath braided banners and heralding horns;
the anointment of hand, brest, head, with oil
of cinnamon, orange, musk and rose; promises
sworn in secret under tented gold
so daylight won't frighten the magic away,
too sacred by far for the camera to see.
It is an undresing first then a dressing up,
a shedding of plain white cloth then the putting on
of a linen gown and the supertunica – dazzling gold foil
lined with crimson silk. Man will walk
on the moon, great elms will fail and fall.
But a knife's still a knife. A fork's still a fork.
III
So the emblems and signs of royalty are produced:
the gilded spurs; the blued steel sword – like a sliver
of deep space drawn from the scabbard of night –
to punish and protect; bracelets to each wrist,
sincerity and wisdom – both armour and bond.
Love is still love is still love, and war is war.
IV
And indestructible towers will atomise in a blink.
The God particle will be flushed from its hiding place.
The sound barrier will twang with passenger planes.
Civilisation will graft its collected thoughts
onto silicon wafers, laureates will pass through court . . .
But Taurus, the bull, on its heavenly tour,
will breach the same horizon at the given hour.
V
Queenhood: it is the skies, it is also the soil
of the land. It is life behind glass walls
and fortified stones. Robe and stole are lifted
onto your shoulders – both shield and yoke.
Motherhood and womanhood will be taken as read.
'Multitasking' will be canonised as a new word.
VI
It is an honouring, but also an honour.
In the flare and blur of an old film
ghostly knights and chess-piece bishops deliver
the unearthly orb, with its pearled equator
and polished realms, into your open palm;
and pass you the sceptre and rod of mercy
and justice, one bearing the cross, one plumed
with a white dove; and load your fourth finger
with a ring that makes you the nation's bride;
and offer the white kid glove with its scrollwork tattoo
of thistles and shamrocks, oak leaves and acorns;
then finally furnish your head with the crown –
jewelled with history, dense with glory –
both owned and loaned at the same time.
Do those burnished relics still hold
the fingerprints of a twenty-seven-year-old?
VIII
A priceless freight for a young woman to bear,
but, draped and adorned, a monarch walks forward
into the sideways weather of oncoming years.
And the heavy cargoes of church and state
lighten with each step, syrupy old gold
transmuted to platinum, alchemy redefined.
Queenhood: it is law and lore, the dream life
and the documentary, a truthful fantasy.
For generations we will not know such majesty.
See the videos in the tweets below:
Osinbajo arrives UK for Queen Elizabeth II's burial
Vice President Yemi Osinbajo at the funeral service of Queen Elizabeth II which is being held in London.
President Willima Ruto arrives UK for Queen Elizabeth II's funeral
The new president of Kenya, William Ruto, has arrived in the United Kingdom for the burial of Queen Elizabeth II's funeral service.