BREAKING: Forcefully Freed Former Guinean Military Ruler Recaptured, Details Emerge
A lawyer for former Guinean dictator, Moussa "Dadis" Camara has said that his client was back at the central jail
Legit.ng understands that Captain Camara is being questioned following his earlier illegal release
Armed commandos stormed the main prison in Guinea's capital early Saturday, November 4, and freed Camara and several others
Legit.ng journalist Ridwan Adeola Yusuf has over 9-year-experience covering global issues
Conakry, Guinea - Former Guinea military ruler, Moussa Dadis Camara has been recaptured and returned to prison.
In a post on Facebook, Camara's lawyer, Pepe Antoine Lamah, said the erstwhile military ruler is back in the Central House prison in the capital, Conakry.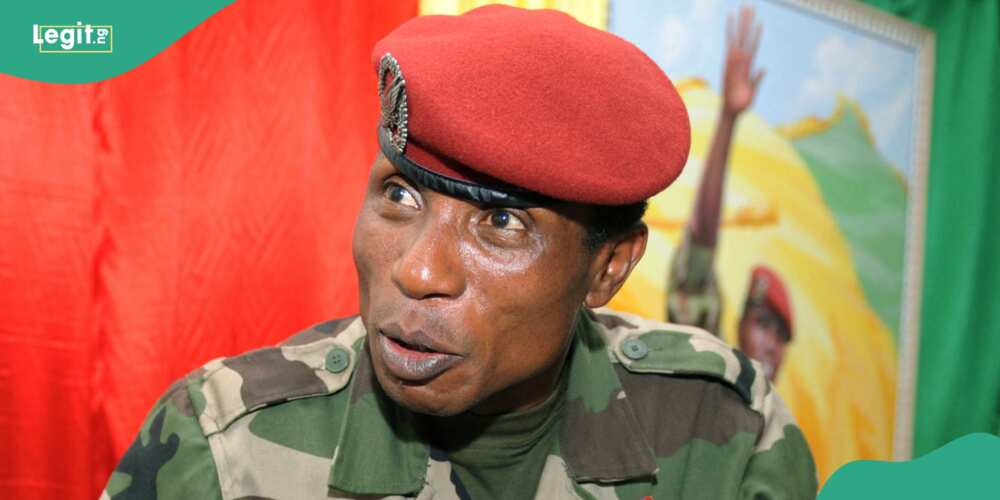 Guinea: Camara re-arrested hours after jailbreak
Charles Wright, the country's justice minister, corroborated Lamah and noted that Camara has been "recaptured".
TRT World reported on the development on Saturday evening, November 4.
Meanwhile, Lamah claimed his client was "kidnapped".
He wrote on social media:
"Camara was indeed kidnapped this morning very early by heavily armed individuals who forced him into a vehicle.
"It is unacceptable and even inappropriate to classify a kidnapping as an escape.
"To God be the glory, former leader Moussa Dadis Camara is safe and sound despite everything.
"He is currently at Conakry Central House where he has been arbitrarily held since September 27, 2022."
Ex-Guinea dictator Camara breaks out of prison
Earlier, Legit.ng reported that masked gunmen stormed the main prison in Guinea's capital early Saturday, November 4, and freed "Dadis" Camara.
Guinea's justice minister confirmed the attack.
The announcement by Wright came several hours after heavy gunfire erupted in the Kaloum district of Conakry.
African nations under military rule
Legit.ng also reported that the African continent and its history of coup d'états have been like a nut and its shell and are still prevalent even in the present century.
The West African sub-region holds the record for the most military coups since countries in the zone started gaining Independence.
Countries under military rule include The Republic of Chad, The Republic of Niger, Sudan, Burkina Faso, Guinea and Mali.
Source: Legit.ng