Queen Elizabeth: Buckingham Palace Releases Worrisome News On Monarch's Health
Elizabeth Alexandra Mary Windsor, the aged queen of Britain, has cancelled her virtual engagements
Buckingham Palace in a statement on Tuesday, February 22, said the queen is still having mild, cold-like symptoms
But the palace said Elizabeth's health will not stop her from making a scheduled call with the prime minister, Boris Johnson, on Wednesday, February 23
Information from Buckingham Palace indicates that Queen Elizabeth of Britain who recently contracted COVID-19 is still down with symptoms of the deadly virus.
The palace in a statement on Tuesday, February 22, disclosed that the 95-year-old queen whose health is under close monitoring has been forced to cancel her scheduled virtual engagement for the day.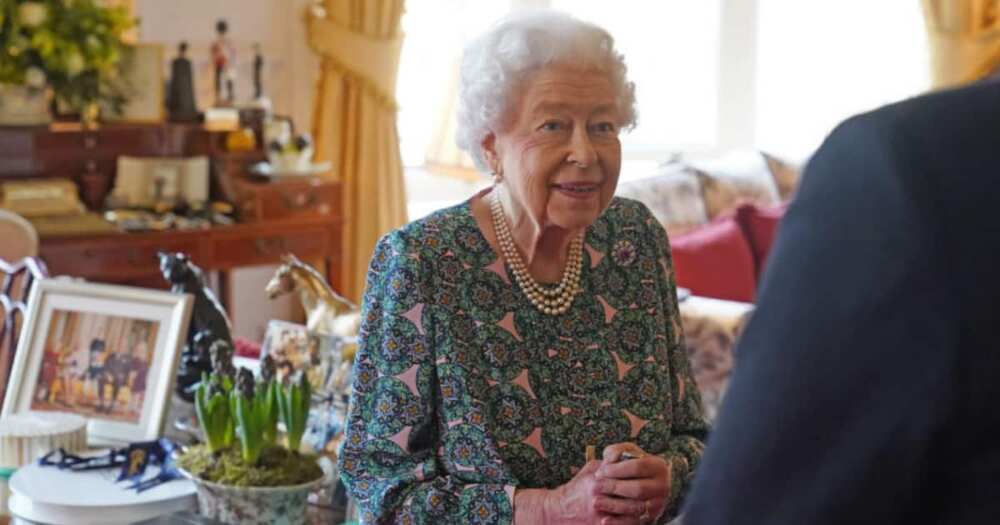 The statement said:
"As Her Majesty is still experiencing mild cold-like symptoms she has decided not to undertake her planned virtual engagements today, but will continue with light duties."
However, Daily Mial has it that the queen will have a telephone call with Prime Minister Boris Johnson on Wednesday, February 23, as scheduled in her diary.
Queen Elizabeth tests positive for COVID-19
Buckingham Palace in a statement on Sunday, February 20, announced that Queen Elizabeth had contracted the deadly COVID-19.
In its statement on Sunday, the palace disclosed that the 95-year-old monarch who is celebrating her 70th year on the British throne had "mild cold-like symptoms" but will continue "light duties" at Windsor in the coming week.
The palace said in the statement:
"Her Majesty is experiencing mild, coldlike symptoms but expects to continue light duties at Windsor over the coming week."
The statement added:
"She will continue to receive medical attention and will follow all the appropriate guidelines."
Reliable sources have it that for about a year, the aged monarch's health has been under close scrutiny and observation.
Prince Charles tests positive for COVID-19 for the second time
Meanwhile, Prince Charles, the Prince of Wales, had tested positive for COVID-19, Clarence House announced on Twitter on Thursday, February 10.
Due to this development, the heir to the British throne would not be able to attend an event in Winchester to mark the 70th anniversary of the accession of Queen Elizabeth.
Source: Legit.ng