After Murder Of African President, Prime Minister Escapes Assassination Attempt
The prime minister of Haiti, Artel Henry, escaped assassination during a national ceremony on Saturday, January 1
It was an occasion to commemorate the country's 218th anniversary of independence held at a church in Gonaïves
This failed murder attempt on PM Henry came months after the president, Jovenel Moïse, was killed by some gunmen
Gonaïves, Haiti - Gunmen failed to assassinate the prime minister of Haiti, Ariel Henry, during an event held on Saturday, January 1, to commemorate the country's independence.
The presidency in a statement on Monday, January 3, revealed that "bandits and terrorists," tried to shoot Henry at a church in Gonaïves where the ceremony was held, New York Times reports.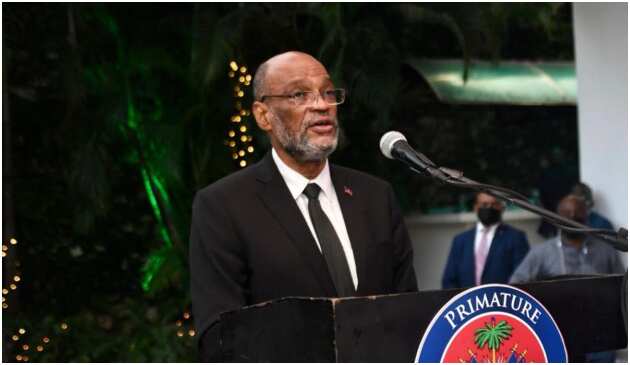 When the shooting started, Henry was forced to flee the venue as security agents took him into a vehicle.
Although the police are yet to ascertain the casualty involved in what they described as the work of an armed group, local media reported that at least one person was killed and two others injured in the attack.
Speaking on the incident, the prime minister said:
"An attempt has been made against me personally. My life has been put in the crosshairs."
Jovenel Moïse: Tension as president of Haiti is reportedly assassinated
Meanwhile, there was tension in Haiti after reports emerged that the president of the country, Jovenel Moïse, had been assassinated at his private residence in the nation's capital of Port-au-Prince.
Moïse's assassination was disclosed in a statement from Haiti's then interim prime minister, Claude Joseph.
Joseph reportedly stated that the deadly attack took place in the early hours of Wednesday, July 7.
The prime minister said:
"A group of individuals who have not been identified, some of whom were speaking Spanish, attacked the private residence of the President of the Republic and fatally injured the Head of state.''
He said the first lady was also shot but survived the attack.
The opposition accuses Moise of being authoritarian
The opposition in Haiti had accused Moise, who came into took office in 2017, of seeking to install a dictatorship by overstaying his mandate and becoming more authoritarian – charges he denied.
The opposition argued that Moïse's five-year term should have ended on February 7, 2021, five years to the day since the former president, Martelly stepped down.
Source: Legit.ng