Breaking: Sudan's Military Dissolves Govt, Declares State of Emergency
The military has fully taken over the Sudanese government after the house arrest of Prime Minister Abdalla Hamdok
This was made known on Monday, October 25, by General Abdel Fattah al-Burhan in a live broadcast
According to General Fattah al-Burhan, this is part of the move to rectify the course of the revolution
Hours after the house arrest of Prime Minister Abdalla Hamdok, the Sudanese military has dissolved the government and declared a state of emergency in the country.
These developments were announced by General Abdel Fattah al-Burhan during a live broadcast on Monday, October 25.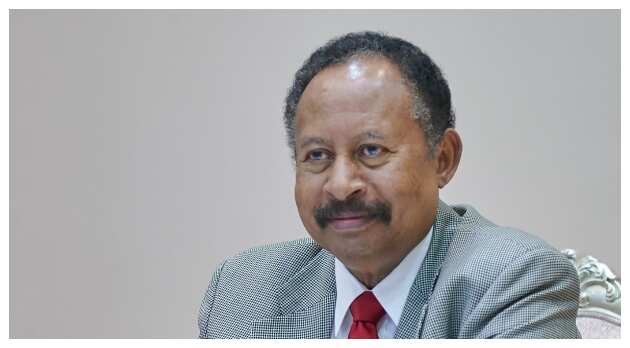 In his speech, Burhan noted that the decision was aimed at rectifying the revolution's course, Daily Nigerian reports.
His words:
"To rectify the revolution's course, we have decided to declare a state of emergency nationwide… dissolve the transitional sovereign council, and dissolve the cabinet."
Soldiers arrest African prime minister, officials, take over govt
Recall that Hamdok was placed under house arrest by a gang of soldiers in what might be another coup in Africa.
Hamdok and some of his ministers were arrested by the soldiers in the early hours of Monday.
Among Sudanese government officials nabbed by the soldiers were industry minister Ibrahim al-Sheikh, Information Minister Hamza Baloul, and media adviser to Hamdok, Faisal Mohammed Saleh.
Other arrested persons are the spokesman for Sudan's ruling sovereign council, Mohammed al-Fiky Suliman, and Ayman Khalid, the governor of Khartoum.
It was gathered that while telecommunications access has been restricted, all roads and bridges leading into Khartoum City have been blocked.
Quoting Cameroun Hudson, a senior fellow at the Atlantic Council's Africa Center, VOA said: "It is a major blow to the democratic experiment in Sudan."
Sudan: 3 drastic decisions taken by soldiers after arresting PM Hamdok
Also, immediately after Hamdok was gotten hold of by the soldiers and some of his ministers in the capital city, they made certain terrorising moves to subdue any form of internal and international resistance.
In a bid to keep local news media in the dark, the military cut off all telecommunications services such that information from Khartoum cannot get elsewhere.
Source: Legit.ng