Lionel Messi threatened by ISIS ahead of World Cup
- Lionel Messi has come under threat from ISIS ahead of the World Cup
- Disgusting images of Neymar and Ronaldo have also been released
- The World Cup will begin in Russia from June 14 to July 15
Argentina star Lionel Messi has been threatened ahead of this summer's World Cup by Islamic terrorist sect ISIS as they posted a picture of him being held captive by a jihadi.
The image has been released by Wafa Media Foundation known as the Islamic State mouthpiece and is the latest in a series of sick messages aimed at football fans.
In the released image, Messi is seen kneeling down in an orange jumpsuit, like those worn by prisoners at Guantanamo Bay and in ISIS execution videos.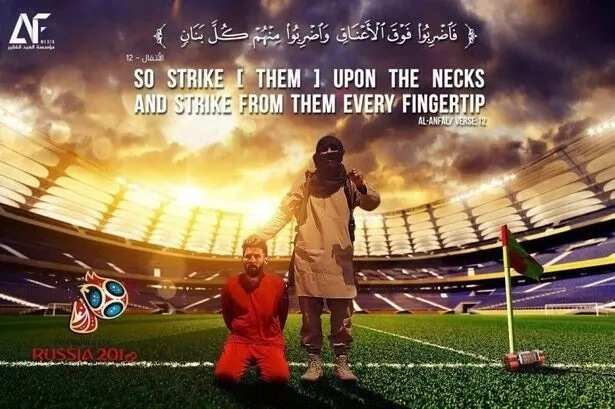 READ ALSO: Matic says he expects a good game against the Super Eagles
A solider dressed in ISIS clothing grabbing his head in the mocked up picture where the Luzhniki Stadium in Moscow is shown at the background.
The state of the art will host seven matches including the opening game Russia vs Saudi Arabia, Portugal vs Morocco, Denmark vs France, Germany vs Mexico, along with a round of 16 match, semi-final and the showpiece final on 16 July.
The disgusting imagery has the Quran quote along with it that said, '"So strike [them] upon the necks and strike from them every fingertip" is printed.
This is not the first time the Barcelona star has been targeted by the terrorist network having had his likeness shown crying blood in a prison.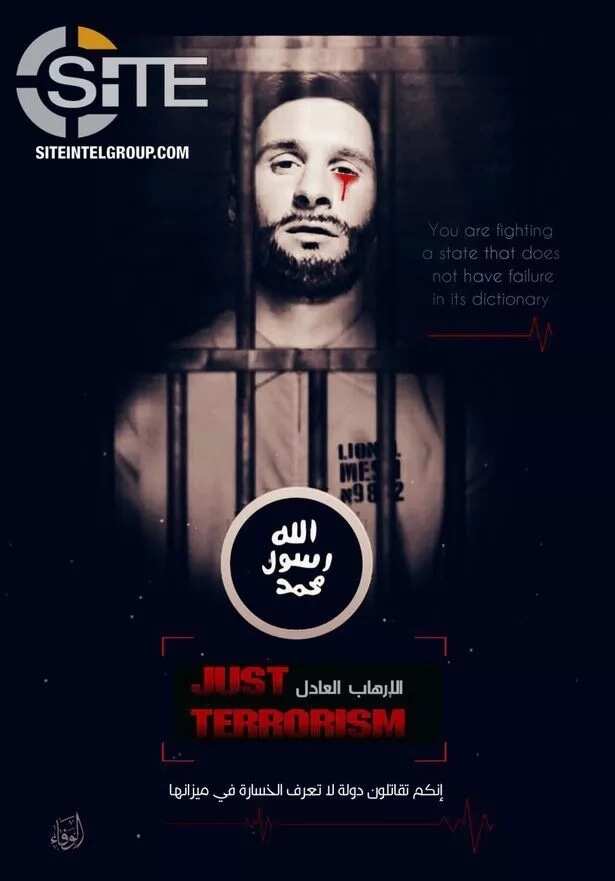 PAY ATTENTION: Like our Facebook sports page to stay in touch with latest sports
Argentine football chiefs held a meeting with the Russian ambassador over safety fears over that picture.
In another image distributed Messi appeared headless while Neymar was pictured on his knees crying, as a terrorist stood next to both with a knife in his hands.
Cristiano Ronaldo was not speared as another image had him with a black eye and his hands tied behind his back on his knees in the foreground.
A masked executioner standing behind him holding up a knife, the pair atop rubble and broken bones.
An image posted last year shows the World Cup symbol next to a masked man holding a sub machine with the text 'Wait for Us'.
While another promises a massacre, saying: "Oh, enemies of Allah in Russia, I swear that the fire of the mujahideen (soldiers in the holy war) will burn them, just wait,".
Ian Brzezinski a senior fellow at the Atlantic Council said Islamic extremism is a concern for Russian President Vladimir Putin.
"Despite his government's defence doctrines stating that the US and NATO is Russia's greatest threat, I have always felt that Putin regards Islamic extremism to be the most immediate threat.
"Putin cut his teeth destroying the Chechens.
"He regarded their rebellion as a manifestation of Islamic extremism.
"He also bolstered his own personal popularity in Russia by demonising the Chechens as Islamic terrorists and by brutally crushing them," Brzezinski said.
The propaganda pieces are designed to spread fear through supporters hoping to visit the festival of football.
The World Cup will be played across 11 cities in Russia from 14 June to 15 July, when the final will be played at the Luzhniki Stadium in Moscow.
How Super Eagles qualified for the Russia 2018 World Cup - on Legit.ng TV
Source: Legit.ng