Reactions As Helpless Mother Chases 2-Year-Old Son Who Ran Onto the Pitch During Crucial League Game
Little boy was seated in the front row of a stadium with his mother during a game involving FC Cincinnati and Orlando City FC which ended 1-1
Two-year-old Zaydek left his mom Morgan Tucker and made attempt to also chase the ball, but she ran after him and gave him a sliding tackle
Luckily, at the moment it happened, play was heading away from where the boy decided to turn pitch invader, but he did not disrupt proceedings
Footage has emerged showing a 2-year-old running onto the football pitch in the middle of a football game in the MLS, Washington Post reports..
The toddler showed some impressive racing skills during a match involving FC Cincinnati and Orlando City FC which ended 1-1.
Cameras initially captured the little pitch invader with his mom on the front row seats of the stadium, but soon it was moment to 'enter' the pitch.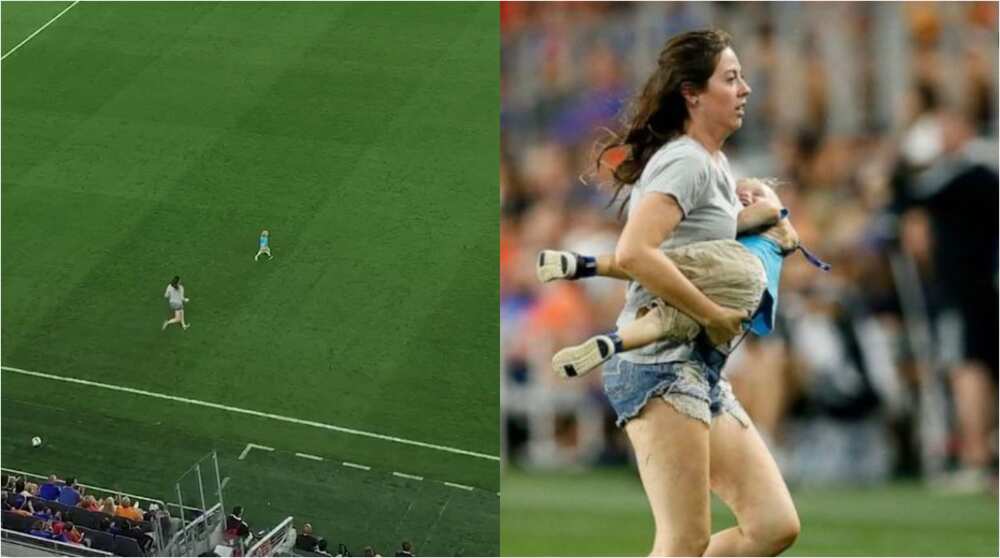 While the game was ongoing, the chap identified as Zaydek Carpenter left his mom Morgan Tucker and made attempt to also chase the ball, but she ran after him and gave him a sliding tackle.
Fortunately for all concerned, play was heading away from where the boy decided to turn pitch invader, and no apparent harm came of it.
Today.com also reports that the mother, identified by the Cincinnati Enquirer as southwest Ohio resident Morgan Tucker, could not be reached immediately for comment, but she and her child were all smiles in the wake of the episode.
Next time, though, she might want to get a seat a few rows back. Zaydek and his mom had a great time at the game.
Reactions
A fan wrote:
"Five minutes of fame for little Zaydek and his Mother. Congrats."
Another added:
"Well they say that children should not take their eyes off for a second ...
'If you don't believe me, I asked 2-year-old Zaydek who got tired of watching the game and started playing."
One said:
"There was a lack .... of attention, check the VAR."
Little boy becomes internet sensation for caring for sister
Meanwhile, Legit.ng earlier reported that boy has become an internet sensation for standing in for his mum in caring for his sister at school.
A Facebook user, Alisigwe Amarachi, who shared the video online stated that the boy's mum had gone to take a quiz in class, leaving him with the little girl.
A marvelled Amarachi narrated that the boy won her admiration as he mixed the food and fed the crying girl like a mother.
Source: Legit.ng