"Pick a Team": Reactions Pour in as Nigeria, South Africa Battle Over Who Has Better Moves, Video Trends
A video of two outstanding dancers displaying South African and Nigerian dance moves has gone viral on Tik Tok
The video, which featured a male and female dancer engaging in an exhilarating dance battle, has garnered a flood of positive reactions
Netizens enthusiastically engaged in banter, playfully declaring their allegiance to either #TeamSouthAfrica or #TeamNigeria
A video of two skilled dancers posted on Tik Tok has captured everyone's attention in an enthralling performance.
A Tik Tok user @oliwiaratyska shared a clip showcasing a male and female dancer representing South Africa and Nigeria, respectively.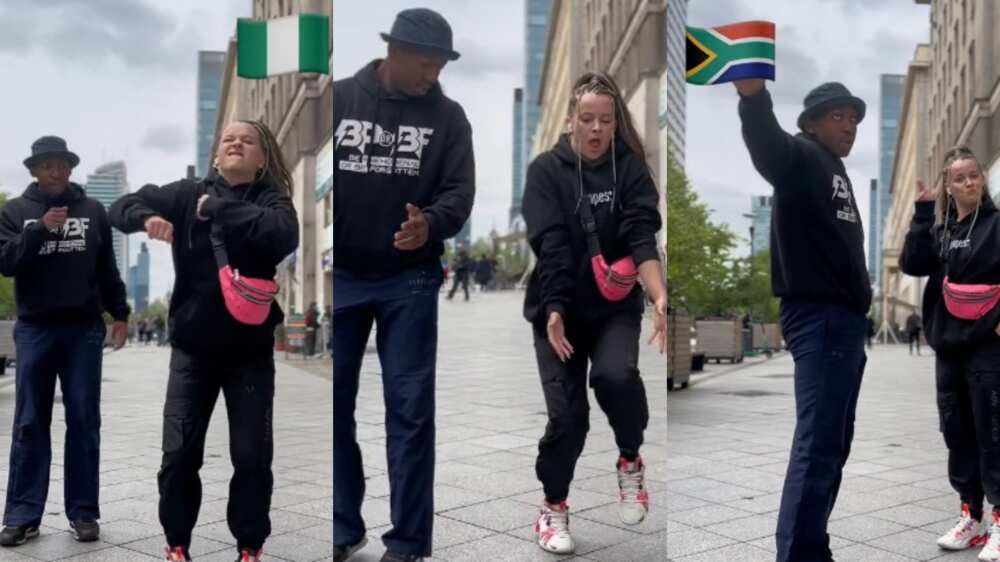 The male dancer displayed South African moves, while the female dazzled viewers with her Nigerian dance moves.
Dance Battle
The video began with the female dancer, dressed in sweatpants and a hoodie, taking to the centre as she displayed the famous 'Unavailable' dance routine by Davido. With fluid movements and masterful legwork, she flawlessly executed a series of Nigerian moves.
Not to be outdone, the male dancer dressed in a trouser and a black cardigan with headwear stepped forward to display the rhythm of South African dance moves as he showcased the Kilimanjaro dance routine.
Throughout the video, the duo took turns to sample the South African and Nigerian dance styles.
Viewers eagerly expressed their opinions in the comment section, casting their votes for the country's dance moves they found most captivating.
Humorous reactions and comparisons added to the lively online discussion alongside the votes.
The video has gathered over 100,000 likes with more than a few comments on TikTok.
Social Media Reactions:
@divinicssolar said:
"I'm a Nigerian, but those South African beats and dance dey drive me to cloud 99."
@daudaolamiazeez4 said:
"Team 9ja is the Best.. but even the Lady doesn't get the full steps as expected."
@dabe_rechi01 said:
"Even if na that chew gum you chew throughout with a touch of your facial expressions, woo na you still win."
Team Nigeria
@euphoriahb said:
"As a South African... My vote goes to ... I Love those moves... Maybe I'm used to seeing ours."
@mihlesaula said:
"The unity and positivity in the comments are making me emotional; I Love you guys #Africaalltheway."
Watch the video:
Heartwarming video of market women doing Davido's Unavailable trends
Meanwhile, Legit. ng reported that some market women danced to Unavailable by Davido.
In the clip, the women were seen rocking black sunshades as they sat in an orderly manner while replicating Davido's dance moves for the Unavailable challenge.
The market women were in sync with their moves, and it showed that they had practised the dance till they got it right.
Source: Legit.ng