"God Is Awesome": Nigerian Woman Shocked to See Fire on Wall After Entering Her Son's Room, Shares Video
A Nigerian woman has taken to social media to appreciate God for saving her life and that of her family members from what would have been a fire disaster
The woman shared a recording of the mysterious fire that gutted the wall right where her son sleeps at night
The clip sparked mixed reactions, with many persons criticising the woman for making a video in the face of a possible fire incident
A Nigerian woman, Wonder Elliot, has praised God on TikTok for averting a possible fire incident in her little son's room.
She said she entered his room to find the wall on fire, which shocked her.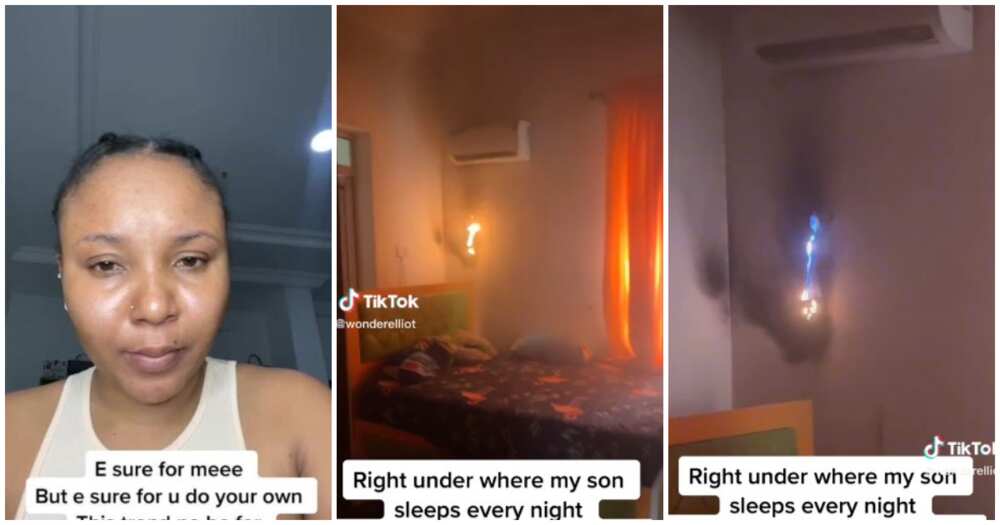 Wonder marvelled that the fire started right at the side of her little son's bed, where he sleeps every night and appreciated God for not letting her down.
She shared a video on TikTok showing the unquenched fire as it burned on the wall below the air conditioner.
Watch the video below:
Reactions on social media
@dorisladi said:
"Madam instead of you to quench the fire you are there videoing, nawa ooooooh."
@ijele nwaanyi said:
"I remember when our compound got burnt chia thankgod no one was injured thankgod your son is safe."
@Babygirl said:
"Wow thank God no evil shall see us all."
@Dorothy Benson said:
"All of you saying quench the fire.... if you mistakenly use water in this situation, ur gone.. you need estinguisher for electrical fire."
@Kiddies thrift store said:
"Happened to my AC too, I immediately did a change of to gen switch, and it stopped."
@Nickie said:
"Thank GOD for ur son life nd ur family thank GOD say nothing happened."
@Greg Bradford said:
"Tobechukwu next time you go learn .. instead go off the fire you're playing song."
Woman raises alarm after putting camera in her daughter's room
Meanwhile, Legit.ng previously reported that a woman had cried out after placing a camera in her daughter's room.
She said her daughter always complained of hearing weird noises in her bedroom, which informed her decision to place a camera there.
She shared the outcome of the camera footage, urging people to pray always before they go to bed. According to the woman, she thought her daughter was having nightmares, so she waited for her to sleep and kept watch.
From the recording reposted on TikTok, the teddy bear her daughter slept with was removed by an unforeseen source.
Source: Legit.ng