Mark Wiens biography: Age, ethnicity, net worth, wife, death rumors
Mark Wiens is one of the most popular food vloggers in the world. His YouTube channel has over 6.72 million subscribers and over 1 billion views to date. The vlogger posts videos about delicious street food and travel tips on his channel. The full-time travel eater is based in Bangkok, Thailand, but he frequently travels around the world to eat delicious food and share his meals and discoveries.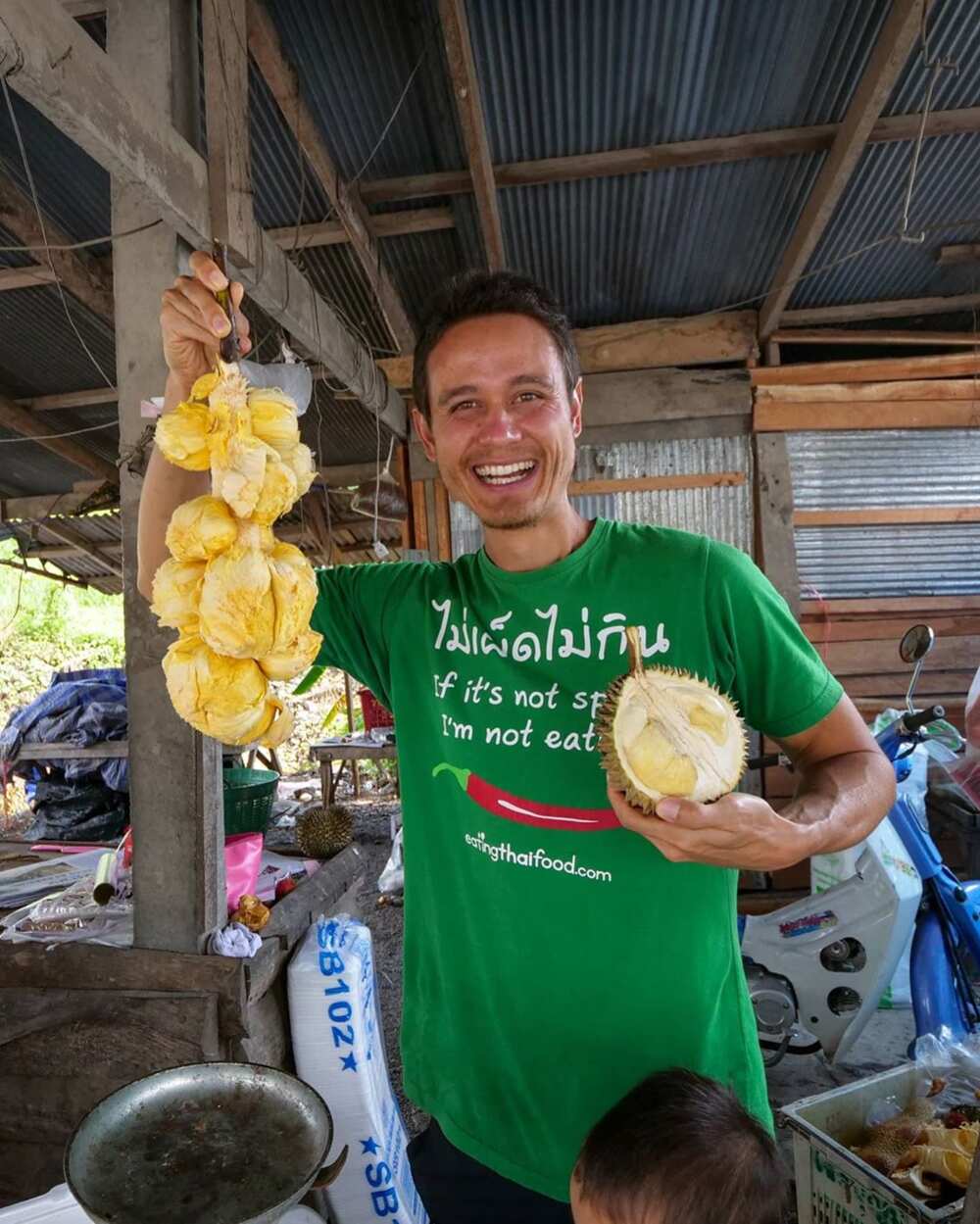 The star of food YouTube Mark Wiens is among the most popular food vloggers in the world. Through traveling and exploring different cuisines, he manages to create content that appeals to various audiences worldwide.
Profile summary
Date of birth: February 26, 1986
Age: 34 years old (as of September 2020)
Birthplace: Phoenix, Arizona
Occupation: Blogger, author, YouTube star
Height: 6ft
Mark Wiens nationality: American
Ethnicity: Mixed
Marital status: Married
Children: One
Religion: Christianity
Instagram handle: @migrationology
Where is Mark Wiens from?
The food vlogger was born in Phoenix, Arizona, on February 26 in 1986. As of September 2020, Mark Wiens age is 34.
Where are Mark Wiens parents from?
Mark was born to a Chinese mother and an American dad. As such, Mark Wiens ethnicity is mixed. His parents were missionaries, and that meant that he moved around a lot as a child.
Education
Mark attended the first year of school in the tiny town of Albertville, France. He was then home-schooled for three years in the Democratic Republic of Congo.
He then attended an international Christian school (Rosslyn Academy) in Nairobi, Kenya, after his family moved to the East African country in 1996.
From 5th grade, all the way up through graduating from high school in 2008 (with the exception of 1 year back in the US), he attended Rosslyn Academy.
He did eventually return to the Valley, taking classes at Glendale Community College for a year before transferring to Arizona State University, where he graduated in 2008 with a bachelor's degree in Global Studies.
Career
Mark's fascination with food was always there since he was young. When Mark's family lived in Congo, he would go into the jungle and try out wild fruits, berries, and even insects.
When he moved to Kenya, Mark enrolled in an international school, and it gave him more opportunities to try out food from different parts of the world.
During Mark's university years, his hunger to learn more about the world and eat more delicious food grew.
In 2008, right after graduating, he set off to travel through South America on a solo trip with few plans. He ended up taking a TESOL certificate course to teach English. A few months later, he returned to the US to attend his sister's wedding.
It was during that time, back in early 2009, when he decided to start a blog. With the help of about 10 cups of coffee per day, Migrationology.com was born.
Migrationology is a website where "people who love to eat and travel" come to experience and get a flavour of delicious food across the world from different cultures. The website provides information on mouth-watering food while inspiring people to get out of their comfort zone, setting goals and pursue their passion.
Mark was not yet ready to get a job and stay put, so he caught a one-way ticket to Bangkok, with no plans other than to eat as much as he could.
After traveling around Southeast Asia for about six months, he spent nearly all his money. He was in the Philippines at that time, and he caught a flight from Manila to Bangkok.
At this point, he decided to get a job teaching English, and it did not take long before he signed a contract to teach English for a year.
However, teaching English was not for him; although it was a great experience, it just wasn't his passion.
During that year, he set a personal goal that he would never teach again and that he would find a way to make a living on the internet, so he could travel (and eat) and earn money at the same time.
Mark used his free time to start his food blog. He started the blog eatingthaifood alongside his friend and Arizona native Dwight Turner.
Mark and Dwight shared the same enthusiasm about food, and they spent a lot of time trying different dishes in Thailand. They soon found out that they had tons of Thai food photos, so they decided to start a food blog.
Mark would blog and sit glued in front of his laptop every spare moment until his eyes went crazy.
After about 3 years of blogging, Mark made his first e-book, Eating Thai Food Guide, and things started to look up for him. He finally had something that he could sell on his blog, and he started making money.
However, he soon started to feel that blogging was not enough.
Mark was clueless about vlogging, but he soon found success on YouTube. He combined his love for traveling and food and started vlogging about food from various locations worldwide.
Mark Wiens YouTube channel has over 6.7 million subscribers and over 1 billion views as of September 2020. You will find street food videos, travel vlogs, and plenty of Thai food videos on his channel. He posts videos on Sundays & Wednesdays at 8 pm Bangkok time (GMT+7).
Mark is famous for his food vlog, but he also manages a travel vlog, Mark Abroad, that he started some years ago.
Who is Mark Wiens wife?
Mark and his wife Ying met in Bangkok, and they shared an instant connection. The Mark Wiens wedding took place in July 2013 at a restaurant in Bangkok.
Mark and Ying have a son called Micah.
How much money does Mark Wiens make?
According to naibuzz.com, Mark Wiens net worth is $3 million. The site also states that the Mark Wiens salary from YouTube is around $6,500 per day ($2.4 million per year), earned from the ads that run on the videos.
Mark Wiens income also comes from his blog, Migrationology, where he earns cash through ads and Amazon Affiliate links. He also has an eBook called Eating Thai Food Guide that contributes to his income.
Mark Wiens death rumours
Despite the rumours that Mark Wiens died, the vlogger is alive.
Social media presence
The celebrity is active on social media platforms. His Instagram page, @migrationology, has over 1.2 million followers.
Mark Wiens is an extremely popular food vlogger whose content appeals to people of all ethnicities, ages, and nationalities. He is one of the most prolific social media stars in the food industry.
READ ALSO: Victor Webster bio: Age, height, net worth, wife, and children
Legit.ng covered the life story of Victor Webster, a Canadian actor with prolific skills. The actor has appeared in various types of movies, from soap operas to dramas and supernatural shows.
The acting career has never been part of his dream, but through circumstances, he developed an interest and joined the ever-growing filming industry.
Source: Legit.ng