"They Embarrased Me": Children Who Returned From Abroad Find it Strange to Walk on Sand, Video Goes Viral
Some little kids visited Nigeria from abroad and acted funny when walking on sand as they did not want to get dirty
In a viral video posted on TikTok by their mother, the two children were seen trying to get used to the sand
Meanwhile, mixed reactions have trailed the video as some people dropped angry comments
Reactions have trailed the video of some kids who found it strange to walk on a sandy path.
In a video posted on TikTok by @lobbymusa, the children found it strange and kept lifting their legs.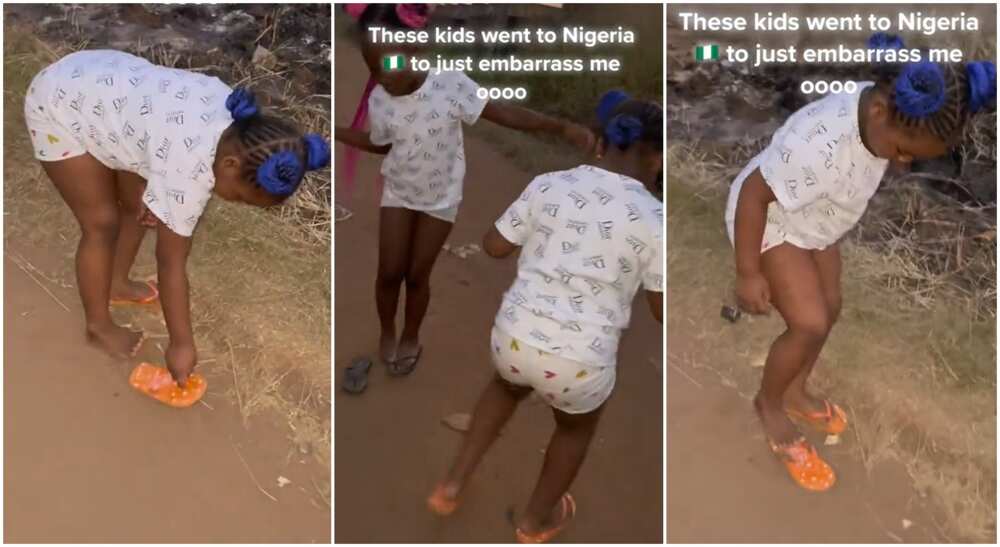 Their mother, who posted the video, disclosed that the little girls said they were getting dirty.
Video of children visiting Nigeria from abroad
One of the two children removed her slippers and used her bare feet to feel the sand as if to examine it.
Their behaviours made it clear that they were raised in a place with paved streets.
Their mother described their action as embarrassing. She said the kids went to Nigeria to embarrass her.
Meanwhile, the video has gone viral and sparked reactions. Some Nigerians questioned the kids' behaviour, while others understood that they were just children who may have grown up where there's no sand.
Watch the video below:
Reactions from TikTok users
@Evey said:
"When they are at the beach don't they walk on sand? So why walking on sand in Africa seems strange? Wuna rest abeg."
@SabiNkosiyezulu1111 commented:
"Nigeria is village and you can see they from suburbs."
@Angel Ndimande said:
"Jesus why are people so worked up, she's just sharing her kids experiences. Grown adults even getting pressed over babies. Do better."
@tumza commented:
"Is there no soil where they come from?"
@wòmíng zi jìao Ndivhuho said:
"My nephew started seeing or playing on sand when he was 2 years, where he was staying it was all paved."
Lady relocates from USA to Ghana
In a related story, Legit.ng reported that a lady relocated from USA to Ghana to be with her man.
The lady posted a video to tell her story. She said she had found peace of mind after relocation.
Her video went viral, and some people who saw it praised her for her courage.
Source: Legit.ng