"Thank You for Standing by Me": Man Buys Wife New Car With Special Plate Number to Show Gratitude
A grateful man has raised the bar on how to show gratitude to people by buying his wife a new car
The loving husband, who described his wife as his biggest asset, said the car was a way to thank her for standing by him even when he was down
Heartwarming pictures showing the moment he presented the car with a customised plate number to his wife have gone viral
A man has gifted his wife, identified as Esther Musukwa, a new car as his way of saying thank you to her.
Taking to Facebook, the grateful husband, Leo Madalitso Musukwa, shared pictures showing when he presented the white car with a customised plate number to his wife.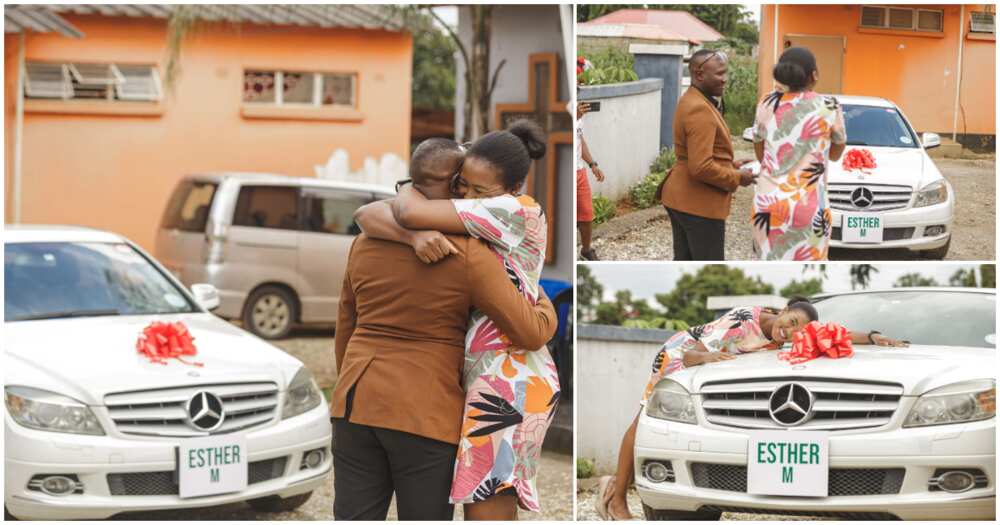 The plate number had her name and the first letter of their surname. Showering encomiums on his wife, Leo hailed her for being his biggest asset and expressed gratitude to her for standing by him in his weakest moment. He went on to declare his love for her.
His post reads:
"My biggest Asset is my wife Esther Musukwa . Thank you for standing by me even at my weakest. I love you my baby.
''Baby tenga iyi jila nakupasa niyako '.."
Social media reactions
Emmanuel Michael Banda said:
"Wow boi this is so inspiring, congratulations to ba mulamu."
Man'o Malik Chilanga said:
"'Badman'.... .
"Boi Leo stop raising the bar this high naiwe. We still on catchup."
Steward Chikonde said:
"Leo Madalitso Musukwa demonstrating love thanks for leading us we shall follow your steps soon."
Clarah B Kabwe said:
"Love is such a beautiful fingiiiiiiiiiii."
Chico Chisanga said:
"That's awesome! Congratulations!"
Shekinah Chichi Warrior said:
"Awwwww.. This is beautiful!! Congratulations to our sister.. Twatasha on her behalf mwe mfumu. Epashili pakuleka kanabesa!!"
Nigerian woman gifts her husband a new car
Meanwhile, Legit.ng previously reported that a Nigerian woman had gifted her husband a new car.
In a Facebook post on Monday, September 6, the woman penned a short touching message as she shared pictures of herself presenting the car gift to the hubby.
The lady said the car gift is a token of her love for the hubby named Crown Kay Amos. She wrote:
"This is just a TOKEN of My Love for you. I love you so much dear and nothing can change that.
"Crown Kay Amos you are the BEST."
Source: Legit.ng