Wife Catches Husband Cheating, Tells Side Chick to Jump Down from Building, Video Trends
An irate woman made a scene in a compound after she found out her husband was cheating on her
She confronted them from the ground floor of the house and ordered the side chick to jump down from the first floor
The side chick, who had only a towel on, tried to escape the angry woman and by actually trying to jump off the building
A woman caught her husband cheating on her with a lady in their matrimonial home and made a scene in their compound.
In a footage seen on Facebook, the displeased woman hurled swear words on her husband as she slammed him for being unfaithful.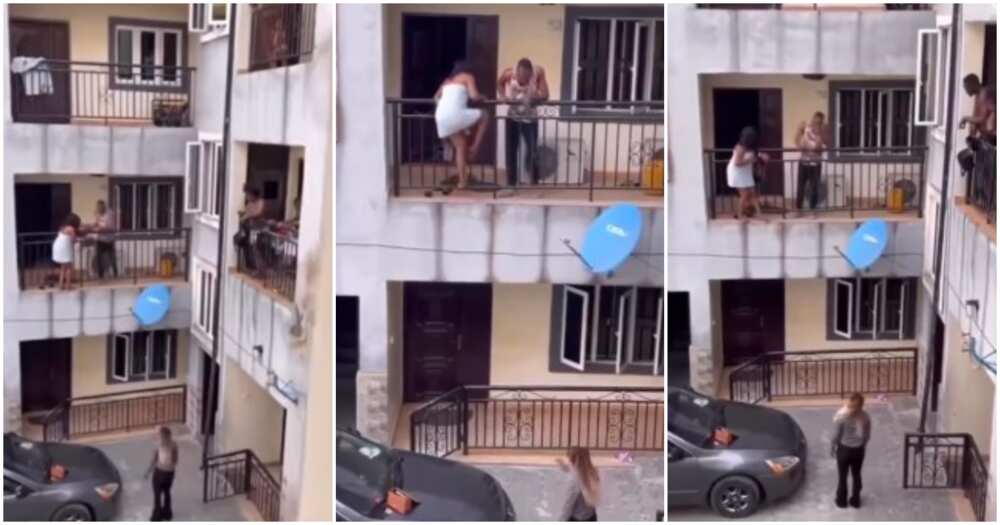 "Do you know you are a big fool?
"After everything I did for you ehn?" she ranted from the ground floor at her husband and the side chick who were at the balcony of an apartment in the first floor.
She ordered the lady to jump down and attempted to go up when the side chick refused. Her husband could be heard begging his wife.
The side chick, who had only a towel on tried to jump off the building but stepped back and eventually took the stairs where she met her lover's enraged wife.
Social media reactions
Ogechukwu Offorbuike said;
"The husband sef na big pig. The woman wey follow man go his matrimonial house. Na so the konji or poverty hold you reach? Any of her reasons for seeing a woman's belongings all over the house and still removed cloth. Shameless."
Mati Anyafulugo said;
"Some men are just madddddd and very disrespectful to their Wives.
"Who brings a side chick to their matrimonial home and also has the temerity to have sexxxx with his side chic in their matrimonial bed?
"Zuzugharibanu!"
Ifesinachi Vanessa said;
"I don't have problem with the so called side chick o.
"Na the mumu husband that disrespected his darling wife to bring his side okuku to the matrimonial home and use the holy matrimony bed."
Nkechi Favour Ugochukwu said;
"Side chic with audacity, you carry mind go married man house.
"Its the neighbours minding their business for me."
Ada Oliver said;
"He doesn't have money to take her to a hotel or what ?
"Why your home ?
"Ndi mmadu sef."
Wife catches her husband cheating on her
Likewise, Legit.ng previously reported that a woman had caught her husband cheating on her with a small-sized lady.
In a TikTok clip, the woman saw her husband from a distance and thought the lady he was with was a child, only to be shocked by her partner's side chick's height.
She confronted them, introduced herself as the man's woman to the side chick and asked her who she was.
Turning to her husband, she slammed him for his action, saying she thought he didn't like women of such size.
Source: Legit.ng