Baby Trembles in Fear, Shakes on Her Bed after Hearing Sound of Water Bottle for the First Time in Viral Video
1.3 million people have liked a 6 seconds video of a terrified baby who heard the sound of a plastic water bottle for the first time
The video showed the baby practically trembling in shock and total trepidation because of the sound that suddenly came up
People find the video very hilarious and they took to the comment section to say how enjoyable it was
A TikTok video has shown a 4-month-old baby trembling in fear at the sound of a plastic water bottle.
The beautiful girl was nicely dressed up and laid on a pink-coloured bed. Suddenly, an adult started pressing the bottle and the sound came in full force.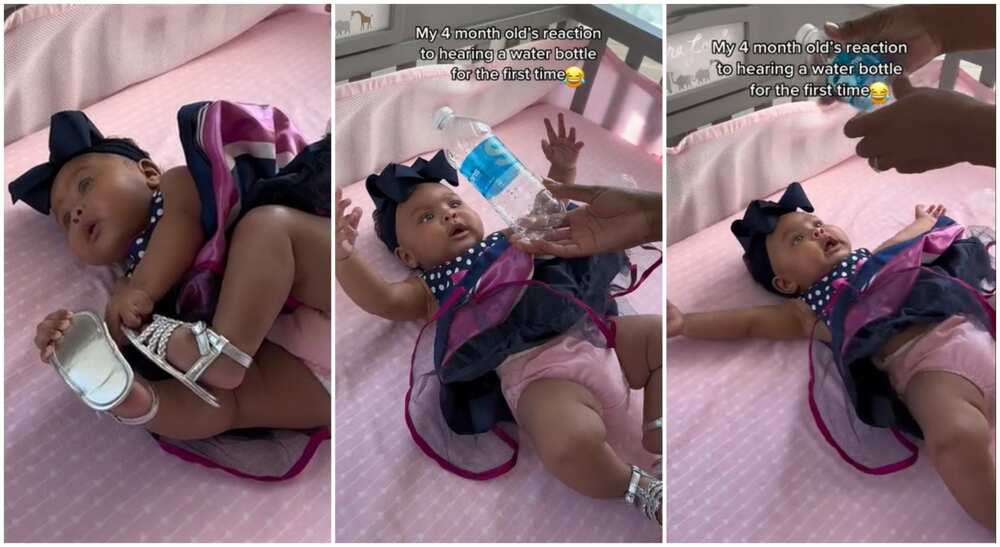 On hearing the sound, the baby turned instantly to the direction where it came from. The TikTok video showed her trembling and shaking out of fear.
Baby reacts to the sound of water bottle
The sound of the bottle was really loud and coupled with the fact that she was hearing it for the first time, her fears were heightened.
At the end of the video, the baby calmed down as if she realised she was not in any sort of danger.
But she had her hands in the air as if to ask "why did you do that to me?". The short but interesting video was posted by @bayydayyy and 16.5 million people have already seen it.
Those who have seen the video attested to the adorableness of the baby girl.
Watch the video below:
Reactions from TikTok users
@TyHazhani Williams said:
"She calling grandma after this."
@ said:
"Y'all seen she reached for the bottle at the end obviously she's not traumatized by the bottle."
@ commented:
"Babies gotta get used to loud noises. She probably won't even remember it."
@J O R D A N said:
"Poor baby saw her life flash before her eyes."
@The pretty mama asked:
"Why you do that to her?"
Video of a man braiding his daughter's hair
In a related story, Legit.ng reported that a man carefully braided his daughter's hair.
In a TikTok video that went viral, the man bent down like a woman and took care of the child's hair.
Numerous women on TikTok praised the man and said he is a good father.
Source: Legit.ng