Binatone Air Fryers, Kitchen Machines, Provide a Better Quality of Cooked Meals
Times are rapidly changing in our fast-paced world, where speed, convenience, and good health are paramount. Binatone, a UK-based company with nearly 50 years of operation in Nigeria, understands these evolving needs and offers a range of kitchen equipment to simplify your life. Among their remarkable products are three variants of the Binatone Yam pounder: KM 1000, KM 1300, and KC 6000. These versatile machines not only make yam pounding effortless and convenient but also serve as multi-purpose kitchen tools.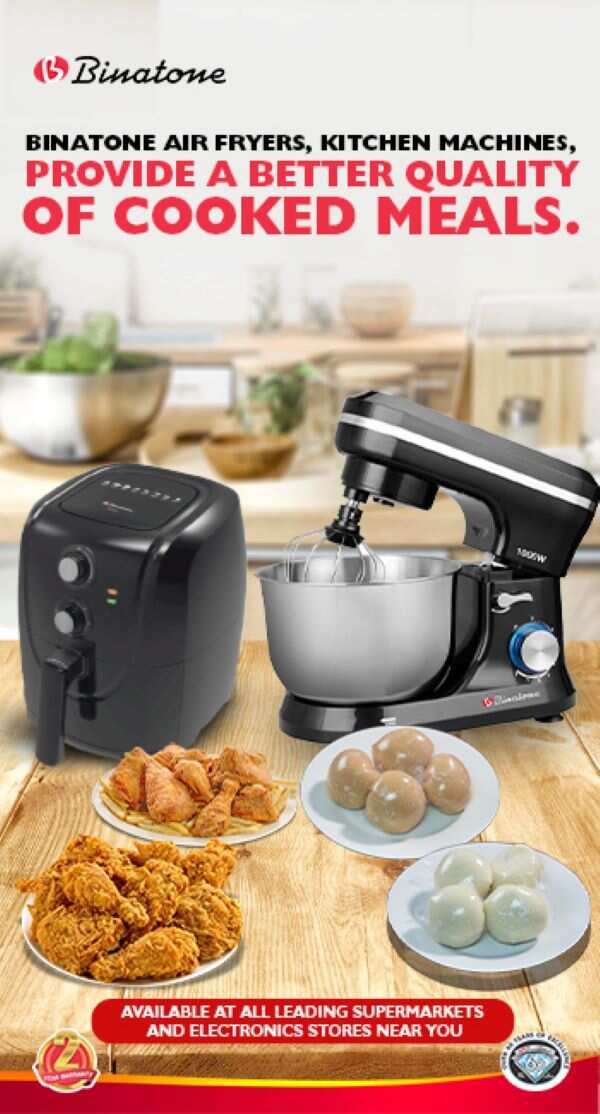 In addition to addressing convenience, Binatone also prioritizes the well-being of your family. To promote good health, they have introduced the Binatone Air Fryer: BAF-3501 and BAF-5001, available in 3.5 liters and 5 liters capacities. These air fryers offer a healthier alternative for frying food, as they require minimal oil. Whether it's akara or any other fried delicacy, you won't be able to tell the difference in taste, thanks to the impeccable results achieved by these air fryers.
When it comes to sensitive appliances like the Yam pounder and Air fryer, it's essential to invest in a high-quality brand like Binatone. The KM 1000 Yam pounder, for example, is designed to be your ultimate kitchen companion. Its motor comes equipped with a whisk, a hook, and a beater, allowing you to not only pound yam but also whisk and beat flour, dough, and more. This alleviates kitchen stress and ensures a smooth and consistent texture for your cooked meals.
To provide customers with peace of mind, Binatone offers an unwavering two-year warranty on all its products. This not only guarantees the product's quality but also assures you that any potential issues will be taken care of by the manufacturer themselves.
Choose Binatone for reliable and efficient kitchen equipment that enhances convenience, promotes good health, and comes with the added assurance of a manufacturer's warranty.
Why don't you find out more about the Binatone Air Fryer, Yam pounder, and other Binatone products for yourself here.
[Sponsored]
Source: Legit.ng