"Nobody Can Read It During Exams": Lady With Gibberish Handwriting Displays Pages of Book, Netizens Drag Her
A young lady has gotten tongues wagging on social media after sharing a photo of her handwriting
The photo, which she shared via her Twitter handle, showed words that someone except herself could hardly read
Reacting to it, several social media users stormed her comments section to throw questions at her
A lady identified as @phoebewallers on Twitter has caused an uproar because of her handwriting.
Phoebe shared a photo displaying her unique handwriting while stating how hard it was to study for an exam that is not one's major.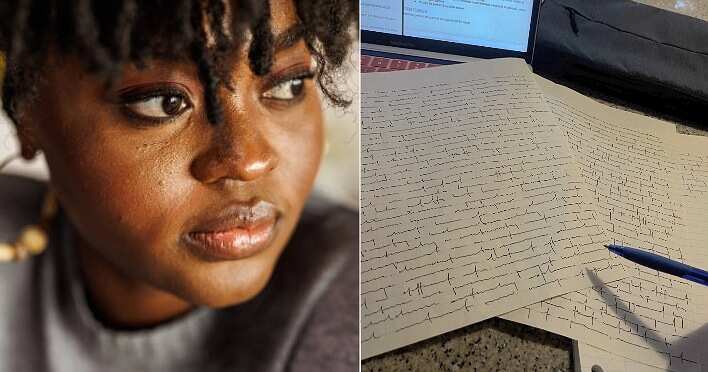 "The absolute struggle to memorize stuff for an exam that's not your major," she said.
Her handwriting has gotten netizens talking, as nothing could be read from what she wrote. It was like she wrote gibberish.
According to her, she writes explicitly like that when she wants to memorise what she has been reading.
"It's my handwriting I use it to memorize things! I'll never refer back to these notes," she said.
Social media reactions to the lady's gibberish handwriting
Orngemarsmalade said:
"Is that your normal handwriting? it's so pretty."
Victorsvcle said:
"Tf u memorizing? An ekg?"
Aesyuki reacted:
"Is this a foreign language or am I having a stroke."
Petricalore reacted:
"HOW DO U READ THAT BACK AGSHDHFHF."
Madsisreading_ commented:
"This is why I take the class online if it's not for my major."
Romajullietes said:
"What exactly am I looking at?"
Douglasclark28 said:
"I'd be mad as hell sitting behind this niga in the exam."
Juceerob commented:
"These are not words, are you making notes in Sanskrit? Is this why it's difficult to study for you."
Stellata reacted:
"I mean this with respect and love but how are you deciphering this."
Morisbqnks said:
"I thought u were studying different heartbeats."
Hl_chase said:
"Are you memorising the infrared waves in the surroundings or what?"
Mugiware_1 said:
"That handwriting looks like my heart rate ya Allah."
UTDempsey reacted:
"You're supposed to take your notes from your laptop mate, not the heart rate monitor just off-screen"
Blossom_bie commented:
"Exactly how I write when memorizing for exams, nobody else can use my notes."
Marinabittans commented:
"I'm so sorry but how are you reading that? I write in cursive but this is something else entirely. Are you aspiring to become a doctor? Is this why? I'm so confused."
See the post below:
Lady with perfect handwriting gets a job
Meanwhile, Legit.ng previously reported that a beautiful young lady whose handwriting could be mistaken for a computer font had stunned many online.
The proud Nigerian girl, Emediong Essien, shared photos of her book on social media and gushed over her fine handwriting. She also appreciated her teacher for coaching her and her classmates on writing neatly and perfectly.
"While sitting to update some school notes and assignments, I can't help but admire the beauty of my handwriting. The lines are straight, the curves are smooth, and every letter is perfectly formed. It's a small thing, but it brings me a sense of pride and accomplishment," she said.
Source: Legit.ng