"We've Reached Over 20K Children": NGO Founder Elizabeth Shares How Meta Helps Her Fight Against Child Abuse
The need for the safety and protection of children who are leaders of tomorrow is not emphasised enough, and this is what Protect the Child Foundation is about
The foundation comprises selfless and good-spirited individuals who have risen from their fears, past abuses and insecurities to champion the cause
Protecting the African child, preventing the shaming of abuse survivors and breaking the culture of silence is at the core of Meta's, formerly Facebook, campaign, which the foundation is keying into
According to UNICEF, nearly one in three teenage girls has been beaten or hit since they were 15, and one in 10 has been molested and inappropriately handled.
Child marriage – a severe violation of children's rights – affects four in 10 girls aged 20–24 who were married before their 18th birthday. As such, Protect the Child Foundation is leading the charge to raise more awareness and prepare teachers and guardians to tackle this challenge.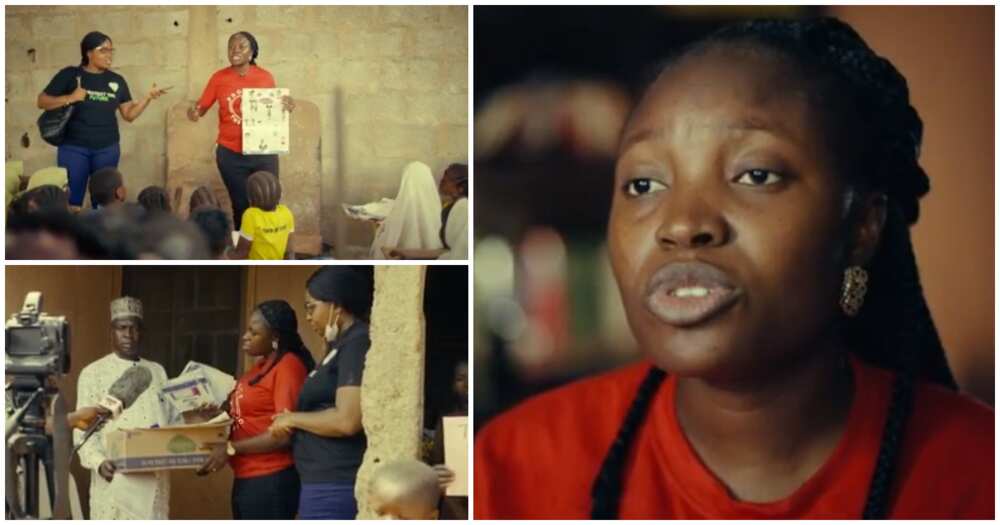 Founder says the group wants to break the culture of silence
Elizabeth Ebulejonu Achimugu, the founder of Protect the Child Foundation, in a video sent to Legit.ng, said the group is out to prevent victim shaming of survivors of child sexual abuse.
Elizabeth added that they also aim to break the culture of silence and ignorance.
Her words:
"Protect The Child Foundation has a vision of creating a safe childhood free from sexual abuse for the African child.
"Our aim is to break the culture of silence and ignorance and prevent victim shaming of survivors of child sexual abuse."
The lawyer and child rights advocate shared a personal experience that inspired the foundation's creation.
"When I gave birth to my son in 2017, I became very scared for his safety. I became very possessive of him age-appropriate development and sex education. I realised people did not really talk about these things so I created the group (on Facebook)."
Taking advantage of the Facebook community to achieve her aim, what started from a closed group is fast spreading like wildfire and has a growing number of volunteers.
Facebook helps foundation's cause
The child rights advocate praised Facebook, saying the platform has aided her foundation's purpose.
She explained:
"We have a page where people can see what we do. The page gives us an opportunity to boost and share more. The group is a private group so it allows for very personal conversations.
"Facebook has been very helpful. Facebook Admin Assist has been very helpful because it helps reduce the time I spend on Facebook. Also, the insights, help me understand how best to reach people, in what way to get more engagements and interactions and how to pass this information to people so they can impact lives positively."
More gains from Facebook
Elizabeth also hailed the Facebook Community Accelerator for furthering her campaign for the African child.
"Through the Facebook Community Accelerator, we have been able to get an office and it has helped provide the guide we are preparing to train teachers with.
"The feedback has been amazing. We've had hundreds of responses. People are willing to speak up against sexual abuse. People are willing to share their stories and experiences and parents are seeing that these are conversations they must have at home. We are beginning to get more credibility for them to trust us and report these cases to us."
She disclosed that they have reached over 20k children directly and spoke on the foundation's plans to train teachers.
"We are currently engaging in sensitisations against sexual abuse, and we have been able to reach more than 20k children directly in Abuja, created a guide for teachers on how to prevent and respond to child sexual abuse and how to create a safe school. We would be starting our pilot training in April 2023, training 50 to 60 teachers on these topics."
Volunteer shares experience with the foundation
One of the many passionate volunteers of the foundation is a businesswoman and child rights advocate, Eleojo Grace Amedu. Grace said it has always been her dream to own a foundation, and it was easy for her to join Elizabeth's.
In her words:
"At the age of 20, I was [abused] by a family friend. It has been my dream to own my own NGO because of what I went through while growing up. And as God would have it, I came across my sister who has the same dream."
Foundation's volunteer numbers increase
Stephen Peter Ogwuche, a project manager and a volunteer with Protect the Child Foundation, said Facebook helped create more awareness about the organisation's activities and led to more people showing interest.
He said:
"We do a lot of teachings on the Facebook platform. We share cartoon videos. A lot of persons are seeing what we are doing. They begin to show interest. A number of persons from across Nigeria want to become volunteers. All because of the effectiveness of the Facebook platform."
Looking forward, Elizabeth said the foundation hopes to take its message to more states and have a 24/7 helpline through which people can always reach them on cases regarding child sexual abuse and other related matters.
Balenciaga designer apologises for 'child abuse' ads
Meanwhile, Legit.ng previously reported that Balenciaga designer had apologised for their child abuse ads.
Balenciaga's creative director Demna apologised for an ad campaign that appeared to reference child abuse and vowed to drop his provocative showmanship in an interview with Vogue.
The ads featured children holding bags designed to look like teddy bears but with studs and harnesses and surrounded by adult items, including wine glasses.
Source: Legit.ng